Sometimes you just need a tote bag with a little more pizzaz than you can get by embellishing a premade one. Fortunately tote bags are easy to make with only basic sewing skillis and relatively fast with the added benefit that a flat piece of fabric is way easier to embroider than a tubular, ready made bag, especially when stitching on a domestic, flat bed machine.

ABOUT THE DESIGNS
When I purchased this artwork, I actually saw these mandalas as fanciful flowers.
As you can see, this design is rather imprecisely drawn. Also rather than simply apply running stitches to the designs, I chose to interpret a little more creatively.
I didn't use all the artwork available and added to it with original designs.
I wanted 12 because the original plan was for a fun quilt inspired by a quilt I saw on Pinterest. I planned to use big fat rickrack for the stems and rather haphazardly add some leaves to it.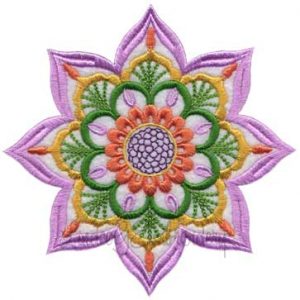 I sized the mandalas for a 5-ish inch square, or rather to fit a 130mm hoop and I created them so that they could be stitched as appliqués—or not—depending on the project. There's certainly enough stitching to avoid having a large blank area so omitting a fabric appliqué won't detract from the design.
The addition of the applique steps extends the options for these designs allowing them to stitch better on textured fabrics and on high contrast backgrounds.
To add further flexibility, I made the designs multicolor and planned them so that each succeeding color starts where the previous one ends. This makes it easy to create your own color combinations, make them single color, or skip some colors.
You will need to do a little detective work if you choose to do the latter because some rounds cover up travel stitches of previous rounds.
PLANNING THE DESIGN FOR THE TOTE BAG
I prefer to do design layouts in software but you can certainly print out templates and arrange them on your project, which is often easier when working on a finished item.
In this case, I made the tote bag from scratch and I wasn't even sure how I would construct or design the bag before I did the embroidery. I just figured I'd work that out later. (The "Scarlett O'Hara approach.")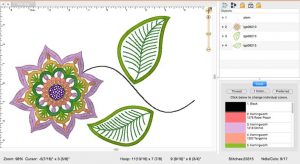 There's no pattern for this bag; you don't really need one for a simple lined tote bag with boxed corners. If you do need a little more help, there are heaps of patterns on the 'net and there's no reason for me to add to that.
A customizing program like Embrilliance Essentials is a great accessory for designing layouts. The flower and top leaf were just rotated a bit and the bottom leaf was rotated and shrunk.
I do provide appliqué templates with nearly all my appliqué designs and this set is no exception. The templates come in PDF, SVG, and FCM formats so whether you choose to hand cut or machine cut, you have a head start.
Of course, if you resize any appliques, included templates will no longer work. Fortunately, Embrilliance has easy ways of making one and since that's covered in another post, (see related articles at the end), I won't cover that here.
DESIGN COLORS
The flower shown in the Embrilliance screen shot is colored the way my original test sew was stitched, which you can singled out further up the page.
For most designs on my site, I color the PES version to use the same colors I used in my sample sewout. Then the PES version is used to convert to all the other formats.
VP3 will/should have colors that match the PES but most other formats will try and map the colors to their own palette. And of course DST (the actual master file) and EXP won't store thread color information, just that there is a color change.
As you can see by the scrolling samples, you're looking at actual sewn and scanned designs, not "3D" versions rendered in software. The samples, while stitched, did not use any applique fabrics so that the embroidery was more visible.
For my tote bag, I chose colors that would be visible and complement the purples used for the bag and the applique fabrics. I streamlined my colors to white, yellow and dark purple for the flower and used just one color of green for the leaves.
All those extra color changes in the designs in this set let me easily adjust colors without having to do any surgery on the design to insert a color change and add extra tie stitches to secure the thread.
With any basic customizing program, you should be able to experiment with different color schemes and get one you like. Then, pull your thread colors, lay them on your fabrics and look at them in daylight to see how the look.
You can have lots of fun with colors for these Kaleidoscope Florals because they don't have match any "real" flowers at all!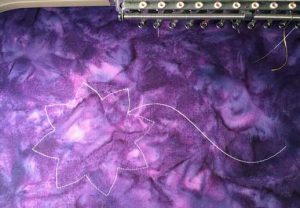 WHAT ABOUT THE STEM?
So you might be wondering about that stem…
This is just a strip of bias run through a bias tape maker with fusible web applied to the back and fused to the background fabric.
Here's where a bit of skill with digitizing can help. I simply drew a curvy line and applied a run stitch to it then moved that so that it sewed first, right before the placement of the flower.
A basic level digitizing program and a few skills gives you the ability to create simple objects to aide in utilitarian tasks like placement and stabilizing that are highly useful.
I often digitize my own basting stitches so that I can better secure my project by basting more closely to the design. How often do you stitch perfect rectangular designs that closely fit within a an automatic basting box?
Note: Obviously you'll need at least a basic level digitizing program if you want a placement line. Or, you could simply fuse the stem in place and then rehoop for each element—which you'll have to do if you only have a small hoop. As is, the design can be stitched in a 200 x 300mm hoop.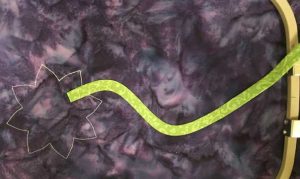 Then when the machine stops for the flower appliqué placement, I used that guide for placement, curving the bias to flow along the line.
To get a smooth placement, just slightly stretch the outer curve side and ease in the inner curve side and fuse in place.
Then place the applique for the flower, tack it in place and continue stitching.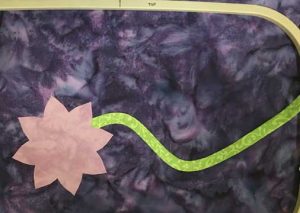 I'm a big fan of pre-cutting appliques because I think you get a mucn more professional result with the risk of ditorting your hoop tension.
A FEW MORE TIPS
Because I was working with quilt weight cottons, I interfaced the entire front piece before hooping and stitching. I consider this "fabric prep" and not "stabilizing" although the effect is adding more stability to the fabric. I used ShirtTailor, which is not all that heavy or stiff.
I really didn't know how I was going to use the piece when finished so I just cut a piece slightly larger than my hoop (~13″ x 18″) and stabilized it with tearaway. I figured that would give me a big enough piece for something.
If I had been making a garment, I would have chalked out the pattern outline on my fabric without any cutting, stitched the project, and then checked the pattern again before cutting.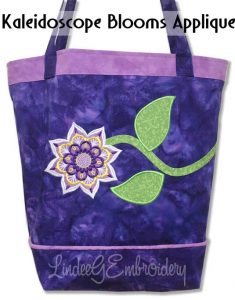 I love piping and adding some not only gives my bag a designer touch, it looks intentional rather than "I didn't have enough fabric and had to piece on a section for the bottom."
I decided another strip near the top would also add to the designer look as well as bring out the color in the flower.
The bag is lined with the light purple and I added a small pocket on the inside with some leftover scraps.
I made the straps from the same fabric as the bag body. Purchased webbing could be used but straps are easy to make. I figured I constructed the bag faster than it took me to drive around town and find a readymade bag to embroider in a color I wanted.
I also interfaced all the other outer pieces and the straps so the bag has some structure but is still soft.
Finished size is 14.5″ tall. The bottom measures 9.5″ wide by 6″ deep. Straps are 1″ wide and are 29″ long end to end. The top contrasting band is 1.5″ wide. The stem is 1/2″ wide and is fused, not stitched.
DIMENSIONS
For those of you who want to make something similar, here are the finished dimensions:
Finished size is 14.5″ tall.
The bottom measures 9.5″ wide by 6″ deep.
The center panel is 16″ wide x 10.25″ finished.
Straps are 1″ wide and are 29″ long end to end.
The top contrasting band is 1.5″ wide.
The stem is 1/2″ wide and is fused, not stitched
I didn't have a pattern, I just worked it out as I went and trusted my eye for proportions.
MY AFFILIATE LINKS DISCLOSURE
Hi everyone. Just to let you know that some of the links on this site are affiliate links. What that means is that if you click one of them and buy something… I get a commission. It doesn't cost you anything extra and I only recommend things that I've tried and tested, so please, please, please… use my links.
Fine Print: Lindee G Embroidery is a participant in the Amazon Services LLC Associates Program, an affiliate advertising program designed to provide a means for sites to earn advertising fees by advertising and linking to amazon.com. Lindee G Embroidery is also an affiliate for Embroidery.com, Nancy's Notions, Embrilliance, and Craftsy. If you purchase something through one of those links I may receive a small commission, which helps to offset the cost of running this site. 🙂
WHERE TO GET…
Like most designs in my shop, these are available individually or in a set. Obviously, you get a better deal per design in the set than singly. I've also added the stem placement as a free download since it was created after the set was complete.
Embrilliance software is often available in our shop as a physical product that will be shipped (U.S. only) or as digital download from Embrilliance

Not sure? Download a demo version to try out any ot the apps or get the free version, previously known as Alpha Tricks Express, now known as Embrilliance Express to open access to the thousands of keyboard fonts available as BX installer files
Stitch Artist is the digitizing module in the Embrilliance line and comes in 3 levels. Start with the basic one and upgrade as you need to!

Get the collection with 12 large applique kaleidoscope flowers and 3 leaves or download just the flower and leaf I used. All designs are also available individually.

If you can't make a stem placement line and would like one, you can download it for free.

Only have a 4″ hoop? Check out these smaller versions. Although there's no leaf with these designs, you can search for other leaves.

HELP THIS SITE SURVIVE!
This site provides a huge value in informative blog posts, educational videos, and professionally digitized designs—both free and paid. It cannot survive without the benefit of shop purchases and/or donations. Currently the site is struggling to stay afloat because most shoppers only download freebies. We commonly tip those in the service industry such as our hairdressers and restaurant waitstaff to show appreciation. Help your favorite site stay alive by showing your appreciation by supporting them too! You can help by purchasing products from this site or making a donation. Check the Specials area for currently sales and specials. Another way to help is by sharing posts, project, or products to social media and clicking those little stars! Your support is greatly appreciated!
RELATED ARTICLES