If you've been reluctant to try inks or using media that requires a brush, then I've found something that gives you the look of inks with the ease of colored pencils and it's called InkTense Colored pencils.
Basically, using a natural fiber fabric, you color just like any other pencil and then you activate with moisture and that can be plain water, aloe vera gel or textile medium. Once it dries, it's permanent. It really doesn't get any easier than this!
ABOUT INKTENSE COLORS
Inktense colors are available as either pencils or sticks (called blocks). Right now, I only have the pencils because I mostly work in small areas but now that I've tried the pencils, I can see where the sticks would be better for larger projects like my Winter Friends and Haunted Halloween wall hangings.
These first ventures into combining colored pencils with embroidery used Crayola colored pencils applied dry to the fabric and then treated with textile medium.
After a run in with a cup of coffee, I found that the color was not as permanent as I was led to believe. So I've been on quest to find something easy, economical and permanent.
Derwent Inktense Pencils are often described as watercolor pencils but that's not entirely accurate because when you mix them with water, the color turns into a vibrant ink. Once this has dried, the ink is waterproof rather than remaining water-soluble with watercolor.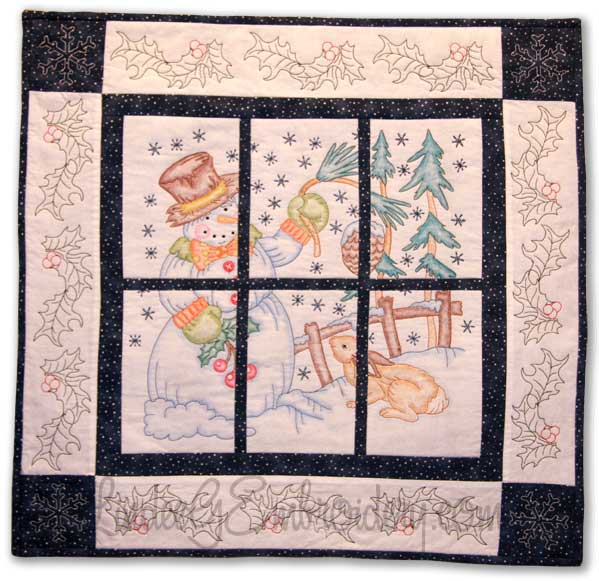 The colors can be used on their own or mixed together to create rich, subtle tones. Because they are permanent once they dry, additional washes or details can be applied over previously colored layers without reactivating them.
Water color pencils get reactivated each time they are rewet and can become muddy with multiple applications whereas with Inktense, once it's dry, it's dry. Unlike watercolor pencils, when the ink has dried again it won't lift off easily when you reset it.
You can apply them either wet or dry. I'm not sure about dipping the pencils into water; it could make the lead too soft but I did try just dotting it into water and applying it in a couple of areas and that worked great.
"Inktense" is an appropriate moniker because once you do apply moisture, the colors do become quite strong and intense.
WHAT KIND OF "MOISTURE"?
I mostly worked with water and a small brush. Because the color is permanent when dry, I didn't worry about mixing in a textile medium although I did experiment to see if there was a difference in color
Textile medium does add a bit of stiffness but not so much as to be objectionable. Instead of applying it full strength, I mixed it 50-50 with water.
Clear aloe vera gel is another product I've used with Tsukineko Inks and it too worked well. The nice thing about the gel is that it doesn't run and you can get a more controlled application
I didn't really have a problem with the water causing the color to run because I wasn't oversaturated the brush or fabric and the stitching lines rather performed like a wall to reduce the spread.

WHAT FABRIC PREP?
Pre-washing to remove any coatings is always a good idea when applying color to fabric. My fabric came out of my stash and was pre-washed. I embroidered first and then just colored.
I knew I wanted to make a tote bag with an embellished pocket and I wanted to use a durable fabric like cotton duck or canvas.
The problem with "canvas-y" like fabrics is their coarse weave. Not only does a coarse weave interfere with a smooth stitching line, it's also difficult to color without looking like a rubbing.
Tightly woven fabrics are not a good choice for large dense designs because there's just not adequate "breathing room" between the weaves to accommodate more thread. We talk about "embroidery on" but really we embroider through.
And since every needle penetration except the first and last has two threads through the fabric—one going in and the other coming out—that can cause a lot of distortion when a lot of stitches are crammed into a small space.
Heavy coarse weaves add in another problem because the needle often cannot pierce the fabric exactly where it was programmed. The weave can deflect the needle to one side of the fabric thread and that can cause a jaggy edge on the embroidery.
By choosing a large open curvy design, I've worked around the issues of distortion and jaggy edges. And by using Inktense pencils with water, I was apply to get the color to flow into the weave crevasses.
HOW TO USE INKTENSE PENCILS
Inktense pencils can be used dry for rich, intense color or washed out with a little water to create a vivid translucent effect.
I mostly color directly on dry fabric with a dry pencil but you can also lift color off the pencil with a brush and then paint the color onto the fabric.
Another technique is wet the tip of the pencil which will create a fatter or broader mark than if the tip is dry. You can dip the pencil directly into some water or textile medium (avoid over soaking!).
If the fabric is wet and you move the pencil across it slowly, the mark you get will also be fatter. For a thin mark, sharpen the pencil to a point and move quickly.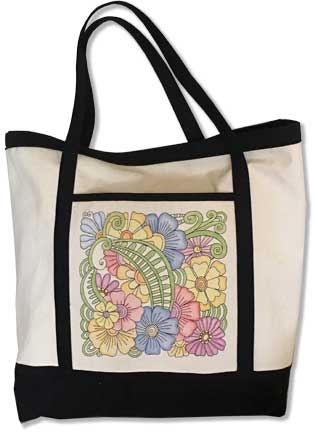 The lines can be softened by spreading the Inktense ink around on the fabric with a moistened stiff-haired brush. Depending on how hard you scrub with the brush, more or less of the line will dissolve.
Note: some fabric surfaces can be roughened by too much scrubbing!
I've just begun using these pencils and I'll be doing some more experimenting. The blocks look like it would be easier to lift off color with a wet brush and mix on palette. I'd like to try coloring some lace with them.
WHY COLOR?
Unless you've been living in cave for the past few years, you're likely aware of this whole "adult coloring book" thing. While I do enjoy the process of coloring, I'm really not interesting in taking the time to do it in a coloring book.
Open line art style embroidery designs are perfect for coloring. You can find several other blog posts on coloring techniques on fabric and even stitching and coloring on paper.
I personally like designs that give me the opportunity to put my own spin on it. When I found this set of artwork that resembles those designs in current coloring books, I knew they'd be perfect.
There are 12 designs in this set, each in 5 sizes, so I'm planning a quilt. The trial version I made that used for the pocket is from the largest group.
STUFF TO KNOW
These colors really become shockingly bright and intense once the ink is activated so start with a light hand–hence the name, "Inktense."
You can always add more color but once the ink dries, you can't take it away. You can work out some of the color while it's still wet.
The good thing about the water is that you don't have to worry about applying the color evenly. You can just do some light sketchy swipes and then smooth it out with a wet brush. That's also great when you're working on fabrics that aren't a smooth, tightly woven surface.
For this project, I just did simple shading by adding a little more color after the initial layer dried. This embroidery design is not particularly realistic in the first place but adding some shading on the flowers does add interest and dimension.
You can blend different colors but you'll need to have them both newly wet. In other words, you can't add a new color and blend it into one that's been previously set.
I found that I didn't need to waste time waiting for areas to dry and it was easy to work anywhere on my project without smearing previous areas. If you do need to speed up the drying—say you're doing a wet into wet technique—a hair dryer can help.
Inktense pencils work best on white or very light colored fabrics. In the sample here, I tried coloring in the letters of "AUTUMN," which were stitched on a light brown mottled brushed cotton. The brown fabric muddied the colors somewhat and scrubbing with my stencil brush disturbed the nap in several areas.
Note: This collection comes with a plain outline and then a detailed leaf design. Use the plain version to cut out a shape slightly larger than the actual design. Stitch the outline version first, place the leaf over the outlined area, then stitch the full version.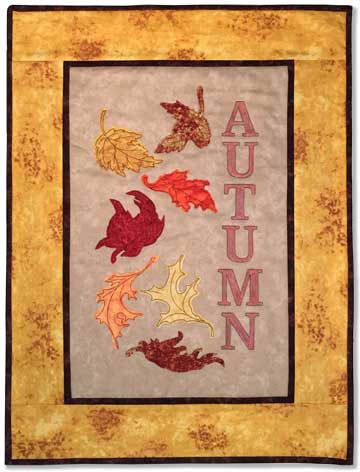 MY AFFILIATE LINKS DISCLOSURE
Hi everyone. Just to let you know that some of the links on this site are affiliate links. What that means is that if you click one of them and buy something… I get a commission. It doesn't cost you anything extra and I only recommend things that I've tried and tested, so please, please, please… use my links.
Fine Print: Lindee G Embroidery is a participant in the Amazon Services LLC Associates Program, an affiliate advertising program designed to provide a means for sites to earn advertising fees by advertising and linking to amazon.com. Lindee G Embroidery is also an affiliate for Embroidery.com, Nancy's Notions, Embrilliance, and Craftsy. If you purchase something through one of those links I may receive a small commission, which helps to offset the cost of running this site. 🙂
WHERE TO GET INKTENSE COLORS
I found them on Amazon (where else?). They come in various size sets and I started with the 36 pencil set.
I wish now I'd gotten the 72 because of all the coloring media I've tried to this point, these pencils combine the best of ease of use, least mess, beautiful color, permanence, and economy.
Fortunately the colors are also available open stock so you don't have to buy complete sets to replenish a color you use frequently.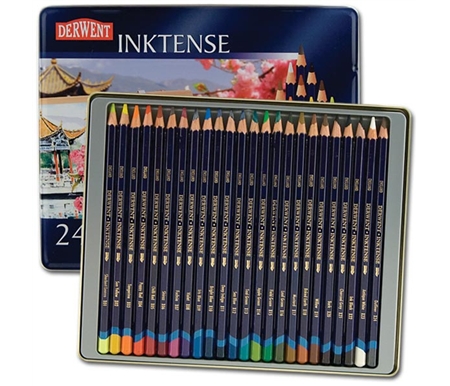 Collections Mentioned in this Post
RELATED ARTICLES