"Lindee Goodall is a veteran master digitizer who loves to share her joy and knowledge of embroidery techniques with others."
In 1993, when Lindee Goodall, upgraded her sewing machine from a 23-year old mechanical Necchi to a programmable Pfaff 1475, her life–unbeknownst to her–took a sharp turn
One year later she had a tiny single needle embroidery machine with rudimentary DOS-based digitizing software, and less than another year later she was using high-end professional digitizing software with a 9-needle commercial embroidery machine.
It wasn't long after that she left her job as a programmer and multi-media developer to form her first company, Cactus Punch, the first independent company to create machine embroidery designs specifically for the home market.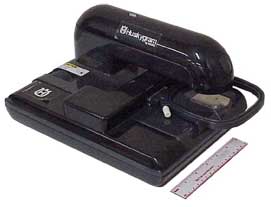 Combining a degree in art, a life long love of sewing and crafts, and a background in programming, Lindee melds the art with the science of creating a smooth running and creative design.
Cactus Punch soon became hugely popular due it's focus on multi-format designs targeted for home embroiderers and soon gained a world-wide reputation for artistic, innovative, smooth-running designs. Thanks to her programming background, Cactus Punch was one of the first embroidery companies to have a web presence in early 1996.
During that time Lindee was a featured guest on many of the PBS sewing shows of the time:
Quilting from the Heartland/Quilting with Shar
America Quilts Creatively
America Sews with Sue Hausmann
Martha's Sewing Room with Martha Pullen.
Her work was also featured on the covers of Stitches Magazine, Sew News, Threads, Profitable Embroiderer, and Creative Machine Embroidery.
In addition articles in those magazines, Lindee has had published articles on digitizing and embroidery techniques in Impressions, and Designs in Machine Embroidery. Lindee has given workshops and seminars on digitizing, embroidery techniques, and how to make money with embroidery.
She has taught at numerous venues including:
ISS Shows
Original Sewing & Quilt Expo
Creative Embroidery Conference
Houston Quilt Market
Viking, Pfaff, Singer, and Baby Lock Conventions
Brother Back to School
Sewing & Stitchery Expo
Rusty Barn Events
Martha's School of Art and Fashion
Echidna Sewing Products Convention (Australia)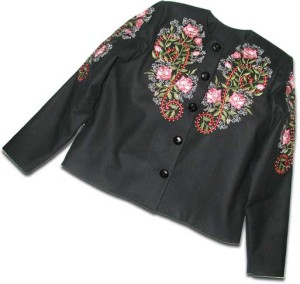 In 1997, Lindee was featured as one of the first "Digitizers of Distinction" by Impressions magazine and won first place at METS that year for best original digitized design.
In 2002, she won the prestigious Stitches Magazine first prize in the category of Creative Use of Stock Designs.
BOOKS
She is the author of 4 self-published books based on embroidery: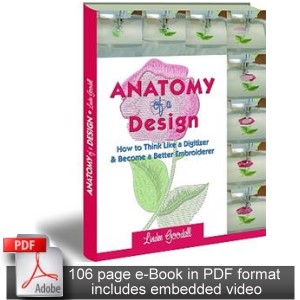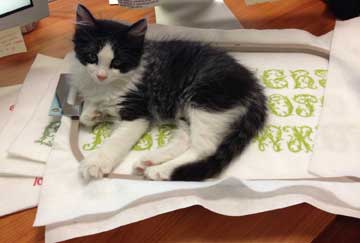 CURRENT: LINDEE G EMBROIDERY
After Cactus Punch was effectively shut down by the new owners, Lindee found herself missing the embroidery design and teaching aspects and formed a new company in 2008, Lindee G Embroidery, which she operates as a solo-preneur with some side help from her husband, Bill, and their cats.
Her focus is still creating and selling smooth running designs, most of which are stock designs available as collections, single designs, and project. She also still provides custom digitizing services for select clients. Free education is available via blog posts, YouTube videos, and Facebook.
AND NOW A CRAFTSY INSTRUCTOR!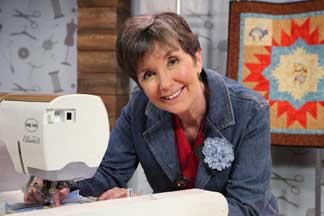 WATCH AN INTERVIEW
Margaret Moorehead of The Virtual Sewing Guild interviews Lindee Goodall, Lindee G Embroidery, as part of the Expo Expert Interview for 2017.
LEARN TO DIGITIZE WITH ME!
In 2016, I learned that the Mac-based digitizing software I had been using since 1994 (and loved!) was no longer going to updated for newer Mac OS. After dragging my feet and dabbling around with other programs, I had my arm twisted in 2017 to try Hatch. Of course it meant loading Windows 10 onto my Mac, not something I was really motivated to do. (I do have Parallels.)
I did not expect to like Hatch but I decided to give the 30-day free trial a dedicated go. Long story short, I loved it and completely switched to Hatch, and now am a Hatch educator!
Creating Good Embroidery is a Complex Skill
If you've bought other embroidery programs and have been frustrated because you never learned them, I've worked with the people at Hatch to create a fully structured on-cline learning program called the Hatch Academy. 
Not only will you learn how to use the tools in Hatch, you will learn when and why to use them. There are also project courses to teach you "real life" uses from digitizing to stitching and finishing the project. 
Lessons include illustrated text, video, and a Try It section so no matter what your style of leaning work for you—watch, listen, read, and/or do—you're covered.
Join Me to Learn Hatch!
What's even better is you can try a fully functional version of Hatch for free for 30 days. You'll also get free access to the Getting Started lessons in the Hatch Academy. If you set aside the time and commit to learning, you'll be amazed at what you can create!