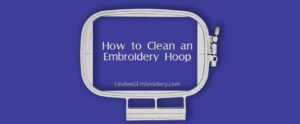 Gummy hoops collect dust, fuzz, and other crud that can transfer to your project. Learn how to keep your hoops [...]

Award-Winning Designs
All LindeeG embroidery designs are manually digitized by Lindee and tested in-house for the highest quality control.

Instant Download!
Download your products as soon as your payment clears! No need to wait on an email. Downloads don't expire.*

Free Shipping on Physical Product!
Get free shipping on physical products totaling over $50 shipped to a U.S. address. Items are shipped from Tucson, AZ usually within 24 hours.
Lindee has provided educational content in the form of classes, presentations, articles, and videos for the following companies, magazines, events, and TV shows. She's taught internationally as well as locally. Find her contributing on YouTube, in her blog, and in many Facebook groups.