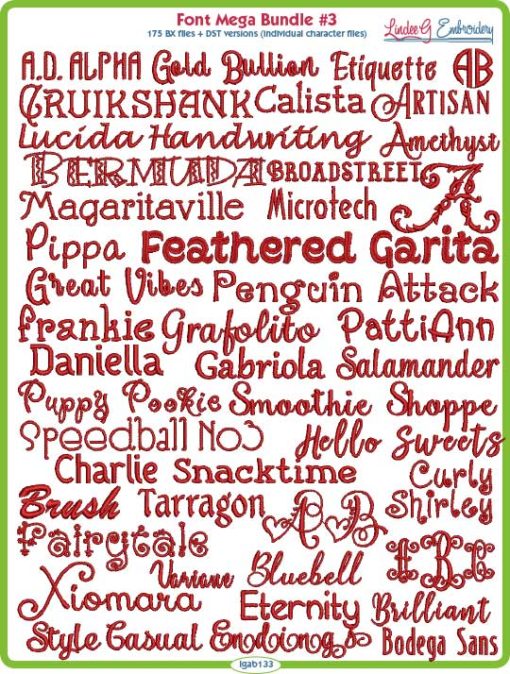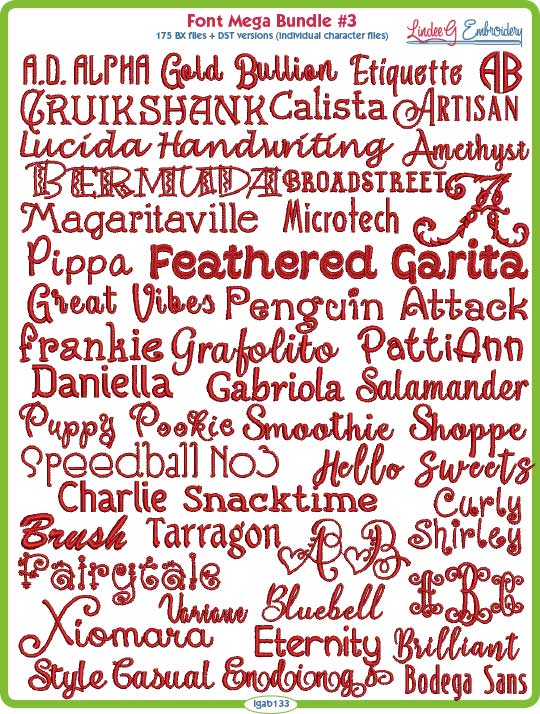 Font Mega Bundle 3
175 BX fonts bundled into one special package! BX & DST only. $1741.25 if purchased individually.
Formats: DST, BX
Instant Download
SKU:

lgab133
Categories: All Alphabets, All Designs, Bundles
Tags: alphabet, AlphaTricks, BX, curly, decorative, Embrilliance, EmbroideryWorks, fancy, Font, italic, keyboard, lettering, letters, lgab133, monogram, script, upright
175 BX fonts bundled into one special package! BX & DST only. $1741.25 if purchased individually.
Formats: DST, BX
Instant Download
Only logged in customers who have purchased this product may leave a review.
---
Notes About Fonts & Formats
Each character in this alphabet is individually manually digitized; we do not use a TrueType to Stitches conversion utility to create our fonts. Additionally, stitch attributes such as stitch type, density, compensation, and underlay are optimized for each size available. Choose the size closest to what you need. Shrinking the smallest size is not recommended.
BX Format
This font is available as a BX file, which can be used with Embrilliance Essentials, AlphaTricks, and Designer's Gallery EmbroideryWorks as a keyboard font. Embrilliance offers a basic
FREE version
for you to install the BX file and easily TYPE your own words and phrases! Simply drag and drop the unzipped file onto the program and it's instantly installed on the font menu and available for use. There's no need to tediously merge in each character and try to align them yourself. Embrilliance can create files for ANY machine and designs created with it can be opened in other embroidery programs. A PDF file is included with instructions and links to these programs as well as the free Embrilliance Express. These programs all have Mac and Windows versions. Be sure to
visit the Embrilliance website
to learn about the full version of their software program to allow you even more flexibility and options.
DST Format
The DST format has been added to most stitch file fonts as a courtesy. If you choose to use a stitch file version, each available character is stored in its own file and you'll need to combine them individually or use some other mapping software to create a keyboard-friendly version.
Note: Floriani FTCU is one such program that can do that. Check your software to see if it offers font mapping for stitch files.
Due to the number of files required for each font in each size, unless otherwise, noted only DST is supported. Fortunately, most programs and machines can read DST. If you prefer to have a different format, simply use your software to convert.
> > > > > IMPORTANT! < < < < <
Be sure to download any additional files such as color sequences, templates, and instructions that may be listed; they will not be included with the designs themselves.
It is also advisable to download the DST file because this is the "master file" for converting to all other formats and will have information like trims that may be lost during conversion.
Any "non-machine" formats (.gen, .emb, .pdc, .bx, .esa. etc.) require appropriate software to open.
As with all digital designs, the designer owns the copyright is only licensing them to you to sew
You may only sell/share sewn versions of the designs, not digital copies.
Due to the nature of digital files, there are NO RETURNS.
UNLESS OTHERWISE NOTED, ALL DIGITAL FILES ARE DOWNLOAD ONLY. NOTHING WILL BE SENT TO YOU!
Related products