LOOKING FOR THE VIRTUAL SEWING EXPO LINKS?
A new page has been created since the video was produced. Please go here: 2017 2nd Annual Virtual Sewing Expo Specials
MY AFFILIATE LINKS DISCLOSURE
Hi everyone. Just to let you know that some of the links on this site are affiliate links. What that means is that if you click one of them and buy something… I get a commission. It doesn't cost you anything extra and I only recommend things that I've tried and tested, so please, please, please… use my links.
Fine Print: Lindee G Embroidery is a participant in the Amazon Services LLC Associates Program, an affiliate advertising program designed to provide a means for sites to earn advertising fees by advertising and linking to amazon.com. Lindee G Embroidery is also an affiliate for Embroidery.com, Embrilliance, and Craftsy. If you purchase something through one of those links I may receive a small commission, which helps to offset the cost of running this site. 🙂
This page lists links to some of my favorite products! Unless otherwise noted, these are products I have or have used.
Note that some of these products are found right here in my own shop while others are affiliate links to my favorite sources.
You may also find these products in your usual local shops but I find that more often than not, when I find something I like, when I rely on the store to have it when I need it, that's when it's either out of stock or no longer carried.
Besides, it's much easier to click a few buttons on the computer and have a package delivered right to my front porch rather than waste time and gas and contribute to global warming by driving around looking for stuff. Here are my 3 primary sources here in the U.S.:

The nice thing about Amazon is that they also have locations around the world. For my Aussie & Kiwi friends, Echidna Club is a great resource.
HELP WITH THIS PAGE!
Products do get discontinued and links can evaporate.
If you find a product link no longer works, please let me know via the Contact page. Also, if you have product to recommend, let me know. I'm always looking for new and better things!
VIRTUAL SEWING EXPO 2017
See 2017 2nd Annual Virtual Sewing Expo Specials for all the updated specials (this page was created after the video was made…)
Looking for designs listed in the video sessions?
DESIGNS MENTIONED IN CLASSES & YOUTUBE VIDEOS
Other products mentioned in class videos will be listed under the appropriate heading.
Free-Standing Lace YouTube class
Machine Embroidered Applique class
DISCOUNT LINKS FOR CRAFTSY CLASSES
Craftsy is my go to place for learning.
Yes, you can eventually find something on YouTube and that can get you out of jam (possibly) but if you want an actually class, then check out Craftsy!
All discount links for Craftsy classes can be found on my Craftsy page.
Note: Craftsy changed how discount coupons work restricting them to specific period rather than indefinitely, which makes maintaining the links ridiculously complicated.
DIGITAL CUTTERS
If you do a lot of appliqué, owning a cutter will not only speed the cutting but improve accuracy!
I personally use a Brother Scan N Cut, which is a popular and easy to use cutter. There are quite a few to choose from these days so do your research.
Here's a good place to start:
View a Selection – as new cutters are introduced, you can find them here. Also, compare various cutters to see which one will work best for you.
FUSIBLE WEB FOR APPLIQUE
There are many choices from paper backed to pressure sensitive; light to heavy. Choose one based on your project and how you will be cutting. I find the sticky ones work best for hand cutting and make a mess when cutting on a cutter.
APPLIQUE TACKING IRONS
I have two styles mini irons for working in the hoop.
The older one is quite large and I only use it in the really large hoops on my multi-needle. I haven't found a link for it.
My most used ones are these:
Mini Irons – In addition to fusing applique in the hoop, these little mini irons are great for piecing in the hoop, pressing seams open when piecing, and sewing doll clothes!
SUPPLIES FOR INKING & COLORING EMBROIDERY
I've written about coloring embroidery in several blog posts and also demo'd it on YouTube. Coloring is easy, fun, and adds a unique look to your projects.
Here are some of the products I use:
STABILIZERS
My two go-to brands are Hemingworth and Sulky and since I like the convenience of shopping on-line and having them magically appear on my front porch, my favorite haunts are embroidery.com, Nancy's Notions, and of course, the ever popular and ubiquitous Amazon.
Check all three for the best prices and selections.
Purchase commonly used stabilizers in either convenient sizes for your hoops, or as the largest bolt or roll available for better price per square inch. Look for a starter kit if you're just getting started.
Here's a list of commonly used products I have in my stabilizer stash. Yes, there are other specialty ones but these will do for most projects.
BATTING & SEW-IN FOAM
I prefer low loft battings for most of my projects that call for it. Recently I've begun experimenting with some of the sew-in foams used primarily for bag construction.
These are good for in-the-hoop bags when more structure is desired. Also, since they don't require quilting, they can be used on panels where there's no quilting or embroidery design to secure the batting. Here are products I've personally worked with:
Warm and Natural – this has become my go-to batting product. It's cotton and holds up to heat. It's widely available. This link will also display comparable products.
Bosal In-R-Form – this link will show various options for single side fusible, double side fusible, and non-fusible (the one I've used).
June Tailor Quilt Low Loft Fusible Batting – When I've mentioned using fusible batting in a project, this is the brand I've used. It's polyester and I have had some issues with poly batting melting, especially when using a heat set ink product. It is quite useful when doing in-the-hoop quilt-as-you-go projects.
IN MY WISH LIST
Hobbs Fusible Cotton Blend batting – The nice thing about looking for products online instead of just what's available in your local big box store is you can find alternative products. This is another fusible batting I'd like to try for a project. I think with the cotton content it may be more suitable.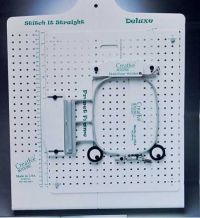 HOOPING AIDS
New hooping aids are being developed all the time. These aids can help you get more accurate placements and hoop more quickly.
Add-on specialty hoops, like magnetic ones, can make quilting with your embroidery machine easier.
My faves
Embroidery Placement Ruler Adult Shirts Size Small – 4XL – Once again, a replacement item for something I've long used and found ideal (Embroiderer's Buddy). This gadget will help you get an accurate placement for left chest logos and help you avoid placements that are too low ("headlights") or too far towards the sleeve (armpit designs).
In my Wish List
ADHESIVES
Adhesives are useful hooping aids by helping to secure layers for stitching. I use them sparingly and when needed, not as a routine matter of course.
THREAD
Today we have many choices for high quality thread. Many embroiderers will list the thread colors they used by the brand they use.
I happen to mostly use Hemingworth Poly, Softlight Metallic, and Madeira Rayon.
If you've seen any of my Craftsy classes or YouTube videos, you may have been curious about the little dome covered mini-king spools I use; those are Hemingworth.
Bobbin thread is also critical to proper stitch formation. The right weight will keep the bobbin thread on the bottom of the embroidery instead of pulling up to the top. Colored bobbins can make your embroidery beautiful on both sides.
UNEMBROIDERING
Yes, it's a nasty embroidery fact of life – at some point you'll have to remove embroidery.
Here are my favorite tools for that:
SOFTWARE
As a Mac user, I'm easily frustrated by software that I have to use on a PC.
Yes, I have Parallels installed on my Mac and there are quite a few embroidery programs installed there but it's still just too inconvenient—not to mention I have to use Windows.
For digitizing, I use Punto, which runs natively on Mac. This has been my primary digitizer since 1995.
Punto is strictly a digitizing program. It's not good at working with any files not created in it nor particularly good for normal customizing tasks. It can't convert to any home formats. It doesn't even resize non-Punto files well.
For those tasks, I use the Embrilliance suite of programs.
WHAT I LOVE ABOUT EMBRILLIANCE
Works on both Mac and Windows
Easy to use, easy to learn, easy to expand
It's modular: get what you need, when you need it
It works under one roof: each add-on opens up new features in one program
It's affordable: even if you bought every module, it's still far less expensive than competitive products
It has a wide user base, lots of 3rd party YouTube videos, and user groups
It works on my Mac just like a real Mac app not some subset of features in the Windows version
WHERE TO GET IT
I often demo this software at consumer shows and it may be stocked in our online shop in the software aisle. These are hard copy versions that will be shipped to you.
Prefer a downloadable instant version? Then get Embrilliance here.
READ MORE ON THIS TOPIC
There's a longer blog post on this topic here: What Embroidery Software Do You Need?