Let Your Embroidery Machine Do the Quilting!

If you've become the designated "baby quilt lady" who is expected to make a quilt for every new arrival on the planet within your extended family, friends, church, neighborhood, or community, you may be feeling a bit overwhelmed!
I made this little quilt in just one day and I didn't burn the midnight oil to finish it. Finished size is 30.5″ x 39″and the blocks are 7″. I chose designs that were quick to stitch and doubled as the quilting. I assembled it with quilt-as-you-go techniques.
I like QAYG because I get freaked out by the quilting process. I'm good with all the rest of the steps but the actual quilting? If it's more than stitch in the ditch, I'll "quilt by check" and support the economy of the local longarmers.
MAKE A BABY QUILT STASH!
Many people have a "gift stash" where they have a ready supply of gifts on hand. They may stock it with things they make, great buys they find. or "re-giftng" items.
Why not add some quick and easy baby quilts to that stash?
These adorable little baby animals work equally well for boys or girls. I chose soft yellows and grays for this project. There are 4 sizes available (100mm, 130mm, 150mm, and 200mm generally converted to 4″, 5″, 6″ and 8″ sizes.) I chose the 150mm for this quilt.
Hoop your quilt sandwich, embroider the blocks, add the sashing strips, then the borders, and finally the binding.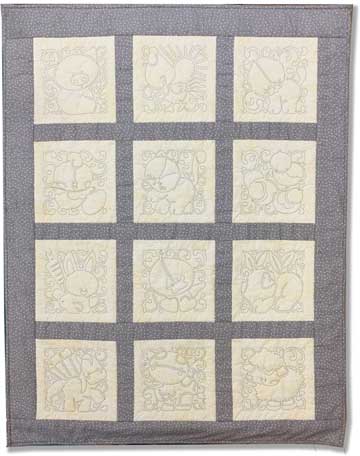 QAYG METHODS
The general principal behind quilt-as-you-go is that you quilt your blocks BEFORE assembling your quilt. This makes the quilting more manageable.
It also means if you mess up a block, you can just throw it out and make a new one much easier than fixing a large quilt.
Because you're only quilting blocks, QAYG is great way to have your embroidery machine do all the quilting.
There are several different ways to attach the quilted blocks together and there are plenty of resources for instructions on other techniques. I used the same one I used on most of my other QAYG methods because it's relatively easy.
It does have a few drawbacks: it uses more fabric than some other methods and it adds more bulk. And, you'll have to figure out how to secure one side of the sashing.
QAYG does require more prep work than a "normal" quilt in that you'll need to duplicate all the pieces for both the front and the back. You can't determine the amount of fabric for the back based on the size of your quilt; it will depend on how the front is constructed.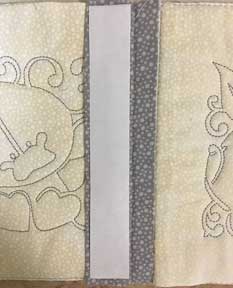 SPEEDY SHORTCUTS
On previous quilts, I've used a blanket stitch to attach the binding on the open side. The original technique's instructions called for hand-stitching all those edges.
For this project I chose to fuse the open side down using strips of Heat N Bond Lite.
Typically, after machine stitching the binding to the front side, I hand stitch the folded over edge on the back. I did that on this quilt but you could fuse to finish or machine stitch that to save time.
BASIC OR FANCIER?
This quick quilt is about as basic asit gets. Most of my other QAYG projects are a little more involved than Quilted Baby Animals and therefore take more time. The whole idea with this one was to make a quilt in less than a long day.
Let's take a look at some.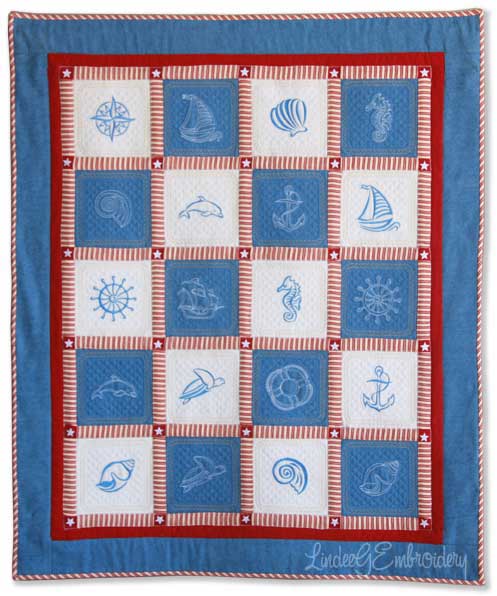 OCEAN DREAMS QUILT
Now compare Ocean Dreams, which uses the same basic techniques as Quilted Baby Animals and adds a few enhancements. On this quilt, the designs are a bit more complex; I've used more color, added multiple borders and used corner stones embroidered with stars.
Ocean Dreams, was completed in 2015 and features designs with both satin stitched elements and outlined companion designs. The quilting patterns are separate designs in the set that can be combined to create the quilted version making the designs more versatile.
The satin stitch versions could be used on a tee shirt without the quilting motif, for example.
IT'S A GIRL QUILT
Since I introduced the "It's a Girl" quilt in 2011, I've had many requests for a similar quilt for boys. The "Ocean Dreams" quilt would make a great quilt for a boy of any age. Just stitch more blocks for a larger quilt.
It's A Girl quilt uses a "formula" similar to Quilted Baby Animals with the addition of ruffled edge and rounded corners. See what a difference just a few simple changes can make?
Not quite as quick as the simpler one but still can be completed in a day, if a bit longer one.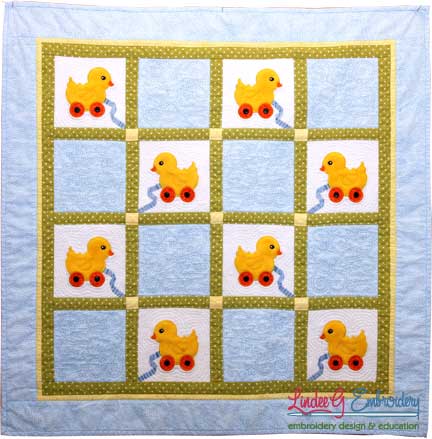 FUZZY WUZZY DUCKY QUILT
On this quilt, I used just two designs from Baby's First Quilt, which features appliqué designs with coordinating quilt designs and an optional echo quilting design that can be added around the appliqué.
There are two reasons I separate the quilting from the feature design. One is so that the feature element can be stitched in a smaller hoop and the second is for flexibility. You may want an appliqué without quilting!
I've made this quilt more interesting by using fleece for the duck, adding a strip of ribbon to make it a pull toy, and replacing an embroidered element on the wheels with buttons.
Corner stones and multiple borders of varying widths also add interest.
LADYBUG QUILT
This bright and cheery quilt was designed and made for a great niece and features appliqué ladybugs and daisies in the white blocks and quilted butterfly motifs in the green blocks.

Once again I've used corner stones and multiple borders plus I've placed the blocks on point. This meant having to create special versions of the butterflies for the edge and corner blocks.
All designs needed to recreate this fun quilt are included in the set.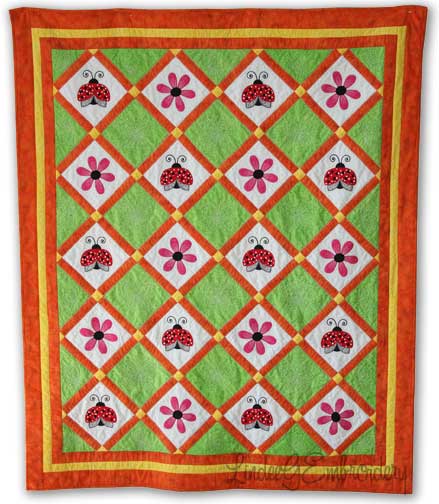 WHAT DESIGNS TO USE?
I like to keep the quilt looking as much like "normal" quilts as possible. By that I mean I only want to see "quilting" on the back and not the back side of an applique or embroidery design.
To get that look, I'll either need to find a suitable design or add quilting stitches to one that doesn't have any. Since the blocks are quilted before piecing, you could free motion quilt, echo quilt, stipple, or channel quilt around the design with your sewing machine.
In addition to the sets already shown, the following designs are perfect as is for QAYG and are available in multiple sizes.
WHAT DESIGNS TO USE?
I prefer to let my embroidery machine do the quilting. If you have digitizing software, it's relatively easy to digitize quilting around a design.
If you have Embrilliance Stitch Artist Level 3, it's ridiculously simple to add stipple stitching around ANY design once you know a few tricks. Watch the following video to see how.
WANT TO KNOW MORE?
Stitching up a quick quilt like the ones shown here is pretty easy once you understand how it's done.
You can get a good idea from the following video but if you need step-by-step instructions, download this 40-page PDF book, Quilt-as-You-Go Basics, that covers the technique I've used in the quilts shown in this post.
WHERE TO GET!
Looking for items mentioned in this post?
RELATED ARTICLES