When "pucker up" is not a good thing!

Eight years ago, I wrote a post called Why Does My Embroidery Pucker (find it linked at the end of this post) and during the recently wrapped 2017 Virtual Sewing, Quilt, and Embroidery Expo, I focused on pucker problems in my two-part class called Professional Pointers for Pucker Prevention.
I could have used another 15 minutes or more to cover even more tips but the organizer limited our time to 15 minutes. If you watched the Expo version and thought I was talking faster in the second part, it's because I had to speed up the video to squash the time!
Now that the Expo is over, I've put slightly modified versions of the classes on my own YouTube Channel. Watch them in this article or hop over to my YouTube Channel for more videos.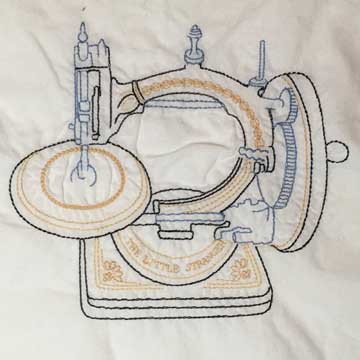 WHY PUCKERS FOR THIS CLASS?
We have the option of choosing any topic for our Expo classes. Since we could do two videos this year, we could do two different topics. I went to the FaceBook groups to see what embroiderers were having problems with.
What I found was a lot of complaints about puckers and a lot of "helpful" responses to such laments. Some were actually right on while others really made me laugh.
Hint: Just because you saw it on the internet doesn't mean it's true or accurate…
With such a diverse audience as the Expo was likely to get, I wanted to a choose a topic with broad appeal and one that wasn't just some infomercial in disguise. I suppose that comes from all the years of guesting on PBS shows where you couldn't even NAME products you used.
I would appreciate any feedback on what types of classes you like and whether you prefer a technique class or project class or have a specific suggestion for an informative class that would interest a wide range of embroiderers no matter their skill, machine, software, or interest. I'm sure i'll be back at the Expo next year.
PROFESSIONAL POINTERS FOR PUCKER PREVENTION PART 1 – HOOPING
A good result in ANY embroidery project starts with hooping.
What is a good hooping? It's a smoothly hooped item, in the right position, with the right fabric and hoop tension, with the correct stabilizers (toppings, backings, adhesives, etc.), in the smallest hoop that can comfortably accommodate the design and ideally hooped between the rings.
I know that last bit—"between the rings"—is going to set a lot of embroiderers off because it is so much easier to float the project over the hooped stabilizer.
I always hear, "I float all my projects and they look just fine." They may. Remember that line from an old Dirty Harry movie, "Do you feel lucky?" Well, do ya?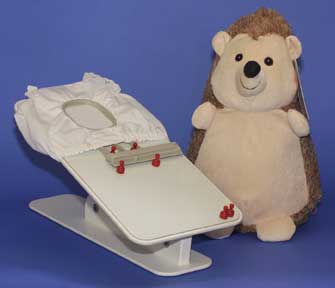 Professional embroiderers know the secret to a professional result is to hoop between the rings whenever possible.
I suppose I was lucky when I got started in embroidery. There were few home embroiderers, no real internet, no YouTube, and even dealers had no experience yet. The place to learn was embroidery conferences from commercial embroiderers so I learned from experienced professional embroiderers.
I admit it. It takes patience and practice to hoop smoothly and accurately. It's not fun and it's not all that easy to master, especially with large hoops. And, it can take longer than the stitching process.
That's why pros use specialty tools for hooping quickly and accurately and there's no reason why home embroiderers can't do the same.
You've invested a lot in your machine, threads, stabilizers and other supplies, along with all those designs. Well, some of you have invested in designs, others invest time in finding only freebies, many of which are of dubious quality.
You may think a hooping aid is an unnecessary luxury. If I can get something that not only speeds up a task I dislike but also improves the quality, I'm going to get it. That's why I have expensive embroidery machines.
Ha Ha! I was going to say that's why I have a high end vacuum cleaner but since I don't actually use the vacuum cleaner myself (that's what husbands are for), I thought it was a rather silly comparison.
I'm particularly happy with the Echidna Hooping Station because it's way easier to use, works with all of my hoops, and costs far less than my first hooping station that was sized for adult garments and only worked with hoops from one machine.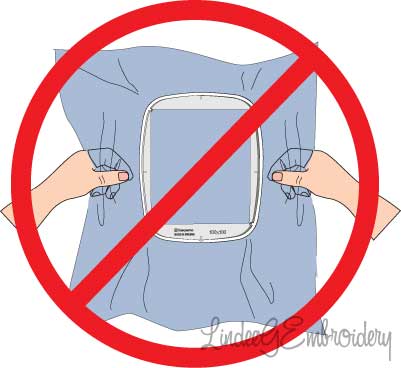 In Part 1 of my two part series, I talk about how to hoop and how not to hoop.
Along with hooping, goes stabilizer. I didn't talk too much about backings and toppings because those choices will depend a lot on your fabric selection (knit or woven, smooth or textured, stable or stretchy, etc.), your design choice (mostly stitch density), and the technique (lace, applique, in-the-hoop project, etc.).
Because of those variables, there's just too much to cover in one video.
If you're not using a stabilizer that can adequately support the design and stand up to the needle for the entire stitching process, you're risking not only puckering but registration (gaps).
However, even with the most perfect hooping and the ideal combination of stabilizers, you can still get puckers.
Watch part one to learn about hooping…
VIDEO: PROFESSIONAL POINTERS FOR PUCKER PREVENTION – PART 1, HOOPING
PROFESSIONAL POINTERS FOR PUCKER PREVENTION PART 2 – THREADS
Designs are made up of thread and most of the items we stitch on are too. That embroidery thread has to go somewhere and that's between the fibers of the fabric; it's not just floating on the surface.
If there's more thread in your design than there is space for it to go into the fabric, the embroidery thread will push the fabric apart and you'll have issues like cupping, wrinkling and puckering. Stabilizer can't prevent that.
Better matchmaking between your design and fabric choices is the way to go. Unlike mismatched marriages, you can't "divorce" your design from the fabric when you find irreconcilable differences after mating. Embroidery lasts the life time of the garment and if you make a bad match, that life time may have just gone down to how quickly you can get it out of the hoop.
That's why test sewing is so important. And you need to test under the same conditions (or as close as possible) to see how well things work out.
Learning about how designs are "built" is very helpful.
If you've been embroidering for a while, you've probably noticed some things about how designs sew. And, you may have noticed that some designs stitch better on some fabrics than others. Some designs that look really great on screen have gaps after stitching.
To help you understand about how designs are built and why (good) digitizers do certain things, I've written a book called How to Think Like a Digitizer and Become a Better Embroiderer.
This book isn't about learning to digitize although it can certainly help you if you're thinking about it. It's really to help you learn to detect a good design from a bad one.
Designs aren't like fruit. You can't sniff it or squeeze it to tell if it's ripe. If the design isn't "ripe" it won't get ripe. Designs won't age into a better version like fine wine. In fact, they're likely to get worse because you'll become more discriminating with what you're willing to tolerate as far as design quality.
Watch the video to get a coupon code to save $10 off the regular price of Anatomy of a Design.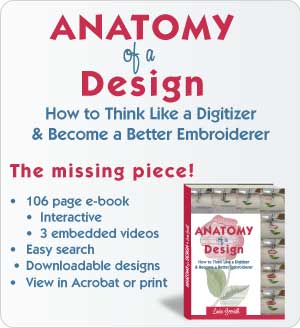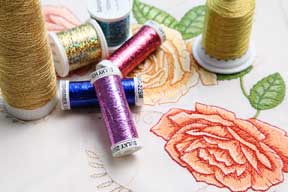 BACK TO THREAD…
Thread type and thread thickness also factor into the mix. Threads that stretch have greater pucker power than threads that simply snap if pulled too tightly.
Thicker threads cause more fabric displacement just as a large person causes more water displacement in the hot tub than a skinny person. Displacement causes that fabric push I mentioned earlier. Get too much displacement and you'll have wrinkles and cupping.
It therefore follows that designs that have more thread (stitches) have more pucker potential than designs that are more open.
Designs that are composed of tightly packed stitches resulting from too much density combined with short stitch lengths along with layers of stitches stacked up are not only going to create a stiff, hard embellishment, they have a high probability of other negative effects on your your project depending on the fabric, stabilizer, thread type, and machine tensions in play.
Watch the video to learn more…
VIDEO: PROFESSIONAL POINTERS FOR PUCKER PREVENTION – PART 2, THREAD FACTORS
9 TIPS FOR PUCKER PREVENTION
Puckering has more than one cause and you need to optimize a number of things to prevent it. Here's a list of 9 tried and true tips.
You don't have to do every one every time but doing most of them is just plain old good embroidery best practices for any project.
Prepare your fabric. Preshrink and press to avoid shrinkage after stitching. Use any products like starch or interfacing to add body to a wimpy fabric. Starch is temporary while interfacing is permanent.
Be a good matchmaker. Just because you have a design, thread, and fabric doesn't mean they go together.
Select stabilizers sensibly. Don't fall into a rut of using sticky stabilizers for everything. Choose the right stabilizer that will support your design as needed during sewing and after.
Hoop appropriately. Make sure your project is securely "Goldilocks" hooped and won't slip during the stitching process. (See my duct tape trick in the other article on puckering!)
Tame your tensions. Overly tight thread tensions can cause puckers and increase thread breaks.
Don't be a speed demon. Slowing your machine to a more moderate pace can reduce thread stretching.
I'd rather use rayon. Yes, I do use polyester thread but I do have quite a stash of rayon and when puckering is more likely, I'll use rayon on projects that can use it.
Soften up with software. Software like Density Repair Kit can eliminate bulk and smooth the way to smoother, less puckered sweats.
Needle know-how. Remember the golden rule of needle selection: Use the finest (smallest), sharpest needle that can penetrate the fabric without damaging the fabric, thread, or
WHERE TO FIND ITEMS MENTIONED IN THIS ARTICLE
Most items in our shop go on sale from time to time.
Now through the end of September (2017), you can get event pricing on the hooping station along with free shipping (up to $50 savings!) and a free CD with over 50 premium embroidery designs that are not otherwise available as a set.
This is special online event pricing and is not often available.
Small Hooping Station – Reg 199 – Now $179 – save $20
Large Hooping Station – Reg 349 – Now $299 – save $50
Combo with both Hooping Stations – Reg 449 – Now $399 – save $50

Free shipping in the U.S. only! We can ship elsewhere but extra shipping charge will apply.
All retail orders also include a bonus CD with 50+ multi-format designs ($300 value)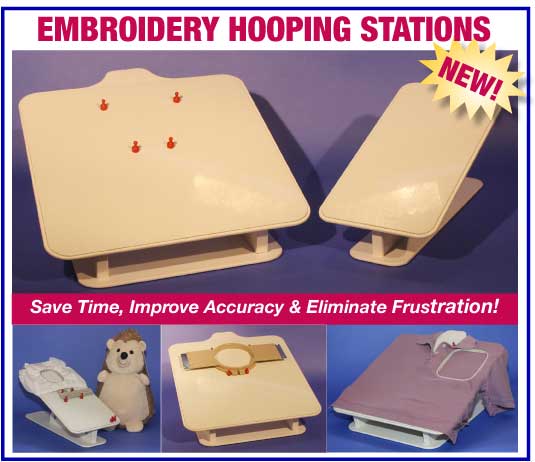 HOOPING STATIONS
E-BOOK SPECIALS
Use your coupon codes from the videos to get special pricing on these books. These coupons are set for an extended period but may not be available if these products are included in other specials.
Coupon code for Quilt-as-You-Go Basics is in this video:

"LET ME KNOW WHEN THESE ARE ON SPECIAL AGAIN"
To be notified of new specials and sales, please subscribe to the newsletter. I can't keep track of those of you who write and say "let me know when…". All news is in the newsletter.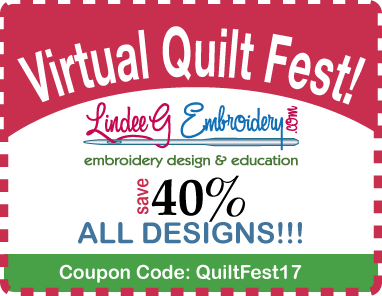 THE "FINE PRINT"
You'll need to have at least $10 worth of designs to qualify (which, if you know your math, will cost you $6).
The coupon code is only good on designs and is good through the end of November 15 2017.
You can use it as many times as you like and you're encouraged to let others know about this coupon!
The coupon code needs to typed exactly or it will not work!
So take your time, browse through the shop and take your pick of singles or collections.
This coupon code can't be combined with other coupons at the same time!
RELATED ARTICLES
2017 2nd Annual Virtual Sewing Expo Specials