When I got my first embroidery machine back in 1994, one of my early Christmas gifts was embroidering holiday designs on finger tip towels.
Seasonally embellished fingertip towels are quick and easy, are a very enconomical project and appreciated by everyone. Having a stash of these towels on hand makes it easy to whip up something for an upcoming holiday or a quick gift for a new neighbor as a house warming gift.
Tips:
Get better quality towels. They don't cost that much more. They support the design better and launder better. You are adding embroidery to it, which improves the perceived value so don't skimp on chintzy towels.
Watch for sales. I got the ones shown here for 50% off and I bought 16 of them. (Bed, Bath, & Beyond if you're interested.)
Different colors may be available seasonally.
Use a water soluble film topping. Finger tip towels are generally less plush than the larger siblings and may not require any additional work to add a laydown stitch.
Many designs composed of tatami and satin stitches will work well.
Optional: Match your bobbin thread color. This is easier on a simple monogram. Multi-color designs make this more cumbersome.
Supplies:
Fingertip towels

Backing stabilizer: I used washaway tearaway

Topping stabilizer: I used a water soluble film ("WST")

Embroidery threads

Nice to have: hooping station to speed hooping and maintain consistent placement
Process:
Plan your placement.
My design is 4" and I wouldn't go any larger than that for a fingertip towel.
I'm using a hooping station to help me get accurate and consistent design. I've aligned my worksheet with a full size printout of the design along the hooping guidelines to help me plan and place accurately.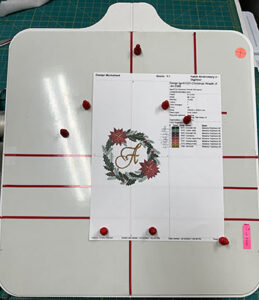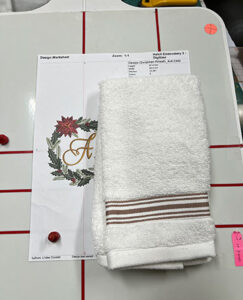 For these towels, I want the design positioned approximately halfway between the stripes and the fold. I can use the guides on my hooping station to help.
Here, the bottom of the towel strips will align at the bottom red stripe. (If you have an Echidna Hooping Station, these stripes are just racing pin stripes from the automotive store that I applied myself.)
I folded a the towel i half vertically to mark the top and bottom center with a pin.
Align and secure the bottom hoop. The Echidna Hooping Station does this with magnets.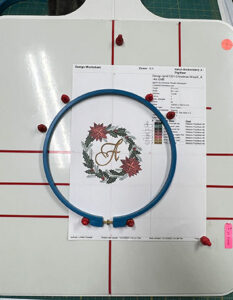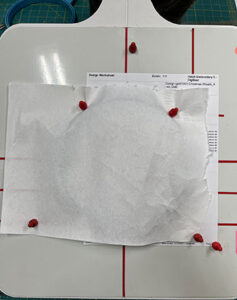 Place the backing stabilizer and secure in place.
Align your towel. I'm using the pin and stripes to align with my hooping station. You may be able to see the pin along the bottom edge of the towel at the center point.
A tip here is to take a picture with your phone so you know where to align future towels.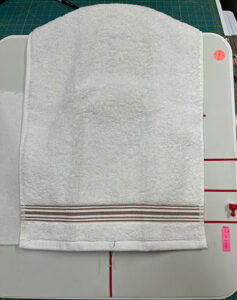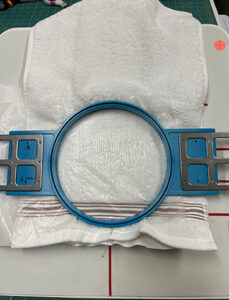 Add the WST, and insert the hoop. The hoop is part of the stabiilzing system so it's always best to hoop between the rings whenever possible.
At the machine, be sure to rotate the design to match your towel rotation.
I'm stitching these on multi-needle machine so I'm hooping upside down. This will put the bulk of the towel (what little there is) in front of the machine so it won't get bunched up and creep under the needle.
On a home machine, especially with larger towels, I will hoop sideways with the bulk to the left.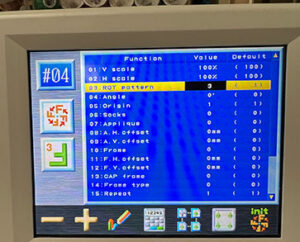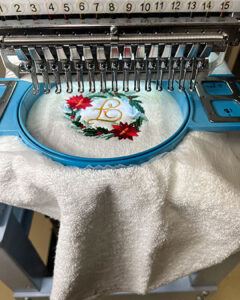 Stitch the design.
You can see this "F" is upside down.
Remove the stabilizer. Washaway tearaway tears off easily. I didn't pick out the stuff inside the wreath; it will wash out.
One way to remove the WST from the front is to apply a wet cloth over the area and press.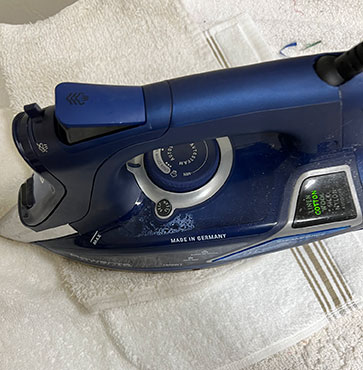 Other Notes:
Depending on your towel texture and your design, you may need to add a laydown stitch behind your design to mat down the terrycloth loops and prevent your design from become lost in the nap.
I didn't find that to be an issue with these towels. Larger towels are more likely to have a deeper, more plush pile that can benefit from a laydown stitch (also knows as "knock down"stitch).
Where to Get the Designs:
I used 4" versions for these little towels. For larger towels, try the 5" or 6" versions. This set comes with all 26 letters, each in 3 sizes.
Each letter has been individually sized to fit the the wreath frame nicely. Designs are available as full set (bundle), subsets by size, and of course individual designs. Find them here: