I love embroidery designs that offer more possibilities for adding my own creative touch, especially appliqués and redwork or "color line" designs. A bonus with these two categories of designs is that they tend to be lower stitch count and therefore result in less distortion to the fabric.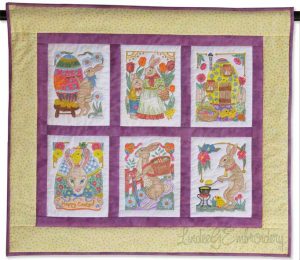 With the current "adult coloring book" craze that's going on, appliqués and open, running stitch designs provide a perfect opportunity to put those same coloring skills to good use and create something more functional.
When I first saw these Vintage Easter Bunny designs last year, I knew I wanted to use them for coloring.
This wall hanging, which finished out at 32 x 28″, uses the multi-color versions of all 6 designs in the middle size and can be stitched in a 150 by 210mm sewing field. However, I used a 200 x 300mm hoop so I could add a custom sized basting stitch (more on that in a bit).
ABOUT BASTING BOX STITCHES
Most people think of basting boxes as an added security measure to improve stabilization. However, that's not their only use. I often add them when I want a reference for my project. In this case, they'll be a reference for cutting my blocks to a consistent size.
Keep in mind they're a reference only! Even on low-impact designs like this, some pull can happen and those lines that were perfect on the screen may not be perfectly straight and even after sewing. So yes, you'll still need to measure but at least you have a starting point.
In the photo below, you can see how the basting box has pulled out of shape after stitching and removing from the hoop.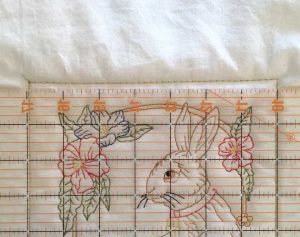 To make a basting box of this nature, you'll need to make it in software rather than at your machine. When applying a basting box at the machine, it will just place a rectangle slightly outside the bounding box of your design.
This is perfect for stabilizing but unlikely to be of much value for measuring and cutting a set of blocks with different designs.
MY AFFILIATE LINKS DISCLOSURE
Hi everyone. Just to let you know that some of the links on this site are affiliate links. What that means is that if you click one of them and buy something… I get a commission. It doesn't cost you anything extra and I only recommend things that I've tried and tested, so please, please, please… use my links.
Fine Print: Lindee G Embroidery is a participant in the Amazon Services LLC Associates Program, an affiliate advertising program designed to provide a means for sites to earn advertising fees by advertising and linking to amazon.com. Lindee G Embroidery is also an affiliate for Embroidery.com, Nancy's Notions, Embrilliance, and Craftsy. If you purchase something through one of those links I may receive a small commission, which helps to offset the cost of running this site. 🙂
CREATING THE BASTING BOX
If you digitize, it should be pretty much a no brainer to add a rectangle to your design, apply a longer running stitch and place it at the beginning of your design. If you don't digitize, then you'll need software that can add a basting box and let you resize it. Embrilliance Essentials is perfect for that.
HOW TO CUSTOMIZE A BASTING BOX IN ESSENTIALS
Open the design you'll be using for your project.
From the Utility menu, choose Baste Design. A basting box is instantly created and placed at the beginning of your design. If you check the Objects Pane, you'll see it as the first object.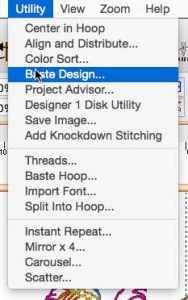 3. Select the basting box and resize it to the desired size. For my project this is 182mm x 240 mm.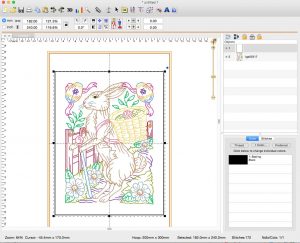 4. Save the design.
Since you'll be using this same basting box multiple times, you may wish to save it as it's own design by copying and pasting to a new design window and saving. Just remember it needs to sew first in your design when creating the rest of your blocks.
The basting box is colored black here. When I get to my machine, I usually just sew it in the same color as color number 2, which is the first color in my actual design.
PROJECT NOTES
So no, I didn't take step-by-step photos of this project while working on it. It's pretty simple though and if you sew, you should have no troubles making your own version.
For this project, I hooped my fabric, batting and backing together. I used a low loft polyester batting for this project. That might not have been the best choice since you do have to heat set the inks with a hot iron and it's possible to melt the batting.
I didn't use any stabilizer because these are open designs and the thickness of the quilt sandwich minimizes hoop slippage. The multi-colored versions used in this sample have lots of short jumps that your machine may not trim so be sure to trim them before starting the next color.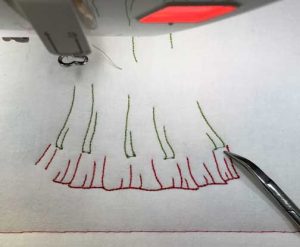 I used regular white bobbin thread for the entire project. On the shorter stitches used to maintain the detail in a design like this that has lots of tiny and curvy elements, you'll find that you don't see much bobbin thread color on the back anyway.
After stitching all the blocks, I colored them with Tsukineko all-purpose inks that I thickened with clear aloe vera gel. After mixing a color, I applied it to each of the blocks that used that color rather than completing one block before moving to another.
I prefer to use a brush to paint on the ink. If you aren't comfortable with a brush, you can get the Fantastix (there's one laying across the upper right corner of my palette in the image below), which are more like a flexible felt tip pen.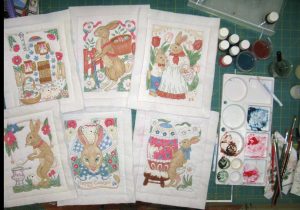 What I like about these inks are that they're easy to use, don't smell, are water clean up, and permanent once heat set. You can easily mix and blend colors, and you can lighten them with more aloe vera gel and/or water. The colors stay true on cotton.
The photo shown here is before washing. After washing to remove the gel, the colors had not changed perceptibly.
If you don't get all your inking done in one day (it took me 2 days to color these nearly a week apart), simply cover the palettes with some plastic wrap and store in the fridge. I actually left mine covered in my work room for 6 days and I was still able to freshen them and use them when I came back.
The downside (according to my 4 cats) is that I have to close them out of the room while I work with the inks to avoid little colored paw prints all over the place. It's amazing how long a cat will cry on the other side of closed door!
Working with the inks is a little more messy and not as portable as colored pencils but the more permanent color is worth the trade-off.
After coloring all the blocks and allowing them to dry, I heat set with an iron. Instructions say 15 seconds on high and I used a press cloth to prevent and scorching.
To see this technique in action on another project, check out this YouTube video: How to Color Machine Embroidery Designs with Tsukineko Inks.
ASSEMBLING THE WALL HANGING
I pieced the top together with a piece-as-you-go technique and then covered the back with a full piece of fabric. The backing was quilted to the front layer by stitching in the ditch around the perimeters of blocks and adding on the borders through all layers.
To see a similar technique, watch this YouTube video, How to Quilt in the Hoop with Your Embroidery Machine for a Fast QAYG, for the assembly. For that quilt, I used QAYG on both sides, since I treated the embroidery design as a quilting motif.
The back of the the Vintage Easter Bunnies had a lot of trims and color changes that weren't as easily hidden on the fabric so I chose to cover it with a full panel. (Plus, I had to restitch a few blocks and I ran out of the fabric I started with…)
Instead of top-stitching the sashing strips as I did with other similar QAYG projects, I hand stitched them. You only need to do the inner sashing this way; the first purple outer border is pieced on in a more normal way.
If you use the single color versions of the bunnies, you'll find they have way fewer trims and therefore are much more suitable for use as a quilting design. And of course, you can still color them. To learn more about jumps and trims, see this blog post: About Those Dreaded Jump Stitches!
If you've never done a piece as you go project, this Craftsy class, Piece by Piece: Quilt-As-You-Go Techniques with Marti Michell offers a wide variety of techniques. I wish I'd seen it before I did the It's a Girl quilt!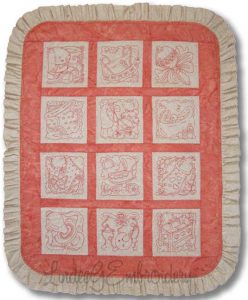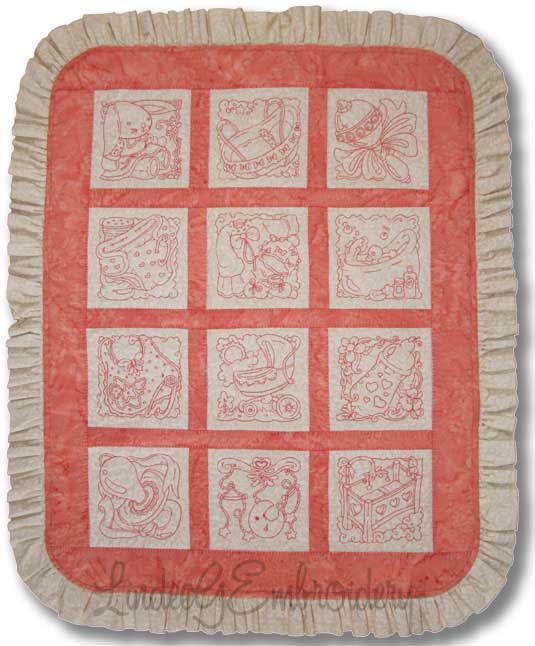 DON'T FORGET A LABEL FOR YOUR PROJECT!
When ever possible, I like to add a label to my projects. On garments, this might be stitched onto the lining or facing. Quilts and wall hangings make it easy to add an embroidered label, even a very large one with a lot of information, and add to the back.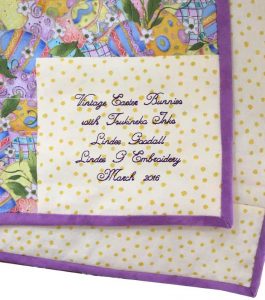 My favorite font for this is Adine Script. I've used this font for labels for 2 decades and a few years ago, I made it into a BX font that can be used with Embrilliance Essentials or even the FREE Embrilliance Express (just download Essentials and use in express mode).
This font measures 10mm from it's baseline to it's cap height and because it's a running stitch font instead of satin stitch, it stitches up faster and is less bulky. I don't recommend trying to shrink it.
WHERE TO GET STUFF & FIND OUT MORE
Vintage Easter Bunnies is a collection of 6 designs each digitized in two styles: multi-color and monochromatic. And no, the monochromatic is not just a copy of the multi-color one with only 1 color. They are each digitized separately to optimize the stitching order.
Each version is available in 3 sizes, the smallest set requires a 5×7″ hoop and the largest is targeted for 200 x 300mm hoops. Because of their intricate details and rectangular orientation, scaling them for 4×4″ hoop is not recommended. You can get all 36 designs as an instantly downloadable collection or individually.
Many fonts are available for making labels. What I like about have a program that will read a BX font is that it opens you up to hundreds if not thousands of keyboard ready fonts.
Can you imagine having to open each one of those letters in that label bring them in, sequence them and line they up? That's just crazy when there's a FREE program that will let you work with fonts much the same way as you would in any text editor: type your text, pick your font, and Voila!
To learn more about BX fonts and they work, check out these resources:
Tsukineko all-purpose inks are available from Amazon if you can't find them locally. I like this starter collection of colors and it served me well for many years. I periodically add new colors individually as I find I need them.
RELATED ARTICLES