Have you noticed the explosion in "adult" coloring books? Personally, I get the relaxation that comes with a soothing, rhythmic practice like coloring plus there's that sense of creativity without requiring any drawing ability.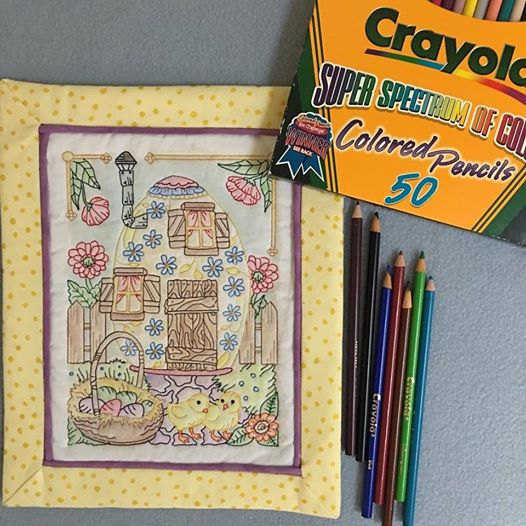 These Vintage Easter Bunnies were actually started last year but I realized quickly that I just wouldn't have them done in time. Then I almost forgot about them until someone mentioned that Easter was early this year and I went into high gear to get them done.
I have two project collections where the designs have been enlarged significantly and reassembled to make the coloring easier. I find that the larger areas make it easier to shade and the color can add dimension in a way that stitches can't.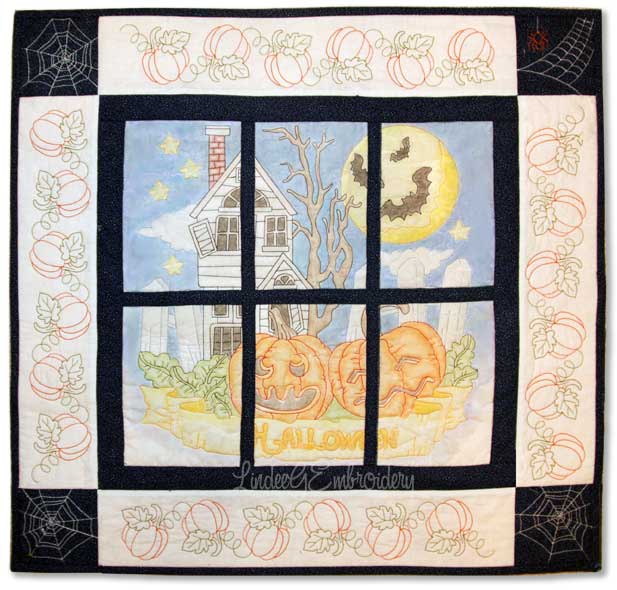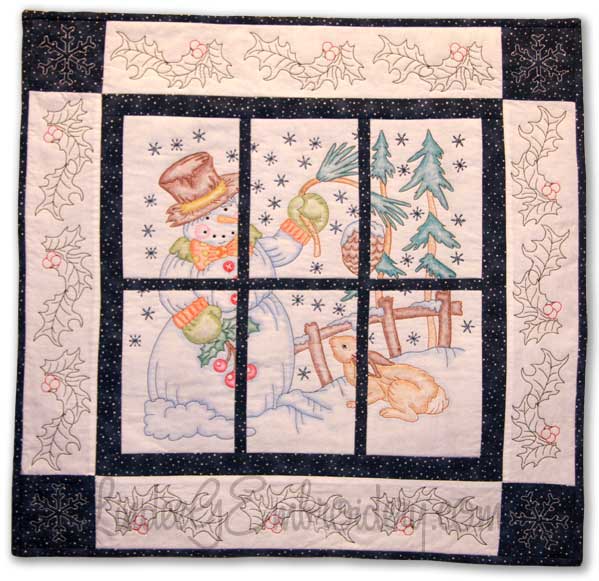 Unlike the popular Winter Friends Wall Hanging and the Haunted Halloween House, these bunny designs were more rectangular and vertical and just didn't fit the "through the window" theme as on the other holiday projects so I opted to digitize them as standard single hoop designs.
The smallest ones fit a 5×7″ (130mm x 180mm) sewing field and the largest are targeted at a 200 x 300mm sewing field. The samples shown here use the 150 x 210 size.
Colored Pencils
The two previous projects used a colored pencil technique cover in the book Quilts of a Different Color
by Irena Bluhm and each collection includes project instructions. The Vintage Easter Bunnies is not really a project collection and I'm still working on my samples. (Otherwise another year would go by!)
The sample shown at the beginning of this post was stitched on a quilt sandwich of backing, batting and top fabric hooped together with no stabilizer. The design was colored and then a simple border was added. Mainly it was a test piece to see if I liked the colors and if the colored pencil would be permanent.
So yes, it's not perfectly square but it was fast.
According to the book, applying textile medium and heat setting it makes the colored pencil permanent. And, in my test pieces I found that to be true. However, when coffee was spilled on the two colored pencil samples (the two shown above) at a recent show and I actually had to wash them, I discovered that permanence is a relative thing and there was some splotchiness where the color washed out a bit.
Also, when I colored the Easter Egg House and quickly applied the textile medium by swiping it on over the entire design, I found the colored pencil bled somewhat.
After posting a photo of it on Facebook, many people reported using crayons successfully. Of course, I had heard this at shows and in classes when I taught coloring techniques with either inks or pencils, so I decided to give that a try.
Below you can see the sample I colored. I pressed it between paper then washed it to see what happened and well, I guess Shaklee laundry detergent must be really good because absolutely all the color washed out. Not even a hint remained!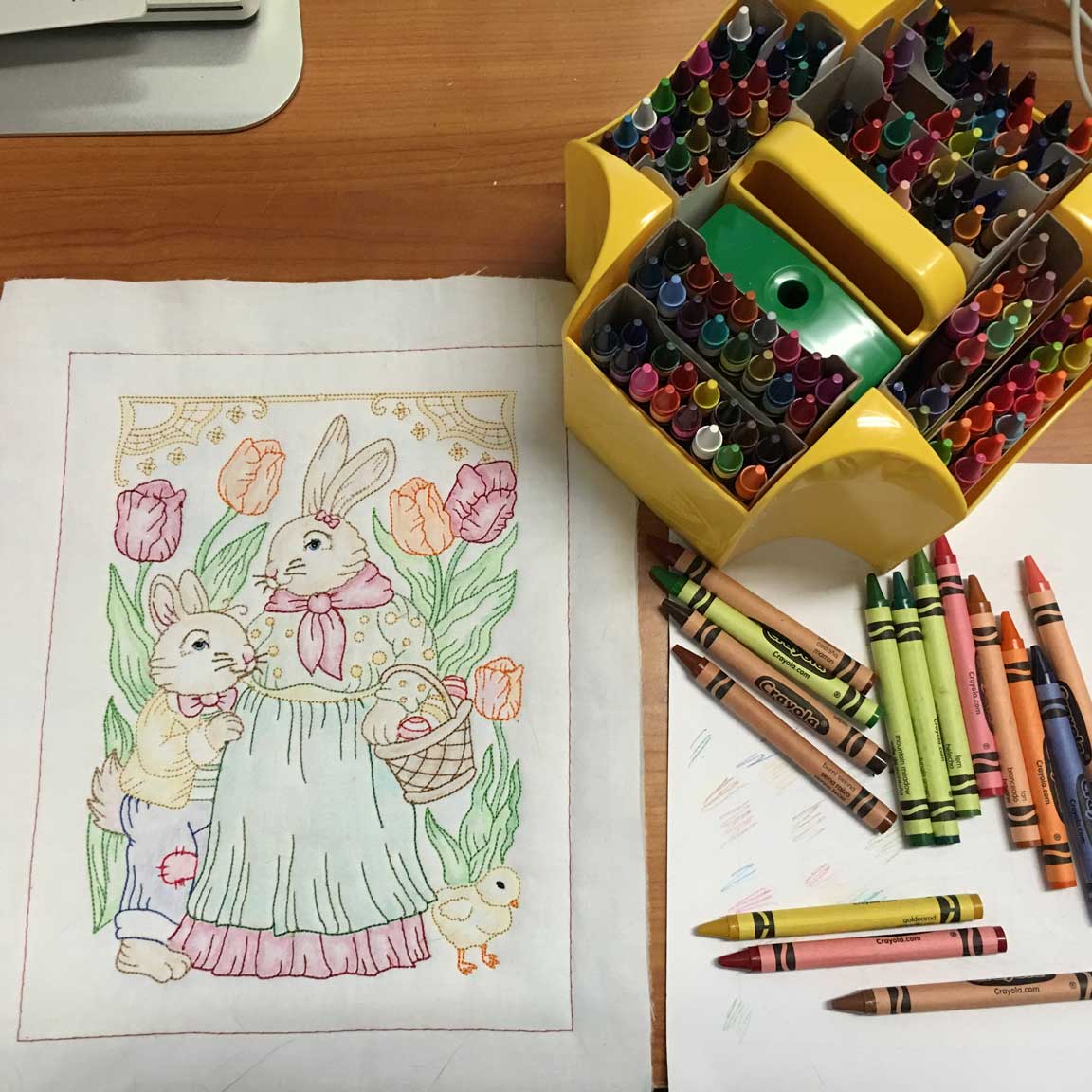 Based on discussions on Facebook, I think my problem was that I didn't apply the crayon heavy enough. When I ironed it, no oil came out of the front. And since I stitched the design through batting and backing, I couldn't tell about the back but it's unlikely anything came through there either.
So then I decided to try a different type of colored pencil and used my more expensive PrismaColor pencils. I have a set of 24 and just ordered a set of set of 48 assorted colors. I've add the set of 72 and set of 132 to my wish list in case any one's wondering about a gift for me.
I love how these go on. The core ("lead") is much softer than either Crayola or Roseart and is oil based. Of course I had to press the piece I laundered after leaving it in the dryer too long and in the process I melted the polyester batting.
Not really a big deal for this sample. Normally I used cotton batting but for some reason, I decided to use up this poly stuff.
This time I heat set the colored pencil before applying the textile medium, which was allowed to dry overnight before heat setting again. To see what would happen, I only applied the textile medium to the left side and a few tiny parts on the right before I thought to test with and without the medium.
Once again it went into the washer and dryer and as you can see from the pic below, the right side pretty much washed completely away. There's just the faintest bit of a tint that I can see on the actual sample, if not the photo. (The dark area in the lower right is just a shadow…)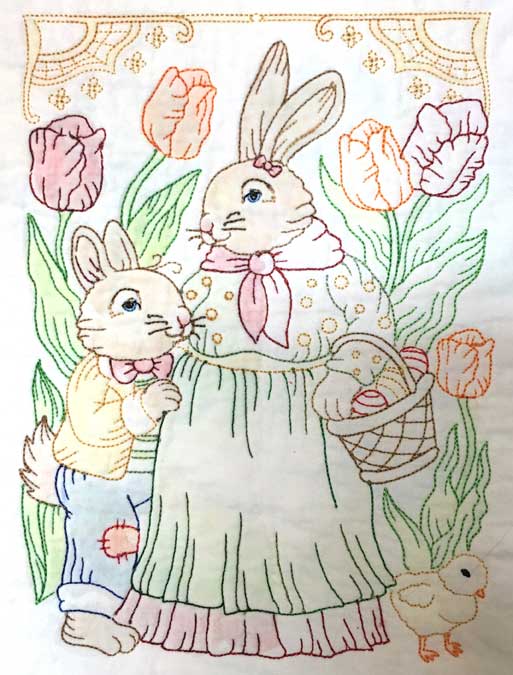 I'm told the crayons will get much lighter after ironing out the excess wax but what I'm really after is a light tint or water color look reminiscent of illustrations in vintage books so I really don't think crayons are the best option.
I really prefer a WYSIWYG approach and not having control over the final color result is disturbing. I did read a post on Crabapple Hill Studio where she coats the area to be colored heavily with a white crayon and then tints, so that may be something to try.
I do think the crayon would be just fine if I knew I'd never, ever wash the project—which is just not the case with class or show samples unless they're framed under glass.
Finishing the Designs
I decided rather than to spend more time trying to make a project, it was better just to finish the designs since at this point Easter is only about 4 weeks away. You can find them here both as a collection and as individuals. (Click the link to see if the special pricing is still in effect.)
The original purchased artwork included 6 images and I've done them in colors to match the original artwork and monochromatically. In case you're wondering, no, I don't just do the colored one and then make it all one color and do a Save As.
If you stitched a design that was done that way you'd be calling the digitizer all kinds of bad names due to the inefficient pathing and unnecessary jumps and trims.
For example in the two designs shown below, the monochromatic version in the small size has 13,845 stitches and 10 trims. The colored one has 14 colors, 16,076 stitches and—get ready for this—245 trims! I'm not sure if that's a personal best or worst but I'm pretty sure it's the most number of trims I've ever put in a design.
Interestingly, the single color version is the more complex of the two because it took more planning not to work myself into a corner where I had to jump to get out. It's composed of 1215 individual stitch objects whereas the multicolor version only has 878.
Read more about digitizing redwork in this post: The Truth About Redwork Designs
Read more about jumps and trims in this post: About Those Dreaded Jump Stitches!
The Quest!
So now I'm on a quest to find the easiest, least messy way to color embroidery that results in a permanent result and still feels soft to the touch. I know that I can get a permanent result on natural fibers using Tsukineko all-purpose inks but they do require more fussing and cleanup.
I do like that they can be blended, they apply to the fabric easily, and they're permanent. Adding some clear aloe vera gel makes them more controllable and softens the color.
Check this YouTube video for how to use these inks with embroidery: How to Color Machine Embroidery Designs with Tsukineko Inks.
However, they just aren't very cat friendly!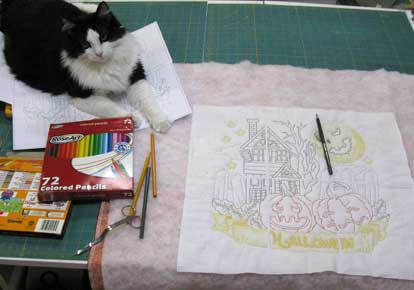 What I like about the colored pencils is they're pretty much WYSIWYG, they're easy to use, they don't smell, they don't dry out or run, they don't spill or splash (no colored kitty paw prints!), they're more portable, there's no clean up except to put them back in the box, and they can be downright cheap and readily available (Crayolas & RoseArt). What I'm disappointed with is their lack of permanence. Maybe I need a different type of pencil or textile medium. I don't know but I'm going to find out! I should have stuff coming in from Amazon today. Over the next few weeks or so, I'll be experimenting with different media and reporting back on them right here. Also, if you have any tips to offer, please contact me. I know it would be easier if I turned on comments but I just don't want to deal with all the spam that comes in that way. You can post under the 
project photo on Facebook
 if you have a Facebook account (it does make it easier to have a conversation ) or
email me
. If you know the secret to getting good results with colored pencils, I wanna know!!!
RELATED ARTICLES