Before I got into embroidery, I was a multimedia developer using such programs as Flash, Director, and Authorware. When we apply the term multimedia to embroidery, we generally mean "mixed media"—incorporating other techniques or products with machine embroidery.
I've combined ribbon embroidery with machine embroidery as well as buttons, crystals, sequins and other trims, ink, paint, paint sticks, crayons, and colored pencils to name a few.
Sometimes I colorize appliqué pieces in Photoshop, print them on fabric, and use that for my appliqué. The easiest technique that requires the least technology, skill, and clean up is colored pencils. And my favorite types of designs for working with colored pencils are running stitch designs like redwork or blue work. Think of these as coloring pages. The design lines are already there, you just need to color them in!
You can stitch your design in any color; I often use a medium gray. On the Winter Friends Wall Hanging, I used used the multi-color version and chose pencil colors that coordinated with the thread. Depending on the look you're going for, black may be appropriate.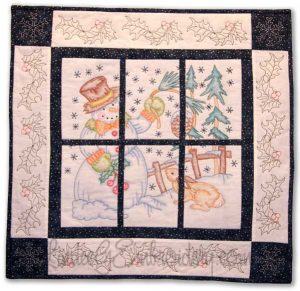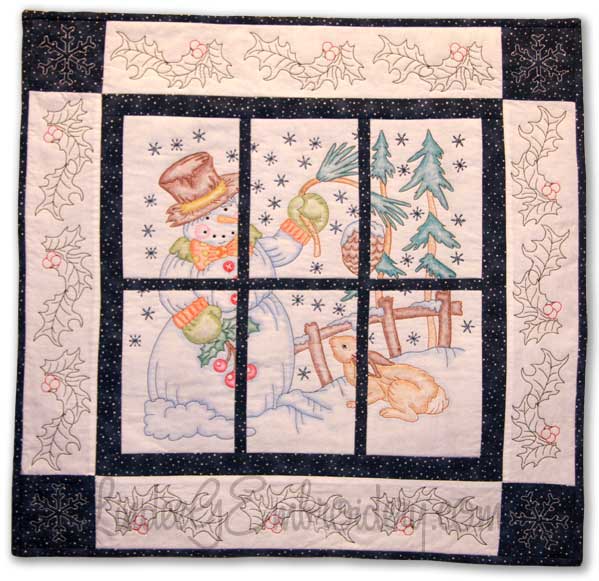 WHY COLORED PENCILS?
Colored pencils are:
Easy to use
Inexpensive
Readily available
No mess
Easy for small details
Don't run or bleed like inks or paint
Shading & layering color is easy
Leaves fabric feeling soft
Won't crack or peel
Requires no special skill
WHAT KIND OF COLORED PENCILS?
You don't need high end artist's coloring pencils; an inexpensive box of RoseArt or Crayolas work just fine. To make your work permanent, brush your finished design with textile medium.
Some people may argue that crayons are easier. I disagree. You need to remove the wax from the crayons and that's time consuming and can be messy. Colored pencils are easy to sharpen and are more suitable for tiny details.
The sewing machine design shown above is 178mm wide (5×7″ sewing field) and has some pretty small areas. While I'm quite comfortable with a brush, I know many people are not so colored pencils are an easy solution.
THINK TINT
Colored pencils are best suited for a softer look, especially in larger areas. Start coloring lightly and gradually build up layers. I may color in strokes or in small circles depending on the size of the area. A slightly dull pencil will give you a softer result.
Small details may need more intensity. On large open spaces, I may even fade into just fabric near the center, which you can see on the Winter Friends Wall Hanging. Smaller and more detailed designs or areas often look better filled in.
SHADING
On the larger Winter Friends project, you can see that I've left the center of many areas white or only very lightly colored, darkening the color near the edges. This gives the appearance of dimension. Especially on the snow areas, the light blue near the outer edges gives the illusion of depth and icy cold.
That sort of coloring was harder to do on the smaller design. Of course, I could have enlarged the small design but I tend not to alter designs on samples to make it easier for others to get the same result.
STROKES
Unless I'm working in very small areas, I prefer to not have a very sharp pencil. A slightly dull pencil will give more even coverage. For a more blended look, I color with either strokes or circles. Strokes are often the only way in small areas. I find soft overlapping layers of circles results in a more even coverage.
On the Vintage Sewing design, I just colored right over the thread. Usually I avoid coloring or painting over the thread, especially if the thread is a light color.
If you ever colored in a coloring book as a child, you have enough experience to try this. And even if you skipped that phase, you can do this! In fact, it's even easier than a coloring book because the thread forms a little wall that keeps you "within the lines."
FABRIC TEXTURE AFFECTS COVERAGE
The smoother your fabric, the smoother the coverage. Colored pencils don't flow like ink or paint and will only color the top layers of fibers. A very coarse fabric like canvas will be hard to color smoothly while a smooth cotton broad cloth will color nicely.
FABRIC FIBER
Some media—like inks—won't take as well on synthetic fibers and tend to look washed out and faded. I've not found that to be the case in my experimenting with colored pencils. I do however tend to work most often on cottons.
FABRIC COLOR
White, off-white, and pastels are best since colored pencils are more translucent. I've also worked with white on white prints and white on beige.
With the latter, I've noticed that the white printed areas tend to repel the color and the white pattern also peaks through the coloring. This can make the coloring appear more natural on the fabric or it may be a distraction.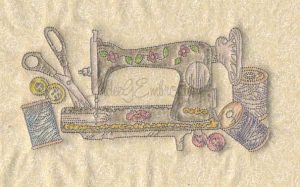 The best way to see how a certain fabric will react is to just color on it with the colors you're likely to use on your design.
COLORING VERSUS PRINTING
I know some of you have sewing machines with cameras for aligning embroidery over printed images. That's great but how often do you find an image that is coordinated for your embroidery? Also, those images have alignment marks, which will be hard to hide when combining with an open design like redwork.
Add to that the fact that images are precolored and might not go with your color scheme. The images also must be printed on fabric sheets and those sheets are expensive and small. What if you want to embellish a garment? How will you incorporate that sheet then?
CHOOSING DESIGNS
I most like to combine colored pencils with redwork designs. It reminds me of hand colored black and white Currier and Ives lithographs. Lithographic prints could be reproduced quickly and purchased inexpensively—they were sort of the poster art of yesteryear.
Of course you can also color other embroidery designs as well. For example, you might color or shade a background around a design either before or after embroidering.
COMBINING MEDIA
It's totally possible and acceptable to combine colored pencils with other media. You might use a wash of ink over large areas and use the pencils for details.
Just be sure that all the media are compatible with the targeted use of the project. If you will be laundering the item, you will need to be certain that your techniques will retain their attributes over successive washings.
MAKING YOUR WORK PERMANENT
You can make sure your pencil coloring stays as vibrant as when you first finished it by applying a coat of textile medium (I found this product at Michael's; if you can't find it locally, look online).
This product can add a tiny bit of stiffness to your project. Follow your product's instructions to see if heat setting is required.
GETTING STARTED
If you're hesitant to try something like this, start by printing the design on paper at actual size and coloring that. Then move up to stitching a piece of fabric and coloring that. A scrap piece of fabric is very handy for testing your colors and shading techniques.
The Winter Friends Wall Hanging is pretty involved so I recommend starting with something smaller. A zippered bag using one of the Vintage Sewing designs is a great first project.
The fabric involved is small and the coloring is done before construction so if you don't like it, you haven't invested a lot of time or supplies. Redwork designs sew up quite quickly and use little thread.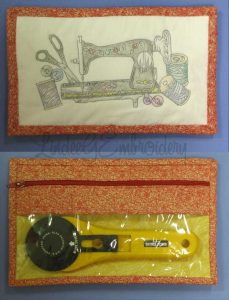 I find the coloring quite relaxing. If you need some assistance relaxing, try a glass of wine—just don't spill it on your project!
WHERE TO GET THE DESIGNS
Winter Friends Wall Hanging is a project collection and includes the designs for the project both in colored and single color versions plus full instructions. This collection includes 16 designs sized for 5×7″ sewing fields.
Vintage Sewing includes 34 designs: 13 that require a 5×7″ sewing filed and 21 that fit a 4×4″ sewing field. You can also purchase just the large ones or just the small ones.
SPECIAL LIMITED TIME INTRODUCTORY PRICING!
Vintage Sewing – 34 designs, regularly 39.95 just $19.98 – Save $20!
Vintage Sewing, Medium – larger designs only, 13 designs for 5″ x 7″ hoops, regularly 29.95 just $9.95 – Save $20!
Vintage Sewing, Small – larger designs only, 21 designs for 4″ hoops, regularly 29.95 just $9.95 – Save $20!
Winter Friends Wall Hanging – 16 designs for 5 x 7″ hoops plus full instructions and a bonus Embrilliance lesson. Regularly $39.95, just 19.98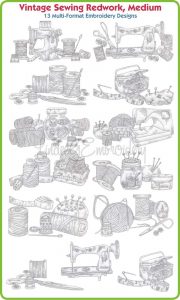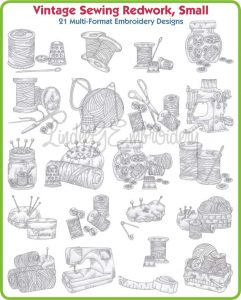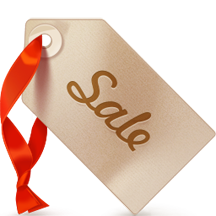 A WORD ABOUT SPECIALS, SALE PRICES & COUPONS
Please pay attention to post dates and any specials listed in posts. Special pricing is for a limited time and may be repeated at some point.

Specials, sales, and freebies are always announced in the newsletter. Signup to get notifications of specials, new items, and freebies.

Additionally, shop wide coupons may be available to apply to any regularly priced items.

Coupons generally only apply to regularly priced items, not items already marked down. If your coupon doesn't work, this may be why.
HELPFUL LINKS TO PRODUCTS I RECOMMEND & USE
Since I'm constantly being asked, "what did you use for [fill in the blank]," I've begun organizing my favorite products on this Resource page as a convenient place for you to find them.
I've also included links to where I get them, many of which are affiliate links. Hey, I can't stock everything! If I list something I haven't/don't use, I'll let you know that too.
RELATED ARTICLES