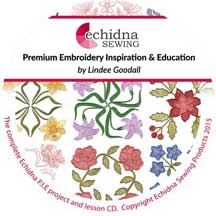 Echidna PIE Update Notice
Please note the dates on this post.
This Echidna PIE series is now complete and is available as a single download that includes:

12 lessons and projects (412 paged PDF book)
220 embroidery designs
templates for appliques
plus a bonus project

All for only $99
WHAT IS P.I.E?
P.I.E. stands for Platinum Inspiration & Embroidery and is an on-line monthly embroidery club through Echidna Sewing Products' website to members of their Platinum Club.
WHERE IS ECHIDNA SEWING PRODUCTS?
Echidna Sewing Products is located in Capalaba, Australia, which is near Brisbane in Queensland. They are Australia's largest Brother dealer and are forerunners in supplying embroidery products and education.
Of course, with the internet and digital downloads, anything is really only a mouse click away! And even though I live in Arizona in the U.S., I am part of their staff providing product and education some of which will be exclusive to their company and not available elsewhere, not even on my own site!
WHERE DO I SIGN UP? I CAN'T FIND IT ON YOUR SITE.
You'll need to sign up for Platinum Club and purchase any of the monthly projects at EchidnaClub.com.
DO I PAY IN US DOLLARS OR DO I NEED TO FIGURE OUT AUSTRALIAN MONEY?
You just pay through their online shopping cart system the way you do with any online purchase and the exchange is handled automagically. And the great thing is (at least as of this morning) an Australian dollar is worth $.93 in U.S. dollars, which means you're getting an instant 7% discount if you live in the U.S.
HOW DOES AN ON-LINE EMBROIDERY CLUB WORK?
Each month I'll provide a new project and lesson that will be released on the first of the month on EchidnaClub.com. Some months the entire content will be as PDF files that you can print and store in a notebook. Other months will include YouTube videos for demonstrating certain techniques.
Since the "class" is all digital, you'll be able to "take" it any time that's best for you. Echidna is also hosting some live classes with Amanda Loveridge in their Capalaba, Queensland show room if you happen to live near there.
WHAT DO I GET WITH THE PROJECT?
Each project includes instructions and files to complete the project and a lesson. Files include the designs, color sequence, instruction PDFs, and any placement or appliqué templates used in the project, which in most cases is one of the full-size flowers and the associated split versions for sewing in any machine with a 5×7″ hoop or larger.
Because this year's series is based on birth month flowers of the year and more often than not there is a "U.S. flower" and an "Australian flower" we've included both flowers with the project.
Many projects build on previous months' lessons. For example, the first lesson is on how to do machine embroidered appliqué with an extra lesson on using the Brother ScanNCut (not required but definitely very useful!).
The second month's lesson covers Perfect Placement Pointers—how to multi hoop to create designs that are larger than your hoop. These instructions are not repeated each month.
If you purchase and print every month's class, you will have a really fat binder by the end of the year! There were almost 50 pages in the second month's class. You will also have a large selection of new embroidery designs!
WHAT IF I HAVE QUESTIONS ABOUT A PROJECT OR LESSON?
EchidnaClub.com has a forum where you can share photos of your projects or problems and get help from other members on the forum.
BUT I LIVE IN THE U.S. AND THE FREE SHIPPING DOESN'T APPLY!
Echidna offers digital products as both downloadable and, for an extra fee, on CD. Free shipping applies to products shipped within Australia. All the P.I.E. classes and designs are completely downloadable. Shipping charges are a part of doing business and must be covered by someone. When fees are reasonable, the vendor often opts to cover them.
However, overseas shipping charges are often not reasonable and often require extra taxes. When you shop locally by visiting stores, your gas is your "shipping charge" and you don't expect stores to cover that.
Advantages of downloading include instant availability, lower cost, and with the current US to Australian dollar exchange rate, an instant 7% savings on purchases.
If you're concerned about the yearly member fee of $20 and "not getting your money's worth because there's no free shipping," that works out to $1.55 per month for US residents at the current exchange rate.
How much physical product would you really order from Australia to ship here when most everything is already available here? Keep in mind you'll get discounts on the downloadable collections that aren't available elsewhere.
I LIVE IN THE U.S. AND WANT THE AMERICAN FLOWER BUT THE PROJECT SHOWS THE AUSTRALIAN ONE.
In most projects, the flower is completely interchangeable with any other flower in the series. And, you could easily use any version of the flower from appliqué to redwork to filled.
Yes, the photos will show the Australian flower for that month but feel free to substitute any design that works. On months where there is a significant difference, I'll show options for both versions.
WHY CAN'T I JUST ORDER THE PROJECTS FROM LINDEE G EMBROIDERY SO THEY ARE IN MY ACCOUNT? I WANT THE CD VERSION.
The projects are exclusive to Echidna's Platinum Club members and are only available there. The collections are also available at Lindee G Embroidery as digital downloads and are available in the Block of the Month section of the shop.
These of course are digital download; we don't currently offer any physical product for design collections via our website. If you must have a physical CD please contact us; they are special order only and are not regular stock.
WHY AREN'T THESE SPLIT FOR SMALLER 4X4″ SEWING FIELDS?
Because they weren't designed that way. Some of the appliqué pieces are larger than 4×4 and an appliqué can't easily be split. I feel that those who are really serious about expanding their embroidery options will have at least a 5×7″ sewing field. It is simply not reasonable to always accommodate the lowest common denominator.
WHY DON'T I GET ALL THE DESIGNS WITH PROJECT?
The project does not use all the designs. If you look at the project collections on Lindee G Embroidery, you'll notice that the collections include only the necessary files to make the project, which may include instructions, templates, patterns, and designs.
And you'll also notice they cost $30 more than the P.I.E. projects. The monthly P.I.E. project is a tremendous value at only $9.95 especially since in most months it contains files for two birth month in three different sizes.
WHY DO I HAVE TO BUY THE FULL COLLECTION IF I WANT THE REST OF THE DESIGNS?
We've made the project price extremely reasonable by only including the designs for the project. If you are an Echidna Platinum member, you are getting $10 off the regular collection price when you purchase the full collection. There may be some months when you just want the collection and not the project (I don't know why…).
What if the project designs were not included and only available with the project purchase? Or, you may want the project with the Australian birth month flower and the full collection with the US flower.
As a Platinum member you can get both the collection and the project for the regular price of the collection, the same price non-Platinum members pay (and who can't even buy the project!).
HOW WILL I KNOW WHEN A NEW PROJECT IS AVAILABLE?
When you register for Platinum Club, you'll be added to an email list and be notified by email of new monthly projects. Don't worry if you miss a month. You can always go back and get it later; they will be available during your membership.
WHERE AND HOW DO I SIGN UP?
Not a Platinum Club member yet? Sign up at echidna-club.com.
If you prefer to order from Lindee G Embroidery so that you can have it in your regular account, use the links below. These designs are in theBlock of the Month category. Special pricing in only available to Platinum Club members on Echidna's website.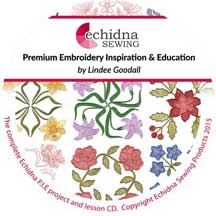 Echidna PIE Update Notice
Please note the dates on this post.
This Echidna PIE series is now complete and is available as a single download that includes:

12 lessons and projects (412 paged PDF book)
220 embroidery designs
templates for appliques
plus a bonus project

All for only $99
RELATED ARTICLES