For the past year I taught a monthly embroidery club at a local quilt shop. Turn out was light where in years past, our Extra Punch program with Cactus Punch could draw crowds of 60+ participants. After speaking with other shops and teachers, I found out their experiences were similar.
What's different? People want to learn on their own schedule and they don't want to travel. They want quality education at discount prices. They want to make only the projects that appeal to them and they don't want to have to lug in a big heavy machine to a crowded classroom.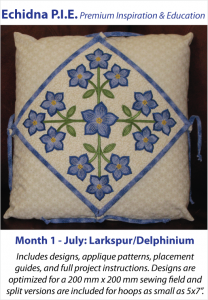 To solve these problems, I've teamed up with Echidna to create Echidna P.I.E. and I'm excited!
WHAT IS ECHIDNA P.I.E.?
Echidna Sewing Products is the brain child of my friend and colleague Gary Walker and is located in Australia. Gary and I first met at a Viking sewing machine convention back in 1996 or so and we've partnered on several projects.
An echidna (pronounced "eh-kid-na") is a small, spiny egg-laying mammal for those of you who are wondering. A little story here… We sold Gary's multi-spool thread stand, which was called the Echidna Thread Stand. We told Gary no one here would know what an echidna was and sure enough, some called one day to order the Echilada Thread Stand. I had to bite my tongue to keep from asking, "the whole enchilada?"
P.I.E. stands for Platinum Inspiration & Embroidery and is an on-line monthly embroidery club. Each month I'll be creating a new project and focusing on some aspect of machine embroidery.
For this year, I've chosen a unified theme of designs, birth month flowers of the year. And while our projects will be based on those designs, the embroidery techniques will apply to many designs that you likely have in your stash.
You will need to be a Platinum Club member to access the classes. Membership is only $20 a year and gets you discounts on a wide range of products. You'll need to sign up through Echidna and you can learn more about the whole program in the related articles at the end of this post.
And before you ask, no, I'm not moving to Australia! That's the beauty of the internet—you can take classes from the comfort of your sewing room and I can teach them from mine!
A LITTLE BACKGROUND…
These designs were originally planned as a "block of the month" series with just the appliqué flowers. And, since I live in the U.S., I chose flowers from the "American" list of flowers based on which ones I thought would be better suited to appliqué in a semi-traditional manner for quilt blocks. If you've known me since Cactus Punch days, you may remember a Baltimorish appliqué block of the month collection called Garden Glory.
I have long wanted to do a similar project and when a local quilt shop where I was teaching asked for a block of the month, I knew that it was time. It took me a solid month to research and draw the original 12 blocks and then another month to digitize, find fabrics and make the blocks. Actually 6 months with other interruptions.
Then Gary came along with a proposal and the project grew. Seven more flowers were added to account for Australian birth month flowers.
Interestingly, all but one were also on the American list and I had chosen the alternate flower either because it was better suited for appliqué or because it offered a new shape. After all, some flowers can look very much alike once drawn for appliqué—think of daisies and asters—and other flowers, like the gladiolus, were harder to define as a recognizable appliqué shape.
In addition to more flowers, more variations were added. Redwork versions and filled versions rounded out the collection. You'll notice over the next year that the filled versions sometimes vary from the appliqués. When I design for appliqué, I plan for simpler shapes and larger pieces and that didn't always translate to an interesting filled version.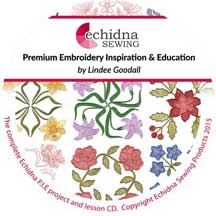 Echidna PIE Update Notice

Please note the dates on this post.
This Echidna PIE series is now complete and is available as a single download that includes:

12 lessons and projects (412 paged PDF book)
220 embroidery designs
templates for appliques
plus a bonus project

All for only $99
Learn New Techniques Each Month
Each month we'll be using one of the designs as a jumping off point to explore an embroidery technique. While no longer designed as a "block of the month" quilt format, you can still complete a block each month and the final lesson in this series, June 2015, will include some instructions for assembling into a quilt.
You can see the American version of the quilt top I've done here and while I've embroidered all the blocks for the Aussie version and designed the layout in Electric Quilt, that top is yet to be finished. I've marked it for a scalloped border and it has an appointment with the quilter in September.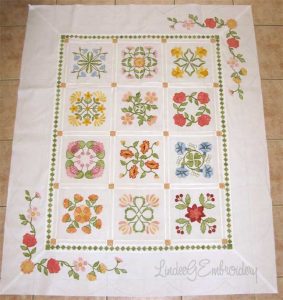 JULY: CLASS 1, APPLIQUÉ BASICS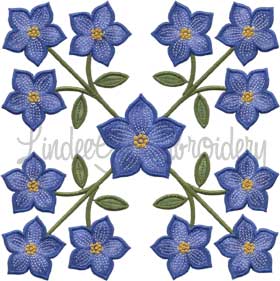 The focus of this month is appliqué. I personally love appliqué! I love the multimedia aspect of combining fabric with thread to create a design. Here are just a few benefits of appliqué:
Reduced stitching times
Lower impact designs distort the fabric less
Fabric appliqués çan provide better coverage on textured fabrics like terry cloth towels or high contrast or patterned background fabrics
Changing the fabrics can create a radically different look
Many appliqué designs can stitched without the appliqué fabrics
Some appliqués can be stitched free-standing
The choice of fabrics can add texture, color and pattern that cannot be achieved with thread
I've always preferred precutting my appliqué pieces for a clean, "pokie free" professional finish. I really don't know why so many others use what I call the "blob method" of placing a larger piece of fabric down over the outlined area, stitching it down and then trying to trim it away.
Not only is it hard to trim closely on an intricate shape, it is incredibly easy to distort the hoop tension causing registration errors. I'll show you several ways of cutting that get a better result, use less fabric, and take less time—especially if you have a Brother ScanNCut.
Check out the version below to see the block I've made for a quilt.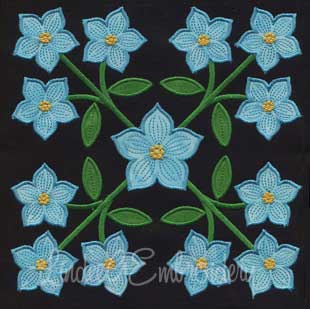 JULY BIRTH MONTH FLOWER
The traditional birth month flowers for July are water lily and delphinium, commonly known as larkspur. While they have different meanings in the language of flowers, they share a common theme of hearts, which is rather lovely.
The larkspur represents big-heartedness, joy and fun; while the water lily symbolizes purity of heart and daily regeneration.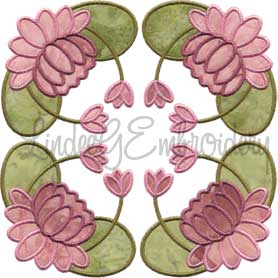 The water lily is found throughout the world and is also known as a lotus. They only live in freshwater, and grow in areas with tropic or temperate climates. These flowers come in colors like white, pink, red, yellow, and tropical ones can even be blue. The water lily signifies purity and majesty.
Larkspur's natural beauty comes in gentle hues with refreshing fragrance. Each color variation of larkspur has a different meaning: pink means fickleness or contrariness, white conveys a happy nature, and purple normally represents a first love. Generally, larkspur indicates strong bonds of love.
Since larkspur was on both the U.S. and Australian birth month flower lists, our first project uses larkspur. However, this project is perfect for displaying any of the 19 flowers in this series and would make a beautiful birthday gift for someone special.
While I indicated some colors that these flowers display in nature, don't think you need to adhere to that! Choose colors that make you happy or go with your color scheme. Or if giving a gift, you might want to choose one of the colors that has one of the listed meanings as a secret message!
MORE ABOUT ECHIDNA P.I.E.
Echidna P.I.E. is a way to bring the benefits of a monthly embroidery class right to your computer. You can also interact with me, the instructor, through the community and share pictures and tips with other embroiderers.
In our high-tech and increasingly time crunched world, why not take advantage of on-demand training that's available when you want it and where you want it?
And it means I can work from where I'm most comfortable—my studio in the sunny southwest U.S. with a kitty on my lap (and maybe in my jammies!) and you can take the class from where ever you are.
Another advantage is that if you get distracted or need to review something again, you'll have all the information you need. No furious note taking or trying to remember everything.
Since this is a new venture for both me and Echidna, help us grow it into the best it can be! Over the coming months, we'll add videos, more projects, and instructional PDFs just for Platinum Club members. And since the projects are all optional, you can pick just the ones you want.
Oh yeah, for you Aussies, please overlook my "American accent" in my writing. Kerry is doing her best to teach me how to speak Australian English!
WANT TO SEE WHAT OTHER TOPICS ARE PLANNED?
You can see the whole curriculum listed out and in this post, Echidna P.I.E. Curriculum Overview, linked at the end of this article
ARE YOU READY FOR YOUR FIRST SLICE OF P.I.E.?
This month's project focuses on learning how to appliqué and features a simple pillow project. I actually made this quite some time ago for some Christmas appliqué designs and enjoy its chameleon-like capabilities to change as I desire. I hope you enjoy it as much as I do.
HERE'S WHAT'S INCLUDED:
Larkspur appliqué designs in the full size version plus split versions with alignment guides for perfect registration using smaller hoops. (Not designed for 100x100mm hoops.)
Appliqué templates for hand or machine cutting.
Placement templates for accurate placement.
Instructions to complete the project, the Quick Change Cushion.
Appliqué Basics—full step-by-step instructions on how to machine embroider appliqué using precut pieces.
Tips for Brother ScanNCut—useful tips for preparing and cutting appliqué pieces with this digital cutter. You do not need a ScanNCut to make this project, it's just really nice to have.
And you get all this for only $9.95 for digital download! The full collection is only $29.95 for Platinum members and $39.95 for non members. The project is not included with the collection.
WHAT'S INCLUDED WITH EACH COLLECTION
Each birth month flower collection includes all the applique, redwork and fill stitch variations. For July, there are two choices: Larkspur and Water Lily.
Appliqué templates for hand or machine cutting.
Placement templates for accurate placement.
34 designs for the Larkspur; 29 designs for the Water Lily
I used the redwork design on the back of the tie-on for the quick change pillow. (Not included with project, only with full design set.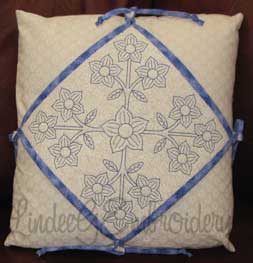 WHERE TO GET IT
The project is only available to Platinum Club members. Furthermore, as a Platinum Club member, you can save $10 off the collection price.
Click here to order as instant download
Click here to order on CD
Not a Platinum Club member yet? Click here to join.
If you prefer to order from Lindee G Embroidery so that you can have it in your regular account, use the links below. These designs are in the Block of the Month category:
Larkspur Birth Month Flower for July
Water Lily Birth Month Flower for July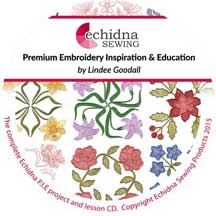 Echidna PIE Update Notice

Please note the dates on this post.
This Echidna PIE series is now complete and is available as a single download that includes:

12 lessons and projects (412 paged PDF book)
220 embroidery designs
templates for appliques
plus a bonus project

All for only $99
RELATED ARTICLES