Join us for a year's worth of embroidery classes based on "A Year of Flowers," which is a collection of flowers of the month digitized as appliqué, redwork, and fill stitches.
Each month we'll discuss a different topic and have a project. These designs were originally designed as a block-of-the-month quilt but as you'll see during the classes, they can be used for much more!
Of course, you'll be able to ask questions and post pictures of your projects.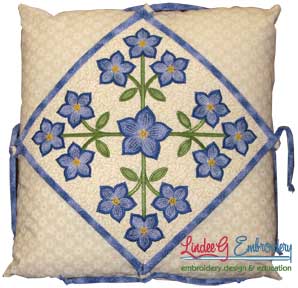 01 – JULY: LARKSPUR/DELPHINIUM
HOW TO APPLIQUÉ
Appliqué is amazingly versatile, adding textures and patterns that aren't possible in a thread-only design. Appliqué also works well in situations where a fully stitched design may not.
In this lesson, we'll learn several methods of appliqué and create a design using the July birth month flower, Delphinium, also know as Larkspur. We'll also discuss hooping and stabilizing for creating a block using quilt-weight cottons that can then be incorporated into a quilt, tote bag, pillow, or wall hanging.
02 – AUGUST: GLADIOLUS
PERFECT PLACEMENT
The first thing noticed about an embroidery is its placement. In this lesson, we'll learn how to use templates to get accurate placement. This is especially helpful for this year's series if you have a sewing field smaller than 200 x 200mm since all the designs are optimized for that size and split for 130 x 180mm sewing fields.
Even with the largest hoops, perfect placement is vital. Placement for garments will also be covered.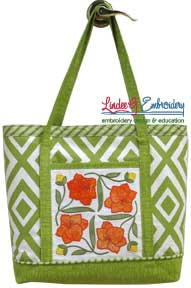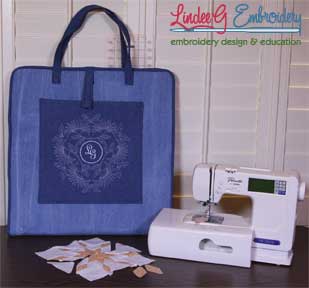 03 – SEPTEMBER: ASTER
REARRANGING THE PIECES
All of the designs in this series are provided as full-size blocks and smaller pieces. In this lesson, we'll using customizing software to work with the pieces and create new combinations. We"ll also discuss adding lettering and when to use color sorting.
04 – OCTOBER: MARIGOLD
SHEER FABRICS
Sheer fabrics can be tricky—they are often slippery, shifty creatures. However, layering them can create some interesting effects with appliqué. Some fabrics may create too much thickness or weight when piling up layers in appliqué but shears are less likely to do so.
In this lesson, we'll experiment with sheers as a base fabric and as appliqués. Discover how to stabilizer and tame these fabrics.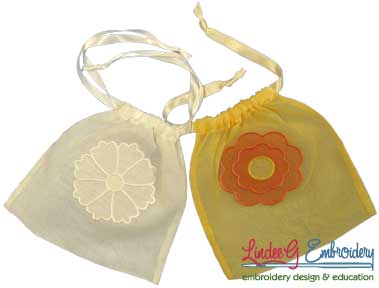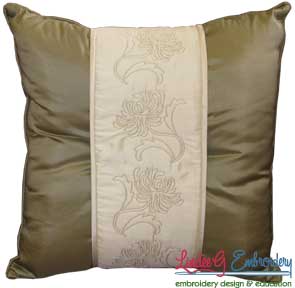 05 – NOVEMBER: CHRYSANTHEMUM
REDWORK/QUILTING
In this lesson we'll look at redwork designs and how best to use them for quilting. If you've ever used an embroidery design for quilting, you know the back looks less than pretty. We'll discuss ways to minimize that, compare different thread weights, and how to hoop and stabilize for quilting in the hoop.
06 – DECEMBER: POINSETTIA & HOLLY
3D FLOWERS
Make a Christmas poinsettia corsage with the central motif for this month's featured design. Embroidered corsages are easy to make and you don't always need a 3D design to do it.
In this class we'll use customizing to separate the pieces we need for out flower, stitch out the layers and then combine them with a decorative button in the center. We'll also look at different fabrics for the corsage and some other non-embroidery embellishments to enhance our project.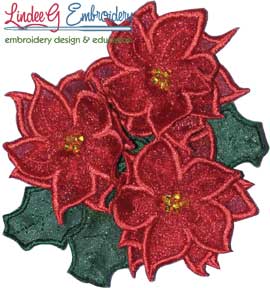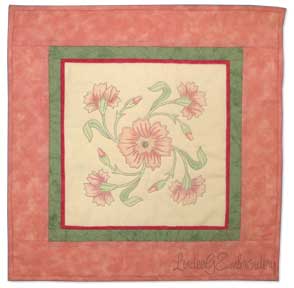 07 – JANUARY: CARNATION
ADDING COLOR WITH OTHER MEDIA (INKS, PENCILS, PAINT)
In this lesson we'll expand on non-embroidery embellishments and add color to our project with other media including inks, colored pencils, and acrylic paint. I'll demonstrate with both the appliqué version as well as the redwork version of the this month's flower.
Colored pencils are especially easy, inexpensive and no mess. I personally love adding a touch of color this way!
08 – FEBRUARY: IRIS
WORKING WITH COLOR: THREAD & FABRIC
The fabrics you choose for appliqué and the thread colors you choose can radially change the final effect. In this lesson, we'll look at color and discuss how to choose colors if you want a different color scheme from the original design or if you are using a different thread brand.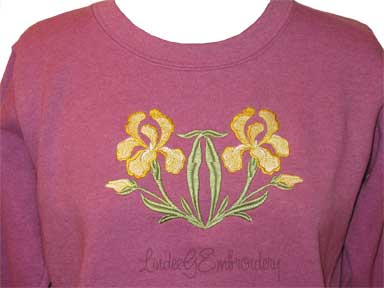 09 – MARCH: DAFFODIL
FILL STITCH
It's a digitizer's choice how a particular design will be stitched. If this lesson, we'll look at a fill stitched version of this March flower and what different considerations need to be made for stitching it such as fabric selection and stabilizer selections.
We'll also take a peak "under the hood" of a fill stitched design and see what makes it tick and what you should check in a design before stitching it.
10 – APRIL: DAISY
EDITING
Editing a design allows you even more creativity with your design stash. In this lesson, we'll look at how to deconstruct and reconstruct a design.
The appliqués we've used in this series have a lot of elements that can easily be extracted and repurposed for other uses. If you know how to edit, you can expand your stash with little effort, create otter designs that coordinate with the ones in the main design, and just plain have fun!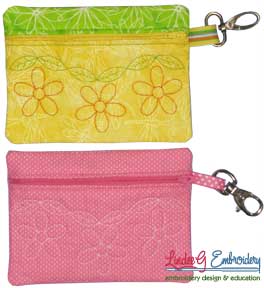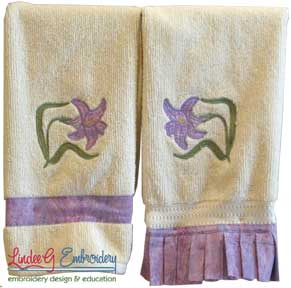 11 – MAY: LILY
EMBROIDERY ON TERRY CLOTH
In this class we'll discuss terry cloth and how to handle similarly textured fabrics. Terry cloth is often too thick to hoop in our shorter home hoops but the wrong sticky products can damage it. Also, designs tend to get lost in the deep pile.
Applique is perfect for matting down the texture but what about when you want to just use a monogram? We'll take an easy trip into digitizing and learn a simple technique you can use to hold down the loops plus learn how to create a custom basting stitch for designs where a rectangle just isn't adequate.
12 – JUNE: ROSE
WORKING WITH DIFFERENT THREADS
Most designs are digitized for 40wt standard embroidery thread (polyester or rayon). What do you need to know if you want to use metallic? Or a finer cotton? Or what about some of the more exotic threads?
In this lesson we'll look at ways to improve results when stitching with different threads including needles, optimizing thread delivery, and even modifying designs.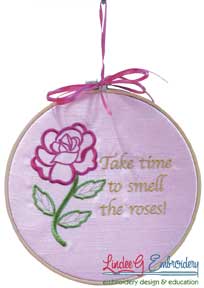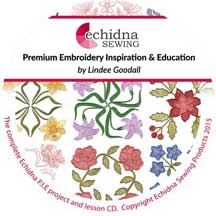 Echidna PIE Update Notice
Please note the dates on this post.
This Echidna PIE series is now complete and is available as a single download that includes:

12 lessons and projects (412 paged PDF book)
220 embroidery designs
templates for appliques
plus a bonus project

All for only $99