I love products that make embroidery design fun and innovative! Those products may be designs, specialty threads, useful stabilizers, innovative embroidery aids, or fun and easy to use software. If you've followed me for very long, you know I love the Embrilliance line of software and now I've found another one called Starfish Revolution
Note: You'll notice Australian links for the product in the video. We've recently acquired this product and you can find it in our shop in the software category.
Once you see how it works and what it does, you'll understand the name. Starfish Revolution is embroidery layout software that lets you design and visualize complex layouts and print templates or instructions for embroidering them.
And while it's the perfect complement to The Sewing Revolution line of rulers, you can also create full-size printable templates that don't require these rulers.
As an embroidery digitizer and designer, I'm always looking for new ways to get creative with my designs. The main advantage of Starfish Revolution is the ability to create complex layouts that exceed your embroidery machine's sewing field limits and then print a layout to map out all the placement of those designs.
Why not do that in your embroidery software? Well, some programs won't let you create a design bigger than the allowable sewing field and I don't know of any programs what will create a placement guide for each design on the screen.
The important thing to know is that Starfish Revolution only creates layouts and templates, it doesn't modify or create embroidery designs, it simply works with the image that it extracts from the embroidery design.
Of course, the best way to see what it does is to see it in action and you can do that in this YouTube video, Creative Embroidery Layouts using Starfish Revolution.
If you're participating in the this year's Echidna Platinum Club along with the monthly Echidna P.I.E. lessons, you'll see that I've used Starfish Revolution in our September 2014 project, shown below.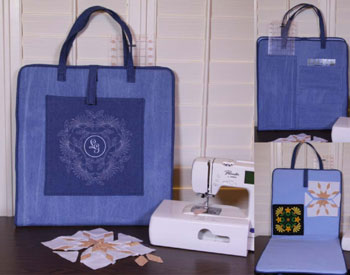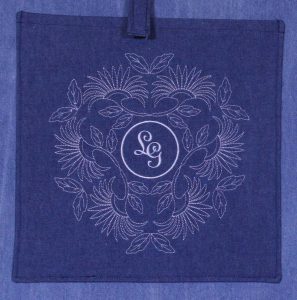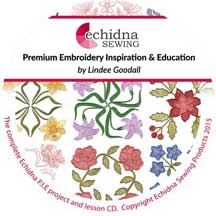 Echidna PIE Update Notice
Please note th
e dates on this post.
This Echidna PIE series is now complete and is available as a single download that includes:

12 lessons and projects (412 paged PDF book)
220 embroidery designs
templates for appliques
plus a bonus project

All for only $99
NOW AVAILABLE HERE!
Starfish Revolution is an Australian-born product and you can now download it from our online shop!
In addition to the program, you get a selection of 50 Lindee G Embroidery designs included with the download. My friend Amanda Loveridge has also designed some layouts using those designs and those are included as well.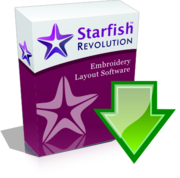 HOW IT WORKS
Starfish Revolution works by extracting and importing the image from an embroidery file (PES, JEF, DST, or PCS only). I prefer working with the JEF files because the colors are kept. PES keeps color only if colored in an older format, not the newer "true thread color" palette. DST doesn't hold any colors and well, I just don't use PCS anymore.
Color is NOT important to designing a layout, however color is highly influential so I like to work with colors that are reasonably close when designing with multi-color designs.
What if your machine uses some other format, say VP3, ART, or XXX? Well then, you need to convert. Chances are if you have any reasonably recent embroidery software, it will convert different formats. Why doesn't it work with those formats? It has to do with the ability to extract the image.
Because Starfish Revolution is only working with the image, it can't change the actual embroidery file either accidentally (oops!) or on purpose. All resizing, recoloring, reformatting, combining, etc. is accomplished elsewhere. I like to keep Embrilliance Essentials open for any modifications.
WORKS WITH ANY EMBROIDERY MACHINE!
Because Starfish Revolution is only creating layouts not actual embroidery designs, it is machine independent. In fact, you don't even need a machine to use it, just embroidery designs.
BUT CAN'T I DO THESE LAYOUTS IN ESSENTIALS?
Well you could, but Starfish is way easier, faster, more visual, and creates placement templates for each design element. Essentials is customizing software and while it lets you create a multi-design project larger than any known hoop on the planet, it treats it as one huge design and therefore only has one pair of cross hairs for placement.
Essentials assumes you will be sending that design to your machine to sew and is working with and creating embroidery designs whereas Starfish is only working with images and creating layout templates.
BEFORE STARFISH (THE DARK AGES OF LAYOUT…)
I used to do some crazy things to get perfect layouts like the ones I can easily create in Starfish. Printing large amounts of different designs. Using rulers and a protractor for placement and other funky methods. Then deciding I needed different designs or some mirrored or resized and having to print and cut more.
And then of course, one of the cats always wanted to get in on the action… I gave up more times than I actually carried through.
Now I can just play around until I get what I want on screen, then print, and place on my fabric! And because my template is saved on my computer, no kitty catastrophes!
TIPS
You might think Starfish can only create circular designs. Not so. In the sample below (designs and template included with the program) you can see a square set on point inside a circle of daisies with a single center motif.
Yes, you can create circles and you can make all manner of star shapes. Yes, it does do symmetrical layouts.
Also, just because it creates an evenly balanced layout, doesn't mean you have to stitch every motif. Remember, it's creating a layout guide not an actual embroidery design so you can still modify it after printing. You could just stitch a segment or a half of your layout depending on your project and how it is constructed.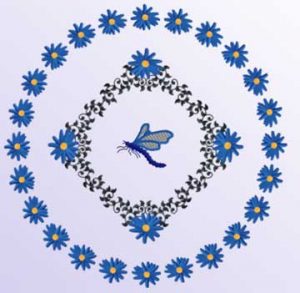 If you're designing with smaller elements and have a larger hoop, consider combining some elements after you've finalized your layout to reduce the number of hoopings. I did on the portfolio and I tell you how in the September Echidna P.I.E. project.
Combining elements is also a good way to use more designs in your layout. The program currently allows you to import up to 6 designs, so combining elements can allow you to squeeze in a few more. Personally, I rarely use more than six different designs even when playing around so I've not found this to be a limitation.
A word of caution about large hoops… You may be tempted to combine a lot of pieces into one group if you have a really large hoop. My personal experience is that it's harder to accurately hoop a large group than a smaller one so I rarely go larger than a 5×7″ hoop when working with complex, multi-piece layouts.
Also, the larger the hoop, the more the stitching can distort the fabric. Multiple, small inaccuracies in placement are less noticeable than one or two that evenly bisect your design.
Another tip for hooping is that on larger layouts, I often stitch every other element and then do the ones in between rather than to work my way around in a circle and end up with an unbalanced space between the first and last element.
Keep in mind, too, that when hooping for designs that aren't on the straight of grain, you may need to take extra care while hooping to avoid stretching the fabric.
Registration problems are more likely when hooping off grain especially with more stitch intensive designs that have running stitch outlines. Sew a test first if you are concerned to see if you need to make any adjustments in stabilizing or even choosing a different design.
Another recommendation is to avoid color sorting. I'm so not a fan of color sorting! Yes, it makes for fewer color changes but it also increases the chances of registration problems. I'd much rather spend a few extra minutes changing threads than to have a more permanent, poor quality embroidery.
WHERE TO GET STARFISH REVOLUTION
Starfish Revolution supports every version of Windows from XP to 8, in both 32-bit and 64-bit. Mac users will need to run in Parallels (how I usually use it) or something similar. Download your copy of Starfish with 50 Lindee G Embroidery Designs:
RELATED ARTICLES