The texture, type and weight of thread can dramatically impact the appearance of an embroidery design – are you making the right choices for your projects?
Join the online Craftsy class Thread Savvy: Stitch Flawlessly With Any Thread with me, expert embroiderer Lindee Goodall, and discover everything you need to know to achieve professional results with traditional and decorative threads alike!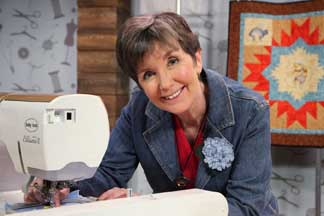 Find out how to create a successful recipe for flawless embroidery results, no matter what you're stitching. I'll demystify thread weight, stitch density and needle choice, so you can easily choose the right ingredients for any project. We'll also take a look at embroidery samples to see firsthand the impact that proper thread choice has on your results. Then it's on to specialty threads, and all they have to offer!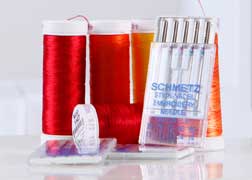 Polyester thread has a reputation for being tricky to work with, but in our next lesson I'll show you how far this thread has come since it's original form. Bleach and fade resistant, polyester threads reflect light beautifully and have a high tensile strength. Learn the benefits of working with this thread, how to avoid puckering when sewing with polyester and how to care for polyester-stitched projects.
If you're looking for stitches with lovely sheen and heightened definition, rayon thread may be your best bet! Discover how this tension-friendly choice can create lovely lace, and why you shouldn't use rayon when sewing leather or towels. We'll also talk about the pros and cons of cotton thread, and go over care strategies for keeping both threads in great condition. Plus, learn which thread lets you create stripes, unique textures and lush dimension––without any extra steps!
When you want to enhance your embroidery with eye-catching stitches, metallic thread is a stunning choice! Learn how to work with this fragile, temperamental thread as I guide you through testing it for desirable texture and flexibility and prepping your machine for success. I'll share my top ten tips for a smooth stitching experience; no expensive tools required!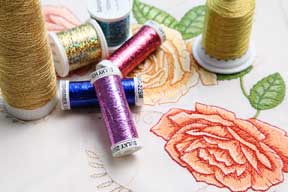 Next, learn more about the incredible range of embroidery threads on the market. We'll cover wool/acrylic blends, glow-in-the-dark thread, monofilament and even solar threads, and discuss inspiring uses for each.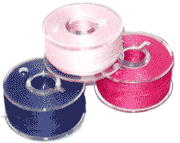 Then, delve into another essential component of embroidery success: the bobbin. I'll reveal my essential guidelines for winding your own bobbin, plus the pros and cons of pre-wound choices. Learn how to reduce bulkiness and troubleshoot thread nests with my expert tips, and master this critical component of proper stitch formation!
In our final lesson, find out how to adjust the thread density of any design to eliminate bulletproof embroidery for good! Discover how to resize your designs, remove excessive stitch counts and more, all in only a few clicks. Plus, sign up for Thread Savvy: Stitch Flawlessly With Any Thread today, and explore the range of threads we've discussed with eight lovely flower files included free with class!
I started sewing at a very young age, and once I discovered machine embroidery I knew I had found my true calling! I've been a frequent guest on Martha's Sewing Room, America Sews and America Quilts, and authored numerous digitizing and embroidery articles for publications like Stitches Magazine, Threads and Creative Machine Embroidery. I'm thrilled to partner with Craftsy, and I can't wait to share my passion for embroidery with you!
Discover the secrets to specialty thread success, and confidently create stunning embroidery!
Use this link to save $10 off Thread Savvy: Stitch Flawlessly With Any Thread today!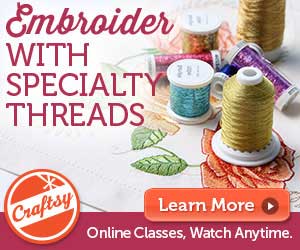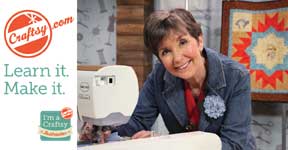 CRAFTSY COUPON UPDATE NOTICE
Since the coupon codes were originally posted on this site, Craftsy has changed the way they handle coupons limiting them to 90 days.
Because of that, I have to figure out new way to provide coupon codes… Another thing to add to my to do list.

RELATED ARTICLES