I have to say, this is one of my favorite quilts I've made! This vibrant southwest quilt showcases 5 machine embroidered appliqué designs.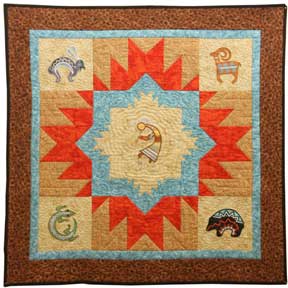 I designed, pieced and embroidered the quilt and it was quilted by Barbara Angerhoffer, a local longarm quilter. The central piecing is framed with a turquoise 1-inch border surrounded by a dark 3-inch border of mini Kokopeli black on brown print and finally set off with a solid black binding.
The half square triangles were pieced in the hoop as a grid. The finished size is approximately 36 x 36 inches.
As you may know by now, I love applique. And with the crop of affordable digital cutters on the market, perfect applique with your embroidery machine is easy—and fun!
The five appliques were originally licensed to Dalco Home Sew and now that the license has expired, I have them back!
I've combined the original designs with the two in-the-hoop half-square triangle designs and created templates for the applique pieces in PDF, SVG, and FCM (Brother ScanNCut ready!) formats. Also included are Applique Basics, a PDF with step-by-step illustrated instructions for how to do machine embroidered applique and instructions for constructing the quilt.
The quilt instructions assume you know something about rotary cutting, piecing, and binding. There is no pattern for the actual quilting on the quilt. In other words, this is not a "how to quilt" tutorial.
All appliques and the smaller set of HSTs fit within a 5 x 7″ (130 x 180mm) sewing field. The larger HST requires a 175 x175mm sewing field.
About the Pattern
The five machine embroidered appliqué designs were originally created to fulfill a request by my friend James Raymer at Dalco Home Sew. After researching many southwest designs, I drew the artwork to represent common elements in native artwork then digitized them.
I was so pleased with them (I have a southwest decor theme in my home) that I decided I'd make a wall hanging to showcase them. I designed the quilt in Adobe Illustrator and with the help of my quilter friend, Jeanette Smith, we picked fabrics.
Once I started printing out the pieces at actual size, I realized just how tiny some of those little triangles were! So to maintain accuracy, I digitized a grid for sewing half-square triangles with the embroidery machine. These designs are included with this pattern (they weren't with the Dalco version).
Of course, if you'd rather make half square triangles using your favorite method, you certainly can. I've included actual size pattern pieces in the instructions and you are free to adapt them to your style.
A pattern is also included for grid sewing the HSTs if you prefer that method. Because I designed the quilt in Adobe Illustrator for my own use, some of the pattern pieces are a little non-standard in their sizes.
You can download your own copy of A Taste of the Southwest quilt and here's what's included:
5 applique designs for 5 x 7″ (130 x 180mm) sewing field
1 half-square triangle group for the the smaller HSTs for 5 x 7″ (130 x 180mm) sewing field
1 half-square triangle group for the the larger HSTs for 175 x 175mm sewing field
Applique templates in PDF, SVG, and FCM (Brother ScanNCut ready!) formats
Applique Basics, a 9 page illustrated step-by-step instructional booklet in PDF form
10 page illustrated instructional booklet with patterns in PDF form for the quilted wall hanging project
RELATED ARTICLES