After using the Brother Scan n Cut for several appliqué projects, I thought I'd share a bit of what I've learned through trial and error and playing around. Of course, many of these tips also apply to other cutters such as the Silhouette Cameo and KNK Zing. If you don't yet have a cutter, this post may help you decide if you "need" one.
It may initially sound as if there is a lot of prep work involved in using the cutter but truly, I do almost the same prep whether cutting by hand or machine.
A digital cutter just makes cutting WAAAAYYYY faster and of course, completely accurate. (I also have the Zing cutter, which I'll write about sometime in the future as I get more experience with it.)
Yes, I've written about these cutters before. This post goes into more detail about the entire process. If you haven't read any of my other posts about these cutters, let me start with a little background.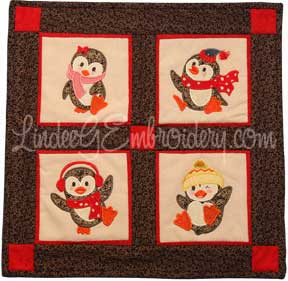 About Appliqué
I love machine embroidered appliqué. I love the texture, patterns, and variety you can get by incorporating fabric with embroidery. It's also great for reducing stitch counts and improving fabric coverage when embroidering on prints, textures, and high contrast background fabrics.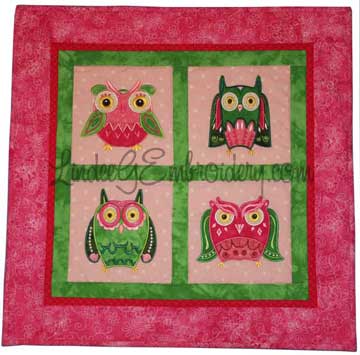 My favorite method for machine embroidered appliqué requires pre-cutting all the appliqué pieces. This not only speeds up machine time since you don't have to stop and cut each piece as you sew, it also improves quality because the hoop tension does not get distorted from the cutting and—assuming you cut and placed your pieces accurately—there are no raveled out "pokies" sticking out from the stitching or gaps where the fabric was misplaced or cut short.
Of course, getting precisely cut pieces can be tricky and time consuming. For all my appliqués digitized in my professional system, I provide accurate, vectored pattern files as PDF. Now that we have a range of affordable cutters on the market, I've added SVG and FCM files to the mix.
A typical PDF pattern looks much like what you see below. There may be a full size or reduced size version of the design with sample colors, a second one as outlines only labeled to show name and placement order, and then an "exploded" version with all the pieces separated.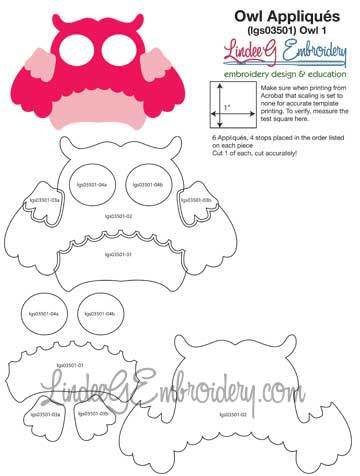 When printed at actual size, the individual pieces can be used to hand cut appliqués. In that case, I like to print on a fusible tearaway, press the pieces to the front of my appliqué fabric, apply fusible web to the back, and then carefully cut exactly on the outer edge of the pattern outline.
The cutter files are set up one piece per file to make it easy for you to choose which pieces you want for which fabrics. When I'm testing designs, I often combine all the pieces for the same fabric into one file and occasionally I may also include these with the collection. I also combine pieces when I'm using the same fabric for multiple pieces in a design or multiple designs in a project.
Whether you purchase the collection or individual designs, you'll get the cutter files required for those designs.
Plan Your Fabric Choices
No matter what project you're doing, you'll need to select fabric(s) for the various pieces. For the two little samplers shown here, I selected four designs each then chose colors for each piece in each design.
Once I knew which pieces used the same color, I combined those pieces to cut out together.
Plan Your Layouts
If you're cutting more than just a few pieces, combine and lay them out on your computer. Yes, you can do this on the cutter but the screen is very tiny and when zooming in to check things, you can only view it; you can't change anything.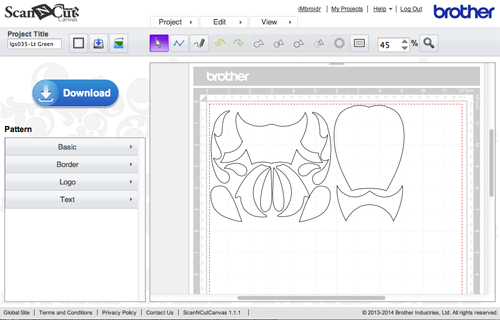 Because I have graphics programs and have the template files, I can combine all the pieces and move them around and even rotate them to maximize the fabric.
Even if you don't have software, if you have SVG vectors or FCM files (I provide both with my appliqué designs), you can simply create an account on Brother's site at https://scanncutcanvas.brother.com, upload the files and do the same thing. This site only outputs Brother's format so if you have another cutter, it won't be useful to you.
Tip: I often use the PDF patterns to make my composite layouts. These pieces have the labels on them and in the case of the owls, I never would have been able to sort out all the eyes because most of them are round. I print this piece, save as an SVG, and upload the SVG to Brother's site to convert. The site won't read the text and will give you an error message about that so it automatically strips off all the labels. Save the file on the site, then download as FCM for the cutter.
On the website, you'll have a background of the scanning mat and tools to rotate and move. You can even resize designs. When moving, you can move more than one element at a time. You can't free-style rotate or move multiple elements simultaneously via the cutter screen.
Whether you prefer to do the layouts on your own computer or the website, you'll need to use the website to convert the SVG to an FCM. If you don't have access to the internet and are combining on your computer, print the SVG file and scan it into the Scan n Cut for cutting. I've never scanned any designs for cutting this way since it's faster for me to create the files.
Another reason for combining multiple pieces on the computer (local or web), is that when loading designs individually on the Brother Scan n Cut, each piece is initially placed in the upper left hand corner and you'll need to move it somewhere else.
I have enough patience for loading about 3 elements this way so it didn't take me long to figure out that for my style of working, I'd be happier doing this on the computer.
If you do load multiple pieces this way, load the ones furthest away from the upper left, move them, and then add the next. The last piece will be the one for the upper left. Then you'll need to spend time adjusting the placement of each piece.
A note about loading designs: When loading a file into the cutter that has more than one element, the group will also be loaded so that the top left corner of the group is in the top left corner of the mat.
The cutter treats this as if you had loaded all those individual designs one at time. In other words, this is not a grouped collection of designs; they are all individual elements and you can only move one at a time. You can't move them as a group.
Tip: While I haven't tried this, it occurred to me that you could lay out files on the web site so they are positioned in another area of the mat and then just put some placeholder element in the upper left hand corner. Then, after loading the file into the cutter, just delete the place holder element.
The way the loading defaults to the upper left can mean that area of the mat gets a lot more use/abuse than the say the lower right corner.
Creating the FCM and SVG file is the extra step between cutting by machine versus cutting by hand and the time time saved cutting by machine more than makes up for the extra conversion time!
Print Your Layouts
If you are doing the layout on your computer, you can print the document to make it easier to cut fabrics to size. I didn't see a print option within the Scan n Cut Canvas web app and since it appears you can only download an FCM file and there currently isn't any software (that I know of ) that can read such a file on the computer, there may not be another way at this time to print.
There are free programs that can work with SVG files, you don't need a program like Adobe Illustrator. Libre Office has a drawing module that can open and export SVG.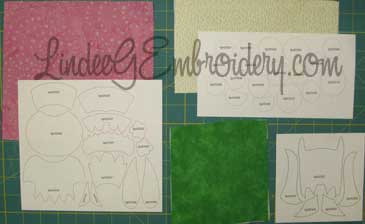 Note For Hand Cutting
I do a similar process for hand cutting appliqués: combine all elements that can be cut from the same fabrics to maximize my fabric use. I save these files so that the next time I want to do a similar project, this prep work is already done.
Preparing Your Fabrics
Using the printed sheets, I cut fabric swatches slightly larger; usually about a 1/2″ taller and wider. I usually use a rotary cutter and ruler and make sure the fabric edges are clean (no ravely stuff) to keep my mat clean.
Stiffer, stabilized fabrics cut cleaner and are less likely to crumple up during cutting. I starch and press all my fabrics (so far I've only cut quilt-weight cottons) and apply a fusible web. Fabrics need to be wrinkle free! This is how I prepare my fabrics for hand cutting as well.
Fusible Web Considerations
When hand cutting appliqués, my favorite products have been Steam-a-Seam II and Pellon Easy Steam 2. These are double stick pressure sensitive products that make placement and repositioning in the hoop a breeze. They also make it possible to embroider without using an appliqué tacking iron, although I still prefer to use one.
I found that pressure sensitive ("sticky") fusible webs don't work well with the plastic mats. The product REALLY sticks to these mats and is next to impossible to remove. Even with single-sided pressure sensitive adhesive products such as Floriani Applique Wonder that are heat fused to the fabric first before cutting, the web sticks to the mat and peels off the back of the fabric.
I even tried leaving the paper on the back of the fusible web on these sticky products but that doesn't work well either. On the double stick products, the paper is slick and doesn't stick to the mat and the paper is not all that firmly stuck to the web either.
On the Florianni product, it was hard to peel the paper off the piece after cutting and I sometimes had raveled fabric edges by the time I got it off. If you leave the paper on, you may need to adjust your blade depth since it will add to the fabric thickness.
Iron-on paper backed non-sticky fusible webs work well. The first one I tried, SoftFuse Premium, was a product I never even heard of that they had the Brother dealer close by. This product gave the fabric quite a bit of body when fused to the appliqué fabric yet when I pressed the fabric after stitching, you couldn't even feel the product in there.
The double stick fusibles tend to leave the appliqué feeling stiff and that only compounds when there are multiple layers. I removed the paper backing before adhering the fabric to the mat. I did find that for best results, I needed to fuse the web a little longer with the iron to keep the web attached to the fabric instead of sticking to the mat.
When I ran out of this product, the dealer was also out of stock so I tried Wonder Under, an old standby that has been around a long time. It too worked well but did not add the body to the appliqué pieces that I got with SoftFuse Premium. I found I needed to starch my fabrics more when using this product.
None of these products gummed up the needle on the machine but the sticky ones sure gummed up my mat! You may need to experiment a bit to find the fusible web you prefer.
Cutting Multiple Fabric Swatches at Once
Yes, you can layout multiple swatches on the mat to be cut at one time. The best technique for this is to put the fabric with the most elements in the upper left position of the mat and those swatches for one to three elements around it. Load the designs for the fabrics with the fewer elements first and move them into place. Load the file with the most elements last.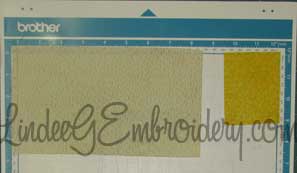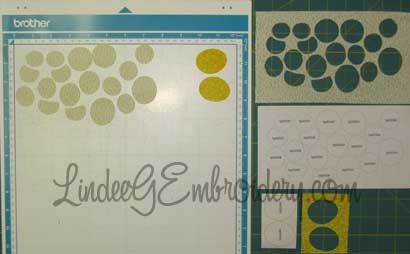 Alternatively, you could plan and design a multi-piece layout on Brother's site using the mat's grid for fabric swatch placement and then match that placement when arranging your pieces on the mat.
Use the Guides on the Mat for Fabric Placement
Take advantage of the grid lines on the mat. The scanner's screen displays the grid and you can see it in the Scan n Cut Canvas web app. The grid will help you with placing designs at the cutter and placing multiple fabrics on the mat.
Tip: Don't allow the fabric to extend into the blue areas framing the sides of the gridded area. This is where the rollers go and they can catch on the fabric and ruffle it up.
Apply Fabric to the Mat Smoothly and Securely
Smooth the fabric into place within the cutting area. I like to use a brayer to firmly attach the fabric and work out any bubbles. A rolling pin would also work for this.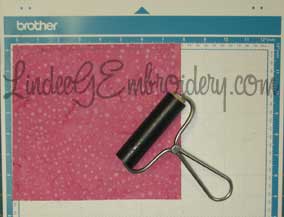 Before Cutting: Scan the Mat!
Even if you've carefully arranged the pieces for your fabrics, scan the mat to make sure the pieces are within the fabric shapes.
I skipped this step once and was off one full grid, which resulted in cutting the piece out of the mat instead of the fabric! I reinserted the cut out piece and used a piece of clear packing tape on the back to hold it in place. (I still use that mat!)
It can be especially hard to see the outlines on dark fabrics but you can see if the outlines are extending beyond the edge of the swatches. You can also zoom in to check things.
Stay With the Cutter While It Cuts
If you've set up everything correctly, the cutter should whiz through the fabric and cut out all the pieces without a hitch.
However, if you haven't adhered the fabric well or there was a lump or bubble in the fabric or some other "gremlin" causes the fabric to lift off the mat, you want to stop the cutter right then before the fabric can possibly create a jam or rumple the fabric enough to cut into a previously cut section. Or, if you've misplaced your fabrics you want to stop the cutter before it cuts through your mat.
Removing Cut Items
Carefully peel off the excess fabric. Sometimes the cutter misses a few fibers so a pair of sharp scissors can complete the separation. I like to have the printed paper guide to arrange all the cut pieces again. This makes it easy to know which piece goes where and if I missed any pieces when removing the excess fabric.
Also at this time use the little scraper tool that came with the cutter and scrape off any bits stuck to the mat.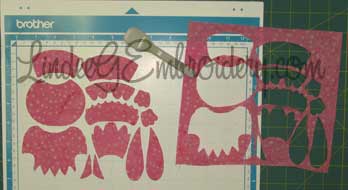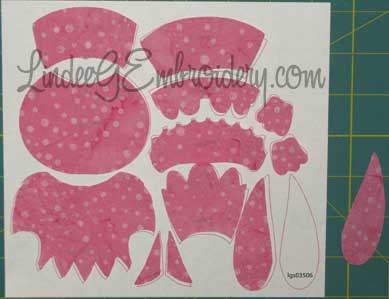 Organizing Pieces
When working on a big project that involves multiple designs, I like to set up a small notebook to organize everything. This is especially helpful if the project will be spread out over more than a single sewing session.
I print the design's worksheet and the PDF template and slip them into a plastic page protecter. Then I put all the appliqué pieces into a small zip-lock bag and slip them into the page protector. I decide on all the thread colors I'll be using and write them on the worksheet. Once again, I do this whether the pieces are cut by hand or machine.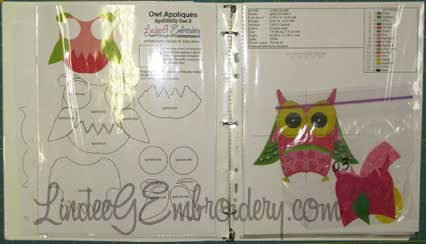 When I'm ready to embroider, I fire up my appliqué tacking iron heating, pull the desired threads, and layout the appliqué pieces on the PDF template so I know which piece goes where. I want to maximize machine time!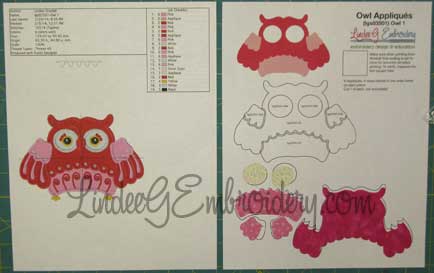 Things That Can Go Wrong
Probably the worst thing is that the fabric can come up off the mat during cutting. If you pay attention to what you're doing, you can reduce the chances of this. Keep your mat clean and make sure the fabric is well adhered and within the blue lines are the best deterrents.
The next step is to immediately stop the cutting at this point to salvage what has been cut and prevent further problems. I have had this happen a time or two and by removing the cut pieces, resticking the fabric, and deleting the elements previously cut, I was able to salvage the prepared fabric. Had I not been sitting next to the cutter, who knows what mess I might have had!
Cleaning the Mat
At some point your mat will likely get pretty grungy. I have washed one of my mats and while it did take some effort it is now gunk free. I soaked it in hot water with some dish soap and scraped it with a plastic spatula.
Unfortunately, it is also "glue free" in that it isn't tacky anymore. I've found I can still use it by misting the back of my fabrics with a temporary embroidery spray adhesive (TESA); I used KK2000. This will tide me over until I order a new mat. I haven't tried other glues to see how they work.
Learning Your Cutter
While these cutters are easy to use, they aren't instant out of the box accessories like say, scissors. I mean, even with a tool as simple as a rotary cutter, there are still things to learn about it!
Expect to invest a little bit of time to figure out your new cutter. Fortunately there are oodles of videos on-line and once you start playing with your cutter, you'll think of more things to do with it. I've barely scratched the surface with mine having just focused on appliqué.
Since I got a cutter though, I'm way more willing to cut and design intricate pieces because it's just so easy! After all, I'm really not interested in designing something that is more complex than I'm willing to make myself.
What I Wish The Scan n Cut Could Do
My wish list for the Brother cutter is mostly software related so hopefully someone at Brother can tell those programmers!
I'd like to be able to open a file of elements on the cutter and move them as a group to a different area of the mat.
Free-style rotating of individual elements on the cutter would be nice.
I'd like to be able to create project folders on the web site.
I'd like to be able to print a layout at actual size from the website or some small utility program to print FCM files on my computer. Of course, I'm a Mac user and I wouldn't want tohave to have to do Windows to do that.
When saving a design on the cutter, I'd like to have other naming and saving options.
It's possible that some of these things can be done already and I haven't figured them out. I'm sure I'll come up with more ideas as time goes by.
The other cutters do rely more on software so these things aren't that big a deal. However, those cutters don't scan and they do need to be attached to your computer (which may or may not be a big deal to you).
Are There Any Disadvantages to Machine Cutting vs Hand Cutting?
So far about the only one I've been able to come up with is that you can possibly get a more efficient use of fabric and fusible web cutting by hand. So if you have very small scraps that you want to squeeze one more piece from, hand cutting is probably the way to go.
Another reason you might want to hand cut is to fussy cut a piece. Yes, the Scan n Cut scans and you can see the element's placement over the fabric, but if you need to rotate the piece before cutting, you'll have to rotate the fabric on the mat instead of the piece in the cutter. (At least I haven't found out how to rotate a piece.
Please let me know if there's a way.
Do You Need A Cutter?
Did you "need" an embroidery machine? Today's cutters are quick, easy, accurate, and affordable. Not only can you cut fabrics for appliqués, you can cut fabrics for piecing quilts without having to purchase expensive dies.
Most of the cutters can also work with a pen and you can take advantage of that to mark stitching lines. The Brother model can even add a seam allowance for you. The website has drawing tools to create designs for cutting (I have not tried these since I have other software) and because you can resize the shapes available in the scanner and on the website, you have plenty of options.
Cutters are perfect for paper too. Scrapbookers and card makers use them and you can find tons of free printable images online. With the built in fonts, you can quickly cut letters for a banner for any occasion, party or event.
You can also add instant glitz to a project by cutting shapes out of fusible glitter sheets. Fuse it down and then embroider over the top. Some of the cutters offer software for cutting templates for applying crystals (the Artistic software from Janome).
These programs can also easily extract the pattern line for cutting an appliqué when no template is included (or you've resized the design) and can also trace around areas to create a cutting line.
And of course, if you love appliqué, you'll find a digital cutter to a be a perfect companion! A cutter is just one of those things that once you start playing with it, you'll find myriad uses!
Is a Cutter Required for Lindee G Appliques?
Nope, not at all. PDF templates are included for hand cutting. These are also useful if you need to recut just one piece and you have small piece of fabric you need to use that requires a finicky placement.
Which One Should You Buy?
That depends on how you work, what features you desire, what you'll be cutting and how much. Do your home work online and compare features. Go to stores or large sewing events and see demos. Make a list of questions. Some things to consider:
Do you want one that connects to your computer or is stand alone?
Do you have a reliable internet connection if that is the only software option?
Do you want to be able to make and cut your own templates for crystals?
What kind of software do you have, need, or are comfortable using?
What types of materials do you see yourself cutting?
How much cutting will you be doing?
Do you need a scanning option? (I didn't think I did since I have a scanner but I'm really appreciating this aspect!)
How much space do you have to accommodate the cutter?
If you cut banners or other long pieces, how much continuous cutting length do you need?
If you're not a "computer person" the Brother Scan n Cut is probably a better choice. If you are a "computer geek," and plan a lot of heavy use, look more towards the KNK Zing.
Baby Lock and Brother dealers are more likely to have the Brother Scan n Cut while Janome and Bernina dealers are more likely to have the Cameo and/or Zing. The Cameo is a lower priced model so Zings may require ordering.
Summary
No matter how or when you cut your fabrics (some people cut them during the sewing process after a blob of fabric has been stitched down), you need to do some preliminary planning to select and prepare fabrics. I prefer precutting because I want a professional looking finish and I want to optimize my machine time.
I also prefer to combine as many pieces as possible on piece of fabric to minimize time and wasted materials. Sorting and organizing all your pieces when cutting them ensures that your pieces don't get lost and are ready to place when needed.
Cutting with a digital cutter reduces cutting time and increases accuracy both of which make appliqué more fun!
RELATED ARTICLES