I love appliqué! And what I love best is how you can change the look of the design by changing the fabric. Fabric can add pattern and texture that's just not possible with thread alone. And, it can work on fabrics that are otherwise not embroiderable like fishnet.
When I saw this collection of super cute penguin artwork, I knew I had to have it and I knew I had to do it as appliqué. With the proliferation of economically priced digital cutters, appliqué has suddenly gotten much easier!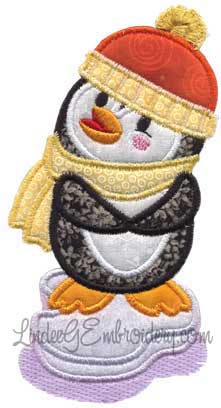 Last August I ordered a Zing cutter and by Thanksgiving, I was still waiting on it. I chose the Zing based on the recommendation of a friend and the cutter's specs.
But after several months of waiting—and a little convincing (or was it arm twisting?) by an Australian business partner—I ran down to my local Brother dealer on Black Friday to pick up the Brother Scan n Cut, only to find they too were out and the product was on national back order. These things must be really popular!
After a call to another dealer up in Phoenix, I found one and an afternoon drive landed me a digital cutter. Of course, the week after that, the Zing suddenly showed up…
APPLIQUÉ TEMPLATES
I've always included templates with the appliqués I digitized in my professional digitizer. I prefer working with precut appliqué pieces. They give a much cleaner finish, especially with complicated pieces, and you'll spend less time at the machine.
Because my digitizing program it is vector based, I can extract the placement line as a clean outline for a pattern. I then label these and include them as a PDF. In the past, I've printed the pattern pieces on fusible tearaway, pressed them to my fabric, and cut them out by hand. Now I've added the cutter files to make it even easier and way faster!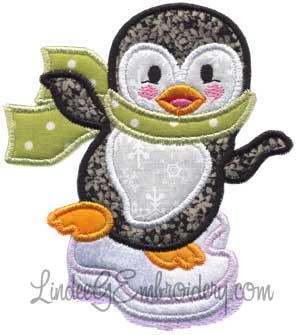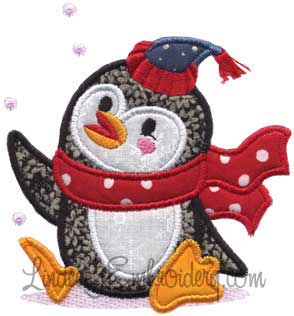 To get the FCM file, I converted each appliqué piece to an SVG file, removed the label (otherwise the cutter would cut it out!) and then uploaded each SVG to the website, converted it, and downloaded it again. A tedious process indeed!
All those files—the PDF, the SVG, and the FCM—are now included. The PDF is a useful reference because it will show you all the pieces for the design and the order in which they are placed. The other files are named with a sequence number to help with organization. SVG can be used with the Zing and Cameo cutters.
CUTTING
Each cutter has its own advantages. The Brother has the ability to scan in fabric or images for cutting. I was able to place prepared swatches of fabric on the scanning mat, load my templates into the machine via my jump drive, position those pieces over the correct swatch of fabric, and then let the machine cut. Very fast! And even better, all the pieces are exactly accurately cut!
I did find that I had to use a different fusible web. I really like the double stick kind (Steam-A-Seam II and Pellon Easy Steam) but these products stick to the mat and don't peel up.
Instead, I switched to a heat fusible product that is not pressure sensitive. I did have to fuse it quite well to keep it from sticking to the mat when peeling off the fabric. If you have any advice in this area, please share it!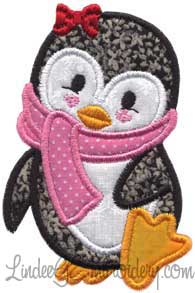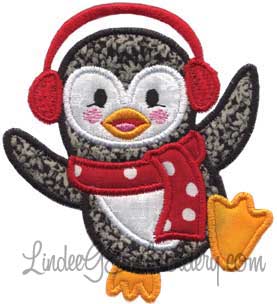 THE PENGUINS
When I saw this artwork, I just knew I had to do them as appliqué. Even the tiny feet, which I at first stitched, looked better as appliqué. Five of the penguins have fringed areas either on their cap pompoms or on their scarves. Fringing definitely ups the cuteness factor but it isn't very durable so I've included versions with the fringed areas replaced with standard stitching.
Having a digital cutter makes it easy to cut all the pieces quickly and accurately. The time consuming part is picking the fabrics!
To make the appliqués work without being too tiny, these designs are sized for 5″ x 7″ sewing fields. You can see the sizes for each design on the product page. I don't recommend shrinking the designs because the satin cover stitching will get so narrow that it won't adequately cover the fabric.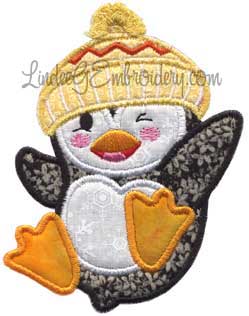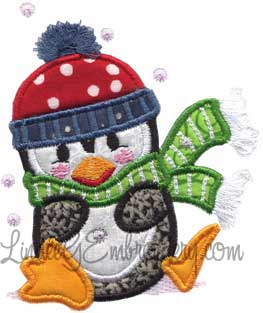 A FEW WORDS ABOUT COLORS
Another thing you'll notice is that I've included the actual worksheets from the digitized designs. Usually I just provide the final color sequences (also included). With this collection however, because there are so many appliqués and because I deviated significantly from the digitized colors in some cases, I included both.
When I stitched the designs, I often used the same color several times where the work sheet had several colors listed. Multiple colors means more flexibility.
In other words, the color sequence list is the list of actual colors I used to work with the fabrics I chose whereas the work sheets are the colors I planned when digitizing. You'll want to choose thread colors that coordinate with your own fabrics.
Also, the color sequence list may look daunting because for each appliqué piece, there are usually 2 color stops. One to outline the placement line, then a stop, then a second to tack down the area and do the cover stitching.
If you're expecting your embroidery file to match the color list, you'll notice it may appear reasonably close on screen (especially PES and VP3) but placement lines are a peculiar color. That's because on most home machines, if there are not distinct colors for each stop, the machine will merge them into one color.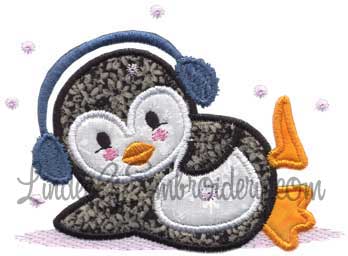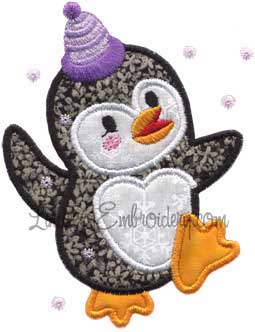 WHAT TO DO WHEN CUT FILES AREN'T INCLUDED?
I do have one collection that was not digitized with Punto and therefore has no template files. You may have other appliqué designs in your stash that don't have any either. Fortunately there are programs that can help. For example, Embrilliance Essentials can extract and print the placement line of an appliqué design.
(Make sure you are using the latest version.) Simply select that piece in the Objects Pane and print the selection. Then you can scan that in to be cut. Although I was able to print this to a PDF and convert to an SVG, the website could not convert the file to an FCM file.
For the Zing, I have other software that I can select the areas I want cut and send them to the cutter.
Another alternative is to stitch the placement line out in black thread on a sturdy cutaway and then scan that in (if you have the Brother Scan n Cut). Once scanned in, it can be saved either in the cutter or onto a stick for future use.
DON'T HAVE A CUTTER?
I have to say I love these cutters and can see lots of possibilities for one. They can cut a range of materials very intricately and quickly. They don't take up much space. The Brother Scan n Cut doesn't even need to be near your computer and can double as a scanner.
The Zing and Cameo connect to your computer and although they can't scan, you don't need to do any intermediary steps to get the files to them, just send straight from your computer.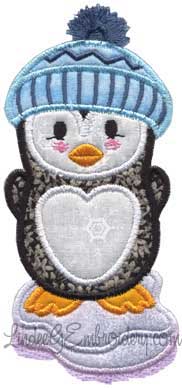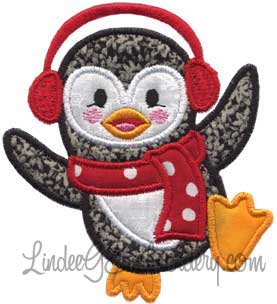 Of course, you can still hand cut appliqué pieces. Applique Basics, a pdf file is also included with appliqué collections that included templates and includes step-by-step instructions on how to prepare and cut your pieces accurately from the included PDF templates.
MY AFFILIATE LINKS DISCLOSURE
Hi everyone. Just to let you know that some of the links on this site are affiliate links. What that means is that if you click one of them and buy something… I get a commission. It doesn't cost you anything extra and I only recommend things that I've tried and tested, so please, please, please… use my links.
Fine Print: Lindee G Embroidery is a participant in the Amazon Services LLC Associates Program, an affiliate advertising program designed to provide a means for sites to earn advertising fees by advertising and linking to amazon.com. Lindee G Embroidery is also an affiliate for Embroidery.com, Nancy's Notions, Embrilliance, and Craftsy. If you purchase something through one of those links I may receive a small commission, which helps to offset the cost of running this site. 🙂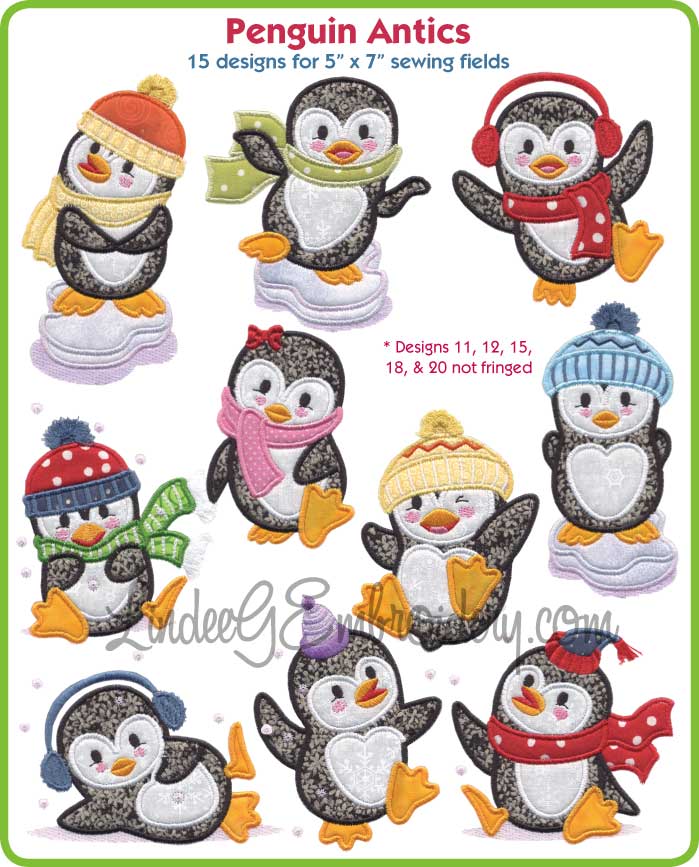 WHERE TO GET THE PENGUINS
Penguin Antics includes 10 colorful, happy multi-piece applique designs. As with other applique collections,this one includes color sequences, template files as PDFs, cutter files as SVG and FCM, and Applique Basics, a pdf on how to applique using precut pieces.
Embrilliance software is often available in our shop as a physical product that will be shipped (U.S. only) or as digital download from Embrilliance

Not sure? Download a demo version to try out any ot the apps or get the free version, previously known as Alpha Tricks Express, now known as Embrilliance Express to open access to the thousands of keyboard fonts available as BX installer files

Other general supplies such as applique web and cutters can be found on the Resources page
RELATED ARTICLES