Owls are hot! And have been for a few years now. This owl-themed purse or mini-reader bag is full of features and is perfect for toting your iPad mini and smaller Nook, Kindle or other reader.
Last year after releasing my In-the-Hoop Sewing organizer, I received a number of requests for an in-the-hoop iPad sleeve or bag. Unfortunately, unless you have a really large sewing field, completely creating such an item in the hoop with no other sewing is just not possible.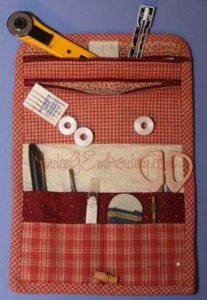 While in-the-hoop (ITH) projects are novel and it would seem you could get more accurate results with less work, in reality this is not always the case. Sometimes the best result is obtained with a combination of embroidery and good old-fashioned sewing and that's what I've done with this mini-reader bag.
To make the project accessible to the widest range of embroiderers, I set a goal of being able to do all the embroidery in a minimum 130 x 180mm sewing field, commonly known as the "five by seven hoop."
If you have a larger sewing field of 200 x 200mm, you can embroider the front panel in one hooping otherwise you will need to rehoop for this part of the bag. A fully lined zipper is inserted in the hoop so the only real sewing you'll do manually are the seams.
BAG FEATURES
Because I decided to free myself from a total ITH project, I could get more creative with the bag's features. The front belly area is actually a pocket and works well for iPhone-sized phones. If you look closely at the photo below, there is an embroidered rectangle just over my phone.
I've customized my bags with my name (I try to embroider my name on a lot of my projects) and this is not included on the packaged version. (Yes, someone emailed and said they didn't want my name on their project…)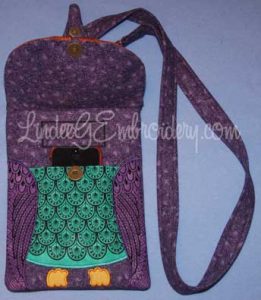 If you have one those monster phones that are approaching the size of a mini-reader, then the back pocket can make an easily accessible space for your phone.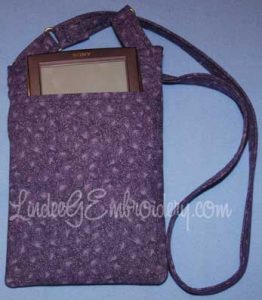 The face panel is actually a small zipper pouch that is attached to the front panel of the bag and secures the belly pocket. I've applied a magnetic snap to the fully stitched, multi-colored bag to keep the face flap down and secure the belly pocket while also keeping your phone easily available. This zippered pocket is perfect for ear buds, charging cables, or spare change.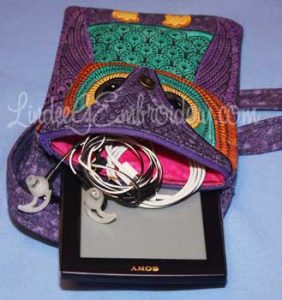 The inside cavity of the bag is padded and I've added two small pockets for cards or other small items. The inside area is just over 6.25″ wide.
A deep, full width pocket on the back can hold even more items. I've attached a long shoulder strap and with a little extra work, you could make this strap adjustable.
I've further customized mine with my name under the front flap just about the belly pocket. This is not include in the final files on the collection and is discussed in the construction instructions.
DIMENSIONS
The finished bag when closed measures about 7″ wide by about 9.75″ tall. The main inside cavity is just under 6.5″ and about 9″ deep. The bag is made flat (no boxed sides or bottom) so if your reader maxes out the width of the bag, then it needs to be very thin. What readers does it fit? I don't know… measure yours and see it is smaller than 6.25″ wide and thinner than say quarter inch.
BONUS!
When testing the lined pocket flap construction, I realized that with the addition of another design file for the back panel, a small zippered pouch could be made. I made one in red fabric and simply omitted any appliqué fabrics.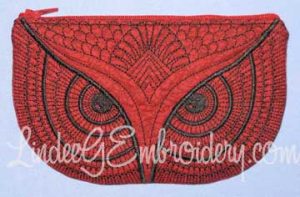 WHAT INSPIRED ME
I've been fascinated with the whole Zentangle thing. If you don't know what Zentangle is, the best way to describe it is "structured doodling." Just Google it. Once you see it, you'll realize you've most likely done it already.
My notes from school are full of drawings just like this. I had been wanting to do some in embroidery so you'll notice that the multi-colored owl bag has some Zentangle inspired stitching on it.
No, these are not fill patterns! They are individually drawn and are separate stitch objects in the master file. (And since someone did ask, yes they are part of the embroidery design, you don't have to stitch them yourself.)
During my testing for the bag construction, I embroidered the bag by bypassing the "tangle stitching." You'll see that on the black and white bag. The additional stitching on these fabrics would have been too much competition and they do add to the time it takes to complete the project.
It's relatively easy to just skip past a color change on a single needle machine but you do have to pay attention to the color sequences. To make it easier, I've provided the designs in both the "plain" applique-only versions and the fully stitched versions.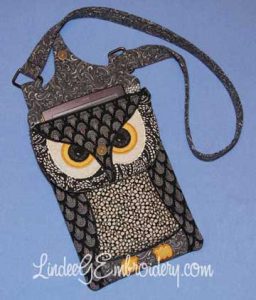 CAN THIS PROJECT BE RESIZED?
Resizing is not recommended. First of all, since templates are included for the appliqués, you'd need to remake all the templates—and of course the bag pattern pieces. Secondly, because the decorative stitching is not a standard fill, it might not resize well. Certainly the spacing between the various objects would not be maintained.
Some programs may not recognize the running stitches as such and interpret them as fills. Also, the satin stitching for the appliqués could get too short to adequately cover the fabric raw edges or get too long.
For those of you with hoops smaller than 130 x 180mm, if you are truly serious about embroidery and want to stitch larger and more elaborate designs, it's time to move up! Check with your dealer and see what trade-ins they have. As other embroiderers move up and trade in their previous top-of-the-line machines, you can move up too and often at a great savings.
WILL THERE BE A FULL-SIZE VERSION?
Most likely, yes. The Sony reader shown in these photos is one of the first readers on market and is defunct. I now have a full-size iPad and it won't fit this bag. However, this project took three times as long as I had projected so I need to catch up on other commitments first!
WILL THERE BE SOMETHING OTHER THAN AN OWL?
I'm planning on it. I've already had a request for a wolf. And if you haven't figured it out already, I'm a cat person so I want to do a cat.
WHAT ABOUT THOSE MAGNETS?
My iPad has a magnetic cover from Apple. The larger magnet I used is rather strong so you could substitute a smaller one. If you are concerned about the use of magnets, just substitute another closure. I didn't want to use Velcro over the embroidery.
HAVE A DIGITAL CUTTER?
If you've been following me, you know I've recently gotten two digital cutters: the Brother Scan n Cut and the Zing. I love these things! For years (close to 20 now!), one of my favorite machine embroidery techniques has been appliqué.
And, I've always preferred pre-cutting the pieces to size before placing them in the hoop rather than trying to cut them back afterwards.
This meant a process of accurately printing and hand cutting all those pieces. Now with the digital cutters currently available, these pieces can all be cut in a mere fraction of the time it took previously and perfectly accurately!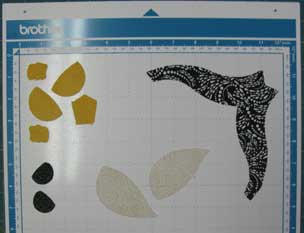 While I've always provided templates with appliqués digitized in Punto, I've recently converted all of these to SVG for the cutters. The Brother Scan n Cut offers conversion of SVG on their website, so I've done that and included them as well. No need to even print and scan, just copy the files to your jump drive and load them into your cutter.
NO DIGITAL CUTTER?
No worries. you can still print the PDF templates to precut your appliqués. Full instructions are included in the Applique Basics.pdf which is included with collections featuring appliqué with templates.
CAN I MAKE AND SELL THESE IN MY ETSY SHOP?
Well, yes, you could but unless you sew way faster than I do (not unlikely, I'm not very fast; I'm too anal) and can get the materials needed for a fraction of what I did, I doubt you could get what you should for them.
I'm always shocked when I see stupidly low prices on items on Etsy, some so low that I know they have never figured out the true cost involved. So yes, you can make and sell them, although there is a limit (very realistic) intended to prevent manufacturing.
WHAT'S INCLUDED
All the designs, patterns and instructions you need to make your own bag are included and are instantly downloadable. Designs are not available individually.
WHAT'S INCLUDED
17 design files (Note: If you have a hoop size smaller than 200 x 200mm, you will only have 15 files)
40 page fully illustrated color step-by-step instructions for the bag
8 page fully illustrated color step-by-step instructions on Applique Basics
Actual size templates for all appliqué pieces in PDF (for hand cutting)
Digital cutter files (SVG and FCM) for Brother Scan n Cut and other models
Printable actual-size patterns for the bag
WHERE TO GET IT
You can instantly download all the above files and begin making your on owl bag here.