I usually provide actual size PDF templates with my appliqué designs. These templates are used to precut your appliqué pieces for a more professional embroidery result and faster sewing times since there is no need to stop the machine to trim away a lot of excess fabric. (See this post for more info on working with templates: Fuzzy Wuzzy Ducky Quilt.)
I usually provide actual size PDF templates with my appliqué designs. These templates are used to precut your appliqué pieces for a more professional embroidery result and faster sewing times since there is no need to stop the machine to trim away a lot of excess fabric. (See this post for more info on working with templates: Fuzzy Wuzzy Ducky Quilt.)
However, the templates are only useful if you don't resize the embroidery design. Also, many appliqué designs do not include a template so here's an easy way to create your own in Embrilliance Essentials.
Note: These screen shots are from the Mac version. The Windows version looks very similar.
The designs used here are from Baby's First Quilt, which includes 10 applique designs for 100 x 100mm sewing fields, 10 continuous line coordinating quilt blocks for 100 x 100mm sewing fields, and 10 coordinating echo quilting designs for 150 x 150mm sewing fields.
The collection includes an instructional PDF booklet on applique basics and full size templates for each applique design.
STEP 1:
Open the design in Essentials and make any changes. We'll enlarge this one 10%.
To do this, make sure the Proportional Scaling lock is closed, select the design and type 110 in the percentage field and press enter to apply the change.
Save the design.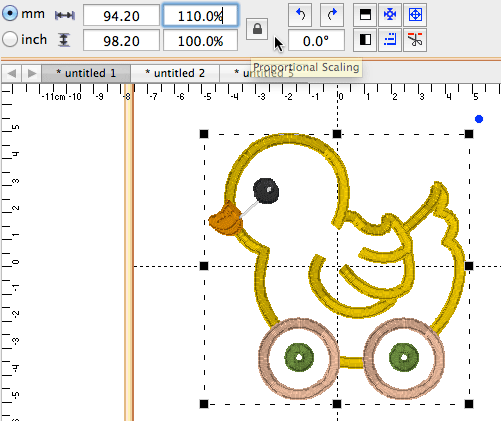 STEP 2:
Lets take a look at the Objects Pane and isolate the placement stitching for the appliqués by hiding the other design parts. Start by clicking the arrow to the left of the design name to show all of its objects.
In this set of designs, I've colored the placement lines black. The placement lines are also the same lines as the pattern cutting lines on the templates. Refer to your color sequence chart if you aren't sure what you're looking for.
This design has 3 appliqués:
the duck body is first
the two wheels sew together a little later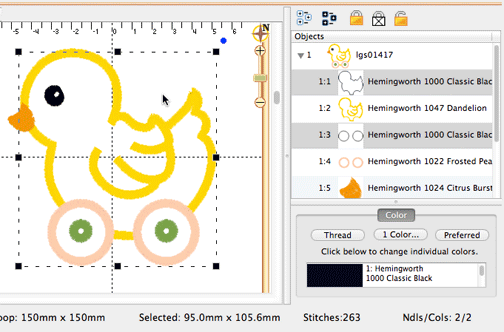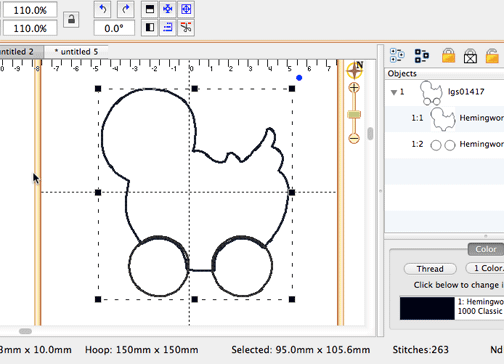 You can click the Lock and Hide icon (white lock with X) to hide design objects. To unhide them again, click the open lock just to the right of the Lock and Hide icon.
STEP 3:
Copy and paste the isolated design parts to a new document and open the design in the Objects Pane.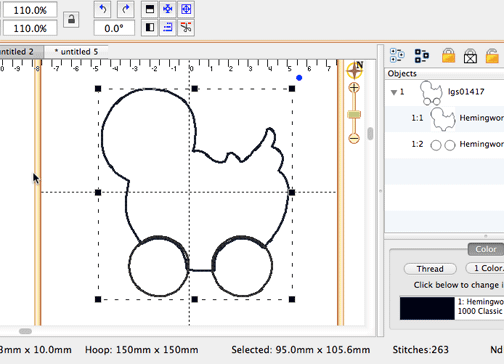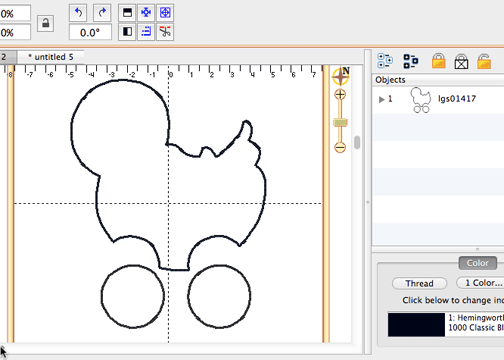 You can see the duck and the wheels as two separate objects. However they overlap. We need to separate those to cut the fabrics.
To do that, we first need to ungroup the design (Edit > Ungroup or Cmd-U/Ctrl-U when the design is selected). Now you can click on the wheels and move them away from the duck.
STEP 4:
If you like, center the design in the hoop by first clicking off any section and then clicking the icon on the tool bar.
Note: Although turning off 3D shows a thinner line on screen, it has no effect on how the design prints.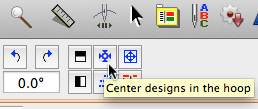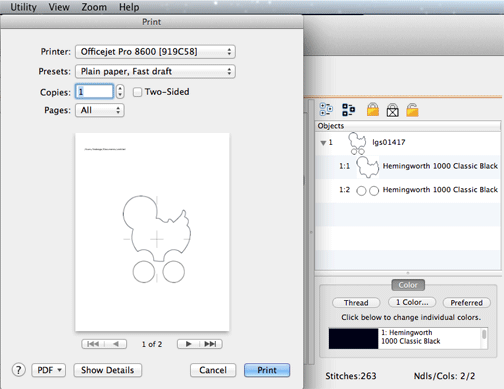 STEP 5: SAVE & PRINT
The final step is to print your "design." I prefer to print by saving as a PDF with the original appliqué design so that the template can be easily reused.
When printing, make sure the design will print at actual size!
Your template is now ready to use! If you have some software that can edit a PDF, you may wish to open the file and add some labels and other info to the design.
Be sure when printing from Acrobat that page scaling is set to none.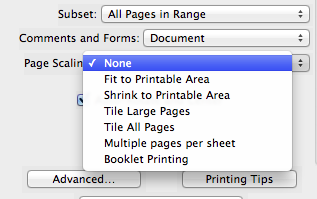 MY AFFILIATE LINKS DISCLOSURE
Hi everyone. Just to let you know that some of the links on this site are affiliate links. What that means is that if you click one of them and buy something… I get a commission. It doesn't cost you anything extra and I only recommend things that I've tried and tested, so please, please, please… use my links.
Fine Print: Lindee G Embroidery is a participant in the Amazon Services LLC Associates Program, an affiliate advertising program designed to provide a means for sites to earn advertising fees by advertising and linking to amazon.com. Lindee G Embroidery is also an affiliate for Embroidery.com, Nancy's Notions, Embrilliance, and Craftsy. If you purchase something through one of those links I may receive a small commission, which helps to offset the cost of running this site. 🙂
DON'T HAVE ESSENTIALS?
If you don't have a good customizing program, download a free trial version of Essentials and give it a whirl.
If you own a Mac, this is hands down the best program for native Mac OS without having to "do Windows." Windows users will find the program simpler, more intuitive and less expensive than comparable programs.
For video tutorials on Embrilliance products, check out my YouTube Embrilliance Playlist.
PRODUCTS MENTIONED IN THIS POST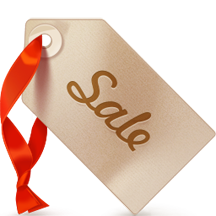 A WORD ABOUT SPECIALS, SALE PRICES & COUPONS
Please pay attention to post dates and any specials listed in posts. Special pricing is for a limited time and may be repeated at some point.

Specials, sales, and freebies are always announced in the newsletter. Signup to get notifications of specials, new items, and freebies.

Additionally, shop wide coupons may be available to apply to any regularly priced items.

Coupons generally only apply to regularly priced items, not items already marked down. If your coupon doesn't work, this may be why.
RELATED ARTICLES