Foundation piecing, also known as paper piecing, is a popular technique used by quilters to easily piece blocks quickly and perfectly.
Cabin Fever is a collection of 20 designs that recreates this process with your embroidery machine.
IT'S EASY!
Piecing in the hoop is easy but it does require continuous interaction with the design and attention to detail.
Watch the video to see all 20 blocks, an easy project, and how to piece in the hoop. Full instructions are included with the collection along with full-size templates for each block.
You'll notice in the video that I hold the pieces with my fingers. Normally this is not a good idea. With these designs, the machine is sewing the seam lines and it's easy to predict where the machine will move next.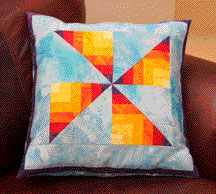 RELATED ARTICLES