Do you love Halloween? Do you love quilting? Then this fun mini-quilt is for you!
After I introduced the Winter Friends Colored and Quilted Wall Hanging two years ago (has it been that long?!), embroiderers have asked for more of these projects to have one up each season. Sounded good to me—I just didn't expect it to take this long!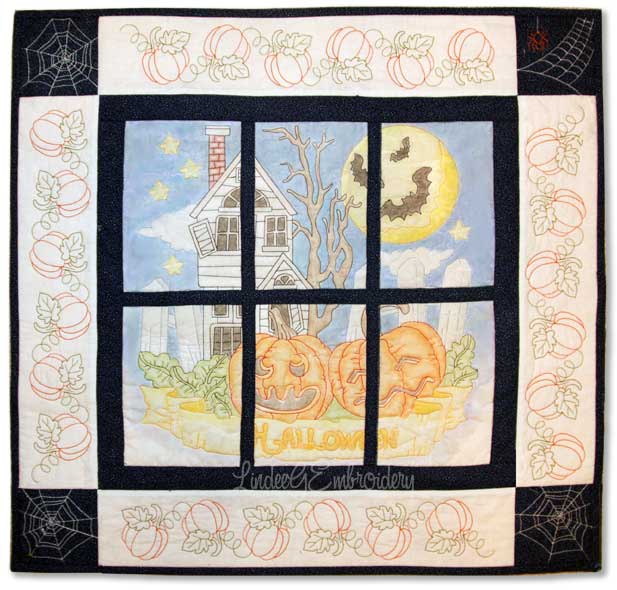 Finding and designing suitable artwork takes time and although it was already mid-September when the artwork I used for the central portion was available, I knew it was the one!
If you've never designed a project from scratch, let me tell you it doesn't always go smoothly and definitely not fast. If you're on Facebook and part of Deborah Jone's group, The Embroidery Mentor, you may have seen where I "crowd sourced" ideas when I got stuck.
I didn't originally intend to color the sky but when I finished coloring the rest, it just didn't look complete. I originally planned to use a charcoal/black batik for the dark trim but it looked too harsh.
The original border designs I had drawn and digitized didn't seem to fit the overall theme, so it was back to the drawing board for that. I knew I wanted spider webs in the corners but I knew some people freak out over that so I needed to come up with something friendlier I do love how it turned out in the end.
Halloween Haunted House – 22 designs + templates, instructions, & bonus lesson Check for special pricing!
Quilt & Embroider All at Once!
Like the Winter Friends version, this one is approximately 24″ x 23″ and is available in two styles: single color and multiple colors, which is what I used for this sample. In case you're wondering, this means each design was digitized twice!
The single color versions have few to no jumps/trims and definitely creates a nicer looking back when quilting while the colored one has quite a few more and has a very messy looking back. Both wall hangings use the designs for quilting and both require a 5×7″ sewing field minimum.
Full instructions are included for constructing the quilt, placing the designs, and coloring with colored pencils.
This Halloween Haunted House project collection includes more options for the corners. I chose the spider webs, which I embroidered first so that the webs would go into the seams.
If spiders creep you out, you'll be happy to know there are also 4 jack o'lanterns you can choose instead and they'll work well for quilting the cornerstones. I made the borders on this one continuous and if you have a border hoop, you'll find them very easy to do.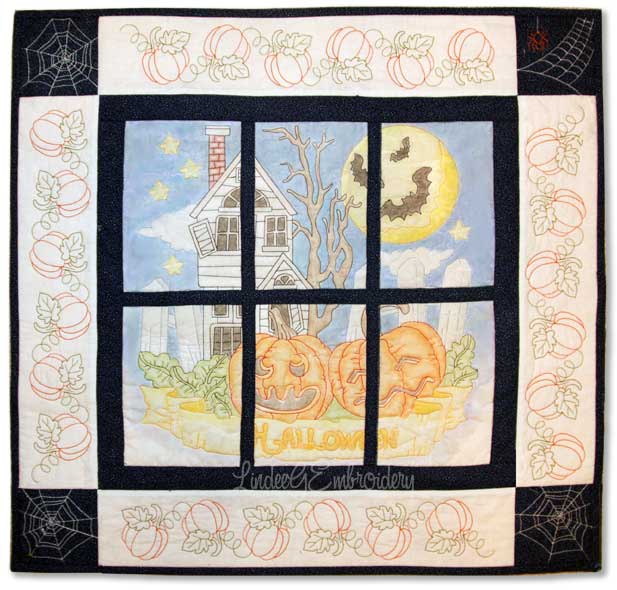 Why Color with Pencils?
Well, you could use ink, paint, or crayons but colored pencils are easy, inexpensive and no mess—very important when you have little furry helpers like cats!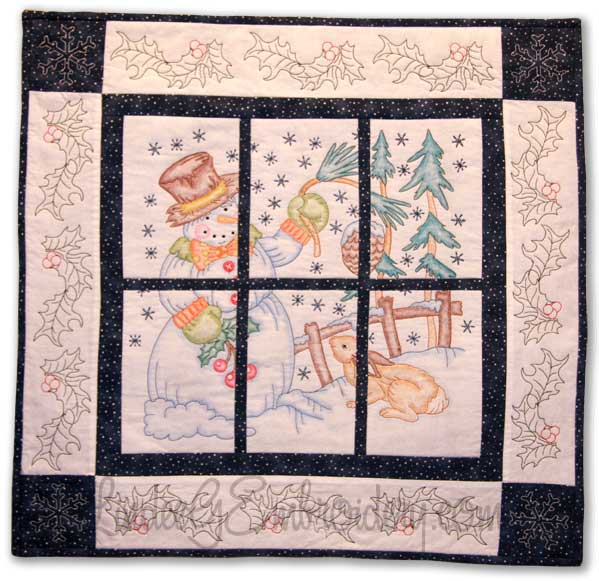 Pencils are less intimidating for those fearful of brushes and require no wax removal as do crayons. You color after the embroidery is done so it's even easier than coloring in a coloring book because the "lines" are raised!
Another benefit of pencils is that smaller details are easier than with crayons. You don't even need high-end artists pencils; Crayolas and RoseArt work just fine. Textile medium will seal the deal.
I prefer to color in lightly and build up layers. I used three different colors on the sky and it is intentionally not evenly colored.
My advice for coloring is to put on a good audio book and take your time enjoying the book and the coloring. Color til it looks good.
Then let it sit overnight and come back and look at it the next day. Does it need more color? Hold it up and look at it in the mirror. How is the color now? Add more color until you're happy with it.
Try It Yourself!
If you haven't tried coloring embroidery before, pull out a redwork design, stitch it on muslin, and color away. It does work better on designs with more open area, which is why these mini quilts have such enlarged designs. Use a program like one from Embrilliance to enlarge your design.
Here's a design a from Vintage Sewing Redwork I colored and then made into a small zip bag. (Find individual designs in the Redwork category in the shop)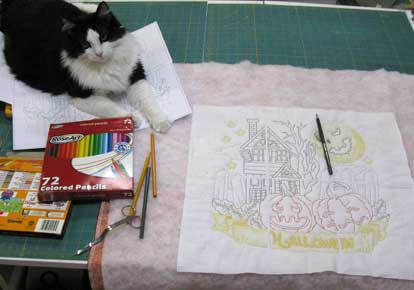 I didn't enlarge the design and it was a little harder to achieve the look I wanted. Also, I used a white on white print and I found the printed areas didn't take the color as evenly. On something this small, it isn't noticeable but I recommend using solid cottons in light colors. Smooth fabrics work better than textured (think canvas).
Read more about this project Multimedia with Embroidery: Colored Pencils
Why Redwork or Color Line and Not Filled?
For one, I like the creative opportunities offered by running stitch designs. Plus, they sew up a lot faster! I really don't want to spend days and days embroidering little patches and then have to sew them all together.
I have seen those quilts that are made up of piecing block after block of solid stitching and some of them are quite beautiful (even if they do feel like cardboard!). However, the thought of all that work makes me shudder!
Since I don't have any staff and I'm the one doing all the digitizing, sample making, etc., it's unlikely I'll ever do anything like that. And with what people are willing to pay for designs, I'd never get my time back out of it. Besides, I wonder how many people actually finish projects like that?
You can easily complete the construction and coloring on this project in a weekend. Maybe a day if you're an experienced embroiderer and don't color it. Depending on your textile medium, you may need to wait 24 hours after applying it to heat set it so you can wash it. (This one has been washed.)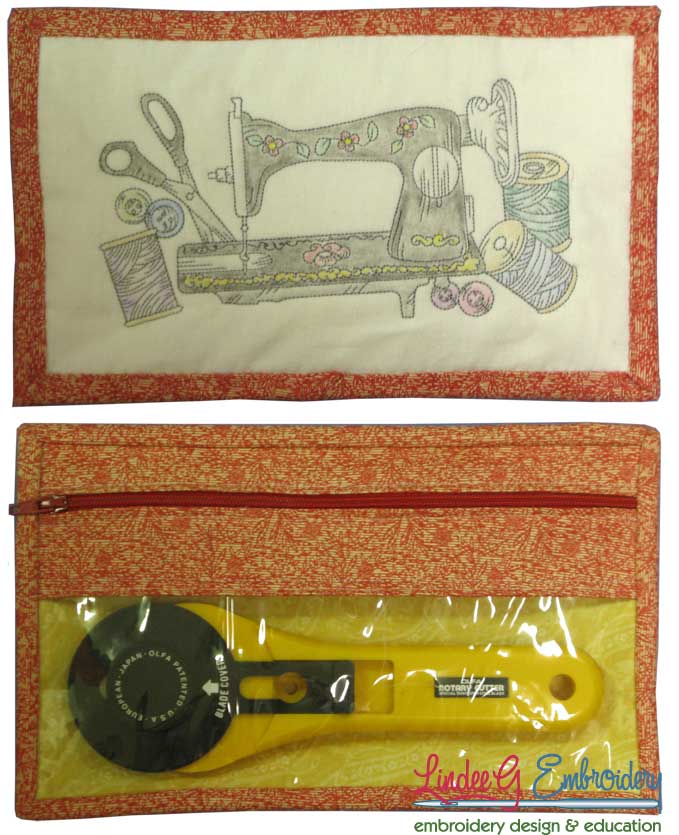 Where to Get Them
Click the links below to see what current specials may be in effect. Special pricing is available from time to time but not all the time! Project collections include designs, instructions, and any other necessary patterns or templates.
Some individual designs from project collections may be available. (Find individual redwork designs here Category > Redwork.)
RELATED ARTICLES