Rescue Me is a collection of 20 simple designs targeted for raising awareness for pet adoption. If you're a pet foster, make your critter even more adorable by stitching up a personalized bandana!
Whether you foster pets or not, I've purposely kept these designs basic to make it quick and easy to whip up simple projects that can be done for a charity event, easy gifts, or craft show items.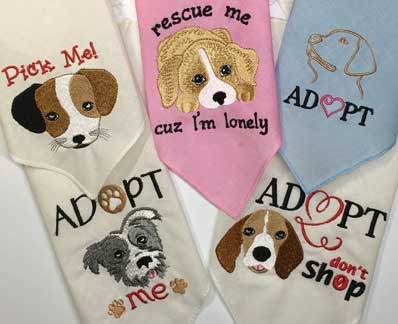 These samples were a big hit at the dog park where Riley goes every afternoon! Everyone wanted one!
Of course, once I started making some sample projects I found I wanted some different combinations. With a customizing program, you can easily make your own combinations too! Watch for some videos on how I created the bandanas in this post.
While simple doggy bandanas are easy to make, I made my life simpler and ordered a couple dozen premade ones, paying less than $.75 for each.
These are pretty small and were barely big enough to get around Riley with all his fluffy fur so you might want to order different sizes as well.
Shipping nearly doubled the price but I imagine if you ordered more, the shipping wouldn't be much different. Since the price per piece also drops at higher volumes, this makes it an ideal project for a group or creating items for your Etsy shop or craft sales.
WHY I CHOSE THIS PROJECT
I currently have four cats and a dog who are all rescues.
In some cases, I'm not exactly sure who was rescuing whom, which was certainly the case with Lucky Kitty. Many of you know the story of Lucky, having followed him on Facebook.
Here's a recap if you missed that saga.
My friend Jill McCloy was visiting her cousin here in Tucson and heard a kitten crying. Together we searched the back yard and found a single, tiny abandoned kitten only a day or two old. I was expecting Jill to keep it but then the task fell to me because I was local.
Even though it was September in the Tucson desert, this tiny 4 ounce creature was cold. And he was hungry! I held him for 4 hours, running Reiki on him to gently warm him.
For the next week I fed him around the clock every 3 hours, which is when I realized Mother Nature was doing us a favor by only allowing younger women to bear children!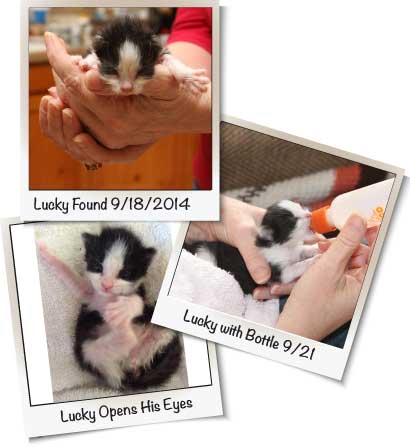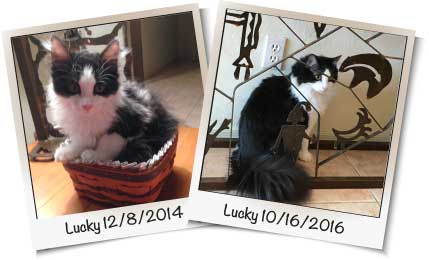 Today he is a magnificent, long haired, handsome cat and he's definitely taken over as the king of the household even though we already had 3 other cats and he is by far the youngest animal, turning 3 this coming September.
This little black and white appliqué kitty is dedicated to Lucky, although in reality I think he picked me instead of me picking him!
Like other applique designs in my shop, this one includes templates for hand or machine cutting (PDF, SVG, FCM), making it easy to get a professional result.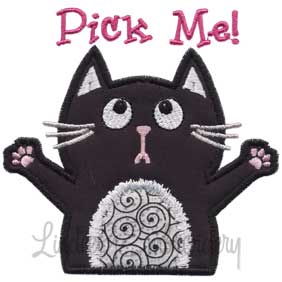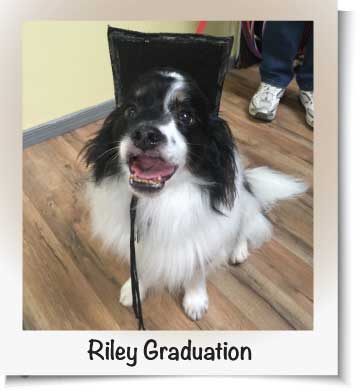 Riley, our dog, is our most recent rescue. He's a 6 year old "Cavapom"—a cross between a Cavalier and a Pomeranian.
A groomer thought he might be Cavalier and shih tsu mix – would that make him a cavashit?
His first owner, to whom he was quite attached, died and after being passed around to other family members found himself in a foster home. We rescued him last July and just a few months ago, we passed the Canine Good Citizen test.
He's definitely a good citizen living with a pack of cats and rather acts like he can't even see them, which bugs the heck out of Lucky who, like any bratty little brother, can't get a rise out of Riley.
ACTUALLY THE PROJECT CHOSE ME!
So when Erin from Echidna Sewing over in Australia asked me about creating a collection for a pet adoption project, how could I say no? I'm so adoption prone that I'm forbidden to go to Pet's Mart on the weekends when they have all the adoptable pets brought in.
Echidna sponsors a monthly sew-along selecting a different charity each month.
This is my second set of designs for such an event, the first being the In-the-Hoop Stuffie Bunnies. Echidna will choose a design from the Rescue Me set to give away so that it can be used to make items to donate to the charity.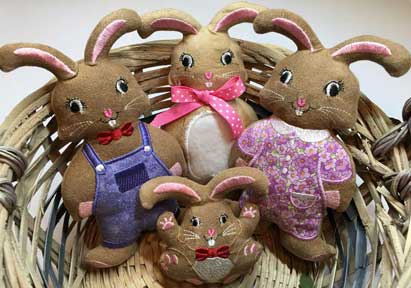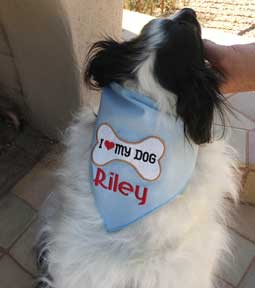 For this project, they'll be making dog jackets, which is why there are more dog-themed designs than cat. I'm not sure if the jackets are already made and ready to embellish or if there's a pattern for the jacket. I'm sure that's all covered on their website.
I chose to go with something easier and that will fit any dog—bandanas.
I wasn't given much direction initially so when I was making a list of potential ideas, the old song by Fontella Bass, Rescue Me, started playing in my head and you'll see lyric from that song popping up in a few of the designs. But ultimately the project needed to be canine centered and I created designs with flexibility in mind.
MY AFFILIATE LINKS DISCLOSURE
Hi everyone. Just to let you know that some of the links on this site are affiliate links. What that means is that if you click one of them and buy something… I get a commission. It doesn't cost you anything extra and I only recommend things that I've tried and tested, so please, please, please… use my links.
Fine Print: Lindee G Embroidery is a participant in the Amazon Services LLC Associates Program, an affiliate advertising program designed to provide a means for sites to earn advertising fees by advertising and linking to amazon.com. Lindee G Embroidery is also an affiliate for Embroidery.com, Nancy's Notions, Embrilliance, and Craftsy. If you purchase something through one of those links I may receive a small commission, which helps to offset the cost of running this site. 🙂
GETTING CREATIVE WITH THE DESIGNS
All but two of the designs are sized for a 4×4″ hoop. This means smaller designs that sew faster.
It also means that even if you only have a small hoop, you can still customize many of the designs with additional text, combine designs from the set, or extract elements from one design to combine with another, which is what I've done on most of my bandanas.
It's relatively easy to pluck out pieces from a design when the item you want is a single color that's not otherwise used in a design. Even if you don't have software, you can get the same result at your machine simply by skipping past the other colors in the design.
I prefer to work in software where I can see what I'm doing and save the design for future use. With a basic customizing program like Embrilliance Essentials, you can reproduce all the samples I've shown here.
Essentials lets you select items by color to copy and paste (or delete), resize bits and pieces, add lettering, mirror and rotate.
If a piece you want to manipulate is not an isolated color, you can use the Stitch Simulator to travel to that spot and insert a color stop by clicking on the stop sign icon. As long as you do that between objects that are separated by some space, you don't even have to worry about tie stitches.
Check out the Embrilliance Tutorials playlist on my YouTube channel for videos on all these techniques.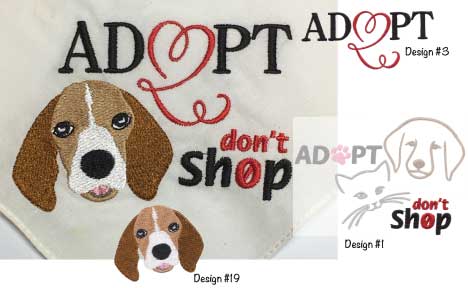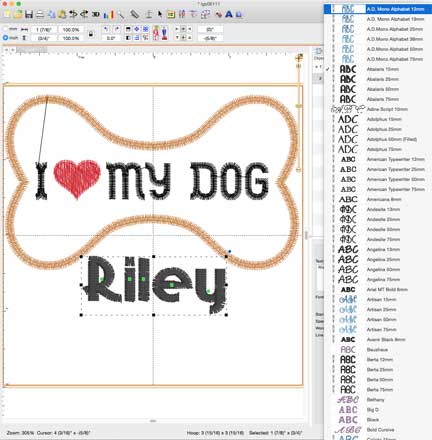 DOG BONE BANDANA
For this bandana, I used the smaller dog bone as is and then added my dog's name below.
Because Essentials has made it easy for embroidery designers to create keyboard fonts for their software, it's amazingly easy to pick any font you like and personalize an item.
By stitching over an appliqué, you also have the ability to stitch on a wider range of other fabrics that may not be suitable for smaller lettering.
Check the Alphabets category in the Shop to find hundreds of fonts in a range of sizes organized into style categories.
Rescue Me includes the dog bone appliqué in two sizes. A longer unembellished one is available for longer messages or names.
A short name can replace the included text on the shorter bone by selecting the red and black color blocks and deleting them. Then just type in your own text or leave it blank to feature a piece of fabric in the applique.
HOW TO HOOP & STITCH BANDANAS
I prefer hooping an item between the rings whenever possible. The hoop is part of the stabilizing system and proper stabilizing is critical to a professional looking embroidery design.
Proper hooping between the rings requires that the item be fully hooped with no gaps, which might be a problem with bandanas if you want to stitch near the point.
These bandanas are cotton with a rolled hem on the grain edge sides and a serged finish across the long bias edge side so I'm not worried about bulky hems or seams during hooping. Also, the bandanas are a single layer of medium-light weight cotton fabric. However, the bandana will end up hooped on the bias.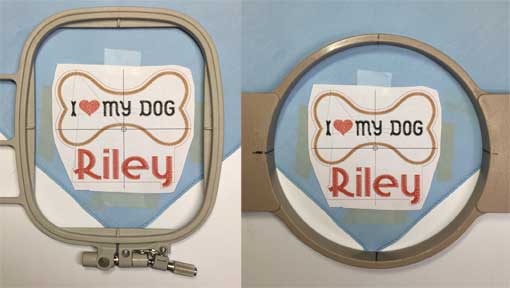 So to sum up the evaluation, relatively stable fabric, sewing on the bias, but possibly not able to completely hoop. I used a crisp a tearaway after lightly starching the scarves.
An often overlooked factor to consider when choosing stabilizer is the design you're stitching. A low impact design requires less preparation than a high impact design.
A "low impact" design is one that will create less distortion during sewing. Generally the more stitches, layers, and directions in a design, the more distortion it creates in the form of push and pull that can cause puckers and registration issues. See Anatomy of a Design to learn how stitches affect fabric.
I can improve the stability by adding a basting stitch, which I've chosen to digitize.
Why digitize a basting a stitch when most machines can add a basting box and even Essentials can apply one with a click of a button?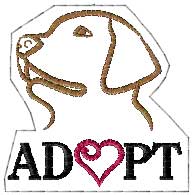 For one thing, my 12-needle can't create a basting stitch. But the real reason is that automatic basting stitches are a rectangle and my designs aren't rectangular. Plus, a rectangle would most likely stitch off the triangular edge of the bandana in tight situations.
On some machines, the foot may trip over the fabric when stitching back onto the bandana. Another problem could be that the basting box would not fit the hoop, which is more likely on a round hoop than a rectangular one.
Digitizing a basting stitch is not hard. Just loosely draw around your design, apply a single run of suitable stitch length, and then make sure it sews at the beginning of the design. Of course, you do have to have digitizing software for this; you can't create new stitches in Essentials or other customizer program.
OTHER SECURITY MEASURES
Do you have to create custom basting stitches? No.
You could use a standard basting box. Or you could improve stability with double stick embroidery tape, TESA, pins, or by starching the fabric. I'm not a fan of sticky stabilizers but that's another option.
IMPORTANT! When using double stick embroidery tape, make sure to place it outside the stitching line or you will instantly gum up your needle.
I've taped a printed template into position on the front and I can use that as a guide for placing the tape on the back. You probably don't need both tape and bastitng stitches.
If you are only doing one bandana, tape and pins may be more efficient for you but if you're doing production work, a custom basting stitch will speed your work. Basting stitches are relatively easy to pick out from the back by clipping and pulling the bobbin thread.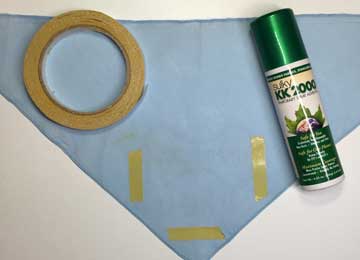 WHERE TO FIND PRODUCTS MENTIONED IN THIS POST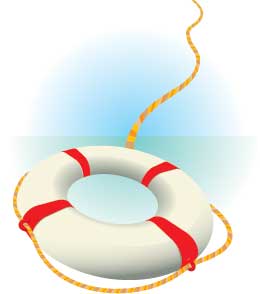 HELP THIS SITE SURVIVE!
This site provides a huge value in informative blog posts, educational videos, and professionally digitized designs—both free and paid. It cannot survive without the benefit of shop purchases and/or donations.
Currently the site is struggling to stay afloat because most shoppers only download freebies.
We commonly tip those in the service industry such as our hairdressers and restaurant waitstaff to show appreciation. Help your favorite site stay alive by showing your appreciation by supporting them too!
You can help by purchasing products from this site or making a donation. Check the Specials area for currently sales and specials.
Another way to help is by sharing posts, project, or products to social media and clicking those little stars!
Your support is greatly appreciated!

HELPFUL LINKS TO PRODUCTS I RECOMMEND & USE
Since I'm constantly being asked, "what did you use for [fill in the blank]," I've begun organizing my favorite products on this Resource page as a convenient place for you to find them.
I've also included links to where I get them, many of which are affiliate links. Hey, I can't stock everything! If I list something I haven't/don't use, I'll let you know that too.
RELATED ARTICLES