Winter storms are still blanketing the midwest in snow and ice and Easter is just weeks away. These quick and easy table napkins can bring lightness and brightness to any meal from a holiday brunch to an everyday lunch! Using designs from Fantasy Birds and purchased napkins, you can embroider this no-sew project in an afternoon or an evening.
These napkins would make a fun liner for an Easter basket or tie them with a ribbon and put them in an Easter basket as a lasting treat.
Whether you're a beginner looking to get acquainted with your machine and some basic techniques, an advanced embroiderer who's looking for something quick and easy, or you're looking for gift ideas or sell-able products, this project is perfect!
MY AFFILIATE LINKS DISCLOSURE
Hi everyone. Just to let you know that some of the links on this site are affiliate links. What that means is that if you click one of them and buy something… I get a commission. It doesn't cost you anything extra and I only recommend things that I've tried and tested, so please, please, please… use my links.
Fine Print: Lindee G Embroidery is a participant in the Amazon Services LLC Associates Program, an affiliate advertising program designed to provide a means for sites to earn advertising fees by advertising and linking to amazon.com. Lindee G Embroidery is also an affiliate for Embroidery.com, Nancy's Notions, Embrilliance, and Craftsy. If you purchase something through one of those links I may receive a small commission, which helps to offset the cost of running this site. 🙂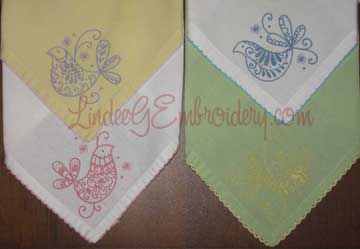 ARE YOU A NEW EMBROIDERER?
This project is perfect for you. It's simple, fast, and inexpensive. I've detailed the entire process in this post.
In this post, you'll learn how to select threads, how to use templates to position designs, how to embroider an item that can't be hooped. Napkins are a great beginner project: they're small, they're generally inexpensive, and they stitch quickly.
With the designs in Fantasy Birds, exact placement is not critical. This project will let you learn a common placement technique in a more forgiving project.
You will need to be able to print the embroidery designs at actual size with a cross hair placement guide for templates. If you don't have such a program, or you have software that came bundled with your machine that is just too complicated to use, I recommend getting some low-cost utility programs you can use such as the ones from Embrilliance.
SUPPLIES
Fantasy Birds embroidery designs from Lindee G Embroidery
Purchased table napkins (or make your own)
Liquid starch (uncolored)
Water-soluble fiber stabilizer (Hemingworth WashAway, Sulky Fabri-Solvy or similar)
Embroidery thread in desired colors
Adhesive: Temporary embroidery spray adhesive ("TESA") or double-stick embroidery tape
Optional: Matching bobbin thread
ABOUT THE NAPKINS
I used "Blossoms & Blooms Picot Trim" napkins from Kohls, purchasing 1 pack of the white and one of the colored. The kitchen towel was also purchased at Kohl's.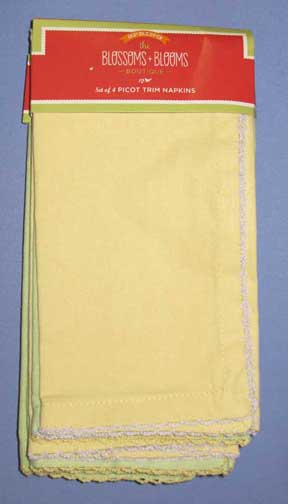 ABOUT THE DESIGNS
It is a digitizer's prerogative to choose how to interpret the artwork. This artwork was simply a purchase line work collection that I choose to embellish with carved satin stitches, narrow steil stitches, chain stitches and candle wicking.
This not only gives the design a bolder look, but a more interesting and textural effect. As a redwork styled design it would simply not have been able to be sewn on the terry cloth towel and still remain visible.
By not having a solidly filled background, the design remains light and airy making it suitable for lightweight summer fabrics. Indeed, if you were to crumple the towel in your hand you would be hard pressed to even feel the embroidery; it simply melts into the fabric.
These designs are probably not suitable for a really plush towel as they may get lost in the nap. However, they are perfect for napkins and thinner towels. Using the technique described here, there's no stabilizer remaining on the back. Who wants to dry yourself with a big piece of stabilizer or a large expanse of stitching?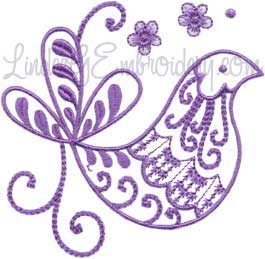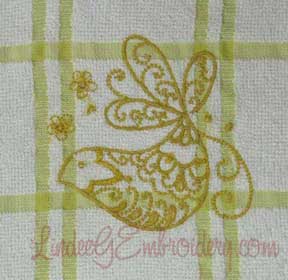 Back of towel looks almost as good as the front![/caption] For the single needle embroiderer, the single color design means no color changes and more efficient embroidery.
By using a more decorative design as opposed to a realistic rendering of a bird, you are free to use any color scheme you desire. Depending on the speed of your machine, you can sew these designs in less than 15 minutes!
Another factor that makes these designs easy to use is that with no obvious horizontal or vertical lines, alignment is not as critical. In other words, if your hooping is a little crooked, who will know?
That's an important factor if your maximum sewing field is only 100mm x 100mm since these designs max out the hoop in either one direction or both allowing little readjustment at the machine.
PREPARING THE NAPKINS
I pre-washed both the napkins and the kitchen towels before embroidering to prevent later shrinkage. Since I wanted the design near the corner on the napkins in an area that is not likely to be fully and evenly hooped, I painted on liquid starch over that area only using a pastry brush and allowed the starch to fully dry before pressing.
This is probably overkill but I do like the extra stability starch can provide. After washing, this linen was quite soft and the weave is a little coarse and open making it more susceptible to stitching distortion. In any case, it's a good trick to know.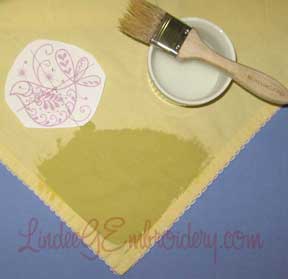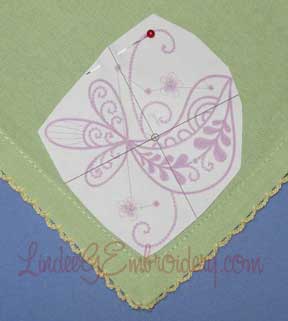 Print out the designs to create templates using a program (if you don't have one, I recommend Embrilliance Essentials) that will apply cross hairs for accurate hooping. Loosely cut out around the templates and pin or tape them to your napkin in the desired position.
You do not have to align the vertical cross hair straight up and down from the point. Simply place them so they are pleasing.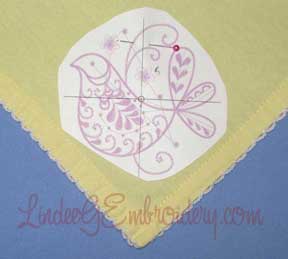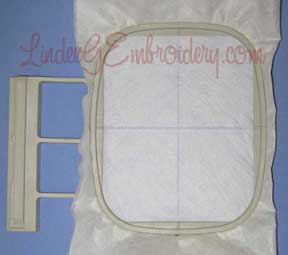 HOOPING
For the napkins, I hooped 2 layers of wash-away fiber stabilizer. Do not use a film for this step as it will not support stitches adequately. In fact, it is very rare that I use any film as backing, only as a topping.
The birds will all fit a 4×4″ (100mm x 100mm) hoop and this hoop will use the least amount of stabilizer. However, because the designs max out the sewing field in at least one direction, you won't have any additional space for fine-tuning your placement in the hoop. Therefore you may wish to use your next larger hoop.
Normally it is an "embroidery best practice" to use the smallest hoop possible and this rule is important when using a normal hooping technique and placing the goods between the rings of the hoop. However, with "hoopless embroidery" when only the stabilizer is hooped, using a larger hoop can be advantageous because it allows more leeway for pins or double-stich tape.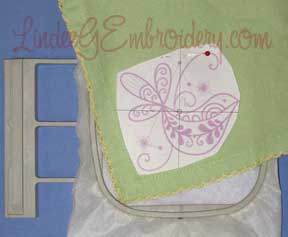 I positioned the design to sew near the point and not over the hem on the corner opposite the label. Plan your placement as desired.
The towel was fully hooped with 2 layers of wash-away backing and a piece of thin film (Solvy) on top. Solvy is used only to prevent the stitches from excessively sinking into the terry loops. It will not prevent the loops from coming back through the design through laundering and use. (Solvy is not necessary on the napkins.)
Note: Some newer machines are not coming with a full complement of all hoop sizes. If your machine came with only the larger hoops, check with your dealer to see if you can order a smaller hoop. It's well worth it in the extra stability you'll get and it will pay for itself over time by conserving stabilizer.
AFFIXING THE NAPKIN TO THE HOOPED STABILIZER
You have a couple of options for securing the napkin for embroidery. One is TESA, another is double-stick embroidery tape, and a third is basting in the hoop.
I prefer to use as little spray as possible. While it is possible to use these sprays with water-soluble products you must make sure not to over-spray onto these products and you must be sure the TESA is totally dissipated before applying any water or steam to remove the stabilizer.
Double-stick embroidery tape avoids these issues and for those with chemical sensitivities is the perfect solution. It does take a little more time to apply and you must make sure that no tape is applied within the sewing area.
It will definitely gum up your needle and you'll likely need to replace it before sewing continues. Do not use this product on napped items as it is quite sticky and may pull off nap.
TESA Method: Lightly mist the back of the napkin with TESA making sure to spray in a well ventilated, protected area away from your machine. Smooth it into the desired position. You may wish to further secure the napkin with a few pins to keep the napkin from lifting off.
Double-stick embroidery tape: Apply tape to stabilizer outside of the sewing field where it can hold the napkin. After sewing and unhooping, pull off from napkin and trim off stabilizer.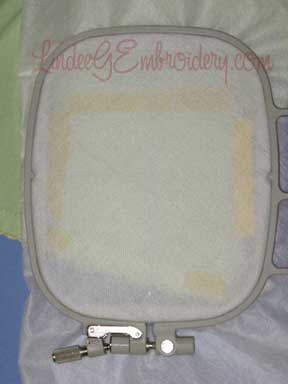 Basting in the Hoop: If your machine has a baste function, this is another option for securing the napkin to the stabilizer. Because you will be stitching over the edge of the fabric, make sure the presser foot doesn't catch when moving back onto the fabric.
With the baste option, you can simply hold the napkin in place with a few pins or a few short pieces of double-stick embroidery tape to secure while basting.
If your machine does not baste in the hoop—a very handy feature—a good solution is Embrilliance Essentials, available for both Mac and Windows users. This program provides a lot of commonly used features for embroiderers in one economical and easy-to-use program. You'll also be able to print actual size templates similar to the ones I used for placement.
EMBROIDERY
Nothing special here unless you care to wind matching bobbins (I didn't). Do keep in mind that if you are using 40 weight embroidery thread in the bobbin that your design will be bulkier than using regular embroidery bobbin thread.
Once you've made sure the needle lines up with the center of the design, remove the template and sew.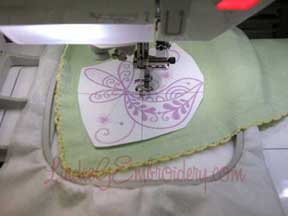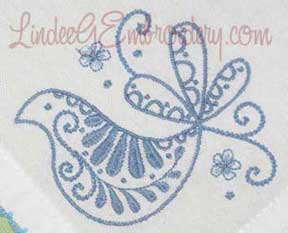 THREAD CHOICES
I debated about whether to use my normal Hemingworth poly threads or some Echidna SoftLight cotton threads. Poly is generally choice for items that get a lot of laundering as it stands up better to harsher chemicals than Rayon or cotton.
The cotton threads however match the matte look of the napkins and this particular cotton thread comes in 50wt which is slightly finer than what these designs were digitized for.
If you decide to go cotton and you're using a 30wt, you'll get a thicker, heavier design. A finer thread doesn't generally cover as well as 40 weight.
These designs are open and the most noticeable areas of low coverage will be in the satin ares when the contrast is high between to thread color and the background fabric.
In this closeup, notice that the satin columns are not very smooth. This is a combination of the lighter weight thread and the somewhat coarse weave of the fabric. Notice that the coarseness has no apparent effect on the decorative stitching. With a coarse weave, the needle is deflected to one side or the other of the fiber. Even with a heavier thread the column will not be smooth.

WHAT ABOUT METALLIC THREAD?
The only metallic I'd ever consider using for napkins is SoftLight Metallic. Until this thread came on the market, I would only have used metallic on a towel or napkin in the most sparing way possible because other metallics are so scratchy and abrasive. Who wants an exfoliating treatment when wiping their mouth?
SoftLight Metallic is totally different. It's smoother, and not only softer feeling but softer looking —so an entire design sewn in SoftLight Metallic is elegant instead of garish. For my rather home-spun looking napkins it probably is not the right choice but if you choose a more elegant napkin, these threads may be just what you need!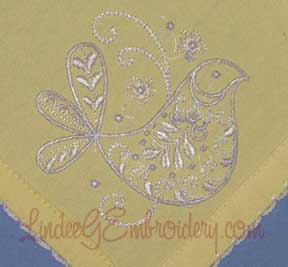 FINISHING
Trim off excess stabilizer and rinse out remaining stabilizer and starch, then dry and press. Your napkins are now ready to use!
Note: If your machine has automatic trimmers and you don't like the the look of the thread tails on the back, it's a good idea to use a drop of seam sealant on each. Choose one that dries clear and soft and when dry, trim off the excess threads.
EMBROIDERY ON THE BIAS
Depending on how you orient the design you may be embroidering on the bias of the fabric. If you're not familiar with this term, it simply means that both the cross-wise and lengthwise threads of the fabric are on the diagonal.
This angle is not recommended for embroidery because the fabric is less stable and is therefore more subject to distortions incurred during the embroidery process.
With a more light-weight design like these Fantasy Birds there is less distortion. Also, since there are no heavy fills—a major contributor to push and pull distortions—and no outlines that are likely to be off, this type of design is more suitable to being sewn on the bias than a more "standard" design with large solid areas of fills and running stitch outlines.
Getting accurate stitch placement—when all the elements of your design align with no gapping and lack of puckering—is called registration. There are a number of factors that contribute to proper registration:
how the design was digitized
the type of stabilizer(s) used
hooping method used (between the rings or not)
hooping technique used
the type of fabric used and the orientation it is placed in the hoop
thread used (polyester is generally more problematic than Rayon)
machine tensions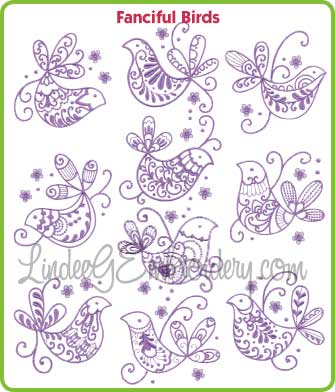 A GOOD RESULT DEPENDS ON A GOOD DESIGN CHOICE
Learning to make proper design choices is a vital part of learning to embroider. Open designs like Fantasy Birds not only sew faster, they sew on a wide range of fabrics without negatively impacting the hand or drape of the fabric or garment.
WHERE TO FIND…
HELPFUL LINKS TO PRODUCTS I RECOMMEND & USE
Since I'm constantly being asked, "what did you use for [fill in the blank]," I've begun organizing my favorite products on this Resource page as a convenient place for you to find them.
I've also included links to where I get them, many of which are affiliate links. Hey, I can't stock everything! If I list something I haven't/don't use, I'll let you know that too.
RELATED ARTICLES