Looking for a bag to organize your essentials for running around on quick trips? Or how about a small bag to carry your passport, a bit of money, a tube of lip gloss and your cell phone? Then here it is!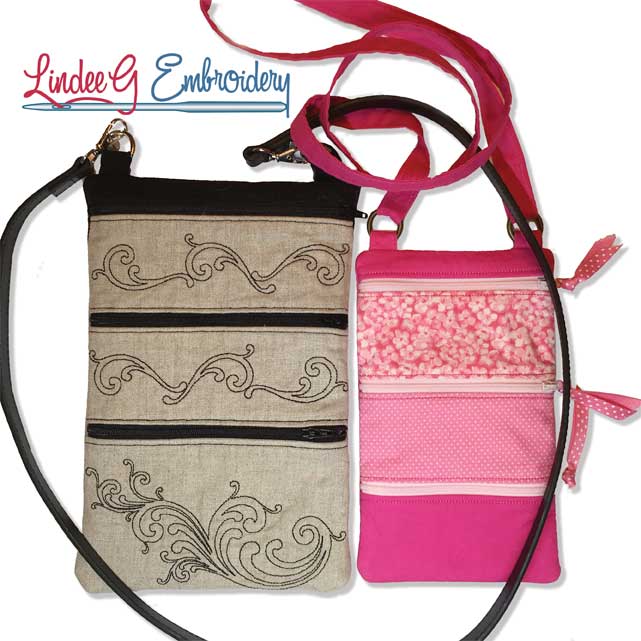 Simple single zip bags, like the Sew Simple In-the-Hoop Zippered Bags, are nice for organizing various essentials but seldom ideal for carrying the things you need for daily trips and errands.
The "Around Town" bag solves that dilemma with three zippered compartments in the basic version.
I've always liked a small bag I could just grab and go with. My last favorite—a red leather one—suffered multiple indignities before I laid it aside. One was a large black ink stain that bled clear through—kind of gave it a Rorschach or maybe Jackson Pollock accent.
The second was when my dog chewed the strap in two. (I tied it back together…tacky, I know.) The final coup de grace was when my newest phone was too big.
I finally gave up trying to find the perfect replacement. The Around Town bag was designed by me for me as a replacement!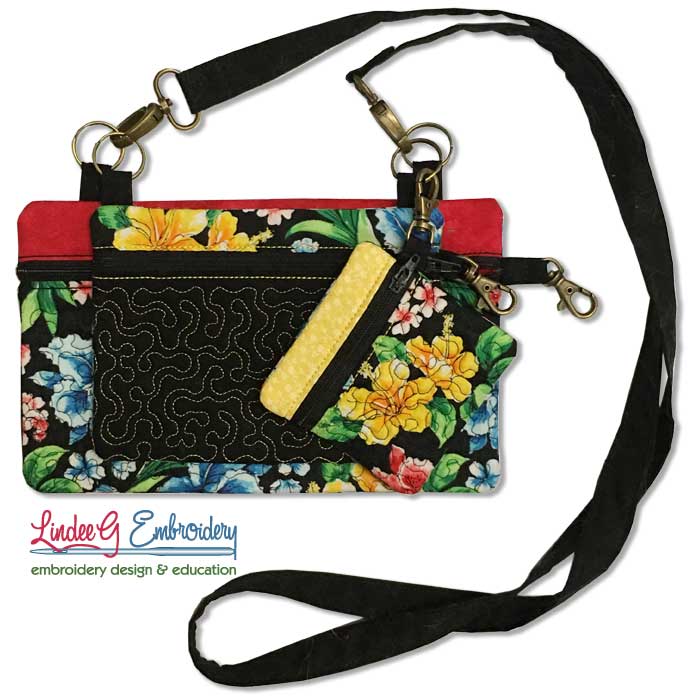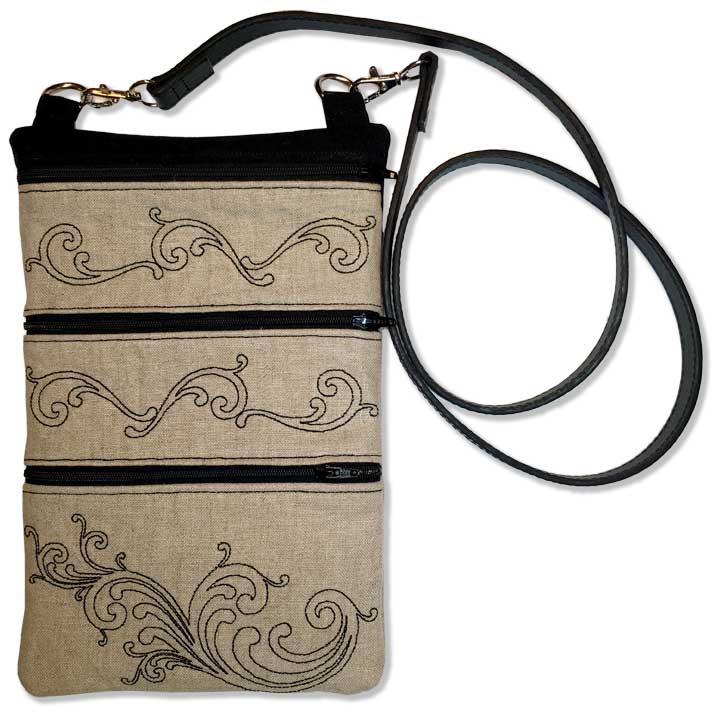 HAVE IT YOUR WAY!
While I show this bag with a simple strap, you could easily make an adjustable one to make the bag even more versatile. I added an extra long strap on the smaller bag to make it cross body and used a purchased leather handbag strap for the larger bag.
Make your bag in any combination of fabrics. You can dress it up or dress it down.
The larger version is stitched in linen (beige) and doeskin (black) and shown with the additional designs on the front; there is also a plain version. The instructions tell you where you can insert your own designs.
As with most ITH projects, you'll notice many color changes but each of these bags was stitched in just one color.
Choose your colors as desired but don't recolor in software because those color stops are necessary to stop the machine to perform various steps.
My iPhone 6 fits nicely in the front lower pocket and my iPad will just slip into the back pocket (no case). A slightly larger bag would work better for toting a full-size iPad.
The Around Town bag is fully lined. There are no exposed seams on the two lower pockets but there are on the larger one. Each pocket is isolated from the others and extends to the bottom of the bag.
This bag can be entirely completed in one hooping and with no need to finish any raw edges after turning (assuming pre-made straps and loops).
Due to the many layers of fabric required for all the pockets, there is no quilting or batting added to these designs.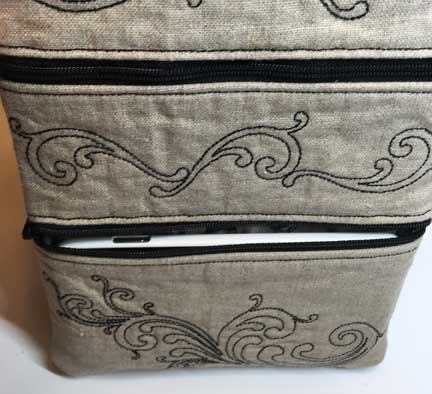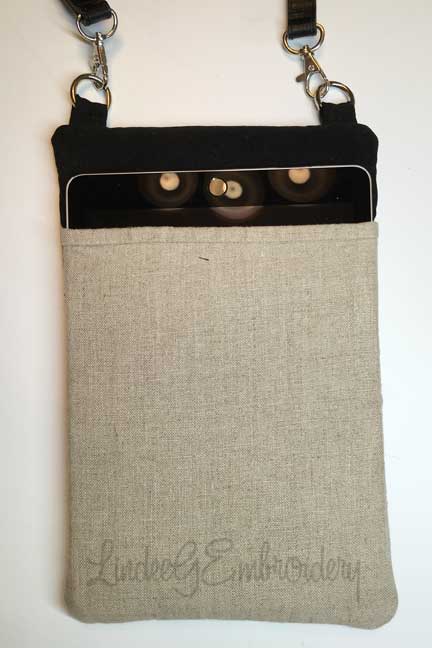 EASY ADDITIONS
On both bags, I've added a large, plain flat pocket on the back. I've top-stitched the top edge to give it a little structure and just that part does require a bit of sewing on your part.
Also, I've added a single credit card size pocket to the small bag in the main bag area. The addition of a ribbon loop on this one gives a convenient spot to snap on my keys.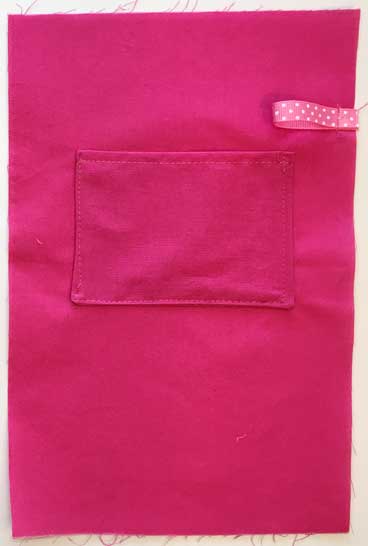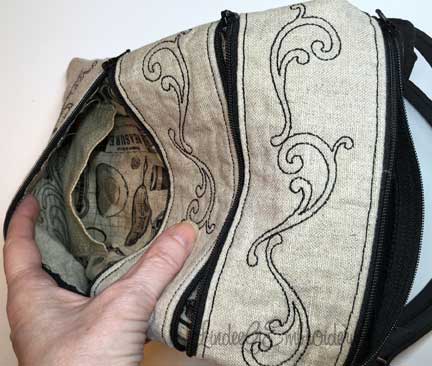 On the larger one, I've added a credit card size pocket to each of the smaller pockets on the front and a zippered pocket to the main area.
All these additions are done before the embroidery process starts so there's no other extra work later. If you're after an in-the-hoop only project, then skip the pockets and use purchased strapping materials and you'll still have a great bag with no other sewing required.
As you can see by just these two bags shown here, there are a lot of possibilities for customizing a bag for an upscale look or a fun and casual one.
Both bags are flat but if you know how to sew, you could make two of the zippered front panels up to the last two colors and then use those to sew and more complex bag with a strip of fabric to connect them to make a boxier style. It's on my "to do" list!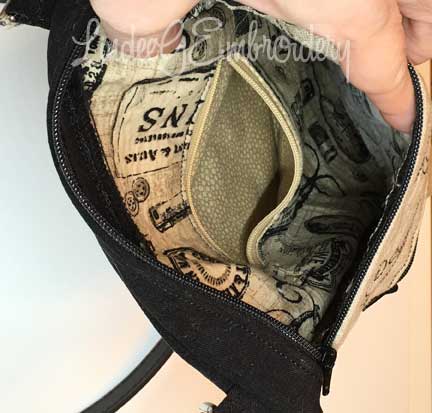 ADDING IN OTHER FRONT PANEL DESIGNS
It's relatively easy to insert other designs into this bag project. In a design with multiple color stops like these, you'll simply add it between the appropriate color changes.
By looking at the bag with the swirls, you can see where they belong. The instructions will also point out the appropriate locations.
Both sizes of the plain bag follow the same sewing sequence so the placement would be at the same point for each.
If you need a little more help, check out this YouTube video that shows how to edit a redwork design into a new border and insert it into a plain version of a single zip bag. How to Extract & Edit a Design in Embrilliance Enthusiast.
In that video, which goes along with the Echidna P.I.E. series of lessons, a basic plain ITH zippered bag was customized.
SKILL LEVEL OR "HOW HARD IS IT?
This design looks complex—and it is!—but the complexity is more in the engineering of the process than in the actual sewing.
If you can follow directions—I have over 50 full color photographs showing nearly every little thing—you'll be fine. There are two pieces that must be cut and placed precisely and I tell you what they are.
When doing in-the-hoop projects, the design controls all the stitching and in theory, that means you should get a perfect result. A perfect result, though, does depend on you cutting and placing your pieces accurately and at the correct point, along with all the other "best practices" for machine embroidery.
But is it hard? I've done all the hard part for you! I spent about 2 two days playing with pins, zippers, and fabric and then making a couple of prototypes to make the bag as simple as possible before I worked out the digitizing for what's included.
It also took another 2 days just to write the instructions. And have you ever made anything where you had to stop and take a photograph of each step? So, no, I can't tell you how long it takes to make one becuase you won't have to stop to do that (or make notes on things to add to the instructions!).
You just have to cut your fabrics and follow along to know when, where, and how to place them and then stitch the next color. Really, the hardest part is turning the bag right side out and getting the bottom corners pushed out but after that, it's done!
The first bag is somewhat confusing what with the special sequence of getting the pocket linings in without stitching them closed. If you make two bags, the second one will be much faster.
Another thing to note about how long it takes… Just because the machine does all the work, doesn't mean this is a really quick project. And whatever time your machine says it will take to sew is just plain wrong!
It only knows about the stitch count, which it then translates into sewing time calculated by its top speed (I never sew at top speed!). It doesn't know about the steps you'll be doing to place your pieces. Don't rush and it will come out great!
WHAT YOU'LL LEARN
How to create a lined bag with 3 zippered pockets entirely in one hooping
Some simple customizing options, including a couture style inset zipper pocket
How to make a "no turn" strap
WHAT YOU'LL NEED
These are larger designs! The smaller bag just fits a 150x240mm sewing field and the larger one just fits a 200x300mm sewing field.
These designs are not split for other hoop sizes and I don't recommend doing that if your machine is not quite big enough.
Obviously, you'll also need some supplies to make your bag along with normal "sewing stuff." All that's listed in the instructions.
Dimensions are given for each piece so cutting with a rotary cutter and ruler is best.
WILL THERE BE OTHER SIZES?
Uh, maybe. Email me and I'll consider it.
No, there won't be a smaller 3-zipper version. Shorter bags may need to go to 2 zips.
WHAT'S INCLUDED IN THIS SET
4 multi-format ITH triple zipper bag designs (1 plain + 1 embellished, each in 2 sizes)
Color sequence PDF
36-page PDF booklet with fully illustrated step-by-step instructions along with tips for customizing your bag and little tricks I've learned to get the best results.
Versatile bags that can be completed in just one hooping!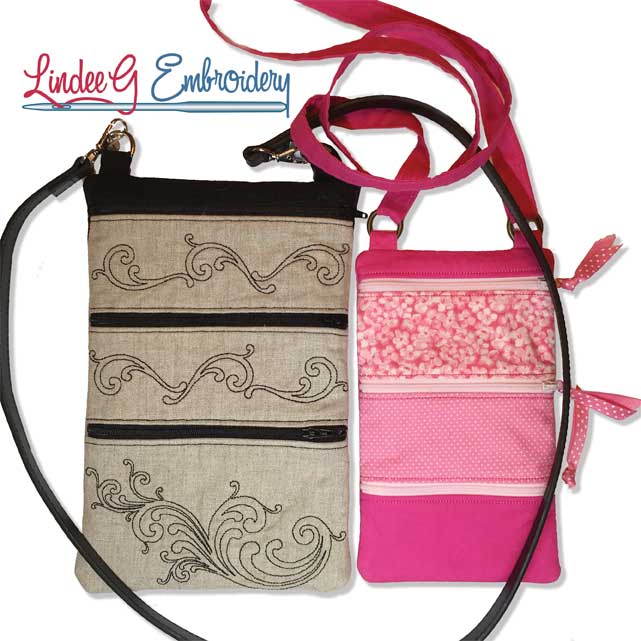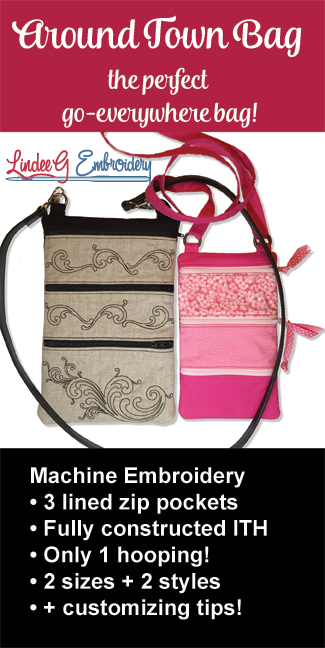 ABOUT THE INSTRUCTIONS
The instructions included with the download are not just a brief list of only the steps to stitch the design. I show you how to make a no-turn strap, how to add pockets, tips for preparing your fabric.
I added an inset zipper pocket in the main bag lining on the larger bag and I show you step-by-step how to do that.
So yes, you can make the bag by just cutting fabrics and letting the machine do all the work or you can do a bit of sewing and further customize your pieces before the embroidery process.
Some people want a project that can be done in one hooping and one hooping only with no additional work and that can be done with this amazing bag. Others want one that is better suited for the things they want to carry with extra little pockets, loops, or slots.
They let the machine do the mundane repetitive stuff while they add their own designer touches. With a larger, more versatile bag, you can do either!
I like to customize my bags. Want some extra loops to hook on a set of keys or add on another little bag? Easy! Want more slotted pockets for credit cards? No problem! There's room in this bag to do that.
Want an RFID pocket that's more secure? Then make the inset zipper option and use RFID fabric for the pocket panels. RFID fabric is expensive and it's not needed to line the entire bag.
Besides, if you're also carrying your cell phone in an RFID protected bag, it can't send or receive signals, which is probably not what you want!
Another easy way to customize your bag is to add in your own designs on the various front panel sections. Once again, the instructions point out where to best insert these.
I prefer to add them in software but they could be done at the machine as well. A monogram would a be a great way to personalize a bag for a gift!
Detailed instructions of this nature take a long time to produce—and they don't come from just making one project! If you saw my initial page and half list of the steps I made for myself to make the project, many of you wouldn't be able to follow it!
TAKING IT BEYOND!
A flat bag can only expand so far. If you're an adventurous sewist, consider making the design up to the last two colors. You'll now have a panel with the 3 zippers and two completed pockets. Construct another back panel any way you like—it could even be another 3-zip ITH panel.
Now add another strip of fabric between the two sections to make a boxier bag. Figure out your lining and any extra cubbies for the inside. Well, that's what my mind was dreaming up while I watched one of mine sew out… When I get it made, I'll blog about it.
While I did show boxing the corners on these in-the-hoop snap bags, that's really not an option on this current project—there's simply too much fabric aggregated in those bottom corners.
WHERE TO FIND IN-THE-HOOP PROJECTS
The Around Town bag can be found with other in-the-hoop projects in my shop.
You'll find a range of in-the-hoop projects from very easy to very complex. Instructions are included and vary from set to set; don't assume they're all made the same way.
RELATED ARTICLES