A plain design can often provide more opportunities for creativity than a more decorative version. Really?
For one thing, you don't have to worry about any included embroidery design(s) competing with the fabric—or clashing with your ideas. With in-the-hoop designs, you're choosing your own fabrics so why not choose the designs and other elements that make your project "you?"
For that reason, I created a collection of basic in-the-hoop bags that max out popular hoop sizes from 130 x 180mm (5×7") on up to the newest humongous hoops on the latest Brother and Baby Lock models. And there are some sizes in between.
These bags range from square shapes to portrait oriented rectangles. Although the shapes, sizes, and stitch counts vary, the sequence and steps are exactly the same.
Note: ITH bags from other collections and other designers will vary. See individual designs to determine when and where you can apply these techniques in other projects.
In their simplest form, these bag designs are just a basic lined zippered pouch. There are no exposed raw seams and no extra stitching is required to close the turn opening. That means they're quick and easy—provided you follow the instructions precisely!
Finishing is just a matter of trimming off the excess seam allowances and turning it right side out. What could be easier?
The hard part—well, the most time consuming part anyway—is deciding what fabrics you'll use and how you'll customize it!
So many options for fabrics, loops, hardware, pockets, embellishments! Plain fabric, textured, or prints? Add in some embroidery designs? Shoulder strap, wristlet or just a short gripper loop? Extra hardware for swivel hooks, adjustable straps, or key rings?
ONE BAG, 3 WAYS IS JUST SCRATCHING THE SURFACE!
The bag displayed below shows the 5×7" version with no additional pockets and only two ribbon loops included.
The loop next to the zipper works as a small gripper for pulling the zipper. The other one could be decorative or hold some keys or used to hook your glasses through.
I've used two fabrics: a floral for the outer and a red polka dot for the lining. I just happened to have a coordinating ribbon in my stash and of course I had to include that.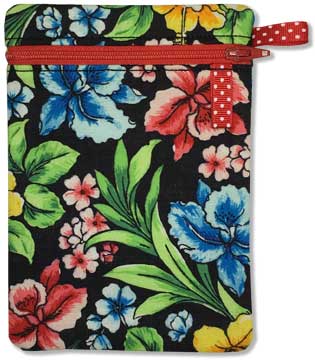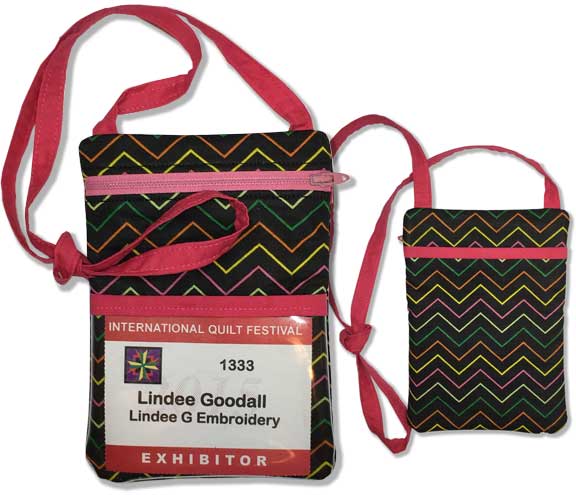 ATTENDING A CONFERENCE?
Here's the same bag with a long neck loop, a vinyl front pocket, and an additional back pocket—perfect for attending events that require a name badge.
AND ONE MORE
And yet another variation on that same little bag, this one with fabric pockets front and back, an extra loop, and a flange layered into the bottom side of the zipper to add a punch of color.
I think you're beginning to see that even with just this small bag, there are ways to make it look and function in completely different ways!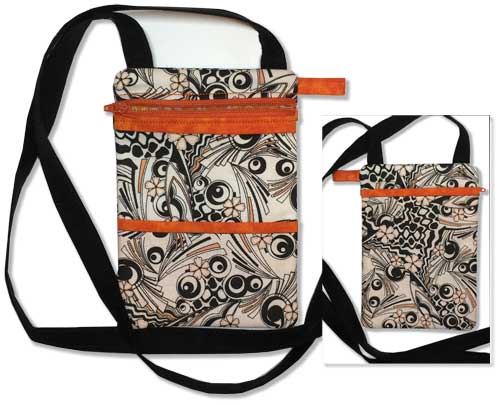 ADD AN EMBROIDERY DESIGN FROM YOUR STASH
The larger bags offer even more area for customizing. You can drop in another design from your stash pretty easily.
I prefer to add them in a customizing program rather than at the machine. In software, I can insert it between specific color changes.
At the machine you'll likely have to jump around in the color changes but still, it's not impossible or even especially difficult—you just have to pay attention.
MY AFFILIATE LINKS DISCLOSURE
Hi everyone. Just to let you know that some of the links on this site are affiliate links. What that means is that if you click one of them and buy something… I get a commission. It doesn't cost you anything extra and I only recommend things that I've tried and tested, so please, please, please… use my links.
Fine Print: Lindee G Embroidery is a participant in the Amazon Services LLC Associates Program, an affiliate advertising program designed to provide a means for sites to earn advertising fees by advertising and linking to amazon.com. Lindee G Embroidery is also an affiliate for Embroidery.com, Nancy's Notions, Embrilliance, and Craftsy. If you purchase something through one of those links I may receive a small commission, which helps to offset the cost of running this site. 🙂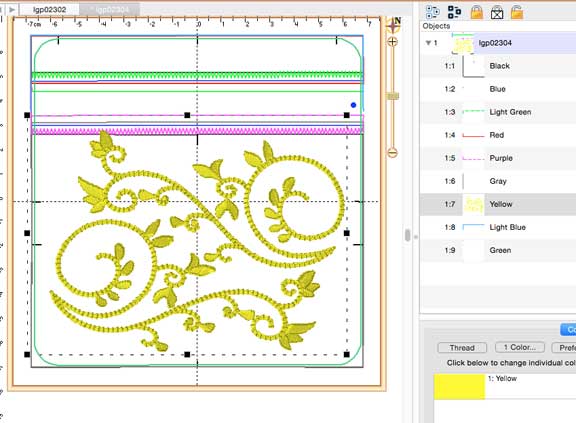 WHERE TO ADD THE DESIGN
For the bags in this collection, I recommend adding a design either after color 5 or color 6. Color 6 is the better option because your fabric will be stitched to the stabilizer, thus reducing puckers.
Before stitching color 6, the included design instructions call for flipping down both the lower front outer panel and its corresponding lining and then stitching it to the stabilizer.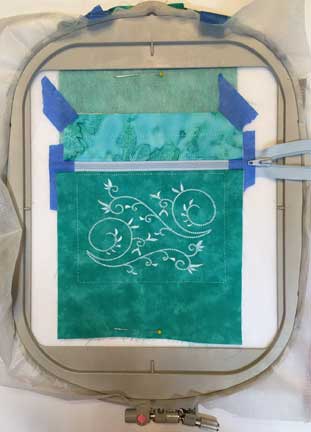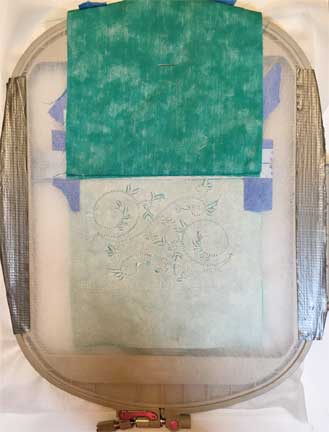 If you're adding embroidery to the bag, just fold down the front (outer) panel and leave the lining secured out of the way. That way the back of the embroidery won't be exposed on the inside of the bag.
While it's a little difficult to see with the white bobbin thread on the white stabilizer, it would be very obvious on the turquoise lining fabric.
True, in this case the embroidery is on the inside front panel of a rather small bag and it won't be all that visible. But since it's so easy to hide it to have a more professional finish, why not?
Here's the finished bag (140 x 140mm/5×5″) embroidered with a design from Royal Filigree. I used one of the split halves and mirrored and rotated it and resized a bit until I liked the placement.
I chose a light color that picked up a color in the contrasting fabric but now that I see it completed, I think a darker color would be better. This bag finishes at about 5 1/2″ square so I added a handle for a wristlet.
After stitching the inserted embroidery design, fold down the lining, and back up to color 6, advance through the zipper top stitching until you get to the outer tack down and then start stitching to secure the lining.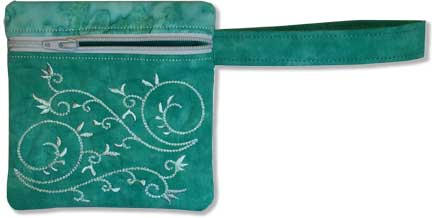 Be sure to advance past any decorative sections you've added until you get to the original color 7.
Tip: If you're using a different ITH bag design, stitch one out following the instructions first. You should be able to determine at what point a design could be inserted.
WHAT FABRICS TO USE
Mostly I used quilt-weight cottons, but this isn't a requirement.
While there's no prohibition against using sheer fabrics, it probably won't be very pretty when finished. The stabilizer remains inside on this version and French seams are not included!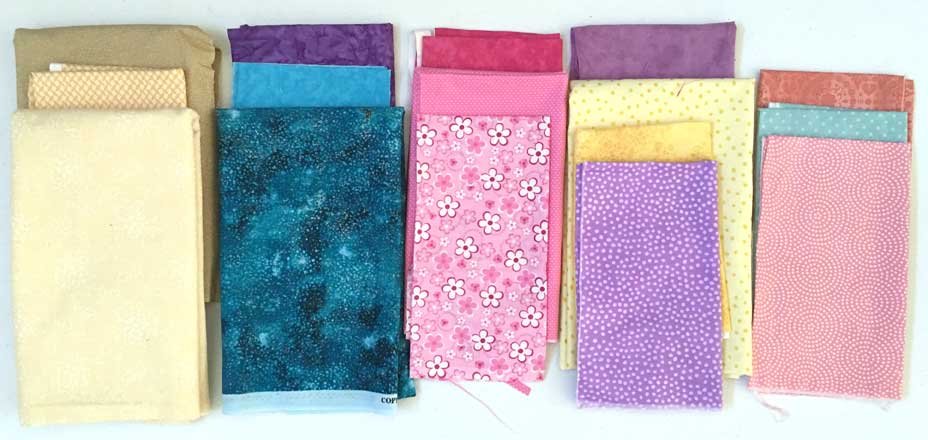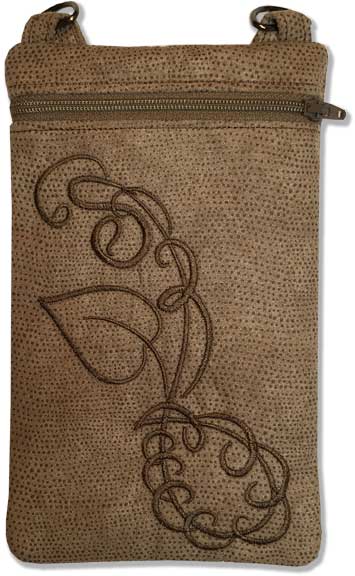 Your fabric choices will have the greatest impact on the appearance of your bag. For the most part, choose fabrics that YOU like!
Could you use knits? Sure! Since I recommend using a cutaway for this project (I used Sulky Soft n Sheer), that's also a good choice for knits.
A luxurious satin or silk lined with a soft flannel would make a great combo for a lingerie or jewelry bag—a nice idea for a wedding gift?
I usually keep my fabric combinations at two or 3 different fabrics. But that doesn't mean you can't use more or even one!
On the next two bags, I used a faux suede fabric. The fabric's back side is smooth and slippery so I used that side as the "right side" for the lining.
Most purchased bags have a satin-y sort of lining and this gives me that feel along with a coordinating color. I'm also getting the effect of two different fabrics with just one fabric.
For the brown bag (130x200mm/5×7.5″), I chose the "Deco Leaves 3" from Art Deco Flower Bits and selected a color that coordinated with the bag. Once again I enlarged the design somewhat and rotated it to fill the area a bit better.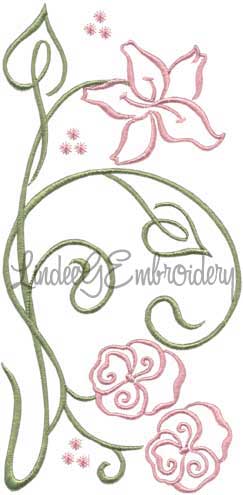 The dots are the same color as the flowers so you do have to pay attention to avoid stitching them. Alternatively, you could just edit them out when you customize the design into your project.
Embrilliance Essentials offers a method to insert color stops via the Sewing Simulator. Once you've isolated the dots by making them a different color, they're easy to eliminate in customizing or to skip at the machine.
If you have a stitch editor like Enthusiast, you can just select them and delete them. Elements like these are easy edits because they are isolated areas and you don't have to worry about adding in tie off stitches.
Instead of a flange of folded fabric, you could place a strip of ribbon or even lace. I've done just that with the Easy-Peasy ITH Snap Bag.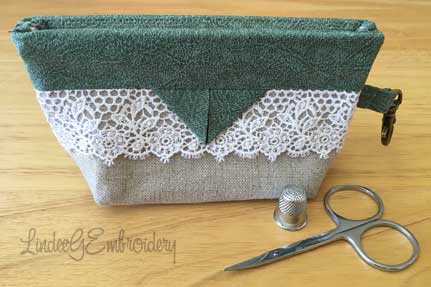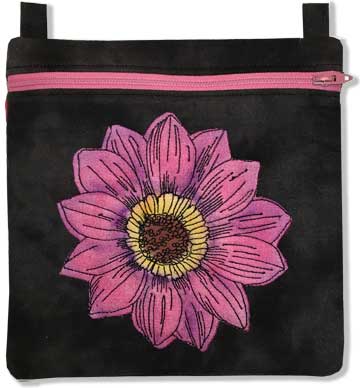 MULTI-MEDIA TECHNIQUES
The larger bags also make a great canvas for other embellishment techniques.
Have leftover bits from quilts or test sews for other projects? Incorporate them into a bag! Not sure about whether something will stitch out OK on your bag? Stitch it first separately and then use it as you would a piece of fabric.
For this bag, I tried out a new technique I learned this past week when Terry Kygar was the guest speaker at our local quilt guild. She developed a "melt-n-blend" technique to apply crayon to fusible applique pieces.
I was lucky enough to snag the last spot in one of her all day workshops where she taught us a clever and easy technique for coloring designs with melted crayon onto hot fabric. It was so fun that I had to find a way to use it with embroidery designs.
I used the Zinnia from Pen & Ink Flowers with the 200x200mm bag (7.5 x 7.5″). Pen & Ink Flowers comes with a detailed design and then just the outline so it was perfect for a fusible appliqué technique.
The original reason for the separate outline design was to create a shadow appliqué look by stitching the outline onto the stabilizer, positioning a fabric cutout, then layering over batiste before stitching the rest of the design.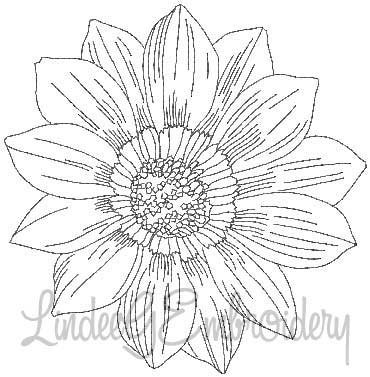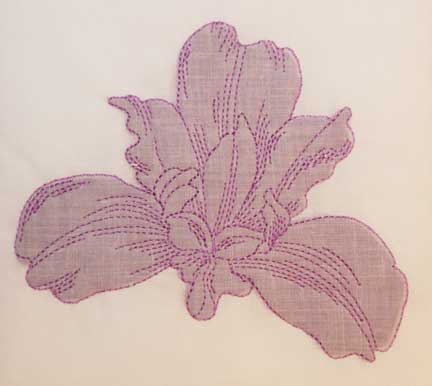 Having that extra outline makes it also possible to position pieces for raw edge applique.
By not including the outline as a separate color in the full version of the design, it makes it easier to use the "normal" version in "normal" ways. Sometimes I think of new uses for designs when I start using them myself!
The short version of how I did it is:
From embroidery software, print the primary version of the design at actual size.
Fuse Steam-a-Seam II to the back of a high grade white muslin.
Using a lightbox, trace the various areas of the design onto the fabric with pencil.
Cut out the flower about 2mm (1/8″) or so beyond the outer edge.
Color using Terrie's technique (or any other method will work too).
Stitch the outline only version onto the fabric.
Place and fuse the colored flower over the outline placement guide.
Stitch the full decorative version of the design.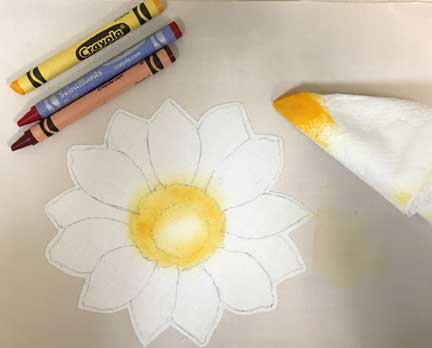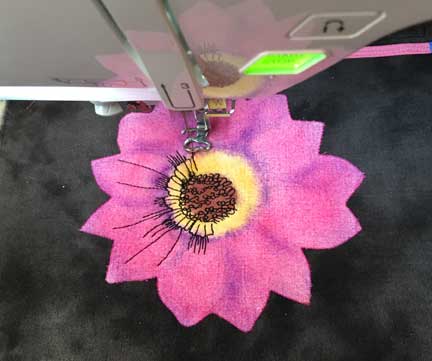 While I incorporated the Zinnia designs directly into the bag design, there's no reason why you couldn't use a pre-embroidered piece instead.
Another little extra step I did was to layer in a piece of Warm and Natural batting for a little more dimension to the stitching.
Another way to get this look would be to fussy cut a flower from printed fabric, fuse it to your fabric, and then free motion stitch it in place before cutting the pieces for your project. I'd rather let my embroidery machine do the "free motion."
Terrie has a book on her technique called Creative Quilts from your Crayon Box. This book is several years old and Terrie said the publisher will not reprint it so you might want to grab it while you can.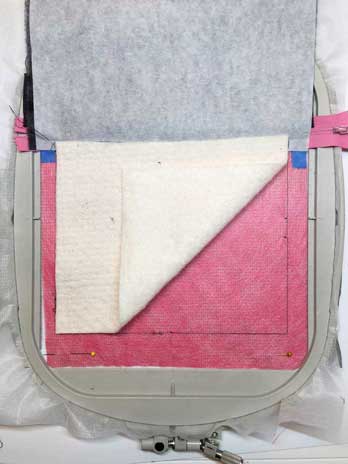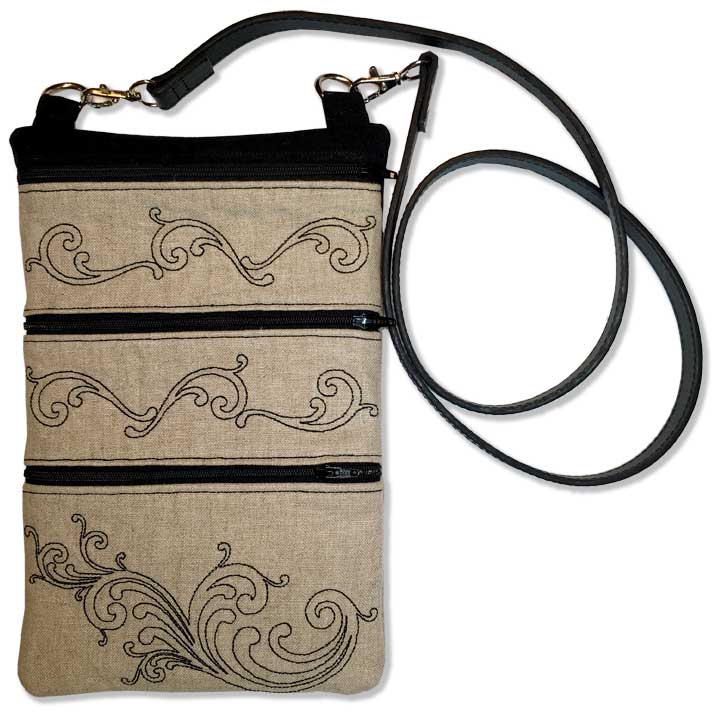 WHAT DESIGNS TO USE
Just about any!
Monograms and personalizing with names or other letters and phrases are great.
I like swirly, decorative types of designs, which you may have noticed from my choices here and on the Around Town Bag. With stylized florals, I can choose "non-floral" colors and they look just fine. Also, if I have to resize disproportionately, it's less likely to look odd.
My tip here would be to take a look at how your bag is constructed. With the bags featured in this post, you can easily hide the back of the embroidery with the lining.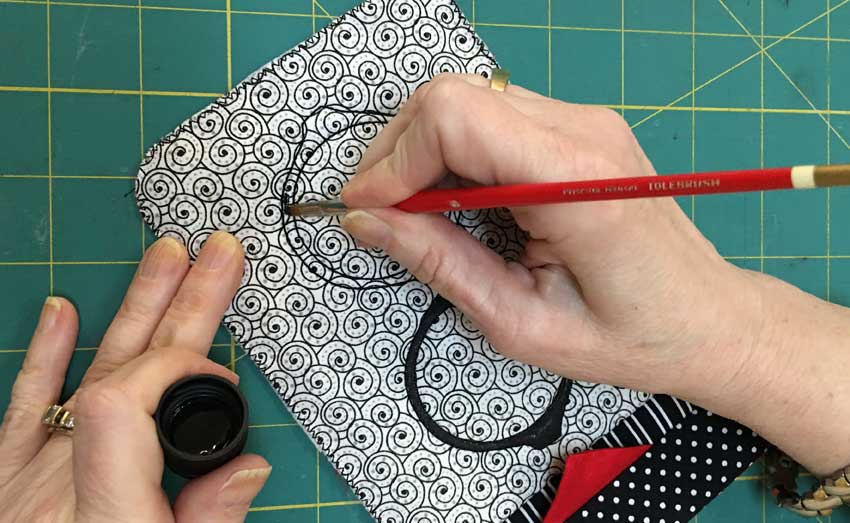 Depending on how another in-the-hoop project is constructed, that may not be possible. Does that mean you can't add embroidery to those bags?
Not at all! You'll just need to be aware of how the bag is constructed and decide if having an exposed back on the inside of your bag will bother you.
Tip: If the embroidery will be exposed on the inside due to construction techniques, embroider the fabric ahead of time and you should be able to avoid an exposed back side as long as the bag is lined.
You might want to think twice about adding a design that's large and dense, especially on a smaller or narrower bag because the added stiffness could make turning more difficult.
Tip: When adding any design to a floated project, make sure the area is well secured. Pins and tape might not be enough for a more intense design; you may wish to add a basting stitch for more stability.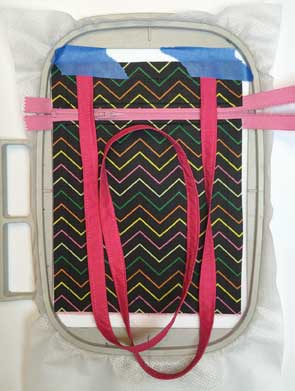 EASY CUSTOMIZATIONS
Pockets, loops, and straps are easy ways to customize your bag.
Vinyl pockets on the front of the 5×7" version make it the perfect little bag to hold your name badge for conventions or trade shows plus hold some cash, a credit card, your room key, and your cell phone.
While longer straps can be directly stitched into the bag in the hoop, they may create too much additional bulk. Also, you'll need to take care that they don't get caught into any seams where they shouldn't be.
Flat pockets are an easy add to either the front or back of your bag. They can be as simple as a folded rectangle of fabric or a pieced version with contrasting edge; a style I really like.
Pockets can also be added to the inside of the bags. Consider adding one using the RFID fabric on both sides to secure your credit cards.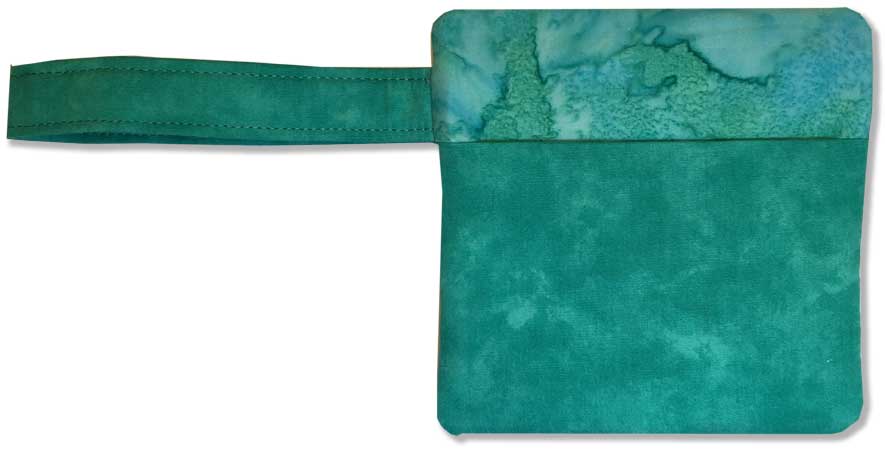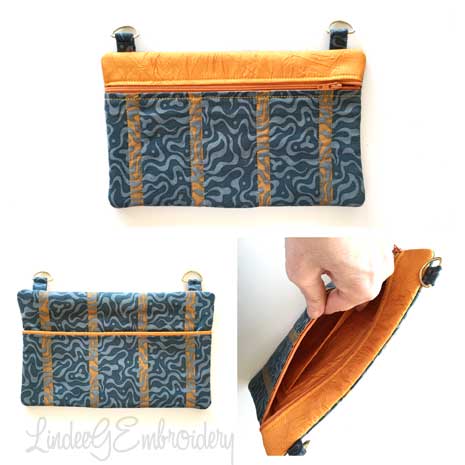 You probably don't want to line an entire bag with this product since it will also block your cell phone and it is rather pricey stuff. You can get it from Ghees.com
Loops can be added along the top for strap or along the side for a pull or wristlet handle. Make your loops from purchased webbing or ribbon (easiest!) or make from coordinated fabric (included instructions show you how).
Straps can be sewn into the bag, sewn onto attached hardware, or clipped on for even more versatility. Make your straps adjustable or fixed. Or make it really easy and purchase a ready made leather clip on strap.
It's amazing how just these simple change-ups can alter your bag's personality and functionality!
SOME COMMON SENSE TIPS
Since ITH projects are "floated"—that is, they are stitched to hooped stabilizer rather than hooping the fabrics themselves, you need to make sure your stabilizer is well secured and up to supporting the project all the way through.
There are advantages as well as disadvantages to washaways, tearaways, and cutaways so use the one recommended by your project.
You may have noticed the duct tape along the long sides of the back of my hoop. This practice will reduce slippage when hooping only one layer of a thin material or stabilizer between the rings of the hoop.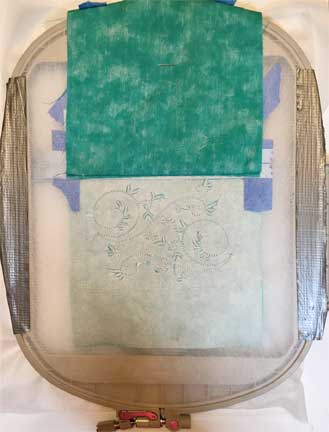 Even duct tape won't prevent slippage if you're too aggressive when applying items to the bottom side of the hoop! Be gentle!
Don't get too crazy with customizing, especially when it comes to adding thickness or bulk either with battings, foam, hardware or too many pockets.
Smaller bags are harder to turn than larger ones and adding extra volume with batting, stiff or thick fabrics or heavy interfacings can make them very hard to turn. And you'll be turning them right side out twice! (Three times if you end up with the back outer pocket on the front!)
Larger bags can benefit from an interfaced back pocket. For smaller bags, skip the back pocket interfacing and just do the main body pieces.
You can further reduce bulk by just turning under the edge of the lapped lining pieces instead of using a doubled layer used in the no-sew folded option.
Other than the batting on the lower front panel of the the Zinnia bag (200 x 200mm), I didn't use any battings in these bags.
That doesn't mean you can't use batting. If you do, you'll need to consider whether the batting needs any stitching to secure it. Smaller bags may not but larger bags might depending on the type of batting you choose.
I cut the batting to fit within the stitched outline to avoid unnecessary bulk in the seams. If you're using foam in a larger bag to cushion an iPad, this is a good tip. You'll already have quite a bit of fabric in those outside seams as it is.
Avoid attaching bulky hardware to loops that are attached in the hoop. For one thing, they can trip up the presser. Secondly, they make it impossible for any fabrics layered over them to lie flat.
HOW TO USE IN-THE-HOOP BAGS
Seriously, do you really need help with that? Who doesn't need some little bag to organize, store, or protect something?
With the variety in sizes and styles now available, you should be able to make one for about anything you need!
Phone case
Clip on "pockets"
Glasses case
Sewing supplies organizer
Cosmetics bag
Travel organizer
Lingerie bag
Gift bags
iPad/Kindle case
Treat bag or reusable sandwich bag (line with an appropriate material)
"Busy bag" with small toys to entertain a child
These bags stitch up quickly and are great for using up small bits of fabric. Make a stash of them to use as last minute gifts or donate for fund-raising bazaars.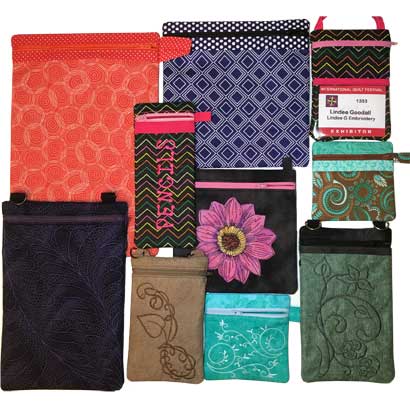 WHERE TO GET THESE DESIGNS
The samples shown here are from Single Zip ITH Vertical Bags, which are available as a set or you can get any bag individually. Full instructions are included.
MORE ZIPPERED BAGS
Want something with more zippered pockets? Check out the Around Town Bag with three separately zippered pockets; in two sizes and two styles each.
I thought I would like the bigger one better but it's the smaller denim one that has become my every day bag.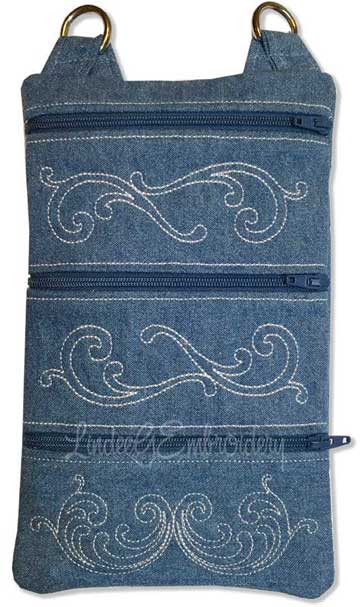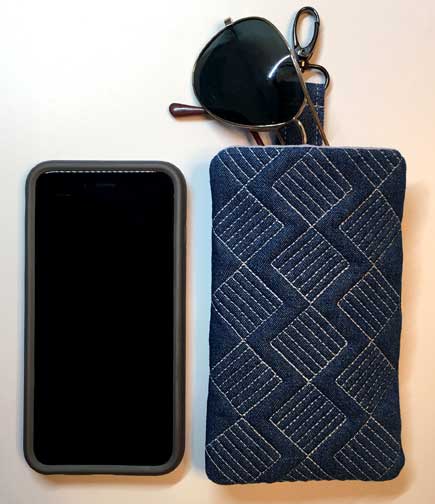 The ITH Phone/Glasses Slip Case is an open top case perfect for using with sew-in foam. It's perfectly sized for an iPhone 6s and with a clip, you can hook it onto a belt loop, belt or your purse.
I use this one all the time! The foam protects my phone, which is too big for any of my usual pockets. And I don't have to carry a purse!
The range of ITH projects in our shop is ever expanding! Browse here to see what's available and what's on sale.
NEWLY ADDED: VIDEO HOW-TO
Want to see just how to stitch one of these in your embroidery machine? Quite a few emailed me and asked for one so I just added one: How to Embroider a Basic In-the-Hoop Zippered Bag.
PRODUCTS MENTIONED IN THIS POST:
HELPFUL LINKS TO PRODUCTS I RECOMMEND & USE
Since I'm constantly being asked, "what did you use for [fill in the blank]," I've begun organizing my favorite products on this Resource page as a convenient place for you to find them.
I've also included links to where I get them, many of which are affiliate links. Hey, I can't stock everything! If I list something I haven't/don't use, I'll let you know that too.
RELATED ARTICLES