After creating the ITH Snappy Eyeglasses case, I had many requests for a simpler version that could be completed in one hooping with no additional sewing.
"Snap bags"—those clever little purses that use a metal tape measure to form a secure closure—are very popular. I see them all over the net in all sorts of fun fabrics. And while most of them are lined, the seams are still exposed on the inside.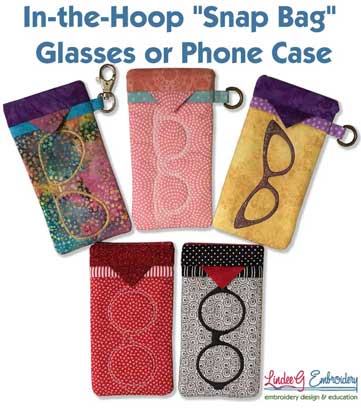 Also, many people asked for glasses embroidery designs that were filled in rather than just outlined (the color on the glasses above is paint, ink, or colored pencil) and some wanted them surrounded by stipple quilting and others with a grid. I
If you were one of those people, your wish is my command because you can find all that and more in this new set, ITH Phone/Glasses Slip Case!
In-the-hoop projects don't get much simpler than this—no zippers, no special hardware, no extra stitching! You can even use just one fabric, which is what I've done on most of my samples.
And, if you opt for the plain back, you'll make the entire thing in just one hooping. This project is a quick and easy pouch for glasses, phone, or just an extra pocket!
Depending on the fabrics and designs you choose, they're suitable for men, women, or kids of any age. Fully lined with no exposed seams, you can turn out a professional looking project with very little investment in time or supplies.
This project can either be done as a single hoop project with a plain back or a two-step process with an embellished back. The one hoop method is obviously the quickest and easiest, while the two-step one offers more options for customizing.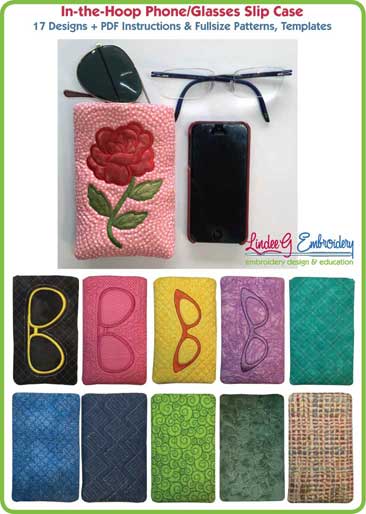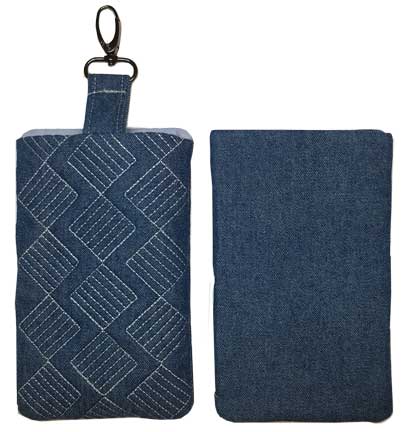 Notice on the one on the left, I've used a different fabric for the lining and you can see that the back panel is slightly shorter than the front. (You can just see a hint of the light blue lining exposed along the top edge.)
Notice on the one on the left, I've used a different fabric for the lining and you can see that the back panel is slightly shorter than the front. (You can just see a hint of the light blue lining exposed along the top edge.)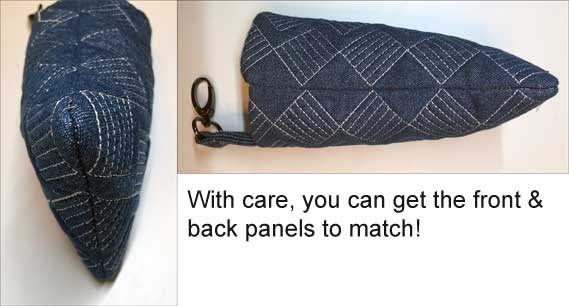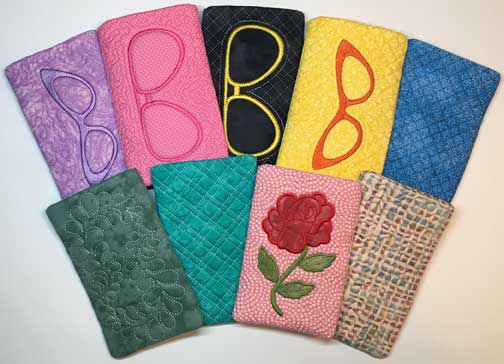 I've included a variety of quilting styles to make these designs compatible with as many fabrics as possible. You can use the quilting motifs as either decorative by inserting a contrasting thread or as a more functional, background or textural element by using a matching thread.
The less decorative quilting patterns such as the basic grid, channel, or stipple make a good background for adding in your own design elements. Simply insert those elements after the quilting motif either in your software or at your machine.
Tip: To see how to do that, check out this YouTube video that shows how to edit a redwork design into a new border and insert it into a plain version of an ITH zippered bag: How to Extract & Edit a Design in Embrilliance Enthusiast.
These eyeglass cases stitch up quite quickly, require only small bits of fabric and batting or foam. Since no extra notions such as zippers or hardware are needed, they're very economical. Chances are you have the supplies on hand right now. They're a great project for craft bazaars or your gift stash or for yourself. Make one to match other in-the-hoop projects.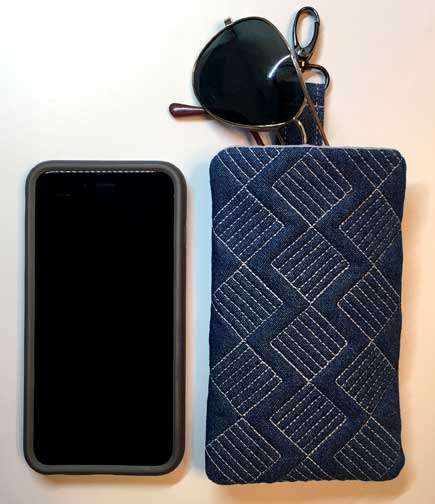 Using the embellished back you can easily use different fabrics for the lining, such as a soft flannel. Because of the additional seam across the top on the back panel with this version, you can also add a small loop or hook, which can then be attached to a belt loop, belt or purse loop.
In the instructions included with the designs, I'll show you how to add an optional loop and swivel hook to make your case into an add-on pocket plus some tricks for working with very thick loops. I unwisely made a loop that was 8 layers of denim at the attachment point yet I was still able to stitch it in my embroidery machine without breaking any thread or even a needle!
This case was designed to be quick and easy to whip up with no additional closures. However, it would be a simple matter to add a snap closure either into the top of the case or add a small strip into the embellished top back seam with a snap that could fold over to the front.
MY AFFILIATE LINKS DISCLOSURE
Hi everyone. Just to let you know that some of the links on this site are affiliate links. What that means is that if you click one of them and buy something… I get a commission. It doesn't cost you anything extra and I only recommend things that I've tried and tested, so please, please, please… use my links.
Fine Print: Lindee G Embroidery is a participant in the Amazon Services LLC Associates Program, an affiliate advertising program designed to provide a means for sites to earn advertising fees by advertising and linking to amazon.com. Lindee G Embroidery is also an affiliate for Embroidery.com, Nancy's Notions, Embrilliance, and Craftsy. If you purchase something through one of those links I may receive a small commission, which helps to offset the cost of running this site. 🙂
PADDING AND STRUCTURE
I used Warm and Natural batting and Bosal In-R-Form (non-fusible foam) for my samples.
The batting makes a softer case that's easier to turn right side out; the foam makes a more structured version that's a little more difficult to turn but holds its shape better.
Heavier fabrics with foam will make the turning more difficult but not impossible. Also, with the foam, because it's puffier, you'll need to take care that you don't stitch in little tucks when stitching around outer seams.
With a project this small, the quilting is not really needed to secure any filling; it's purely decorative. That means you could easily swap in any design of your choosing in place of the ones I've included or even skip it altogether.
Also, due to the construction technique used, any designs won't sew through to the lining so the inside of your pouch will still be pristine.
THREAD COLORS
These designs have more thread colors than you'll probably use. The colors are there to force stops and to add flexibility. With extra color changes, it's easy to skip, delete, or insert new elements between color blocks.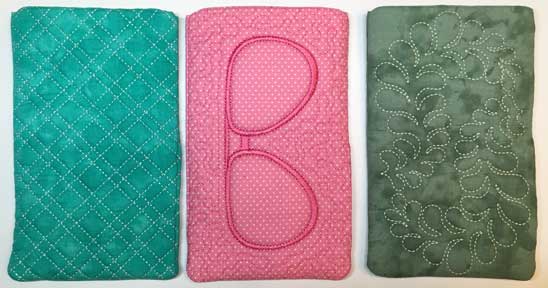 On the samples shown here, I've stitched the entire project in just 1 color. The glasses outlines can be skipped or the fill could be skipped and replaced with inks, as I did with the Snappy Glasses cases.
Some designs have multiple colors in the decorative areas while others only have one. Any stitches that are for construction are either double or triple stitched, so polyester embroidery thread is just fine.
SKILL LEVEL
Basic embroidery skills; this project is super simple and requires no sewing skills
WHAT YOU'LL LEARN
How to create a lined open bag entirely in one hooping
Some simple customizing options
Tips for working with thick additions
How to appliqué (rose design only)
A basic version is shown to the right of the enhanced version. The pair on the left is the front view; the pair on the right is a back view.
The plain back is a folded fabric with a foam insert and requires no other preparation. The enhanced version will require two hoopings plus some extra work to add in the loop, if desired.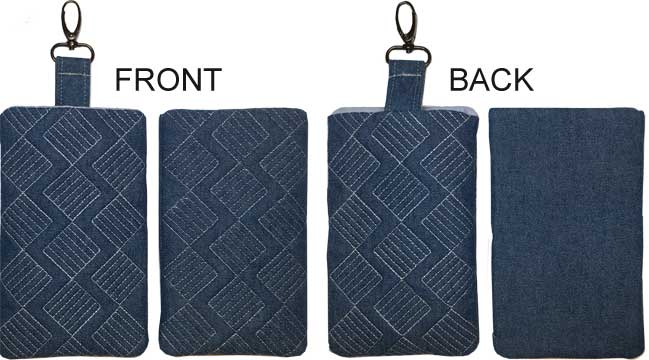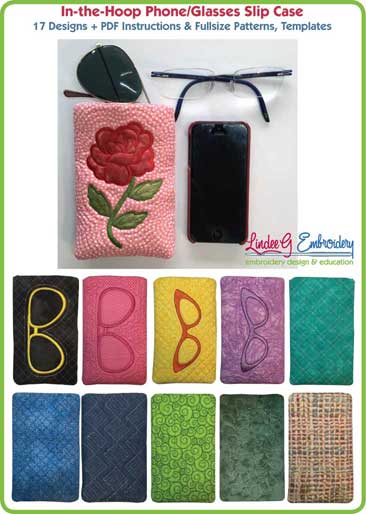 WHAT'S INCLUDED IN THIS SET
17 multi-format embroidery designs: 11 front panels and 6 back panels
Actual size printable patterns
Templates for the appliqué case for hand or machine cutting
Applique Basics tutorial PDF
24-page illustrated step-by-step instructions to complete the project
The designs in this collection are all one size so you can mix and match any combination of front and back as desired. Having one size also makes it easier to cut fabrics in batches and have them work with any pouch in this set.
Individual designs will only have what's needed to complete that single project and include the full instructions, pattern, and any required additional templates or instructions.

OTHER NOTES
A full-size pattern guide is included for cutting fabrics and foam. There are lines marking the horizontal and vertical center.
Since the front and back are constructed slightly differently, separate designs are included for the back. The collection includes all available pieces for a customizable mix and match; individuals will only include a coordinated front and back.
SUPPLIES
Small bits of fabric or pick up some fat quarters. Use the included patterns as a guide for fabric requirements.
Thin cotton batting like Warm and Natural batting or foam such as Bosal In-R-Form Unique Sew In Foam Stabilizer
Light weight cutaway (Sulky Soft N Sheer, No Show Mesh, etc.). The stabilizer in this project will be hidden inside. A soft cutaway will provide a good foundation for the quilting.
Coordinating embroidery thread. Polyester embroidery thread is recommended over rayon for any seam stitching during the bag construction.
Decorative thread of your choice for the quilting area
Cellophane tape or other tape that won't gum up the needle when sewn through (I used painter's tape for the photos)
Fusible web for appliqué for the rose
Small strip of fusible web for appliqué for closing the opening (or hand stitch with needle and thread)
EQUIPMENT
OPTIONAL
Narrow ribbon or constructed self-fabric strip for loop, handle, or strap
Hardware for the optional loop: D-ring, swivel hook or other. Thinner less bulky hardware is best.
TESA (temporary embroidery spray adhesive)
Duct tape to secure stabilizer
Starch
Interfacing – you may wish to interface your fabrics; I didn't on any of these samples.
READY TO MAKE YOUR OWN?
Full instructions are included with the set and with individual downloads. The individual cases include an embellished front panel and a coordinating back panel.
For the single-hoop version you'll just use a plain, padded back. The embellished back requires a hooping to stitch it so the project will require two stitch-outs. Either way, once you remove the finished design from the hoop, all you need to do is turn it and close the opening and you have a completed project!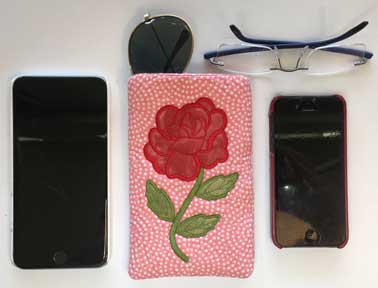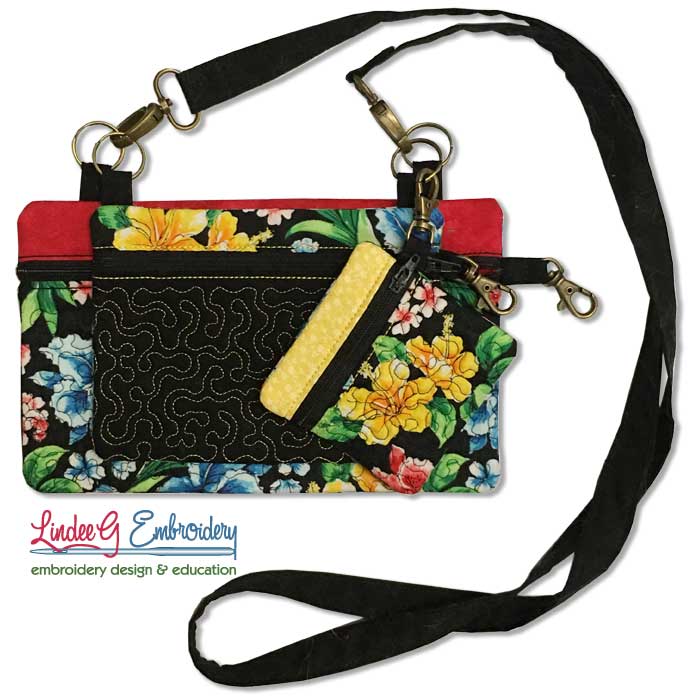 MORE IN-THE-HOOP PROJECTS!
In-the-hoop projects let your embroidery machine take over many of the tasks of embellishing and constructing a project. Some are easy, one-hoop projects like these phone/slip cases or the Sew Simple In-the-Hoop Zippered Bags, which can also be made in just one hooping.
Other projects may require multiple hoopings and extra work at the sewing machine, such as the Whooo's Got Your Reader Owl Mini-Reader or messenger bag.
In any case, ITH projects can increase accuracy and often reduce the time it would otherwise take to finish a project.
Besides, it's just fun to say, "My embroidery machine made this!"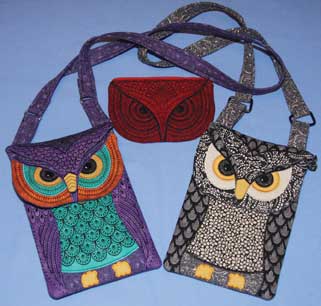 RELATED PRODUCTS
RELATED ARTICLES