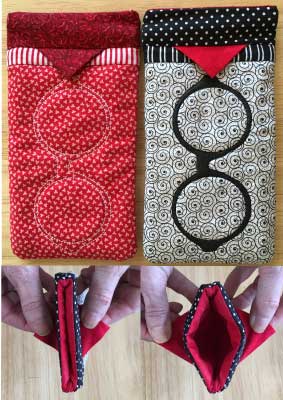 "Snap bags"—those clever little purses that use a metal tape measure to form a secure closure—are very popular. I see them all over the net in all sorts of fun fabrics. And while most of them are lined, the seams are still exposed on the inside.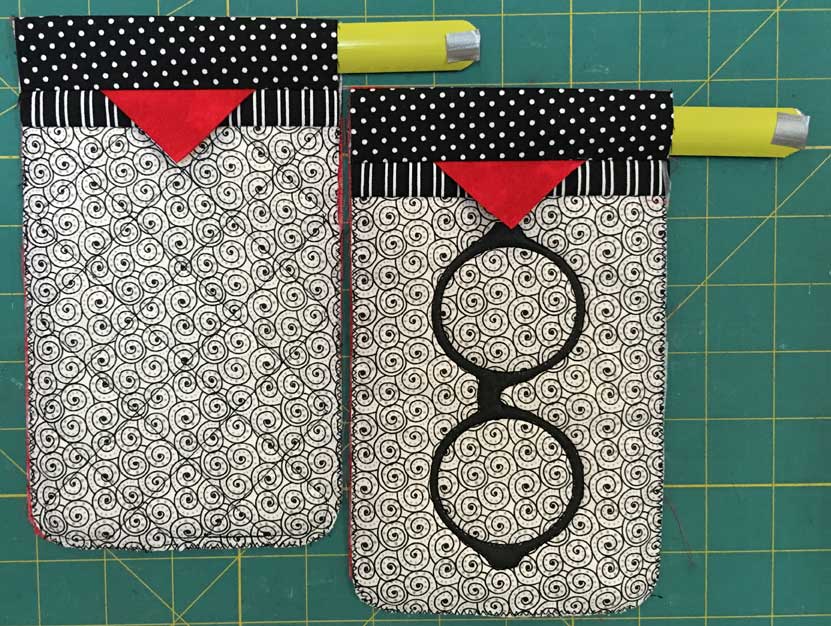 I wanted one that hid the seams and of course I wanted to do it in the hoop. So, with a bit of fiddling around, I worked out the process. I did have to make a few to refine the details but I think I've got it optimized.
ABOUT THE PROJECT
I was inspired to make this project from a well-used quilted Vera Bradley glasses case I have. It has no closure but the padding provided by the quilted layers provides great protection for my glasses.
This project isn't entirely completed in the hoop and a few simple steps that could have been done in the hoop I left for standard sewing because I felt the result would be worth it.
Yes, it's clever to get your embroidery machine to do all the sewing for you so that the only remaining things for you to do are to pop it out of the hoop, remove the stabilizer, and turn it right side out.
I happen to think doing some steps in the hoop are actually more difficult and/or time consuming and are actually easier to do in the "normal" manner.
If you've done much sewing, you know that a professional result requires pressing at key points and that kind of pressing can't easily be done in the hoop, especially with steam in a small hoop. Also, stitching precise seams over many thicknesses of fabric can trip a sewing foot and break the thinner needles we use in embroidery.
And I don't even want to think about what would happen if I hit the metal tape measure strips! Plus, some construction steps are better handled with regular sewing thread than a decorative thread used for machine embroidery.
Therefore I chose to handle the decorative portions and more mundane assembly steps in the hoop and complete the few remaining steps in a more traditional manner.
If you haven't done much sewing, you're really only stitching the front to the back if you aren't making the optional loop/strap.
As you can see from the photo below, largest portion of the project is completed in the hoop.
If you have a large hoop or a large multi-position hoop, you may be able to sew them in one hooping as long as your hooped stabilizer is secure. Once the embroidery is done, you'll have a front and back that look like this: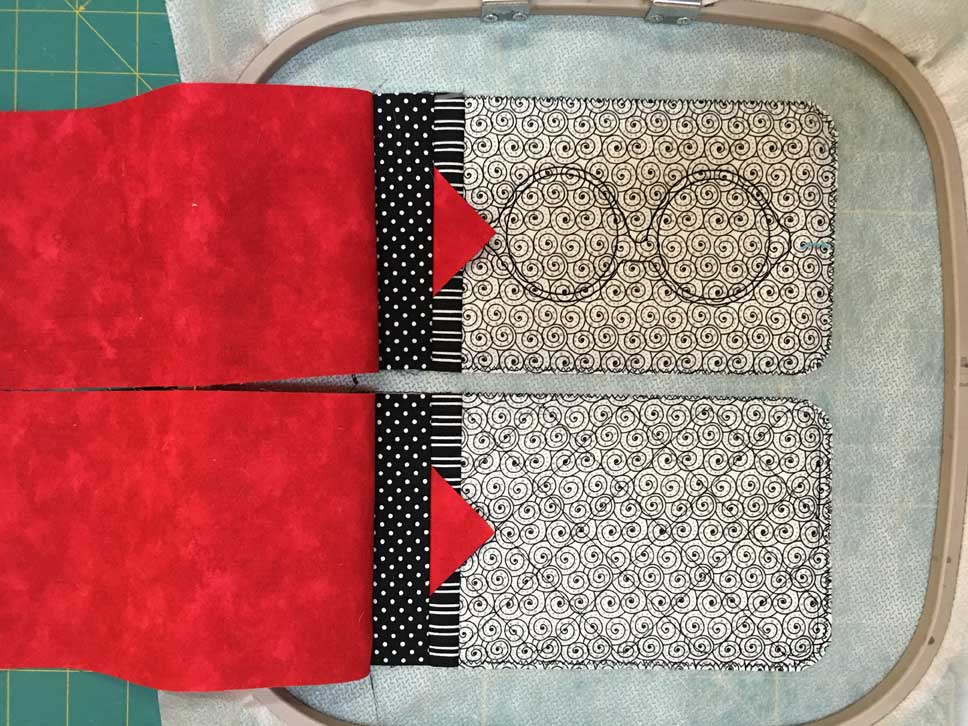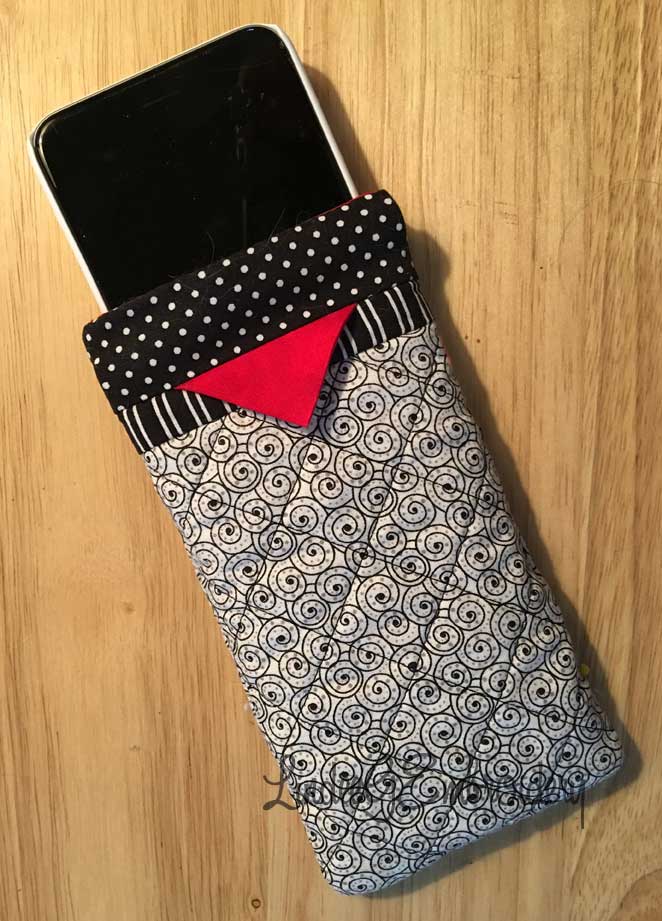 The finished project is 4″ x 7.5″, is padded lightly with a thin cotton batting, and is fully lined with no exposed seams. Rounded corners on the bottom give a more professional finish that square and they're easier to turn.
With the addition of seam allowances and placement lines, you'll need a sewing field at least 4.75″ x 8.25″.
While I designed it for eyeglasses, I was happily surprised that it perfectly fit my iPhone 6s. With the snap closure, this little bag could see all kinds of great uses!
LOTS OF POSSIBILITIES!
There are two "generic" quilted panels. One is a diagonally oriented grid pattern of quilting while the other is a meander pattern. I used these for the back on all my cases.
There's no reason why you couldn't use them as a front and back for a plain case or when you prefer to feature a pretty fabric instead of an embroidery design. If you're making a case for your phone, you may not want it adorned with specs. On the other hand, it might be a good diversion for a would-be poacher!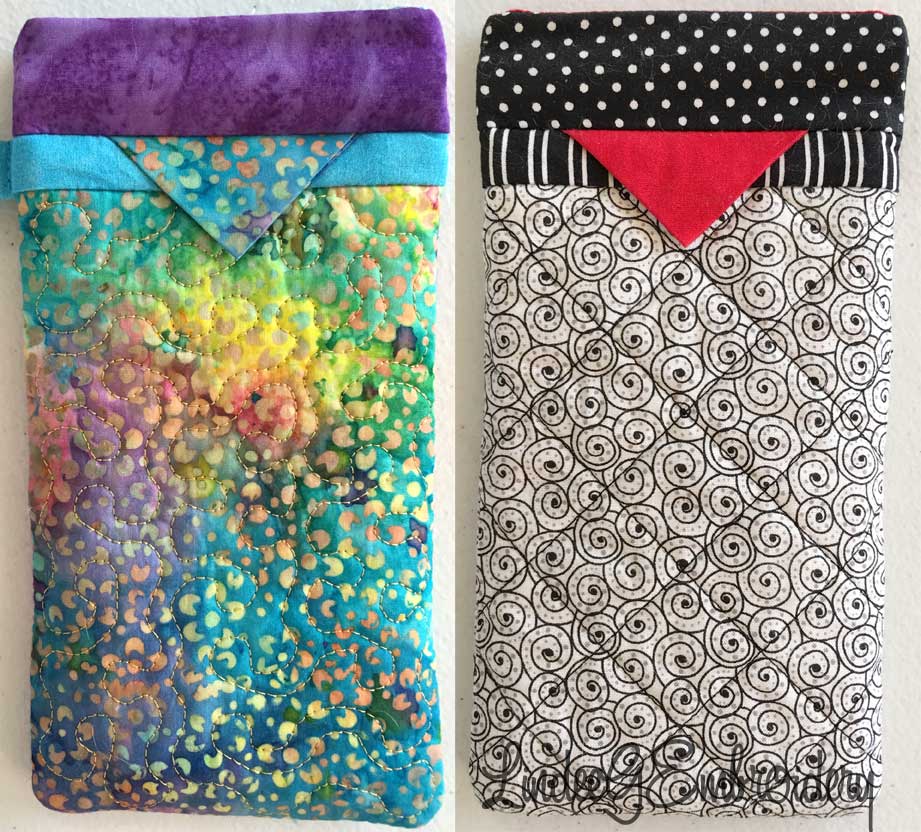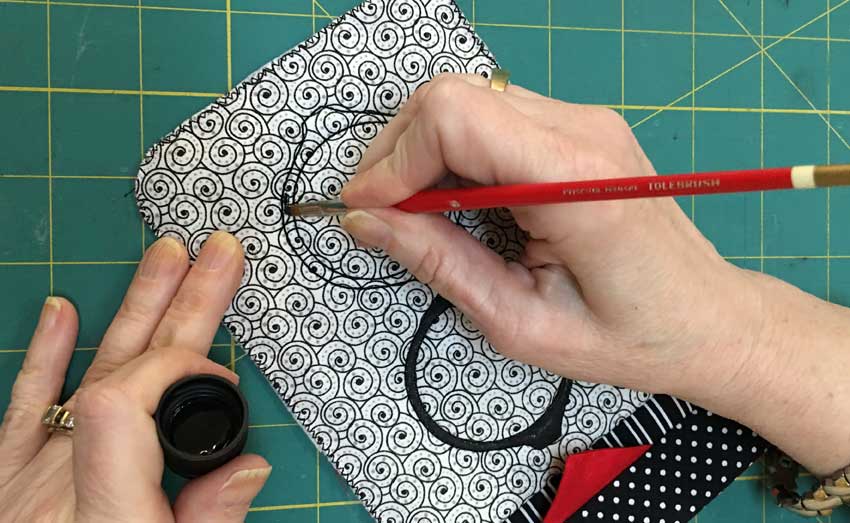 ADDING COLOR & SPARKLE!
Four styles of eyeglasses are designed to quilt and decorate the glasses cases. You can choose thread colors that match or contrast with your fabrics. You can even use specialty threads like metallics for the decorative stitching. For the constructions steps, poly or cotton embroidery thread are more suitable.
Regular embroidery bobbin thread is also fine for the ITH steps.
I further embellished these designs with ink, paint, colored pencils, and glitter glue. I found the paint to provide the best coverage on the fabrics I chose.
My new favorite brand is DecoArt SoSoft. I used their black below and the metallic gold on the "aviator" glasses. I found it looked best when I matched the thread color to the paint.
I tried ink on the "cat eyes" glasses below. I had some purple mixed up and left over from a previous project but applying periwinkle ink to yellow fabric created a rather ugly brownish color. I didn't have what I needed in the way of paint, so I got out my Inktense pencils and blended some colors to get a better looking purple.
Then I applied some opalescent glitter glue over the top. The effect is really cool in the light but doesn't photograph so well!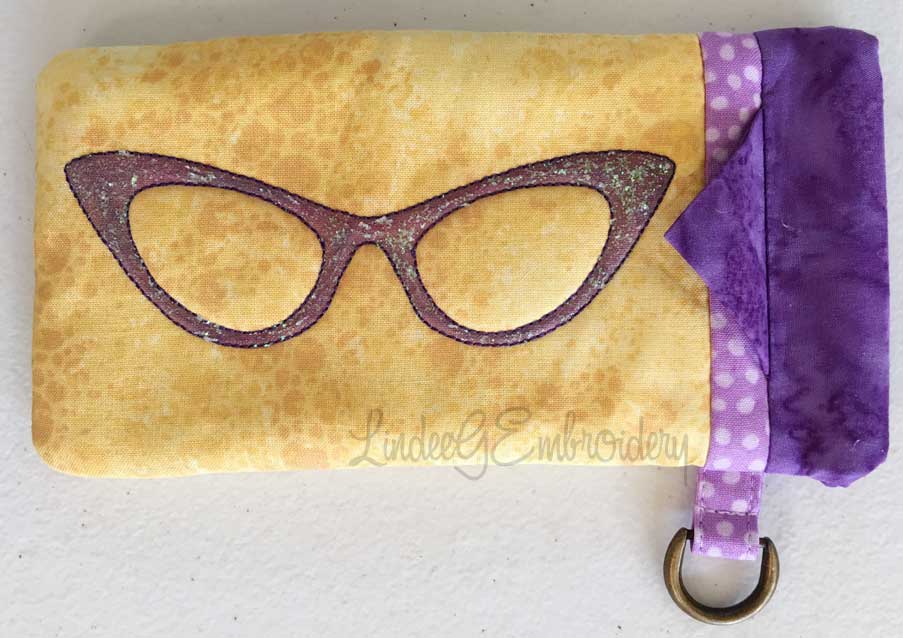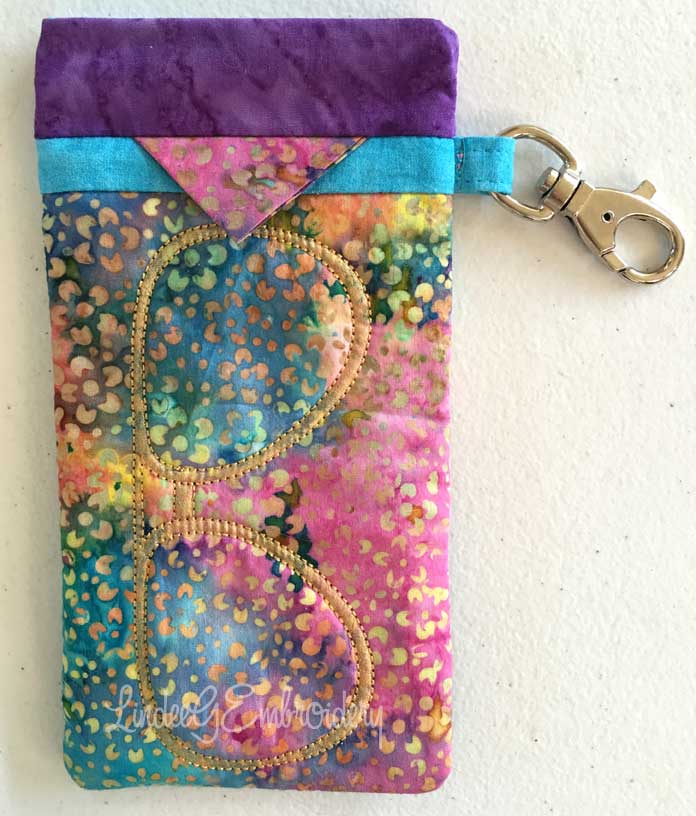 You can add a loop, or not. You can add hardware to the loop, make the loop short or long—or not.
You can use up to four fabrics for the exterior (5 if you add the loop and make it different color) and choose yet another color for the lining. I used prairie points for the pull tabs but you could replace them with small loops left over from your side strap.
I used scraps of quilting cottons and leftover small bits of batting from some table runners and snack mats I had just finished and had not yet cleared off my cutting table. Some scraps would have definitely ended up in the trash so recycling them into a useful project was gratifying.
Other fabrics can certainly be used. A doe skin in tans, browns, and black would create a sophisticated version even a guy would like. Pretty satins and silks might accessorize a bridal ensemble. I do recommend keeping the batting thin; fusible fleece could be a good alternative.
The batting provides protection for the contents, structure for the bag, and dimension for the quilting stitches.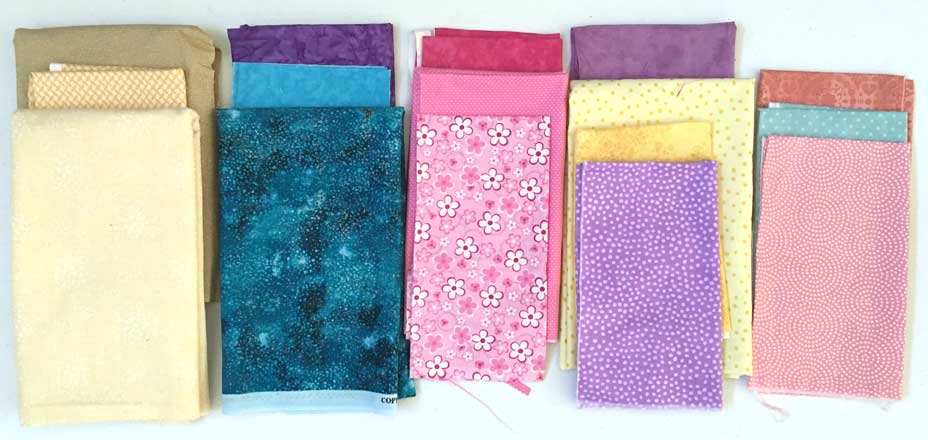 These little bags are a great project for using up scraps. The embroidery process and finishing sewing are quick and easy. The biggest expense is the optional hardware, if you choose to add it.
If you've been reading my last few posts, you know I've been adding color to my projects with ink, paint, and colored pencils. These little projects are an easy way to try your hand at it.
Colored pencils and inks work best on pastels fabrics. Paint will cover more thoroughly on most any fabric. Inks and paints are the most color fast but you likely won't be throwing this project in the washer and dryer on a frequent basis.
If I can find where I stored my crystals so they wouldn't get lost, I'll add one to each temple on the "cat eyes" glasses. In the meantime, I added some sparkle by applying some opalescent glitter glue over the colored pencil and ink I used to color in the frames.
Are you beginning to imagine the possibilities?
NEED A QUICK GIFT?
Making a "gift stash" is a good use of your embroidery machine and sewing skills. Small quick items like finger tip towels, baby bibs, lace angel ornaments, and in-the-hoop quick projects like these little bags are great way to stock it.
They're also perfect for craft bazaars or your Etsy shop, if you have one.
With these little projects, your only expense might possibly be your time as they use up only minimal supplies. Once you've made one or two and have the process down, you'll be able to whip these out in no time!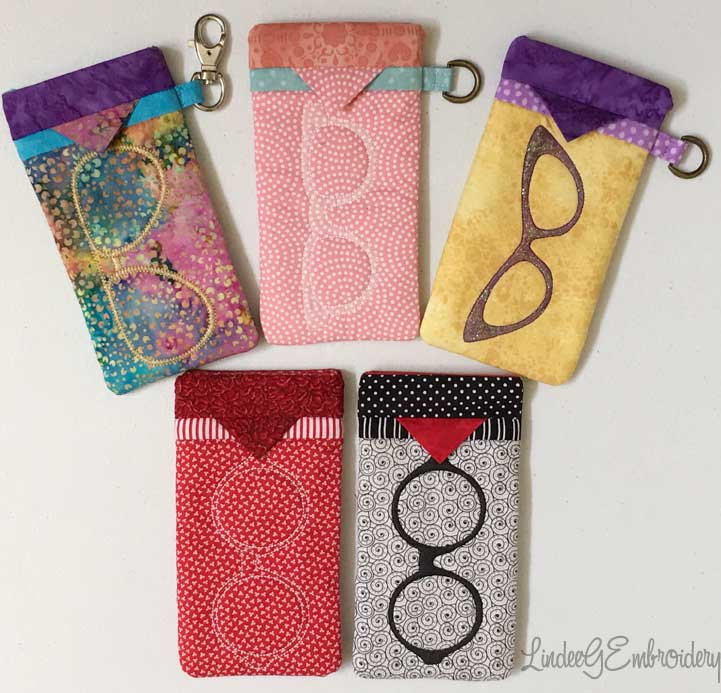 The final steps are to insert the cut tape measure, sew the front and back together and turn right side out. If you're adding any sort of strap or hardware, that's also done at this time.
I've photographed all the steps and written up full step-by-step instructions in a PDF. Full-size patterns are also included so you can precut your pieces. Precutting lets you take advantage of smaller scraps and gives a cleaner result that requires minimal trimming.
The small loop and strap are optional and instructions are included on how to make and add it. A longer one could be added to make a small wristlet.
My hands are pretty small and I can just fit my hand inside the bag but it might make a better wristlet for a child. What child wouldn't be totally fascinated with the snap closure?
To change the design on the front for a child, embroider your fabric beforehand, then cut and place it as indicated in the pattern. At the machine, skip past color 6, which is the pattern design. In this way you can customize the bag in even more ways!
WHERE TO GET THEM!
To get started on your own collection of snap bags, download the instructions and designs for In-the-Hoop Snappy Glasses Caseand start sorting through your stash for fabrics!
WHAT'S INCLUDED IN THE DOWNLOAD:
24-page illustrated step-by-step instructional PDF with 40 full-color process photos
3-page pattern PDF
1 page "cheat sheet" for sewing
4-page color sequences PDF
6 machine embroidery designs
Infinite possibilities!
RELATED ARTICLES