Lately I've been on an ITH bag binge, as you might guess from the recent series of blog posts. First it was the ITH Snappy Glasses cases, a project collection with 6 panels for mixing and matching.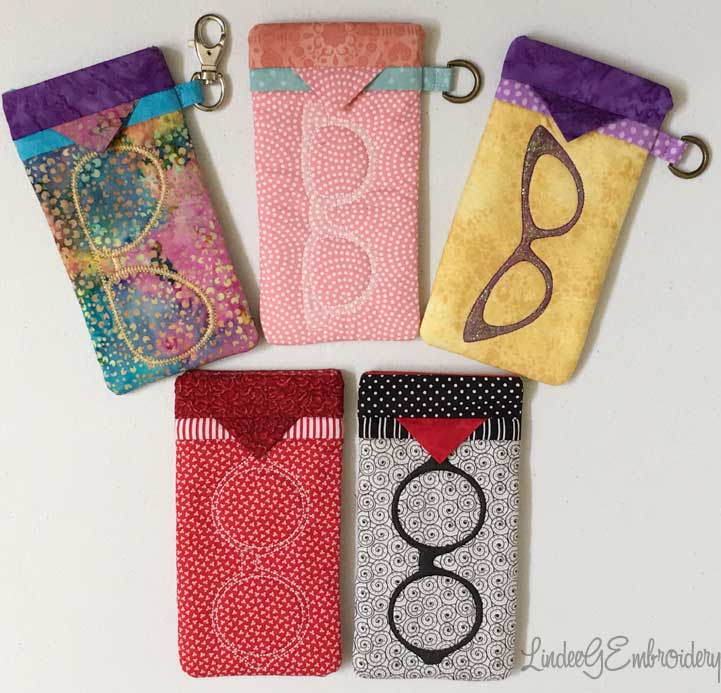 Then, I got requests for a 5×7″ version, so I redesigned the bag for a long edge opening. Of course, that generated complaints that it was too much work because it couldn't be done all in the hoop and all in just one hooping, hence the zippered version, which met those criteria.

After that, there were requests for versions for larger and smaller bags for other hoop sizes.
Snap bags work best when the project is not so small that it's too difficult to turn and not so large that you need to use a larger, heavy duty carpenter's tape measure to maintain the tension
And that's why these other sizes are zip versions only. (Not to mention they are one hoop, turn, and done designs!)
While all the zip versions are made with the exact same process, a larger 6×10″ bag offers more room for some creative customizing. This larger version has one extra color change to allow for securing a pair of strap or loops along the top edge parallel to the zipper, but other than that it's much the same.
Since you've seen the other two versions stepped out, I won't go there in this post. Instead, I'll just point out some customization options. If you missed those posts, see the list of related articles at the end of this one.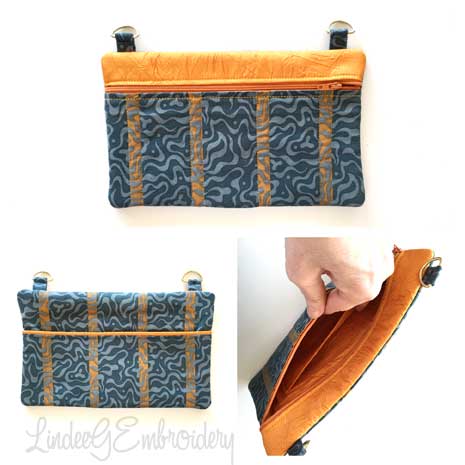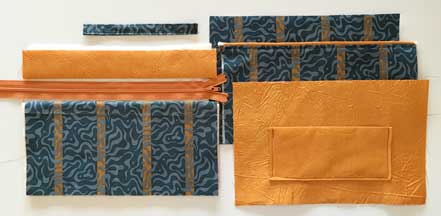 FABRIC PREP
When searching my stash for suitable fabric combinations (I spend way too much time agonizing over this!), I found these two. The golden orange was a left over from some forgotten project and had some practice button holes stitched in it.
The blue fabric was a fat quarter. With careful placement and planning, I could just eke out the pieces I needed to make a bag of this size and still have enough left over for small pocket on the inside of the bag and a larger one across the back.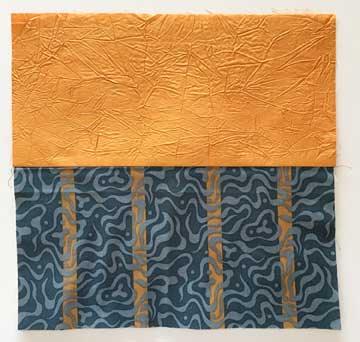 I believe the golden orange fabric might be some crinkled silk and to preserve the crinkling and make it sturdier, I interfaced all the pieces.
While you can get away with not interfacing the lining on the smaller projects, I felt this larger one would benefit from more structure, so all pieces except the front outer panel were interfaced.
The blue fabric had to be pieced to accomplish my goals. So instead of folding over the front body panel, I pieced on some lining fabric and folded it at that seam.
That meant the back pocket lining had to be cut from a leftover blue bit that wouldn't match. To hide that, I simply made some piping out of the golden orange, which adds a nice couture touch to the bag.
The inside pocket was interfaced, folded right sides together and stitched down each side and across the bottom leaving a small gap for turning. Turn right side out, press and when stitched into place, the bottom gap is closed. I placed my pocket so it would be slightly below the zipper opening. You can see it in the photo above that shows all the pieces cut and ready to go.
I made a short piece of strap, fussy cutting my fabric to only display the blue and not any gold. Originally I had thought to showcase the gold stripe but when I trialed it against my accent color, it looked drab and dirty.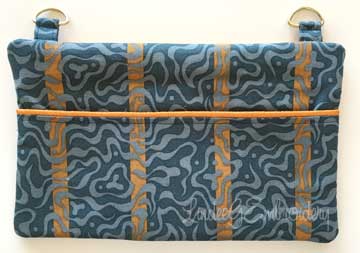 This has the added benefit of making the lining fabric match, especially since I used it as the accent fabric for the top front piece above the zipper.
Piecing the front panel opens up a wide range of opportunties for customizing your bag in creative and interesting ways!
I also didn't have enough fabric to cut the back pocket on a fold and it too had to be pieced, mainly because I wanted my fabric stripes to match all the way around.
QUILTING
Since the quilting step in the embroidery design is its own color change, it's easy to bypass at the machine by skipping to the next color.
This bag design has the same zigzag pattern as the smaller ones so that you can make a coordinated set. Instead of using the embroidery machine to do the quilting, I just quilted it with my sewing machine to accent the gold stripes in the blue fabric.
This panel is placed as a folded piece so any embellishments you add are easy to do. Furthermore, the attachment stitching won't interfere with any embellishments so this panel is open to all sorts of options.
This bag is much larger than the other two and while the batting is quilted into the seams, I felt that it was a large enough space that it required some additional quilting to secure it. Those stripes were the perfect opportunity to create a more unified look.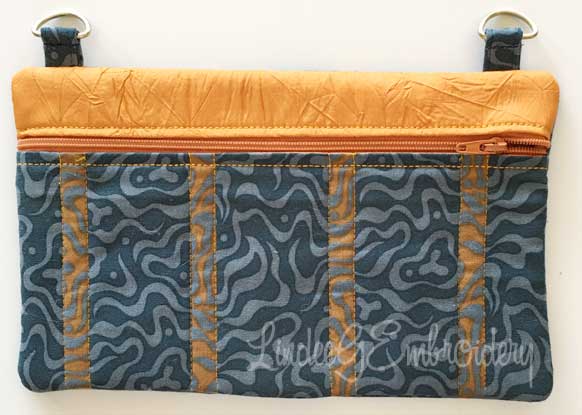 STITCHING THE PROJECT
Except for the additional strap option, the in-the-hoop parts are  identical to the other two smaller bags. Place and stitch the zipper and two front panels. I skipped the quilting color change and the one following, which is the stay stitching for a top loop.
Guide stitches are included in the initial placement stitching for aligning various elements. I extended the ones I wanted to use for this project onto the stabilizer since after placing the fabric, they'd be hidden. Here you can see placement guides for centering and for the outer edges of the top strap loops.
Tip: When placing the straps, you may want to advance a few stitches to make sure the presser foot has cleared the strap, especially if they are thick like these are.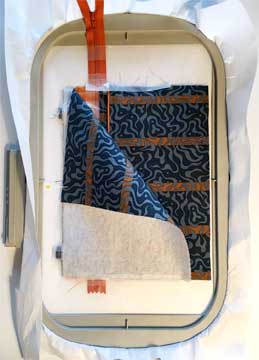 PLACING THE LINING & BACK
The only trick here is to layer your pieces right sides together, in the right order, and make sure they're oriented properly so that the pockets will open from the top (zipper side).
I did take extra care to make sure that both the back panel and the pocket fabric stripes matched those on the front.
For this project, place the back pocket first (face down), then the back panel on top and the lining right side down on the back as with the other projects. If you added a pocket to the back make sure it's oriented properly.
At this point things can be getting pretty thick in the hoop so you may need to raise your presser foot height.
Tip: Taping any hardware can prevent it from shifting into the path of the needle or presser foot.
MY AFFILIATE LINKS DISCLOSURE
Hi everyone. Just to let you know that some of the links on this site are affiliate links. What that means is that if you click one of them and buy something… I get a commission. It doesn't cost you anything extra and I only recommend things that I've tried and tested, so please, please, please… use my links.
Fine Print: Lindee G Embroidery is a participant in the Amazon Services LLC Associates Program, an affiliate advertising program designed to provide a means for sites to earn advertising fees by advertising and linking to amazon.com. Lindee G Embroidery is also an affiliate for Embroidery.com, Nancy's Notions, Embrilliance, and Craftsy. If you purchase something through one of those links I may receive a small commission, which helps to offset the cost of running this site. 🙂
OOPS!
Do you see where my zipper tab is? It should have been moved to the middle of the bag area but there it is, still hanging out at the top of the tape. And no, I didn't catch it until I cut it off. More on how I fixed that in a moment.
In a previous post, I mentioned how the zipper should be closed and the tab well out of the range of the needle. Here it is so far out of range that the the concept of "out of sight out of mind" applies and I stitched the bag together without moving the zipper tab back within the body of the bag.
And yes, I did cut it off when trimming the seams before I noticed but fortunately before I turned it right side out.
You might imagine how I felt–all that work and now it's just gone down the drain. And not enough fabric to make another. In fact, I had hoped to make a mini-zip for a matching change pouch but I didn't even have enough for that!
I'd just watch Joan Hawley's Craftsy class, Zippered Bags with a Twist: The One-Zip Way where she shows how to disassemble and reassemble a zipper.
I love the bag classes on Craftsy and I particularly like Joan's because hers are fast and easy and she has a great teaching style.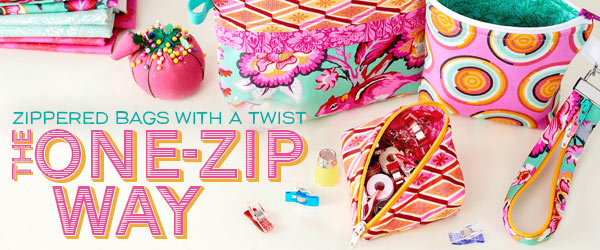 To recover my project, I ripped out the top edge and side seams from just below the zipper all the way around to just below the zipper on the other side and used Joan's pull-on technique to recover my project. Then I restitched the seam on my sewing machine and finished the project as usual.
Was it fast? Was it easy? No. This recovery step doubled the time it took to construct the project. Picking out all those stitches was not fun! But the final result was worth it.
FINISHING
This project has a lot of fabric layers so pay attention to trimming the seams and removing excess batting. Also, it will take longer to turn right side out. Just take your time. I was really glad at this point I interfaced my lining with all the tugging I had to do get it turned!
Don't panic if at first your back panel pocket ends up on the front, just flip it over to the back. Or, maybe you like it better on the front than the back.
THE STRAP
I don't have enough fabric left over for a matching strap so that part remains incomplete. I could use a purchased strap or make one from some other fabric. A gold chain would take this project up a notch. Having the option to switch out straps and handles makes your bag even more versatile.
Until then, I have a mostly complete UFO!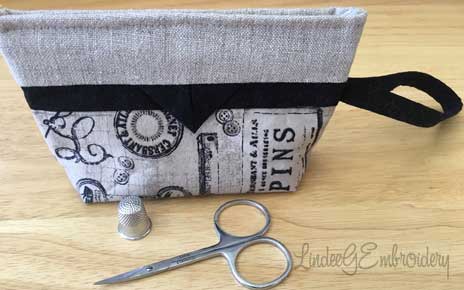 WHAT ELSE IS POSSIBLE?
One more easy thing that can be done to radically change the appearance of this bag transforming it from a flat clutch to a more dimensional one is to box the corners.
If you don't know how to do that and would like to see it in action, in the same Craftsy class I mentioned earlier, Zippered Bags with a Twist: The One-Zip Way, Joan Hawley will show you how.
GOT IDEAS FOR YOUR BAG?
I already have ideas for more bags. In fact, I have a trio all cut out in coordinating fabrics to use as a set. They're all ready to stitch and I decided that the zigzag quilting pattern will compete with the print I've chosen so I'll have to plan out something else. And that means new choices for you too!
How about you? As I redesign this website, I hope to finally get a gallery area open. I'd love photos of your projects made with Lindee G Embroidery designs to feature in that area! Just email me through the Contact Us page. Of course you will be credited for your project.
WHERE TO FIND IN-THE-HOOP PROJECTS
RELATED ARTICLES