Do you ever wonder where designers get their inspiration? Everywhere! The trick is to leave your mind open to possibility.
Recently I was inspired by a quilt that hangs in my bedroom and I wondered if I could duplicate it and then quilt it with one of the feathered quilt block designs. I wasn't really sure what I was going to make with it at that point, possibly some small wall hanging.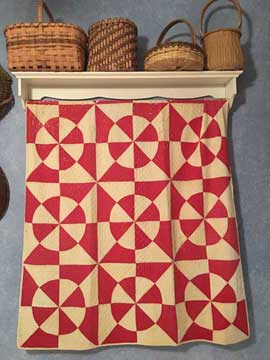 Recently I was inspired by a quilt that hangs in my bedroom and I wondered if I could duplicate it and then quilt it with one of the feathered quilt block designs. I wasn't really sure what I was going to make with it at that point, possibly some small wall hanging.
Sometimes ideas pop into my head fully fledged and then I just have to work backwards to figure out how to make them but other times it's more nebulous and the project develops as I play.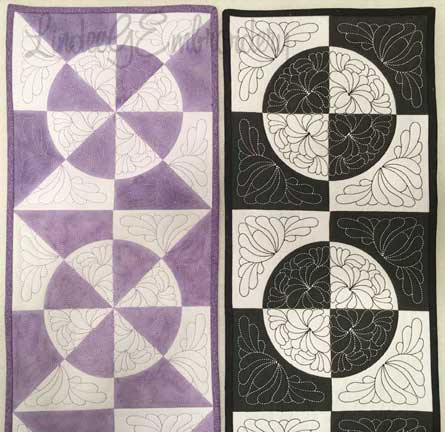 Four of these blocks pieced together create the secondary circular pie design. I needed that set of 4 to work with my embroidery design so I either needed to split my embroidery design into quarters or make my blocks smaller to get a set of four in my hoop. I chose the latter.
I made my basting box 240mm square because that will fit my hoop. If your hoop is smaller, you'll need to make some adjustments.
If you're digitizing, I recommend figuring that out before you start rather than scaling your design at the end. Scaling your newly digitized part should be no problem but part of your design is a pre-digitized design from an outside source and bean stitches don't always resize well.
RATHER WATCH THAN READ?
If you're more of a video kind of person, you'll be happy to know I've made videos for the whole process. You can watch them in any order and the techniques I demonstrate can be used for other projects and designs.
Read through this post to get the idea; links for the videos are at the end.
This blog post won't be a transcript of those videos so you may want to read too!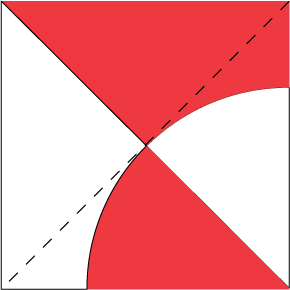 ABOUT THE QUILT BLOCK PATTERN
I have no idea what this block is called and I didn't take the time to research it. If you know, contact me.
The quilt is quite old and very worn and it's actually in two finished pieces. The story I got was that it was once one whole quilt and was halved at some point for bunk beds. I made the baskets sitting on the shelf above the quilt.
I pretty much eye-balled the block off the quilt. The circle intersects the diagonal lines at the center of each corner square block.
ABOUT THE EMBROIDERY DESIGNS
The designs I used for quilting are from Feathered Quilt Blocks.
This is purchased artwork I fell in love with because while I am in love with feathered quilting, I can't free-motion quilt it myself. While it's a skill I'm sure I could learn, I'd rather digitize it (I am quite good at that!) and let my embroidery machine do all the work.
There are twelve unique blocks in this collection and they are sized for 130mm, 150mm, 200mm, and 240mm sewing fields. If you speak inches, that's 5″, 6″, 8″, and 9.5″ (approximately.) The largest size is not split for PR type machines but you can do that with your software.
Sorry, 4×4 people—not everything can be reduced to fit those hoops!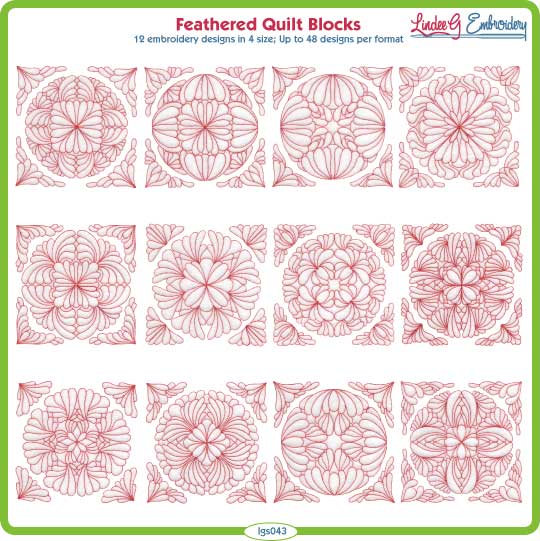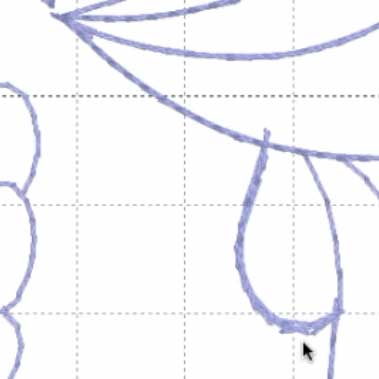 These designs are all single color and are composed of bean stitches (triple stitches) and double runs. Designs that come in multiple sizes may seem like "cheating" the design count in a collection but if you watch the videos, you'll see why you want them—especially when motif style stitches are used and a bean stitch is a motif.
The larger sizes of these designs have slightly longer stitch lengths than the smaller ones. The smaller ones need those shorter ones to maintain the smooth curves in the feathers. You don't have that kind of control over a stitch file when resizing.
So while there's nothing preventing you from resizing these designs, I can't control the quality of the result you get. No digitizer can. That rests in your software and how much you resize.
While there are jumps and trims between the separate elements, the 5 distinct areas in each design are continuous stitching with no jumps or trims.
Also, all the blocks have very similar proportions so you could use the same design for this project or different ones for each block. I used the same design for the inked runners and 5 different ones for the metallic thread (purple and gold) one.

DESIGNING STEP 1: ANALYZE THE ORIGINAL QUILT BLOCK
I mapped out the quilt block then did some fine tuning on my embroidery design to fit the layout better. The embroidery designs were previously digitized and weren't designed to fit this block.
However, all of the designs have the same general shape and proportions so I knew that what would work for one would work for all. I used design #31 for my inked versions and you can choose any other one you like.
Notice that these designs have a relatively round center and then four corner elements that are separated with jumps, trims, and tie-offs. Also the blocks are in multiple sizes.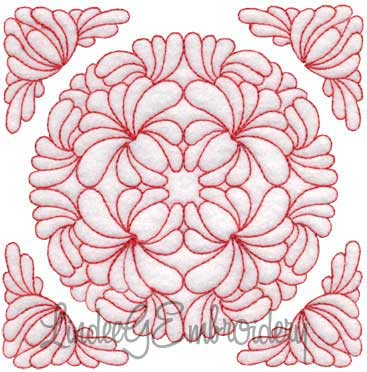 Both of these points are important because it means you can easily take apart the designs and combine them in different ways with no real stitch eating and possibly no resizing. (See Do Multiple Sizes Provide Extra Value? for more info.) You could, for example, take the middle out of one size and the corners out of another to create a new version.
OK, so then how do I piece the block? The curved seams make it a bad candidate for in the hoop piecing and even if you try to recreate them as foundation piecing, you can't do the entire one without assembling sub-blocks. And you still can't foundation piece a curve.
So then I was wondering what the possibility was of me piecing this block and getting it hooped so accurately that the design was perfectly placed and I rapidly came to the conclusion it was nil. For a good result, your blocks must be perfectly pieced and perfectly hooped with no distortions for a programmed embroidery design to line up perfectly—and that's next to impossible with fabric.
OK, then what? Well, I could applique but I didn't want satin stitches competing with the feather design. Nor did I want a raw edge fused applique.
What if I fake the piecing with paint or ink? OK, that could work but what about the seam lines? How would those get reproduced? Well that's going to require some digitizing. Before you freak out, let me show you what that digitizing looks like:
You've got a square that's quartered with horizontal and vertical lines and then those squares are sliced with diagonal lines and finally a circle is laid over the top. If you have Embrilliance Stitch Artist, you have a square and a circle in your library and straight lines are easy. The real decision is in what kind of stitches you'd like to use.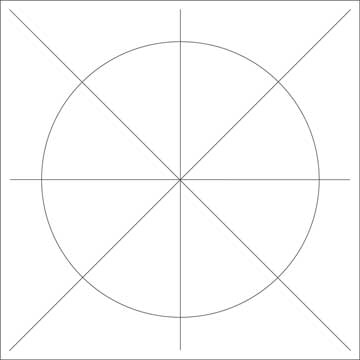 For example, you might want to match the weight of the rest of the design and use bean stitches for the internal lines and circle. The outer square is really just a basting stitch to add security and act as cutting guide later on. You might also use outer perimeter that as a travel path to get to other "piecing lines." (This turned out to be a bad idea…)
Or, do you want your new additions to be just a single run to emulate a stitch in the ditch technique? Since you're the one doing the digitizing, you can easily change your mind and adapt your design either way.
For my first pass at this project, I chose the former approach. Since I was working with the original file, it was easy for me to adjust any parameters and fine tune any resizing. Since you're working with a stitch file, you may need to do a few adaptations. (I did that for you with the provided designs.)
IMPORTANT NOTE!
When I'm working with my own designs, I may work either in the software where they were digitized or in Embrilliance, it depends on what I'm doing.
In Embrilliance, I'll be working with a stitch file version but that program can do magical things like automatically eliminating overlaps when combining designs.
Also, since all the parts of the design are grouped, it's easier to create complex compositions when combining designs and moving them around. My digitizing software can't group stitch objects so moving designs around in a composition is not easy.
However, I've been using my digitizing program for over twenty years and I typically only work with my own designs. When I'm working with the original source (object) file, I have a finer control over parts.
I knew all I'd really be doing was things you can do in either Essentials, Enthusiast, and/or StitchArtist—moving parts, resizing parts, and digitizing the "piecing lines."
What I didn't take into account is that many resizing programs don't accurately resize bean stitches. To see what happens and how to get around it, watch this video: How to Edit a Design in Essentials to Rearrange Pieces.
For that reason, the version of the piecing lines you can download for free is proportioned slightly differently than the one I drew to match the vintage quilt block. The good part is that it means you'll have less work to do when recreating a similar one!
MY AFFILIATE LINKS DISCLOSURE
Hi everyone. Just to let you know that some of the links on this site are affiliate links. What that means is that if you click one of them and buy something… I get a commission. It doesn't cost you anything extra and I only recommend things that I've tried and tested, so please, please, please… use my links.
Fine Print: Lindee G Embroidery is a participant in the Amazon Services LLC Associates Program, an affiliate advertising program designed to provide a means for sites to earn advertising fees by advertising and linking to amazon.com. Lindee G Embroidery is also an affiliate for Embroidery.com, Nancy's Notions, Embrilliance, and Craftsy. If you purchase something through one of those links I may receive a small commission, which helps to offset the cost of running this site. 🙂
DESIGNING STEP 2: TESTING YOUR DESIGN
Even after working out that the "piecing lines" would be stitched and I would fake the piecing with ink, I still wasn't sure how I was going to color it. Think about it—if we're not really piecing the block, we don't have to think about how, or if, any of those stitched shapes could be pieced or if they'd have to be appliqued.
We could color in anything, including the feathered loops of the embroidery. If you ever tole painted, feather shapes are just like "comma strokes" so you could get quite fancy.
Stitch out a sample block using your target fabrics and batting. I recommend hooping everything between the rings. You may or may not need any stabilizer. I found out much later (during the video!) that different cottons make a difference.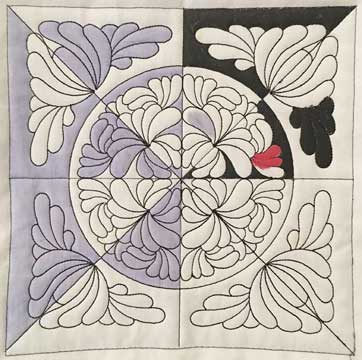 By that time I had run out of the heavier Kona cotton and switched to a lighter weight one I had in my stash. I also switched batting from polyester (which can melt) to cotton.
The same ink consistency that was perfect on the Kona cotton with the poly batting bled through the stitching lines on the lighter weight cotton and also bled through the batting to the back side of my quilt! It didn't bleed through on my original project. This is why you need to do a test and with the actual materials and supplies you plan to use.
Play around with different colors and color placements. You can use a hinged mirror to give you an idea of what the block might look like completed. This one is called a Magic Mirror and it's available on Amazon.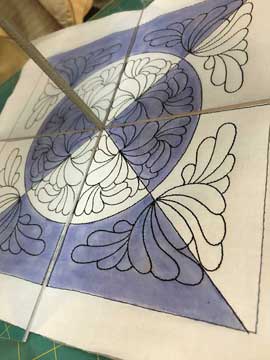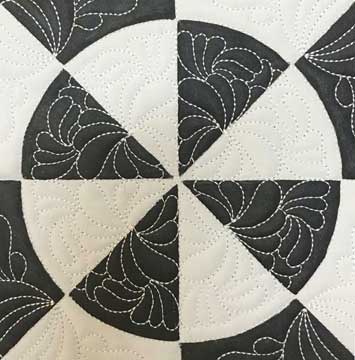 TEST, TEST, TEST!
On my first test sample I mainly wanted to figure out how I would color the block and I also learned the following things:
Coloring in the feathering obliterated the design
The paint was so opaque that it completely covered the thread, even if the paint was red and the stitching black
The first version had heavier stitching lines for the "piecing lines" and I decided I didn't like that
I thought the black stitching looked too harsh, especially with the purple ink
Several coloring experiments led me to stay simple and match the original quilt layout, if not its colors
On my second attempt I learned:
I really didn't like the feel of the paint.
That I needed to match my thread color for the piecing lines to whatever color I was painting or my corners and points would not appear to match
That in order to assemble the blocks using a piece-as-you-go technique, the piecing lines could not extend to the basting box which I was using as a cutting guide, coloring guide, and travel path to connect the piecing lines and avoid jumps and trims. This forced me to add jumps and trims between those lines. I make a game of trying to eliminate all unnecessary jumps and trims! However, eliminating the travel lines made it easier to remove the basting stitches later on.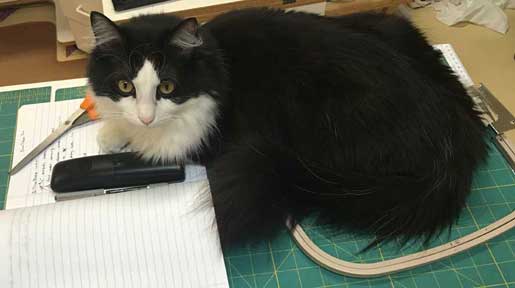 Other things I learned along the way:
Use Kona cotton! It's heavier and will support the stitches better and doesn't wick the ink as easily. On the thinner fabric, the color wicking didn't occur immediately, so let your project sit a while to see what happens. It could possibly have been increased by the use of the cotton batting, I'm not really sure.
Use cotton batting! It won't melt and the inks have to be heat set with an iron.
If you need to remove any smeared ink, do it before you use a hot hair dryer to speed the drying time.
Test everything even if you think you know what you're doing!
Make notes of your process, how you mixed any inks or paints, or important measurements.
As designers, we often have to go through several (or many) iterations before we figure everything out to write up the instructions or patterns or make the videos and samples that let you make it without all those issues. This blog post and the associated videos and projects represent well over a week's worth of work that you're getting for free!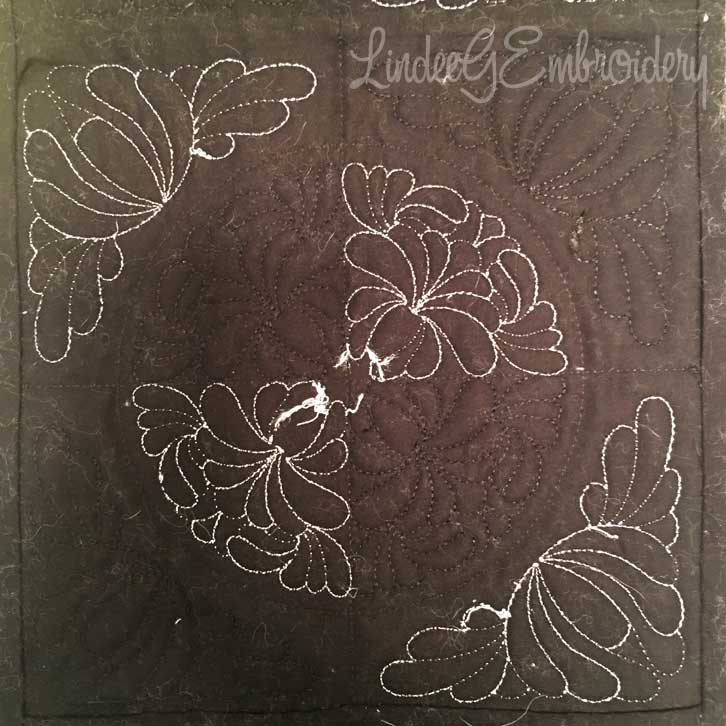 A FEW OTHER NOTES ABOUT EMBROIDERED QUILTING
If you've been embroidering for a while, you've probably noticed the back side can look rather ugly. The top thread is pulled to the back and you'll see it. Normal sewing or quilting balances the tensions of the upper and lower needle threads evenly so you might only see a pin prick of a different color. but with embroidery, you'll see top thread on the bottom.
Also, if your machine has automatic trimmers, the tails will be pulled to the back and trimmed leaving about a 1/2″ or so remaining. Don't trim these off! They are your security!
Yes, there are tie stitches but those can unravel if the tail is not there or too short. Quilters will pull thread tails inside the quilt but these thread tails will be too short to do that.
You can improve the appearance of the back by using a busy background fabric and by matching the bobbin thread to the top or the backing fabric. On the back of this black and white runner, I've use a black bobbin thread on black fabric.
The embroidery is virtually invisible where I've used black thread on the front but where I've used white, it's practically screaming in your face!
PREPARE YOUR FABRIC
If you plan on inking your project, you'll need to pre-wash your fabric to remove any sizing. Often I apply starch on quilt blocks so I can improve the fabric a notch without adding stabilizer. Starch could interfere with the ink (I don't know for sure) so if you starch, you may want to only apply it to the backing fabric.
If you need to add stabilizer, you could either use a wash-away behind your project or layer the stabilizer between the batting and backing fabric. I've used wash-away tearaway and no-show polymesh cutaway for this.
I will tell you that the stabilizer pros tell you not to use cutaway with woven fabrics because the cutaway can shrink but I haven't experienced this myself.
On the thin cotton I used, a lightweight fusible interfacing could have helped but that will run up the cost of your project and you might as well spring for the better weight fabric.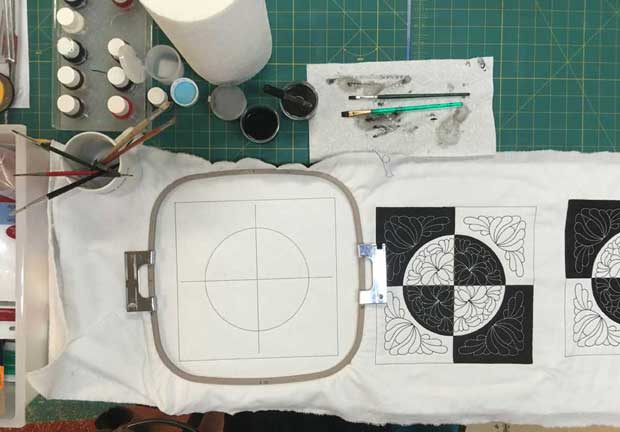 MAKE YOUR PROJECT!
Once you think you've got everything worked out, start your actual project. To conserve fabric and batting, I cut a length that could be hooped the full width of the fabric. Then I just started hooping from one end and worked across the fabric. You can either cut off each finished block as you go, or leave it attached to maximize fabric usage.
If you choose to leave it attached, be sure to leave enough space between the designs, I like at least a 3/4 – 1″ boundary around the outer basting box. Also, you might want to take care not to hoop over the inked or painted area to avoid damage.
PROCESS OVERVIEW
Before I provide more details, here's a bird's eye view of what we're going to do:
Edit the design
Stitch the first color
Remove hoop from machine and color
Return hoop to machine and finish embroidery
Trim blocks to a working size
Assemble with piece-as-you go
Make a label to add to the back
Bind the edges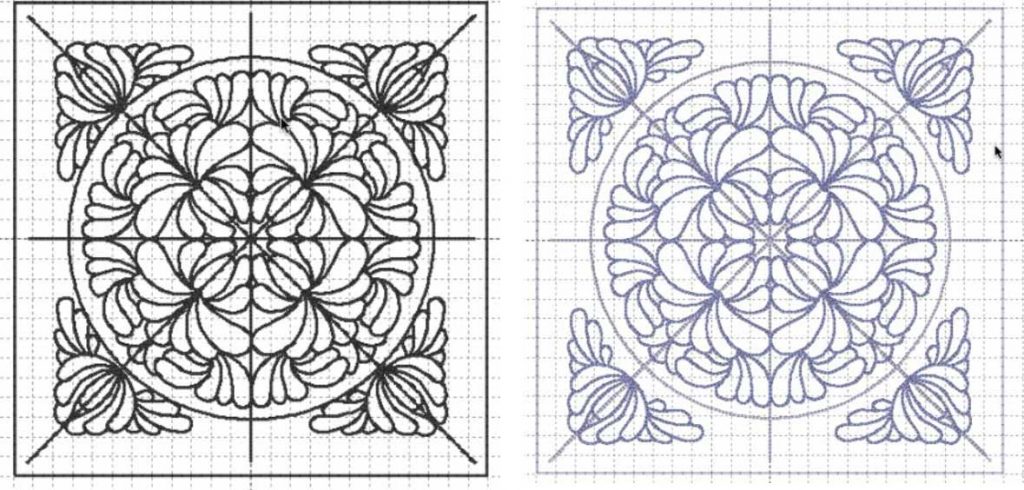 MAKING THE BLOCKS
EDIT THE DESIGN
While I've digitized all the pieces you need, I haven't edited any of the blocks for you. Part of this project is learning to do that. When you can edit designs, you'll open up a whole new world of design opportunities. Learning to edit is a more valuable skill for an embroiderer than digitizing and it's a lot easier. And, once you've learned to edit, learning to digitize is much easier.
To duplicate the faux pieced "cheater block" table runners, you'll first need to do a bit of customizing that involves opening one of the two piecing lines blocks, merging in a Feathered Quilt Block, and then moving the corner pieces out a bit. (Before and after below)
For the purple and white version, really all we're doing is some advanced customizing. Since the corners of the Feathered Quilt Blocks designs are all already separate elements, we don't have to worry about tie offs or other stitch editing. All we need to do is figure out how to isolate them and move them a bit.
That sounds trivial but since the design is one color and you're working with a stitch file, it may be a bit more than dragging a lasso around the area and moving it. It really depends on the software you have.
Watch this video to see how it can be done in a basic customizing program like Embrilliance Essentials: How to Edit a Design in Essentials to Rearrange Pieces.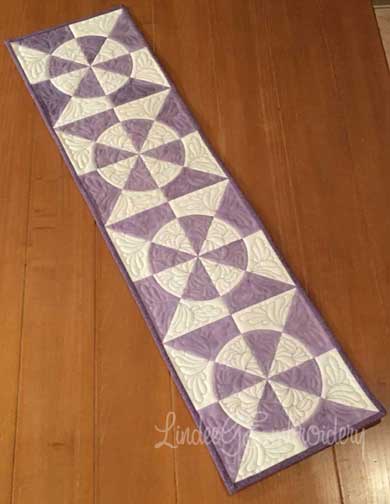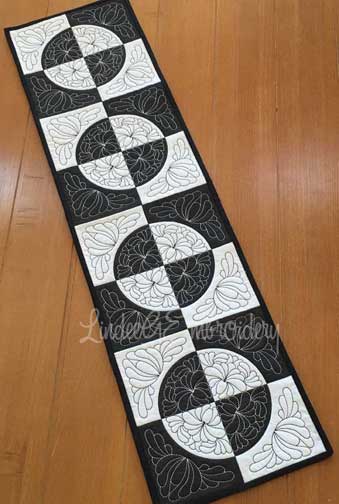 The black and white version is a little more involved since to add in colors, we'll also need to add tie stitches and that generally means have a stitch editor program. After modifying the design for the purple runner, you can take a few more steps to add in the colors. See how to do it here: >How to Edit a Design in Enthusiast to Add Colors & Tie Offs.
Yes, I'm using Embrilliance but once you see what I'm doing, you'll probably be able to figure it out in your software.
Save your new file for your machin
SEW THE FIRST COLOR
With your fabric, batting, and backing hooped between the rings of the hoop, stitch just the piecing lines part.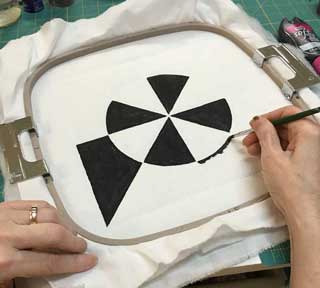 COLOR IT!
Remove the hoop from the machine and with the fabric still hooped, ink or paint in the desired areas. The piecing lines give you a coloring book outline for inking and create the illusion of a pieced block!
When I posted the two inked and embroidered versions on my Facebook page, viewers assumed the blocks were pieced in the normal manner.
The painted version used a fabric paint that claimed to be soft but I didn't find it to be so. Using ink requires a little more work because you will have to mix it yourself if you aren't using pens. Although the pens are easier to use, I find them better suited for smaller areas than larger ones like these.
For one thing, you'll likely run out of ink at a very inopportune time. Plus, to get the appearance of fabric, you don't want your coloring strokes to be visible. My purple version is not perfectly evenly colored; it's softly mottled and I like that. The black one is quite opaque and I inked it twice.
The brand of ink I like is Tsukineko and the bottled inks will last a very long time when used the I way I use them. I thicken them with clear aloe vera gel and thin a bit with some water until they are the consistency of thick paint.
Measure the gel with a measuring spoon and the ink and water with an eye dropper. Make way more than you think you'll need for your project because it can be quite difficult to match if you have to remix.
Also, it's helpful to keep a record of what colors you used and the amounts of gel and ink. If you'd rather use paint, a good one to try is DecoArt SoSoft paint. I couldn't find it locally so ordered it through Amazon.
TIP: Complete one area before moving to the next to avoid drying lines from showing through. Also feathering your color in from the edge the center is better than making solid edges.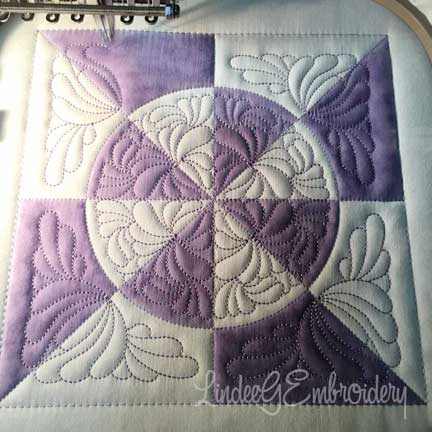 FINISH THE DESIGN
Let the color dry or help it along with a hair dryer. When the color is dry to the touch, return the hoop to the machine and finish stitching the design.
Whenever you do anything on a project that requires you to remove the hoop from the machine to complete a step, always take care not to disturb the hoop tension. Working on a flat surface is the best way to maintain fabric tension in the hoop.
CHECK THE FIRST BLOCK BEFORE SEWING MORE!
You may wish to keep embroidering across your fabric strip to conserve fabric but before you do, check your first block after unhooping. Is your basting box still square or close to square or does it curve in from the corners? If the outer basting box is still nice and square, you're good.
However, if those lines curve inward from the corners, then it means you're getting pull distortions during the sewing process and you'll need to resolve that either through better hooping, adding stabilizer, or possibly adjusting your thread tensions a little lighter.
It's also a good idea to check the back of the design and see if there are any problems or things that need to be corrected. If everything is good, keep on stitching!
ASSEMBLING THE BLOCKS
Do an initial trim on the block. I left 3/4″ beyond the basting box. This is a good generous amount and even though I'll need to trim some more off, having that extra bit makes some things easier.
Since I used the same design for all the blocks in this runner and my blocks all came out square, this also gave me a stack of 4 evenly sized and squared blocks. Repeat the squaring and trimming process for all your blocks.
The basting line is a reference for your cut block size BUT DON'T CUT THERE YET! First of all, if your basting line is not square (it curves inward) then you'll need to do a little fudging.
This isn't a big problem if you only have a slight bit of curving. If you have too much, you may not be able to accurately stitch your blocks together. You did check your stitching after the first block, right?
Secondly, you need to leave a 1/4″ extension along one back seam allowance for the piece-as-you-go method I used. Essentially what we're doing is a modified flat felled seam.
Remove the basting stitches from the first block. This is best done from the back. You can clip the bobbin thread in a couple of places and then just pull it out. Then you can easily pull of the needle thread in one piece. Be sure to release any embedded stitches at the beginning or end of the block.
TIP: If your your basting lines were not straight after stitching or your needle holes are too hard to see, use some sort of marking tool to draw in the cutting lines for the block.
Figure out how the blocks will be joined. We're only trimming the seams that will be attached to each other and you don't want to trim the wrong side! I laid my blocks out from left to right and I'll start by attaching the second block from the left to the first (left-most) block.
>The left-most block will have it's right edge trimmed to the block size (basting line).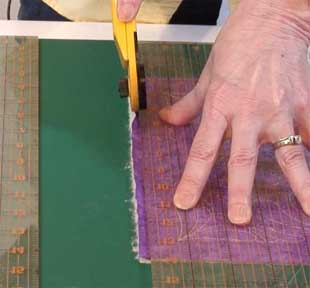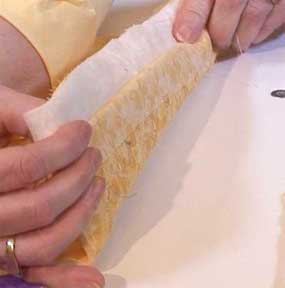 And the block on its right will have the left side edge trimmed in a staggered width so that it's back has a quarter inch seam extension.
Fold backing fabric out of the way[/caption] Using your acrylic ruler and rotary cutter, cut off the front and batting along the basting line. The stitched piecing lines are 1/4″ inside the basting box and if you pay attention, you won't accidentally slice into your backing fabric.
Now unfold the backing and trim it to 1/4″ beyond the the front and batting. In other words, your backing will have a 1/2″ seam allowance while the front and batting have the standard 1/4″ seam allowance. Press under a quarter inch fold on the seam extension.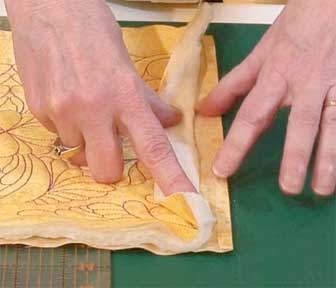 TIP: With these blocks, there is enough embroidery close to the seam line to secure the batting. You may wish to trim off a scan quarter inch of JUST THE BATTING on the edges you've just trimmed to minimize bulk in the seams. Don't trim any edges that will be finished with binding or you'll have a flat binding.
In the video, I'm demonstrating how to attach blocks that haven't had the piecing lines added so I've stitched the batting into the seams and then thinned it out afterwards.
Pre-trimming is quicker than trimming it out after stitching. With right sides together, stitch all layers EXCEPT the extended seam together using a quarter inch seam. Take care to match up the piecing lines!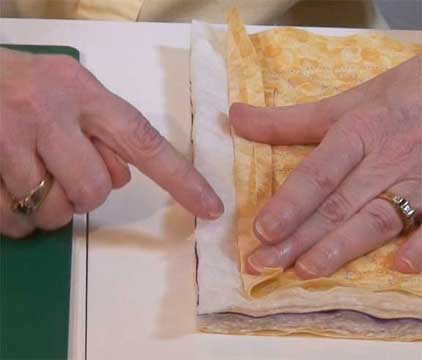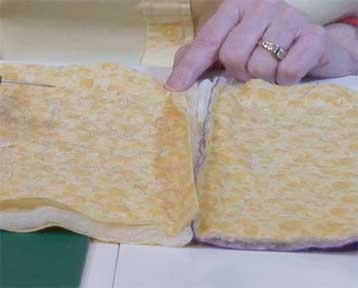 Thin out any batting if you've not pre-trimmed. Press the seams toward the side with the folded extension.
The folded extension is then pinned down over the exposed seam allowances and stitched in place. You can stitch by hand using a whip stitch or by machine using a stitch in the ditch from the front.
Tip: Use some fusible seam tape to secure the folded over extension until it can be stitched!
I prefer to work block by block rather than do all the trimming and then all the stitching. You only want to trim the seams that will be attached to another block, not the ends or the sides. Once you're really sure of what you're doing, you can take a more production oriented approach.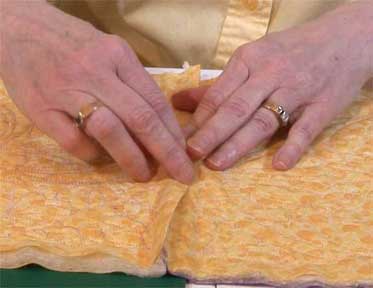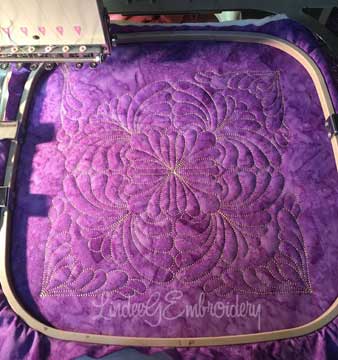 NOT MAKING A TABLE RUNNER?
If you want to go bigger with multiple rows of blocks, make the seam extensions go the other direction on alternate rows to reduce bulky intersections. You could also make a single block into a tote bag, pillow cover, or put it on point on the back of jacket or vest.
MAKE A LABEL
Whether you are giving the project as a gift or keeping it for yourself, you should sign and date your work like the artist you are. My favorite font for labels is Adine Script. I've used it for almost 20 years for embroidered labels and a few years ago I made it into a BX font so you too, can use it.
I'm still surprised at the number of people who insist they need these fonts as some sort of stitch file. I'd never make labels if I had to merge in each letter and manually line them up. That could take as long as the whole rest of the project!
OK, well maybe that's exaggerating but only a bit. BX fonts, while not a machine format, are designed as a keyboard font you can drag and drop into any Embrilliance or Embroidery Works program and then just type like you would in a word processor.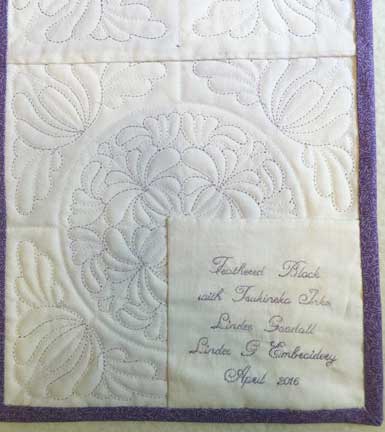 So much easier, quicker and more accurate! Also easier to edit if you just need to change the date or a name.
What's even more amazing than that is that the Embrilliance folks have done something truly (em)brilliant by giving away their stitch engine for free so anyone can use it, even us Mac people!
Now the free version doesn't do much else but you can make your labels and other lettering projects, save it out and then either send it to your machine as is or open it in another embroidery program and combine it with other designs. As far as I know, there's also no limit to the number of BX fonts you can install in it.
FINISH YOUR TABLE RUNNER
You can use the same Quilted Feather Blocks designs without the extra editing and inking and still assemble it in the same manner.
I stitched five different of the largest block versions in SoftLight Metallic thread (this photo just doesn't do the thread justice!) and alternated African Violet metallic on golden yellow fabric and Soft Gold metallic on purple fabric.
For this size block, these stitch up really fast, the assembly is quick, and you can easily whip up a new table runner for a dinner party or gift in short order!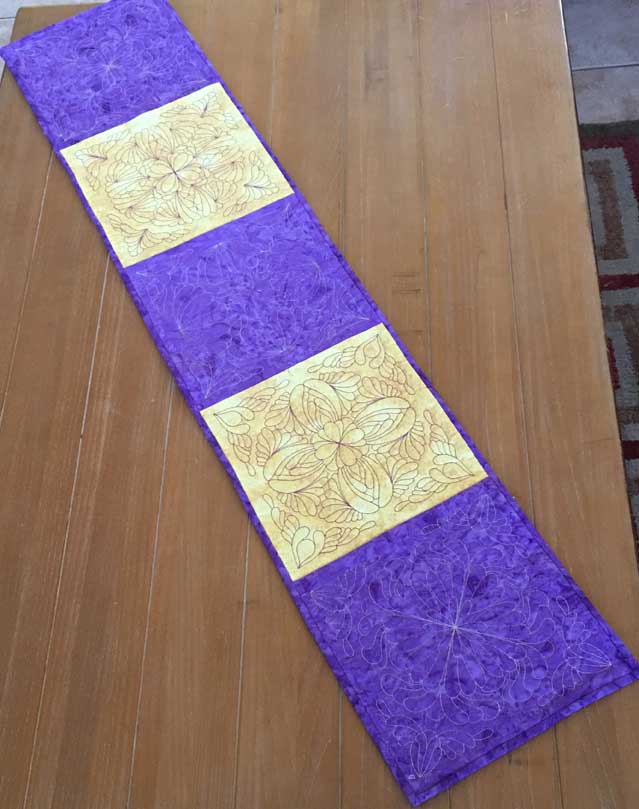 WHERE TO LEARN MORE
I love piece as you go projects because once your blocks are assembled your done except the binding. Other projects that use this technique include:
If you've never done a piece as you go project, this Craftsy class, Piece by Piece: Quilt-As-You-Go Techniques with Marti Michelloffers a wide variety of techniques. I wish I'd seen it before I did the It's a Girl quilt! Coloring and inking are also things I've written about previously. Here's another video on inking:
Adding lettering to projects is very in right now. While it's easy to combine a few separate letter files to make a monogram, doing a wedding poem on a hankie or making a quilt label is exceedingly (and unnecessarily!) tedious and you'll want a way you can use the hundreds of fonts now available as easy-to-use keyboard fonts in the BX format.
Yes it means you have to get a new program and figure it out (got 10 minutes?) but you can start out with the free version and go from there. Here are some links for more information.
You can also find more information on the FAQ page. Once again, here are the links to the YouTube videos with a step-by-step guide for all making these projects:
WHERE TO FIND THE STUFF
Here's a resource list for products mentioned in this blog post. Some are affiliate links but they are products I have and use—and love!
RELATED ARTICLES