In this video, we'll take a previously edited design and continue modifying it by adding color changes and tie off stitches and then resequencing it for optimized sewing.
This video is part of a 4 part series to learn how to edit designs to create a faux pieced quilt block with an embroidery design and ink and then piece it together into a table runner using a piece as you go technique.:
How to Edit a Design in Embrilliance to Add Colors (this video)
Related Products:
---
Try Embrilliance for Free!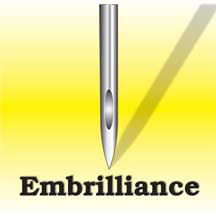 Embrilliance software works natively on both Macintosh and Windows and comes in a level for every embroidery user from novice to advanced embroiderer.
Related Products
---