Learn how to merge two designs and edit the second by adding color changes using Embrilliance Essentials and then moving those newly isolated objects to better fit the first design. The edited version is used to make a "faux pieced" quilt block – an embroidered quilt design that appears to be perfectly pieced via the use of ink.
In this video, Lindee steps you through the development of a "cheater quilt block" using machine embroidery and Tsukineko inks. Learn how you can get the appearance of a perfectly pieced and feather quilted block with a thoughtfully planned embroidery design.
This video is part of a 4 part series to learn how to edit designs to create a faux pieced quilt block with an embroidery design and ink and then piece it together into a table runner using a piece as you go technique.:
How to Edit a Design in Essentials to Rearrange Pieces (this video)
Related Products:
---
Try Embrilliance for Free!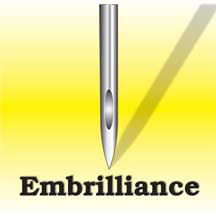 Embrilliance software works natively on both Macintosh and Windows and comes in a level for every embroidery user from novice to advanced embroiderer.
Related Products
---