I saw a little quick video on Facebook the other day where a candy wrapper was turned into a small zip bag and thought it would be fun to do with an in-the-hoop (ITH) project.
The original inspiration project used King Size candy bar wrappers, covered them with strips of clear packing tape, and then stitched the panels to create a lined zipper pouch. Definitely not a haute couture handbag but the fun factor made up for that.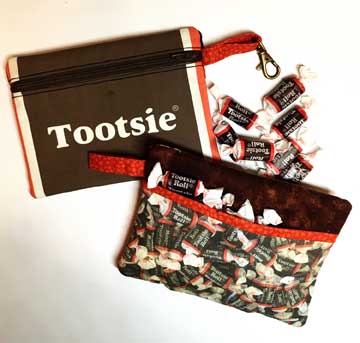 The biggest problem with duplicating this technique with an ITH project is size. When you sew a bag from scratch, you can easily size it to the candy wrapper.
ITH zips come in predetermined sizes and are not resizable by normal means because it will throw off the dimensions for the zipper and will distort any rounded corners. If you digitized the bag yourself, you can work around these issues by moving areas in or out but it's still a hassle. And besides, what if you don't digitize?
I came up with a better solution and to copy it, you'll need some graphics software to create your "candy wrapper" to print on printable fabric. I'm using Photoshop, so I'll briefly explain how I adapted the images for my Tootsie Roll bag.
You don't need Photoshop. There are free alternatives out there. I've just been using Photoshop since it was introduced with the Barneyscan and it's what I know how to use.
START WITH AN ITH BAG DESIGN
I used one of the 5×7″ designs from Sew Simple In-the-Hoop Zippered Bags.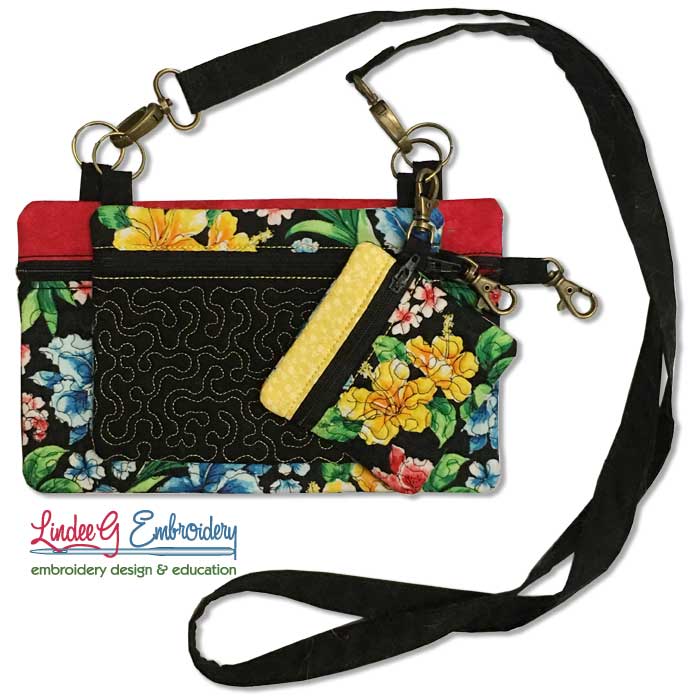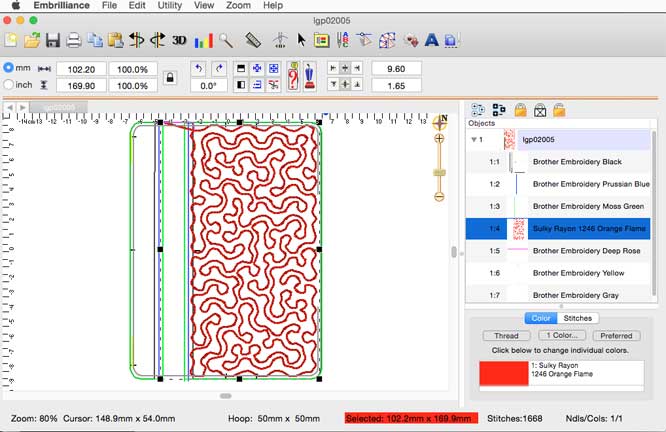 These bags are all completed in just one hooping and all have some quilting on the lower front panel. I edited this quilting out in software by selecting that color block and deleting it. You could also just skip that color change at the machine.
My preference is to prepare the design on my computer so I don't have to remember to do funky weird steps at the machine (because I usually forget…).
Note: The 10 variously sized bags in Zip ITH Vertical Bags are all unembellished, which makes it easier for you to customize as you desire without having to removing anything else before starting. I wanted a horizontally oriented bag for this project.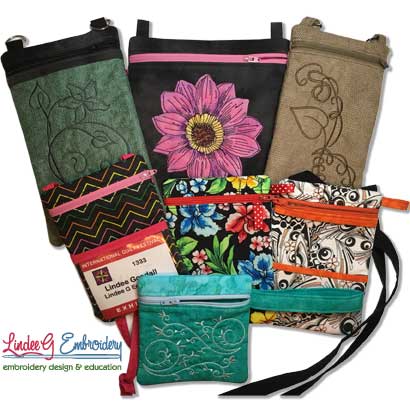 NOTES ABOUT ITH BAG CONSTRUCTION
There are several ways to construct an ITH single zipper bag and each one has its pros and cons.
I do prefer the method I used on Zip ITH Vertical Bags but that one does require a bit more fabric and more steps, which tends to confuse those who don't closely follow the instructions. That bag is completely finished once you finish turning it right side out.
This bag has a more streamlined construction but the downside is exposed stabilizer and embroidery (if you embroider the front panels) on the inside plus you have an opening that must be closed after turning right side out. Neither of those are deal breakers for me on this project.
I've also made some design choices that require a bit more work than just slapping pieces of fabric into the hoop to create the bag:
I've custom designed and printed my fabric.
I've made a small loop for a swivel hook (you could use ribbon or strapping).
I've pieced on the lining for the two front panels instead of using folded over fabrics.
I've made a back pocket with contrasting lining exposed along the top edge.
None of these steps are difficult and you can certainly construct the original bag with no extra out-of-hoop sewing.
In other words, just because a project is labeled "in-the-hoop" doesn't mean the entire project is completed with no outside the hoop preparation or finishing. And even if it can be done that way, there may be instances where you prefer a little of your own customizing, as I'm doing here.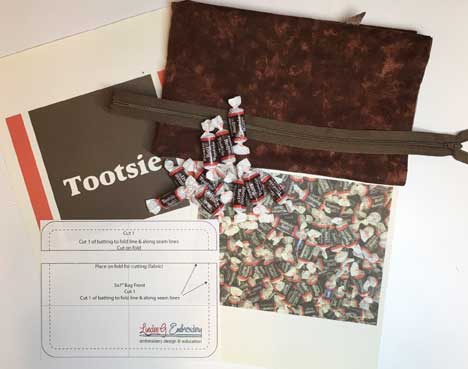 FIND SOME IMAGES FOR YOUR FABRIC
Fire up Google and do an image search for your product of choice.
I chose "Tootsie Rolls" and found two great images that were perfect. One looked like the wrapper on a larger single Tootsie Roll and the second was mass of Tootsie Roll Midgees.
Disclaimer: I made this project for personal use. Although I sell the ITH bag embroidery design, I do not sell or provide the candy fabric, nor do I sell finished versions of this project.
Using actual candy wrappers is also possible if you find some that fit your bag. Instead of fusing clear packing tape, I would use a fusible vinyl product available in the interfacing section of your favorite fabric store.
Another option would be to photograph a wrapper, scattering of candy, or an arrangement of beautiful handmade candies. Or, maybe you prefer buttons or other items. No reason it has to be something none of us should be eating anyway!
ADJUST THE IMAGE SIZES
OK, this is this tricky part if you aren't graphics savvy.
To size my images, I opened the PDF template for the front of the bag in Photoshop (be sure it opens at actual size).
Next I placed my large Tootsie Roll logo image and sized it proportionately to fit the lower front panel. I want to make sure the outer red-orange stripes are within the stitching lines indicated on the pattern layer.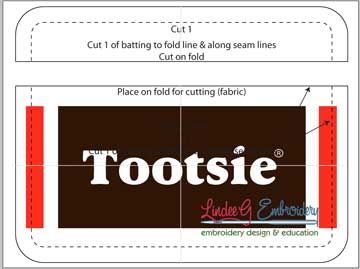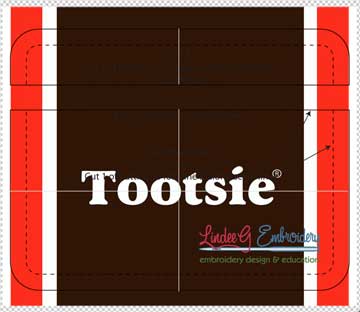 You'll notice there's a lot of free space around the image so I used the marquis tool to select some background and extend it. On the sides, I only extended the red-orange stripes out to the cutting line.
On the top and bottom, I extended the image beyond the cutting lines by another quarter inch for a little extra fudge factor.
I didn't do that on my first sample and since I added fleece between the fabric layers on the front, my seam allowances on the bottom were on the skimpy side.
I'll use the other image I chose for the back panel or maybe a pocket on the back. Open this image and do any necessary resizing or cropping. (I resized by adjusting the resolution.)
PRINT THE IMAGES ON FABRIC
Printable fabric sheets are widely available or find them on Amazon. Follow your product's instructions for printing.
Important! Be sure to print only the image and not the template!
Tip: When trimming your pieces, use a rotary cutter and align with the image, not just the edge of the fabric! My images didn't print perfectly straight and it would make a difference on the front panel of this project.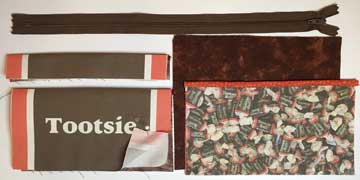 MAKE THE BAG!
I like to cut all my pieces neatly and have them ordered for placement before stitching.
For my first sample, I use fleece in place of batting. It gave me more loft than I really wanted so on my second sample, I simply interfaced all the outer fabric pieces with a fusible interfacing. I prefer the added structure the interfacing provides for my finished project.
Full instructions are included with the Sew Simple In-the-Hoop Zippered Bags set so I'll skip all that part here.
Here, you can see my zipper is in and I'm ready to add the back pocket and linings for the last bit of stitching. These stitch up really fast! Do take your time on the first one so that you have a successful result.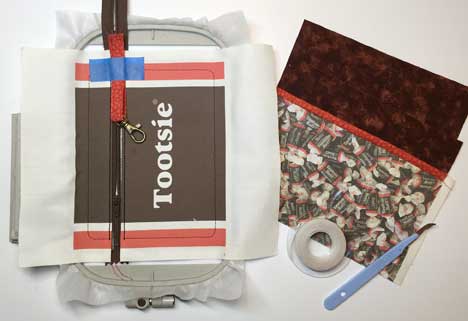 The bags in this set are quick and easy to make. They have no exposed seams on the inside.
Because of the simplified construction technique, you will see stabilizer and any embroidery on the inside of the bag. And of course you'll need to finish the turn opening; I do that with a short strip of fusible web.
If you prefer something a little more professionally finished with no turn opening to close and no exposed embroidery or stabilizer, then check out Zip ITH Vertical Bags.
You will need to pay closer attention to when and where your fabrics are placed so that when you turn it right side out, you don't have any unhappy surprises!
OTHER IDEAS
Using printable fabric opens up your projects to all sorts of customizing! Print photos you've taken or collages you've made in software!
Printable fabric sheets are available in different fibers and different weaves. Be sure to get one that's color fast.
WHERE TO GET DESIGNS
RELATED ARTICLES