As I write this blog post, it's the day after Christmas, and for many of us, this is the season of giving no matter what holidays we celebrate. Yesterday I spent a quiet day at home knitting and thinking.
A normal Christmas holiday for us is busy and chaotic visiting with family and I often have small knitting or crochet projects to keep me calm with all the noise and commotion.
Two Christmases ago, I knit 2 pairs of fingerless gloves, two cowls, a pair of leg warmers, and a cabled slip case for my iPad during the Christmas visits. I would not have survived that week without my yarn and needles!
This year was a quiet one at home. I also opted for a "no computer" day and other than my iPad to watch some Crafty classes, it was a nearly no-tech day.
Over the years I've heard many stories from my sewing friends on how they give back to others. Some of you donate your time and skills to Quilt for a Cause, make gowns for babies who became angels too soon, sew fleece caps for cancer patients, dresses for little girls in Africa, and many more.
I've received notes from many people who stitch up my smaller angels and never leave home without a baggie full of them just to hand out to someone who needs a little extra hope.
Indeed, these angels have been given away to homeless people on street corners, waitresses and nurses having a bad day, hospital patients undergoing surgery, radiation, and other treatments, slipped into get well cards, and even given to a little girl on an African safari trip having a bad day.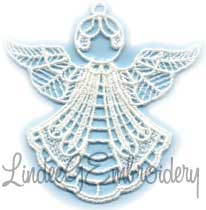 BEYOND THIS WEBSITE
When I talk about giving back, I'm not talking about what I give to this community with blog posts, YouTube videos, free designs, and more.
While I could charge for some of those services, I don't. I consider that part of today's business model. That said, I do have to earn a living—this is my full time income and you can support it by buying from this website.
If you're part of this community, you have the resources to own a computer, have access to an internet connection, and own a high end sewing embroidery machine. We are a wealthy community comparatively speaking.
What do you do to give to the larger, global community? Even if it's just a smile and a kind gesture, those seemingly small things can make a difference!
ONE OF MY VOLUNTEER PROJECTS
You might think that because I sew and embroider, these would be some of my top choices but I really needed one that was less tied to what I do on a daily basis. I needed something that would be a break from that; something that would feed my soul not only in the giving but in the making.
Just before Thanksgiving while browsing the local farmers market, I found out that Tucson has a knitters guild and they have a mission of knitting mittens for kids on the Indian reservations here. They mentioned it was hard to get some of their members to knit mittens because the thumb presents a challenge.
I learned to knit when I was maybe 6 years old and have always enjoyed it. I like that it's portable, can be done pretty much anywhere and anytime. I also find it relaxing and even meditative—both of which I need more of in my otherwise hectic life. Why should I reserve it for travel projects when I need that same calming on a more regular basis?
Knitting can get expensive depending on your project and the yarns but it doesn't have to be. Besides, it's still way less expensive than an embroidery machine and all the supplies you need for that hobby.
I had never knit mittens but I had done fingerless gloves. Knitting just a thumb had to be easier than doing a thumb and four fingers. I realized that mittens would be a perfect fit for me: small enough to complete in a reasonable amount of time and intricate enough to keep me interested while not being overly complicated.
YARN CHOICES
For my mittens, I chose an acrylic blend yarn for easy care and a worsted weight for fast knitting. I loaded up on those jumbo 1 pound bundles in 4 different colors.
This yarn doesn't have a wide range of colors and I chose three primaries plus green. You can also see 2 skeins of off white in my basket but I'll probably avoid them for this project.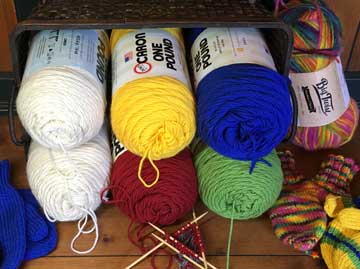 THE MITTEN PATTERN
For my mittens, I chose an acrylic blend yarn for easy care and a worsted weight for fast knitting. I loaded up on those jumbo 1 pound bundles in 4 different colors.
This yarn doesn't have a wide range of colors and I chose three primaries plus green. You can also see 2 skeins of off white in my basket but I'll probably avoid them for this project.
FINDING A CAUSE
My quilting guild has a number of causes they support but each of them felt "too big" to me. Actually, if I compare the time spent on knitting mittens to the time for some of their projects, it's probably not much different.
It's just that those projects feel like "work" to me but knitting doesn't. Knitting just feeds a need in me and as long as I don't put ridiculous requirements or goals on it, it doesn't feel like work.
Donating your skills to a worthy cause is a great way to feed your spirit. However, choosing the wrong one will feel more like a chore. It's best to find one that you can enjoy.
One of my dog-walking buddies is a neighbor who enjoys volunteering to help babies at Casa de los Ninos. Personally, I wouldn't have the patience for that but she loves it. (Puppies and kittens are a different story!) And while I like spending a day making the tote bags with SOFIA, more than that would feel like work to me.
I have other friends who donate their talents by styling hair. Since I spend the least amount of time possible on my own, that wouldn't be a good fit for me either. The point is, there are all sorts of organizations and activities that offer volunteer opportunities.
Look around and you'll find one that fits you.
THE MITTEN PATTERN
For my mittens, I chose an acrylic blend yarn for easy care and a worsted weight for fast knitting. I loaded up on those jumbo 1 pound bundles in 4 different colors.
This yarn doesn't have a wide range of colors and I chose three primaries plus green. You can also see 2 skeins of off white in my basket but I'll probably avoid them for this project.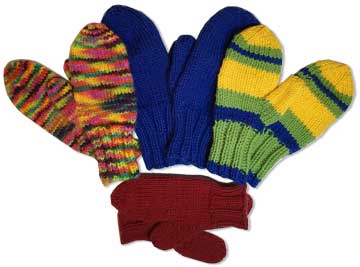 A FEW TIPS FOR VOLUNTEERING
1. DEFINE YOUR LIMITS AND ABILITIES.
What are you willing to commit in time, money, and expertise?
Is there some cause that is closer to your heart than others?
Do you have some special skill or talent that would help others while also feeding your soul?
Do you prefer working with a group or by yourself?
Do you like a schedule that you can plan around or would you like something that is more flexible and can be done when you have a few moments here and there?
Knitting mittens is very flexible. I don't have to go anywhere to do it but I can do it anywhere. It doesn't require me to commit to some magic production number or any fixed time schedule.
Mittens don't have a shelf life so even though they're only used in the winter, I can still make them year round. They don't require a huge investment in supplies or equipment. I don't have to have any special certifications to do it. I can do it alone or with a group. Plus, I like to think I'm knitting love into those stitches!
2. DON'T SAY YES JUST BECAUSE SOMEONE ASKS YOU AND YOU KNOW YOU COULD DO IT.
Just because someone asks you do take on some task, doesn't mean you have to do it or even that you're the only person who can do it. They're looking for help, possibly any help they can get.
A graceful way out might be, "If I said yes, I'd want to do a really good job but right now I'm just over-committed." Or, you might be able to suggest someone who could do it, "Anne might be a better a fit for that project."
If those are too hard for you, simply say, "Let me get back to you." That will buy you some time to say no, not just to avoid the request altogether.
3. AVOID OVER-COMMITTING.
If you're not good at saying no, you can easily become over-committed. I have not set any goals on my mitten knitting; I haven't committed to knitting one pair a week or even one a month. In fact, I haven't even made any commitments to the group to knit anything at all. I simply heard about it and for me, it made a good excuse to do something other than work.
Actually that's not quite true. For my business, I need to make time to think creatively. Knitting actually allows me to have that time. I keep a notepad with me to jot down ideas.
Setting goals to knit a certain number within a given time frame would turn this into work and I want to keep it as something that is strictly pleasurable—more like a reward for and a retreat from all the other work I do.
4. DEFINE WHAT YOU WANT FROM VOLUNTEERING.
I didn't consciously do this when I decided to knit mittens. They weren't asking and I didn't volunteer. It was that still, small inner voice that said, "You need this!" Listen to that voice!
However, when I found out about a volunteer position at our church to work one Sunday a month in our bookstore, I knew that would give me a chance to preview hundreds of metaphysical books in which I have an interest. Plus I'd get a discount! Talk about an expensive volunteer job! I rarely leave without at least one book.
Another opportunity for volunteer work that I have so far avoided is a pet shelter. One of my gifted friends offers an animal communication course if you volunteer at a local shelter. I have such a soft spot for animals I don't even go to Pets Mart on the weekends for fear of getting adopted by yet another furry critter.
So what do you want from volunteering? To learn more about something that interests you? To have more quiet and reflective time? To meet new and interesting people? To get out of your house and do something different? To get more experience doing something you love?
For example, maybe you enjoy playing the piano and would like an "excuse" to do it more often. Is there an assisted living facility where you could play for the residents?
Or, maybe you're interested in energy work such as Reiki and would like to share your abilities while you hone them. There are Reiki circles plus some hospitals have programs that allow practitioners to work with agreeable patients.
The wrong reason for wanting to volunteer is just to get recognition and "atta-boys." We all want to be appreciated but volunteering just for that won't feed your soul and you'll soon find it drudgery.
5. HOW DOES IT "FEEL" TO YOU?
The volunteer projects provided by my quilt guild just felt "heavy" and more like an obligation even though they are things I'm quite skilled at and even like to do.
On the other hand, the mitten project felt "light" and "fun."
My bookstore position I knew would be a trade off—the idea of all those books sounds wonderful but I knew that handling the people aspects would be wearing and I'd feel tired afterwards. When the balance becomes intolerable, I'll need make a choice.
Think about your volunteer opportunities. Do any feel like they are dragging you? Or do they make you look forward to doing them?
WHERE TO FIND A PLACE TO VOLUNTEER
Once you've defined what what you're willing and able to do and what you want to get in return, ask around and find out what your friends are doing and if they have other friends who volunteer. If you're in any guild, they always have opportunities and of course churches and schools always have volunteer positions.
Once you find a place, maybe see if you can "shadow" for a day or two and see if it's what you expect.
When you find something that you get just as much from as you give, you've found your place!
If you find yourself no longer enjoying your volunteer work, maybe it's time for a switch. This time you'll have more experience and likely more connections to other opportunities.
And remember, it's always easy to volunteer a simple smile, hold a door, or say some kind words to a stranger! Start right now!
RELATED ARTICLES