Learn how to combine characters from different style sets to create decorative text in Embrilliance (or EmbroideryWorks). Features the Samantha font, which is available in 4 sizes and 5 styles each. Zelda Script is another font that has alternate character sets available.
Related Articles:
Related Products:
---
Try Embrilliance for Free!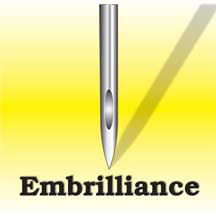 Embrilliance software works natively on both Macintosh and Windows and comes in a level for every embroidery user from novice to advanced embroiderer.
Related Products
---
How to Become a Better Embroiderer Faster!
As you've probably figured out by now, machine embroidery is more than throwing something in a hoop, attaching it to your machine, and pushing a few buttons!
You'll learn more about embroidery if you sew a wide range of designs, on a wide range of fabrics while watching your machine stitch.
Taking lots of classes, reading lots of articles, attending a variety of events to talk with other embroiderers and educators helps too.