How Your Ingredients Affect Your Results
Do you know everything there is to know about embroidery? I don't and I've been doing this just shy of a quarter-century!
One of the things that have kept me doing machine embroidery all these years is that there's always some new thing to do. Since I've been in this industry, I've seen an explosion in products, designs, and techniques. Today's embroiderers and digitizers are far more creative than those prior to the mid-nineties.
At the same time, an explosion in the availability of information via blogs, videos, and online groups can make learning appropriate skills and technique overwhelming. Unfortunately, the beneficial information is accompanied by an abundance of misinformation.
For newbies, this can quickly get them started on the wrong path.
STAY CURIOUS, MY FRIEND!
When I'm interested in a topic, I'm guilty of turning it into a "science project." By that, I mean that I'll form a hypothesis about something and then I'll experiment to see how it works and what I can do to optimize the result. I also do a lot of research to find even better ways.
The internet in 1994 wasn't anything like what we have now nor did sewing machine dealers have any machine embroidery experience beyond decorative stitching and free-motion work.
When I first started, I had a teeny tiny low-power machine that stitched very slowly and had a hoop that held fabrics very securely. Techniques that worked perfectly with those conditions didn't work nearly as well when I acquired a 9-needle commercial machine a year later.
By that time, I'd also found embroidery industry trade magazines and conferences and I started attending as many classes with embroidery professionals to learn as much as possible. I have piles of those composition notebooks crammed with notes.
As I learned new and better techniques, I replaced the old ones that worked fine on a small machine with techniques that could work on any machine.
Over time, I formulated what I called "the embroidery recipe" to understand the "ingredients" that are fundamental to most any type of design you'd stitch. And, to have some guideline for measuring the quality of the stitched results, I adapted a "quality formula" I learned from one of my early teachers.
I've used these "formulas" for teaching for close to two decades and now I've expanded those classes into a 366-page ebook called "The Embroidery Recipe." You can get the benefit of my near quarter-century of learning and experimenting without having to wait for a class or travel to an event.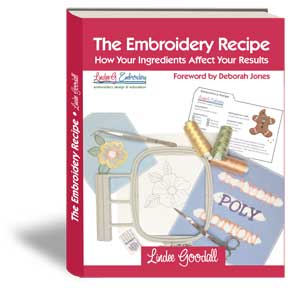 THIS BOOK IS FOR ALL EMBROIDERERS
The Embroidery Recipe is the book I wish came with my embroidery machine. Your machine comes with a manual on how to use the machine and possibly a few pages about machine embroidery. However, that's far too little to help you get the best results.
The focus of The Embroidery Recipe is machine embroidery; it doesn't matter whether you have a small, very basic machine or a multi-head, multi-needle machine. After reading this book, you'll become a better embroiderer because:
You'll understand why there's no such thing as a "one-size-fits-all" design.
You'll learn how to look at an image of a design and discern various characteristics that may not be compatible with your target fabric and will help you decide what type of stabilizers you may need.
You'll understand the importance of using the right needle plus how to choose one based on other ingredient choices, primarily thread and fabric choices.
You'll know how, when, where, and why to perform basic machine maintenance, with a particular emphasis on needle and bobbin tensions.
You'll find out about specialty products that can make your embroidery time more efficient, your stitch-outs higher quality, and your designs more interesting.
You'll learn about the importance of the correct bobbin and bobbin thread.
An important aspect of embroidery is that it's not just a surface embellishment. Understanding how thread displaces fabric can help you understand why some fabrics pucker more than others.
Proper hooping and stabilizing is vital and skimping on this step is the fastest way to a bad result. You'll learn how to choose the appropriate hooping method plus how to select the right combination of stabilizers for your fabric and design choices.
Quick reference charts abound throughout the book to help you quickly narrow down appropriate choices and track down troubles and their solutions.
WHAT READERS ARE SAYING ABOUT THE EMBROIDERY RECIPE
"Thank you for an awesome book, "The Embroidery Recipe". It should be required reading for anyone just starting out and those of us who are not professionals or claimed experts. I've only been embroidering 15 years and I'm not either one. There wouldn't be as many posts on FB asking for help if they read your book, they would be posting pictures of their wonderful stitch-outs!" "Your book is definitely worth price and I like your casual, comfortable writing style." "I was engaged from the very beginning. I felt like you were right there talking to me."
WHAT'S NOT COVERED
The focus of The Embroidery Recipe is on the embroidery process. In my previous book, The Anatomy of a Design: How to Think Like a Digitizer and Become a Better Embroiderer, the focus is on the design and is geared to embroiderers who have experience and are ready to understand more about how the design affects the recipe.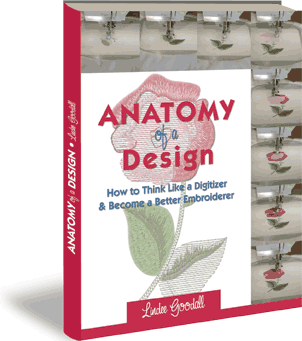 ARE YOU A DIGITIZER?
Even if you classify yourself as a digitizer rather than an embroiderer, you still need to understand the embroidery recipe and quality formula so that you can create quality designs.
If you're a new digitizer, my previous book, The Anatomy of a Design: How to Think Like a Digitizer and Become a Better Embroiderer, can jump-start your learning. Like my new book, this one is designed to fill in the gaps created by the software manuals.
A BIT MORE ABOUT THE EMBROIDERY RECIPE
The Embroidery Recipe is a PDF ebook that you can load onto any digital device that accepts PDFs. Because it's formatted for standard 8.5 x 11″ paper, you can print it on your standard printer. It's full color and includes over 350 images.
Rather have it printed by an outside source? There's a "permission statement" on page i to allow printing of a personal copy.
Printing Note: In Acrobat, choose "shrink to printable area" to avoid cutting off the page numbers.
The download also includes a PDF form for tracking your own projects plus a set of 20 designs for experimenting with different threads, fabrics, and embroidery techniques.
WHY NOT A PRINTED & BOUND VERSION?
Getting a book of this size printed and bound as a softcover book is expensive. I'm still researching options for that but so far haven't found one that works with my budget.
I prefer ebooks for many reasons. First, I can load a library's worth on my iPad or Kindle and always have it with me. Ebooks also make content more accessible through active links and search tools. Yes, they do take getting used to and there are benefits to having a "real" hold-in-your-hands physical book.
WHY NOT A KINDLE BOOK?
This book is graphics-intensive and has sidebar comments and illustrations that wouldn't flow well in the Kindle format.
Also, I've recently learned that although you have to pay for the ebook to download it, I may not get paid until you read it. I think that's more than a little unfair!
WANNA PEEK INSIDE EITHER BOOK?
If you want to get an idea of what's covered in either of these books, you can download a free preview. Each preview includes the full table of contents so you can see all the covered topics plus a sampling of the actual book to give you an idea of my style.
OR ARE YOU A GO-GETTER?
Are you ready to become a better embroiderer? Are you just starting out? Get your copy now!
ABOUT UPDATES TO THE BOOK
There have already been several updates to The Embroidery Recipe. None of these are significant content-wise. Grammarly thought I needed more commas and objected to words that were repeated. Although the links for Echidna were correct, the body text was not.
A few spelling errors (mostly words that I typed as two words that Grammarly thought should be one) were corrected.
A duplicated footer in the table of contents section was deleted. A "permission statement" to allow a copy to be printed for personal use was added on page i for those who wanted their PDF printed by an outside printer.
I didn't track any of those changes in a separate document, so no, there's no change list. Who needs to know all the commas that were added before "but" or "or"?
I will be compiling a page called Book Extras on my website for various updates and that's linked in the page on "About Links."
Currently, the page is created but blank and I will be adding content over time. I'm still recovering from doing nothing but writing the book for the past 5 months and I have a big long to-do list to catch up on.
WHERE TO GET THE UPDATED VERSION
If you're on my newsletter list, you've been notified to log in and redownload the book. If you bought the book during my webinar with The Virtual Sewing Guild as part of one of those packages, you bought the book from that website and you'll need to go there to redownload.
Shopping cart systems track all that information so that digital purchases can be re-downloaded if there are updates or you lose your files. If you didn't buy it from my site, there will be no record of the purchase. I don't have access to other shop sites to know who bought what where.
Some sites only permit a few downloads or limit the time period for downloading. Assuming no system crashes (or idiot developers who fail to understand the importance of maintaining product download links), our system is set up with no limits, assuming there is no obvious abuse of the process.
WHERE TO DOWNLOAD THE BOOKS
RELATED ARTICLES