I'm ecstatic about the feedback I've gotten on my ebook, Anatomy of a Design: How to Think Like a Digitizer & Become a Better Embroiderer. I've gotten a few questions concerning the book so maybe this page will help you.
If your question isn't answered here, let me know and I'll update this FAQ.
Do I need software to use the book?
To view, read, or print the book you need to have Acrobat Reader or some other program that will allow you to open pdf files. To view the embedded videos, you will need to download and install Apple QuickTime for your computer.
This software is standard on Macintosh and a Windows version can be downloaded from Apple's website. You do not need to upgrade to the Pro version; the free version is sufficient.
Note: Windows 10 no longer supports Apple Quicktime, nor do mobile devices. These little embedded videos are short and are screencasts of virtual sewouts.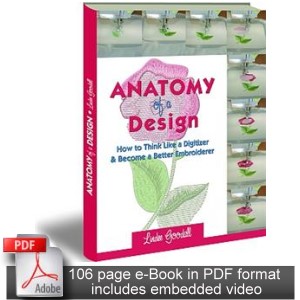 I installed QuickTime but the videos still won't play.
There may come a time when QuickTime isn't supported on your device. For example, the videos won't play on a mobile device. There may be a future Windows upgrade that doesn't support QuickTime.
The short videos are not vital to the book's content. They are generally quite short and consist only of "virtual sewout" video captures.
Do I need digitizing software?
No, but editing or digitizing software is a great tool for inspecting designs at the level discussed in the book.
What kind of machine do I need?
The designs available for download via the link in the ebook are in most common home formats (except art) as well as exp and dst for commercial machines. All designs will fit within a 5×7 sewing field.
Why do I have to download the designs separately from the ebook?
To reduce download time and file size the designs have been separated from the ebook. To get the designs, simply follow the link, register with your first name and email and you'll get a link to the designs. You'll then be able to download any formats you need.
Why do I have to register?
By registering, I'll be able to notify you if there have been any corrections or updates to either the designs or the ebook. You can always unsubscribe but then you won't know, will you? When you do register, you will get a series of short emails that are designed to keep you on target with the ebook. These emails don't go on forever and if they annoy you, unsubscribe or delete them.
Does this ebook only work on a Mac?
No, PDFs are readable on several OSs and QuickTime runs on multiple platforms as well.
I can't open the ebook!
The ebook has no mechanism in place for preventing opening. If you can't open it, make sure you can read other pdf files. If you can't, then make sure you have Acrobat installed. Acrobat comes on most computers these days.
Other programs are also available for reading PDF files.
If Acrobat has been deleted from yours, download and install a fresh copy from Adobe (google Acrobat Reader).
What do you mean by "live links?"
There are "hot links" in primarily in the table of contents and in the glossary that link to areas within the ebook. For example, any of the the table of contents entries when clicked will take you right to that section of the book. Glossary terms that are cross-referenced will also jump you to the related term.
Of course, these only work in Acrobat. If you print the book, it will act just like a physical book and you'll have to find the related information the old-fashioned way. There are also links to websites mentioned in the book. These tend to be to just a handful of sites and not visiting them does not detract from the content in the book.
Do I need an internet connection to use the ebook? I can't use the book because I don't have internet at home.
You do not need an active internet connection to read or print the book. (Some protected ebooks require an active connection to do this.) Yes, there are links in the book just as there are in many physical books these days. If you are viewing the ebook on your computer and you have a connection to the internet, you can click the links to go directly to that page.
If you are working from the printed version, you can type in the links. All links are optional and none are required to use the book effectively.
Why do you link to articles instead of including them in the ebook?
There are two links to articles on my web site within the ebook. These articles provide additional information but are somewhat off-topic from the flow of the book. Since the book was published, I've added more articles to my site that are pertinent to readers of the book.
By linking to these two articles instead of including them, I can keep the flow of the book moving smoothly and allow you the chance to see other relevant information.
Another reason is that I need to keep in mind that most people will be printing this ebook; it's already slightly over 100 pages. Since the articles are older than the ebook, it is possible that some readers have already seen them on-line.
I just got started with machine embroidery. Should I get this book right away?
I recommend you wait until you've been embroidering a bit. You'll have your hands full learning about your machine and basic skills like hooping, stabilizing, needle and thread selection and the like. Once you've mastered the basics and are ready for the next level, then you're ready to get the book.
I don't use any embroidery software, should I still get the book?
I need to ask you a few questions first. Do you intend to use software or are you looking for a reason to get software? If the answer is no, think twice about buying the book.
While it may help you understand and troubleshoot designs that you watch sew, looking at the design in software will tell you a lot more—even if you never change a stitch in it.
This book is for serious embroiderers who want to raise their awareness of the entire embroidery process in order to raise their quality. If you are an occasional embroiderer and you only use a computer for embroidery to get designs to the machine, then this ebook is overkill.
So who is the book for?
If you machine embroider whether as a hobby or as a business and you are interested in knowing how to optimize your time and your results, then you are the right person for this ebook. Understanding how designs are constructed is crucial to making the proper decisions for fabric and stabilizer.
The focus of the book is on how designs are constructed and what attributes you can measure and verify.
Will this help me learn to digitize?
Indirectly. Because I'm a digitizer and I'm explaining a design from a digitizer's perspective, you'll learn about digitizing but not step-by-step how to digitize.
How does knowing this help me pick designs?
That's a good question. Just like you can't see what's inside a book without looking between the covers, you can't see how a design is constructed by looking at a printed or sewn version. You'll definitely discern more information on a sewn sample. especially if you can feel it and look at it up close. Over time, you'll pick up clues that will help you make better choices on designs by looking at them but you'll never know the full story until you "look under the hood" and do a test sewn.
You used Mac software during your demo!
Yes, I am a Mac user. You saw me using Punto digitizing software for my demo and a screen capture from Convert It Mac. Punto is professional digitizing software that is especially suited to designers with a graphics background or experience with Adobe Illustrator or the late Macromedia/Aldus Freehand.
Where to Get…
Embrilliance software is often available in our shop as a physical product that will be shipped (U.S. only) or as digital download from Embrilliance

Not sure? Download a demo version to try out any ot the apps or get the free version, previously known as Alpha Tricks Express, now known as Embrilliance Express to open access to the thousands of keyboard fonts available as BX installer files

Anatomy of Design is an e-book designed for embroiderers who want to understand what's going with designs and therefore make better choices when selecting designs, fabric, stabilizers, and threads
RELATED ARTICLES