It's easy to get overly excited when you start embroidering. You're anxious to get started and get your project done.
But as the old saying goes, an ounce of prevention is worth a pound of cure and just an extra minute checking over everything can save you hours of "unembroidering" or an unsalvageable mess.
So here's my pre-embroidery checklist. I recommend you keep it near your machine as a reminder!
1 – ATTACH THE EMBROIDERY UNIT & EMBROIDERY PRESSER FOOT, IF NEEDED.
Obviously this one is a no-brainer and goes without saying but I didn't want to make any assumptions! Also, if you're machine requires you to drop the feed dogs be sure to do it (typically on VERY old machines only; most current models do it for you!),
2 – MAKE SURE YOU HAVE AN EMBROIDERY NEEDLE INSERTED THAT'S THE RIGHT SIZE AND TYPE FOR YOUR THREAD AND FABRIC AND IS IN GOOD CONDITION.
Embroidery needles are specially designed for handling the specialty threads used in embroidery when stitched at high speeds. A good quality needle can reduce thread shredding and breakage and keep your embroidery looking its best.
Way back when I was learning to embroider, an instructor once said, "Sewing with a dull needle is like shaving with a dull razor." Damaged needles can damage fabric, thread, and even your machine. So while you might not need a new needle for every project, make sure it's in good condition.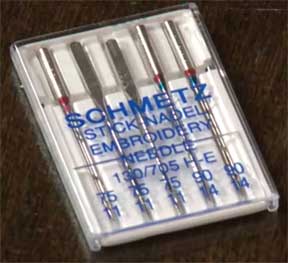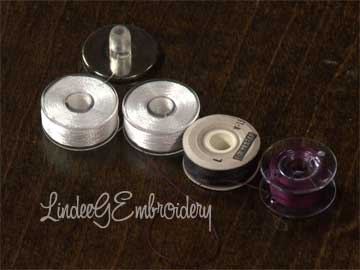 3 – HAVE ENOUGH BOBBIN THREAD TO COMPLETE YOUR PROJECT.
This may mean winding extra bobbins if you wind your own. You don't want to have to stop in the middle of an embroidery design to wind a new bobbin!
I prefer pre-wound bobbins and always have a good stock on hand. If your machine has a drop-in bobbin, starting with a full bobbin or at least one full enough to complete your design is a great idea.
On these machines you'll have to completely remove the hoop any time you need to change the bobbin. That doesn't sound like a big deal but if you're embroidering a t-shirt or some other large item, having to reattach the hoop is good place for problems to occur if you aren't careful about rearranging your fabric and clearing the area around and under the hoop.
And do make sure you're using bobbin thread for machine embroidery and it's of the weight recommended for your machine!
4 – MAKE SURE YOUR BOBBIN IS INSERTED AND THREADED PROPERLY.
The bobbin is vital for proper stitch formation. It's easy to insert a bobbin upside down. If you're using pre-wound bobbins, make sure they're the right size for your machine or you're using an appropriate adaaptor.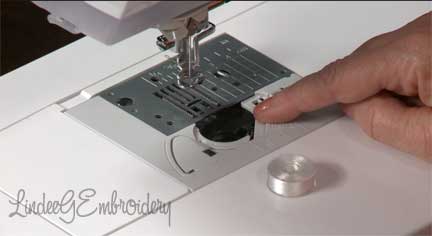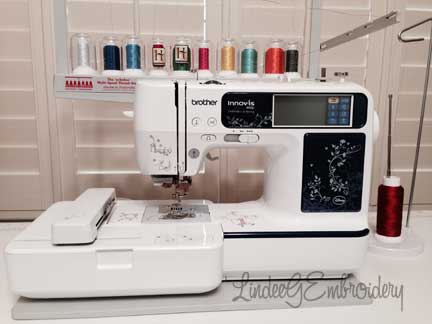 5 – PULL ALL YOUR EMBROIDERY THREADS CALLED FOR IN THE DESIGN.
Setting out all your thread colors ahead of time will let you know if you have enough of each color or are missing anything. Also, I like to arrange my threads on a multi-spool thread stand in the order they're called for in the design. It just reduces the chance of loading the wrong color.
Also, make sure that the threads you're using are the same weight called for in the design. Most designs use 40 weight thread, which is seldom mentioned. Some designs may call for a specialty thread and you'll want to use that or something compatible.
Note: If your design does call for a specialty thread, you may need to adjust your needle—even if it's only for one color change.
6 – IS THE FIRST COLOR THREADED PROPERLY?
Remember to always thread with the presser foot raised. It's easy to forget this, especially if you break a thread while stitching or when changing to a new color. Not threading properly is the number one cause of bird nests.
7 – IS YOUR PROJECT PROPERLY HOOPED?
The hoop is part of the stabilizing process and hooping the project along with any appropriate stabilizers is the best method. Your stabilizers should be fully hooped, wrinkle free, and taut. Your fabric should likewise be smooth, wrinkle free and unstretched, in a neutral position.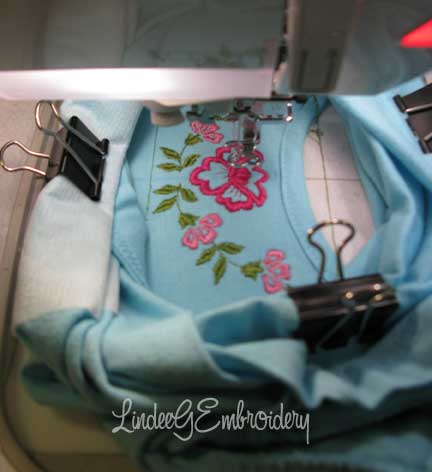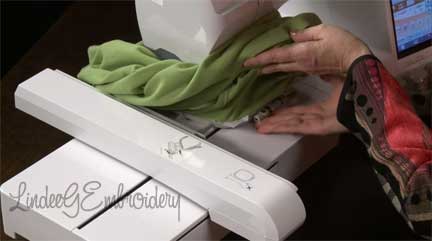 8 – IS YOUR HOOP SECURELY ATTACHED?
Make sure the hoop is fully seated in the bracket attacment. Some machines will warn you when it senses the hoop is not correctly attached but not all do.
9 – IS THE HOOP CLEAR OF ANY FABRIC UNDERNEATH?
Run your hands around and under the edge if the hoop to make sure it's completely clear of any fabric or stabilizer that may have folded in under it.
10 – IS THIS THE RIGHT HOOP FOR THIS DESIGN?
Most machines that offer multiple hoops will "know" what hoop should be used for a particular design. Some machines will even sense if the proper hoop is attached. Be sure your hoop actually matches what the machine is expecting.
Tip: The best hoop is the smallest one that can comfortably accommodate the design.
11 – CHECK FOR OBSTACLES AROUND THE MACHINE.
The bigger your embroidery machine, the more free space you'll need ot have around it. Make sure that the hoop and/or the embroidery arm has plenty of free space around it. If either encounters an interference, your embroidery will suffer.
12 – CHECK YOUR DESIGN.
Is the right design loaded? Is it in the right position? Do you need to mirror or rotate it?
13 – OPTIONAL BUT RECOMMENDED: TRACE THE DESIGN IN THE HOOP.
Doing a design trace is a good practice to get into. It's just one more check to make sure the design is going to sew where you think it will and at the size you think it should be.
Once you've cleared this "preflight check" you're read to press the Start button and take off. I recommend staying by the machine during the sewing process. For me, I'm always watching the design sew because I want to watch for any inefficiencies and besides, I just find it fascinating.
Also, Murphy has a whole special set of "if it can go wrong it will" rules for machine embroidery and the faster you can intervene, the easier it is to prevent a full-on disaster. Not all machines stop immediately when there's a thread break.
A bird's nest can suck an amazing amount of fabric down into the throat plate. And projects can just pop out of the hoop while your machine just keeps merrily stitching along. Be there to stop the madness before too much damage can happen!
The above steps may sound like a lot, but once you get in the habit, you'll find it's really quite quick and can save you time, frustration, and money in the long run.
WANT TO LEARN MORE ABOUT MACHINE EMBROIDERY?
Check out my classes on Craftsy! Or check out some of the other great embroidery classes there. You can find discount links for all these great classes, including 50% off on mine on my Craftsy page.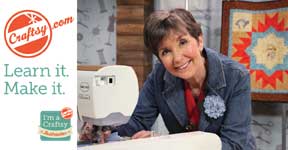 CRAFTSY COUPON UPDATE NOTICE
Since the coupon codes were originally posted on this site, Craftsy has changed the way they handle coupons limiting them to 90 days.
Because of that, I have to figure out new way to provide coupon codes… Another thing to add to my to do list.

READ ANATOMY OF A DESIGN!
If you're no longer a newbie embroiderer, you might be interested in understanding what makes an embroidery design tick. What do digitizers think about when creating designs. After all, you can see exactly what we did while you watch it sew—but why did we choose to do it that way?
That's what I cover in my downloadable e-book, Anatomy of a Design: How to Think Like a Digitizer and Become a Better Embroiderer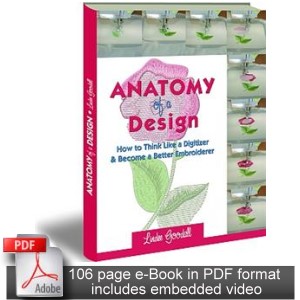 WHERE TO GET IT
Anatomy of Design is an e-book designed for embroiderers who want to understand what's going with designs and therefore make better choices when selecting designs, fabric, stabilizers, and threads
RELATED ARTICLES