So you've downloaded some BX fonts and you're ready to install them. What do you do next?
Well, if you downloaded them from my site, LindeeGEmbroidery.com, then that file is zipped and also has a PDF instruction sheet in it. So the process is basically find the downloaded file, unzip it, and then drag and drop the enclosed BX file or files onto the open Embrilliance program
The problems I receive most by email are:
I don't know where the file is on my computer
The file isn't installing
Embroidery machines are more or less computer peripherals these days and to take full advantage of them, you need to know some computer basics so take a class either online or live and get comfortable with your embroidery machine, your computer and your operating system.
Since the focus of this video is installing the fonts and many of you already know how to unzip and and find files, I've made separate videos for those topics and you can find links to them in the video description field below.
As for number 2, the two most common reasons it won't install are that you haven't unzipped the file first or your software version is so old that it predates the use of BX fonts.
If your browser doesn't automatically unzip the file, then you'll need to do it manually. On this computer, I can just double click the zipped file and it expands.
The biggest problem I run into is people not unzipping the download file before trying to install on Embrilliance. One reason is that they might have extensions turned off and might not realize the file is a zip. Pretty much all embroidery files you download are zipped and need to be unzipped first.
Once your file is unzipped, then it's a simple drag and drop maneuver. Open up Embrilliance or EmbroideryWorks and simply drag your BX file over the open window and the program installs it. If we check our menu, there's our new font. You can see that I'm somewhat of a font junkie and have been collecting computer fonts since 1984.
Fonts with the needle icon in front are imported BX stitch-file fonts. Those without are "native" Embrilliance fonts. If you're running the Express or free version, you won't see any native fonts.
Both Embrilliance and EmbroideryWorks will split the BX file into 2 new files and store them in appropriate locations on your computer so it doesn't matter where you keep the original BX file but it's good idea to back it up somewhere in case you ever need to reinstall.
If you should happen to get an error message when installing a BX file for the first time or it's not showing up on the font menu and you know that it's unzipped, then make sure you aren't using an old version of Embrilliance that. Beyond that, if you're still having problems with Embrilliance, the best bet is to submit a support ticket to Embrilliance through their website.
Related Articles
---
Try Embrilliance for Free!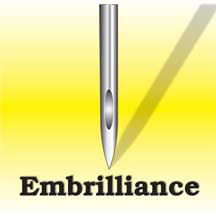 Embrilliance software works natively on both Macintosh and Windows and comes in a level for every embroidery user from novice to advanced embroiderer.
Related Products
---