Want to know how to change the hoop size in Embrilliance Essentials and EmbroideryWorks? Or how to make make the hoop visible if you've lost it? What does the hoop do anyway?
In this video, I'll show you how to change the hoop size in Embrilliance. The same process works for EmbroideryWorks.
Having a hoop reference is a great feature and it's important to understand that the hoop that you see in Embrilliance is just a visual reference. In other words, it does nothing to affect your ability to save a design that's either bigger than the visible hoop or say, a different format from the hoop you selected.
Another thing to know is that the hoop preference is not saved with a design file. In other words, If I save my Love to Sew design with a 100×100 hoop but then open it at another time with a different size hoop, that's the hoop that will be displayed. Why? because the hoop is just sort of a background image and whatever hoop image is selected is the one that gets displayed.
And speaking of hoops, the size we've chosen here is the ideal size for sewing this design. It's small enough to comfortably accommodate the design and allows for a some wiggle room around it for fine tuning the placement at the machine. Getting a perfectly and precisely placed design when hooping can be difficult but I do try to hoop between the rings whenever possible. You'll get the best stitch formation and alignment that way
Related Products
---
Try Embrilliance for Free!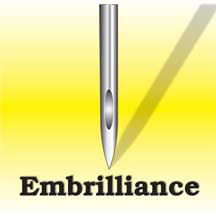 Embrilliance software works natively on both Macintosh and Windows and comes in a level for every embroidery user from novice to advanced embroiderer.
Related Products
---