Using your embroidery machine to quilt large or small projects is totally possible and not difficult!
Although I'm a member of the Tucson Quilters Guild, I don't really think of myself as a quilter. However, the large trunk full of quilts and quilt projects I've made since 2009 tells another story.
You don't actually have to make a quilt to use the methods discussed here. Many small projects can also be quilted in the hoop: potholders, baby bibs, hot/cold drink wraps, mug rugs, along with many in-the-hoop projects.
There are several common ways to incorporate embroidery into your quilt project. For example, you might be
Making a label to document the quilt
Embellishing the feature blocks with an embroidery design that is then pieced into a quilt in a traditional manner
Piecing in the hoop, a process similar to paper piecing
Actually quilting through all the layers
In addition to this list, I've also used machine embroidered appliqué to artfully hide less than perfect corners.
SAMPLE QUILT IDEAS
Click on an image to jump to the product page.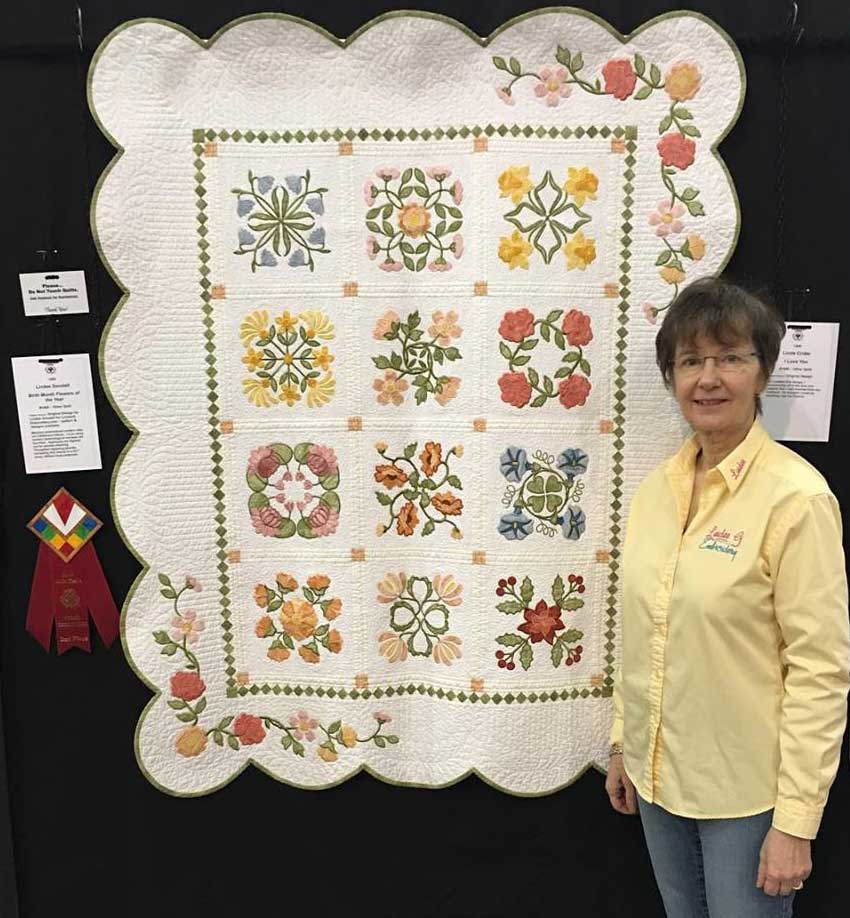 QUILTING FREAKS ME OUT!
So here's my confession… I like the design process and all that's involved in cutting and piecing the top, but when it comes to to the actual quilting process, that's when I panic.
The pieced top is so perfect and I'm not confident to handle the quilting aspect. So to overcome that, I've developed different methods for accomplishing quilting with my embroidery machine.
If I feel that the quilt really needs a more traditional quilting via a long-arm, then I "quilt by check." Fortunately we have many experienced long arm quilters locally that are happy to take my money!
This quilt, which won a 2nd place ribbon, was quilted by a local award winning quilter, Nubin Jensen, and it was well worth the wait and expense!
ADDING LABELS
We all know the importance of adding a label to a quilt. Who knows how many generations it will outlive us and the future owners will want to know who, what, when, where, and why about your quilt.
An embroidered label is permanent, won't fade (assuming you used a color fast thread), and can tell quite a tale, if desired.
If you're a "quilting purist" who thinks machine embroidery has no place on a "real quilt," you may still find a machine embroidered label is completely acceptable.
My favorite font for my projects is Adine Script. It is elegant, readable, lightweight, and stitches up quickly. I have it available as an easy-to-use BX font, which will let you just type your label text as easily as you could type it in a text processor.
Alternatively, if you refuse to use even a free program to make creating these labels easy, you can also download the DST version to get each character as in individual design file that you can convert to your desired machine format and piece together one character at a time or possibly import and map to a keyboard font in another suitable program.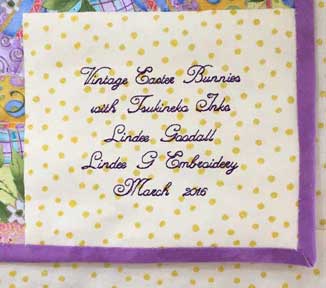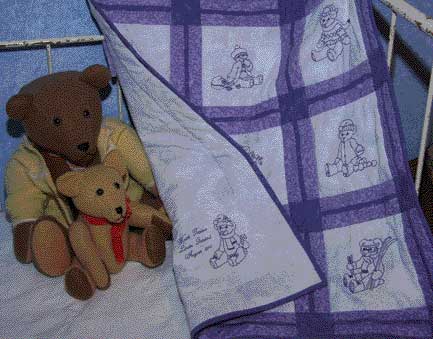 EMBROIDERED FEATURE BLOCKS
This is a common technique. I tend to choose "lightweight" designs instead of large, densely stitched designs. Lower impact designs will create a softer quilt without any stiff, "bullet proof" areas of heavy stitching.
For these reasons, I prefer either redwork or running stitch outline designs and appliqué designs.
PIECING IN THE HOOP
If you've ever done paper piecing, you'll easily grasp piecing in the hoop. Automating the process with your embroidery machine doesn't really make it that much faster but it does make it highly accurate.
Watch how to piece one of the Cabin Fever block designs in this video: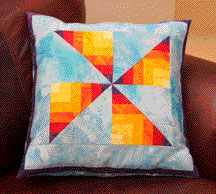 QUILTING WITH EMBROIDERY DESIGNS
My first attempts with quilting with embroidery designs started out by hooping the entire quilt and trying to place the design accurately.
Trying to place a geometric design precisely with a complexly pieced block is quite difficult. Your piecing must be accurate, your hooping must be accurate, and your placement must be accurate. The more seams in your project, the more it tends to shift.
At first, it was taking up to 40 minutes to get an accurate hooping on one block to be able to stitch a 6 minute design. With 16 blocks to embroider, it was going to take 2 days to quilt at that rate. Not acceptable!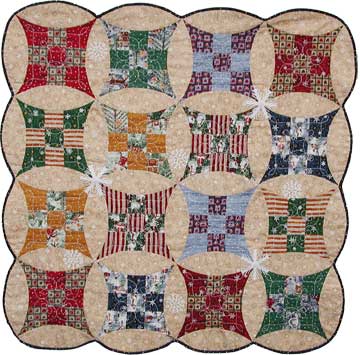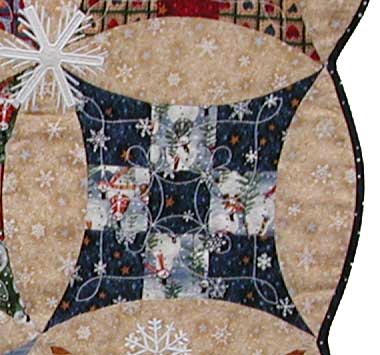 With that many blocks, I had lots of chances to try different techniques. Ultimately I came up with a technique to use with a hooping station that made it quicker to get an accurate placement.
You can see the the bottom corners are fairly accurately placed whereas the top ones are a bit skewed.
The idea? I taped pieces of thin spaghetti to the surface of my hooping station so that I had a tactile guide for placement.
Thin spaghetti can be felt through a top, batting, and backing. Spaghetti is cheap and can be easily removed.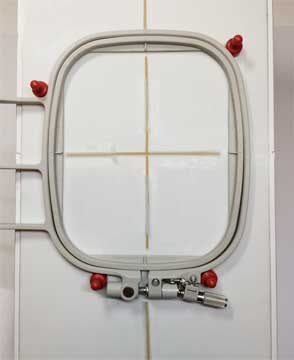 AN EASIER WAY FOR ACCURACY
The reasons I like machine embroidered quilting are speed and precision. It means I can make a quilt start to finish without waiting on a long-arm quilter to work it into her schedule. In some cases, I can finish a baby quilt in as little as one day!
Obviously, in order to do that I need to streamline the hooping process considerably.
After my first attempts at quilting a finished top, I realized an easier way would be to quilt each block and then assemble the quilt. This had the added advantage of lifting the worry of messing up a design and ruining the entire project!
To assemble the blocks, I use a piece-as-you-go technique. There are quite a few different methods so be sure to decide ahead of time how you will connect your blocks so you can prepare your blocks properly.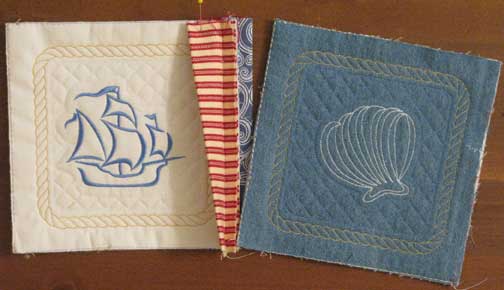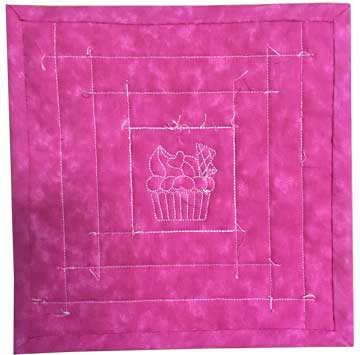 THE DOWNSIDE OF EMBROIDERY AS QUILTING
First of all, machine tensions for machine embroidery are different from "normal" sewing. Normally, for quilting or sewing, the needle and bobbin thread are evenly balanced.
With machine embroidery, the bobbin thread is pulling the top thread to the back side, which means you'll see the needle thread color on the back.
You can minimize that by using a matching color in the bobbin. Prewound colored embroidery bobbins are available or you can wind your own using a coordinating 60wt polyester embroidery thread.
A second drawback is thread tails. If your machine has automatic trimmers, it will pull the thread to the back of your project and trim, leaving thread tails around 3/8″ long.
These tails are too short to thread into a needle and hide in your quilt and you can't trim them flush with the back of your quilt or you'll compromise stitch security.
These two issues—tensions and thread tails—contribute to an ugly back that wouldn't please a "real' quilter or quilt judge.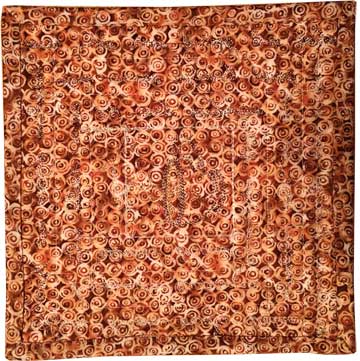 MINIMIZING UGLY BACKSIDES
The easiest way to camouflage a potentially ugly posterior is to use a busy fabric. This won't hide the thread tails but it will mask the stitching.
Another way is to add the backing after quilting. This works best on small projects or on piece-as-you-go projects where the blocks are relatively small.
When I use this technique, I quilt the front through the batting and stabilizer and I tend to use it when the back will look particularly messy. I chose this method for the Victorian Crazy Patch quilt because I wanted to quilt as I pieced. All the decorative stitching needs to be stitched before unhooping and that would have made a truly messy back.
Because the batting is secured when stitching the front and the blocks aren't huge, adding a back after the fact worked out just fine.
MULTI-STEP BLOCKS FOR BETTER BACKSIDES
Eventually I worked out a process to embroider the front and then quilt the block without the front design showing through and without rehooping to stitch the quilting.
I never worked it out earlier because I avoided created designs that, while I could stitch on my commercial machine, would work on the small hoops that home machines had at the time.
The process is quite simple. You will need a design that either has the quilting step built in or as a separate design that you can add in. I often provide designs this way because it makes them more flexible; you can still use the central design for projects that don't require quilting.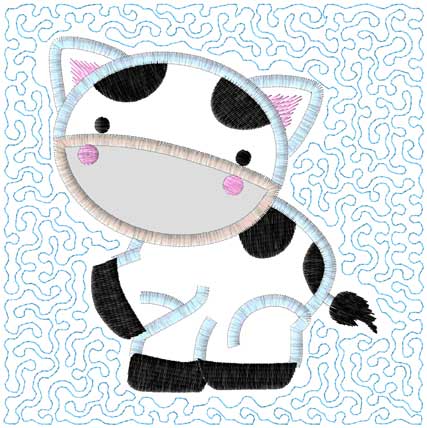 If you have appropriate software, many home programs can easily add a variety of quilting effects around designs you already have.
Start by hooping your stabilizer and top fabric only. Stitch the central embroidered motif.
Next, slide the batting and backing fabric under the hoop and stitch the quilting motif. If the design is continuous (no jumps or trims), you'll only have two tie offs to manage. You might be able to disable the trimmers so that you have long thread tails that you can bury between the quilt layers.
CONTINOUS QUILTING
There are three general methods of fully embroidered quilts:
Solidly embroidered blocks that are pieced together to form a solidly quilted top.
In a similar process, blocks are quilted with a pattern that must be joined to match up and create the appearance of a "whole cloth" quilt.
"Edge-to-edge" quilting where a continuous pattern must be tediously matched and rehooped.
Because continuous quilting methods requires precision stitching and alignment (either after stitching for #1 and #2 or after for #3), they require precision work.
I'm not fond of option #1 because not only does it take forever to stitch all those solidly filled blocks, it's hard to get an exact match on all sides when piecing and it creates a very stiff quilt.
Yet another consideration is that I make all my own samples and I don't want to take the time to digitize, test sew, and make a "quilt" of this nature.
The closest I've come to continuous blocks that are pieced together is a couple of "window pane" projects.
Rather than stitching completely filled blocks, I chose to make them as oversized "color line" or "redwork" designs scaled for 5×7″ hoops. Instead of having to piece them together with an exact match, I used sashing strips over the "join" areas.
This means that if you're a millimeter or 3 off, it won't be noticeable. Panes can be stitched separately or, as I did, one large piece of fabric so I could stitch the panes to double as quilting.
The borders are "continuous hoop" designs and are easily reproduced with a border hoop.
Coloring with pencils, inks, or other media is another way to make your project unique and add color without hours and hours of dense stitching that contribute stiffness.
As far as "edge-to-edge" quilting, I haven't been inspired enough to finish several sketches I've started. I do have some continuous design sets but they aren't really designed for edge-to-edge quilting and are intended as borders.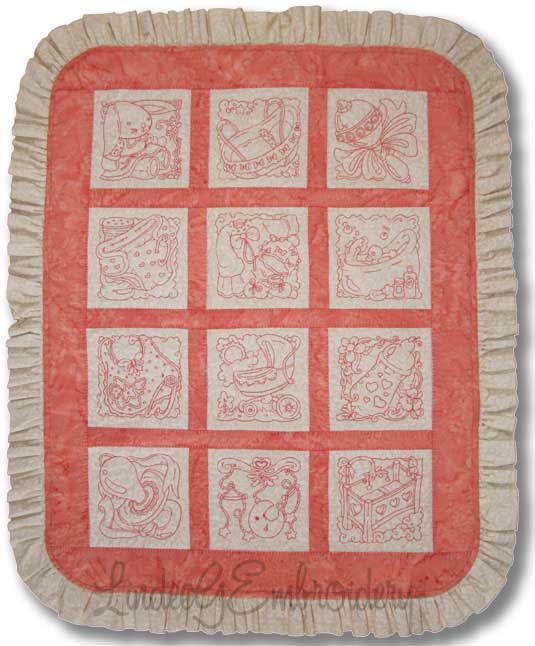 YES YOU CAN COMPLETE A QUILT IN ONE DAY
Years ago I took a "quilt in a day" class using a strip quilting technique. We ripped strips and pieced a log cabin quilt top. I didn't get my top fully pieced but I did ultimately finish it but it definitely took more than a single day.
With the technique I mentioned above and using a running stitch quilting pattern or redwork design with a piece-as-you-go technique, it is totally possible to complete a baby sized quilt in one day.
I will confess that the quilt show here was finished in one day except for the ruffle. With a standard binding, I could have finished this in one day.
The baby will love it just as much as if you spent months on the design and you'll be making a project that can be used and loved, not be stored away in a box so it won't get ruined.
If you aren't a patient person and want something that requires less attention to detail, then you'll find my method much easier, quicker and more forgiving.
OTHER QUILTED PROJECTS
Quilting in the hoop methods also work on smaller project, Many in-the-hoop projects involve some quilting. You can use the same techniques i mentioned for improving the back side of your embroidery if it should be exposed.
Quilt-as-you-go projects can streamline making smaller projects and baby quilts, freeing up your time to either make more or work on more traditional quilts if you wish.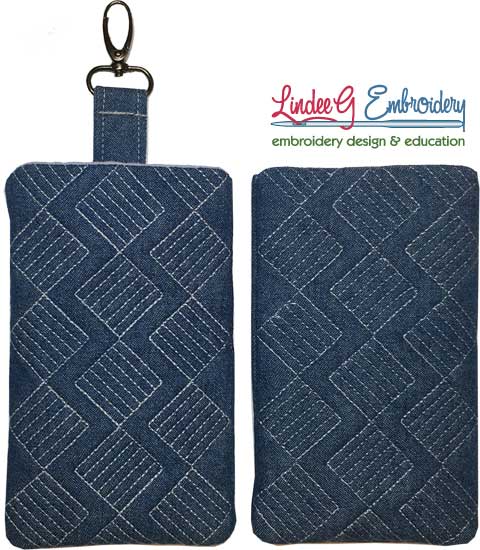 SEE MORE PROJECTS!
Hop over to the Gallery to see photos of projects made with Lindee G Embroidery designs. If you've got a project you'd like to show off, contact me with a description and I'll get back with you so you can send a photo.
FEATURED PRODUCTS
Quick links to quilt design sets are displayed below. At the time of this blog post, these sets are all specially priced. Save up to 60%
If you prefer to just get one design from a set, simply click on the product id in the tags list. (It will be something like "lgp029.")
For a limited time, use the coupon code below to get a discount on regularly price individual designs and sets.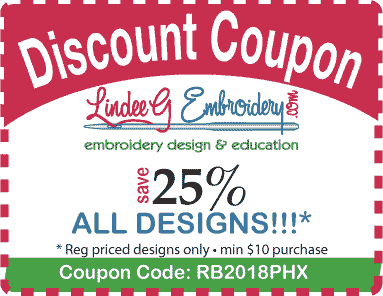 THE "FINE PRINT"
You'll need to have at least $10 worth of designs to qualify (which, if you know your math, will cost you $6).
The discount applies only to regularly priced designs (individuals or sets).
The coupon code is only good on designs and is good through the end of February 2018.
You can use it up to 10 times and you're encouraged to let others know about this coupon!
The coupon code needs to typed exactly or it will not work!
So take your time, browse through the shop and take your pick of singles or collections.
This coupon code can't be combined with other coupons at the same time!
RELATED ARTICLES