Last July, I digitized a set of continuous line baby animals and then used the same artwork to recreate the animals in appliqué and now I've finally finished stitching those appliqué versions!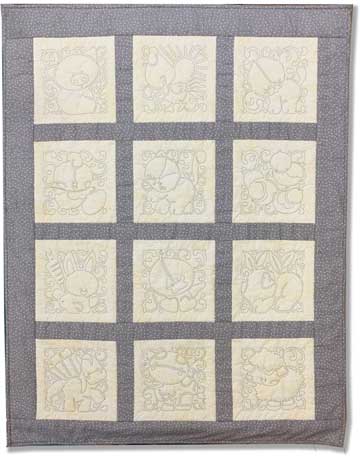 You may remember the one-day quilt I made with the continous line versions using a quilt-as-you-go technique.
With these appliquéd quilts, it will easily take you a full day just to stitch all the the blocks so you'll need to allow more time to stitch these.
Still, I was able to complete each of these within 4 days and I don't mean pedal-to-the-metal slaving over the machine days that burn the midnight oil.
APPLIQUE ONLY (FROM LARGER SET)
WHY SO LONG?
So why are these appliqué versions just now being released if they were digitized over 3 months ago?
I think it's important to see actual test sews of designs under the conditions for which they are intended, not just "faux embroidery" using a 3D image generated from the software.
Would you rather see this?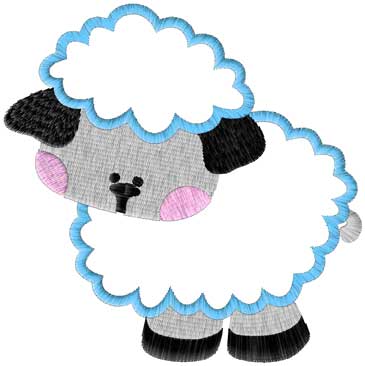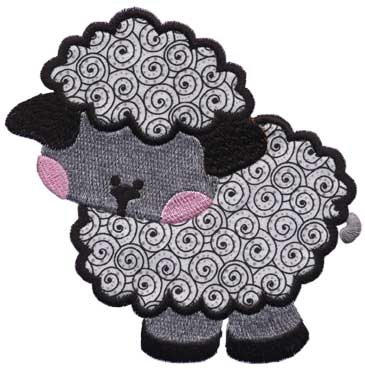 All the appliqués were test sewn in July, just not with the actual appliqué fabrics. I typically do a first test that way to check for other things I might want to change before I go to the extra work of selecting, cutting and preparing appliqués.
It takes a while to choose (it took me almost a full day to pick fabrics for these two projects) and cut the fabrics, whether you're cutting by hand or by machine.
And, since I'm pretty much a one woman show here, I often get interrupted with other "emergencies" that require attention so I'm just now finishing this project.
The original set of designs was digitized in multiple sizes so I did these in two sizes and then I did a second variation of each with added stipple stitching. Of course, the addition of the stipple quilting requires a larger sewing field.
STIPPLED VERSIONS (SMALLER SET)
SOME PRELIMINARIES: BASIC TECHNIQUE & TIPS
The back of these quilts looks like any "normal" quilt. By that I mean you don't see any embroidery, you only see "quilting," which of course is done by the embroidery machine.
You won't see any stitching from the applique even though each block is completely stitched in just one hooping. Because the stippling is all continuous, you also won't see thread tails all over the back of your quilt like normal embroidery backs.
To do get that kind of finish, hoop the top fabric and stitch the appliqué and then stop your machine just before the last color.
The stipple stitching is the last color change in each design.
Remove the hoop from the machine and place the batting and backing fabric on the back of the hoop and secure in place with tape. Return the hoop to the machine and finish the design.
A helpful tip here is to add a basting box as a guide. I didn't program that in because these designs are pushing the limits of standard home hoop sizes and I often want to size the basting box to use as reference for cutting my blocks.
I also want the basting stitches to end up within my seam allowances so I don't have to pick them out. If your basting box can't be made that large due to hoop restrictions, be sure to use a color that won't leave any residue on your fabric. (I usually just sew the basting box in whatever color I need next or used last.)
I also vary how many basting blocks I'm using depending on if I'm hooping my top fabric between the rings or if I'm floating.
If I'm floating, I'll start by stitching a basting block directly on the hooped stabilzer as a placement guide. Apply the fabric block and then repeat the basting stitch to attach it to the stabilizer.
The third basting block copy is placed before the stipple stitching to secure the batting and backing.
One more tip: cut your blocks at least 1″ larger than your cut size!
USING THE LARGER BLOCKS
I used the 8″ stippled appliqué blocks for this first QAYG sample. I kept my background, sashing, and border colors in soft pastels so the appliqués can be the focus. The finished size is 34.5 x 44.5″.
The block backgrounds are a pale yellow gold subtle pattern while the sashing and borders are a light green mini polka dot. For the backing, I found a white flannel with green polka dots. This color combination could work equally well for either a boy or a girl.
Because these blocks are larger (approximately 8″ finished), I decided a wider sashing was in order.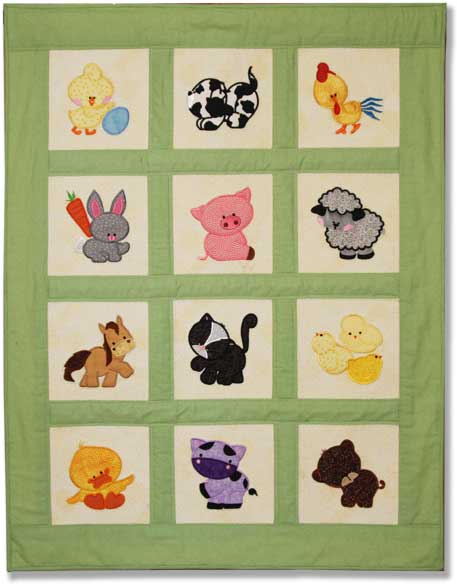 If I were to do this again, I'd use a fusible to connect the blocks together along the batting edges before applying the sashing. The finished quilt tends to fold along the edges where the blocks abut under the sashing and it's more noticeable on projects with wider sashing than narrow.
I also think this quilt could use a little more quilting on the border but I'll pass. Another solution is to add multiple narrower borders using a stitch and flip method, stitching through the border batting and back border, which you can see on the second version using the smaller designs.
Other than dimensions, I followed the same method I've used for previous QAYG quilts that I cover in my downloadable book, Quilt-As-You-Go Basics and in this YouTube video: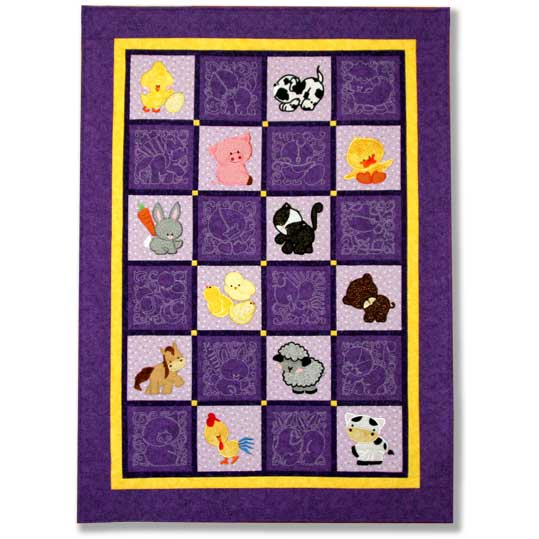 GOING BOLDER!
The second quilt combines the 12 stipple quilted blocks from the smaller set with 12 of the continuous line quilted versions for a finished 6″ block and a finished quilt size of 34.5 x 47″.
Although the smaller quilt has twice as many blocks, both quilts took just about the same amount of time to complete (within 4 days).
Other than the cow, I used the same appliqué fabrics on both quilts. I chose black and white for my kitty to represent Lucky and a black and white "cow print" for my dog, Riley.
These smaller appliqués aren't simply resized versions of the larger ones.
Some elements that were originally appliqués on the larger designs (like the beak on this duck) have been redigitized as fully stitched items.
Simply shrinking the larger versions would significantly reduce the width of the satin columns making them too narrow to cover the edge of the fabric (this is not auto applique!).
Also, if I had single resized the stippled blocks, the stitching would have been too close.
The smaller appliqués are sized for a 130mm square sewing field, so it will fit a standard 5×7″ hoop. Adding the stipple quilting requires a 150mm square sewing field.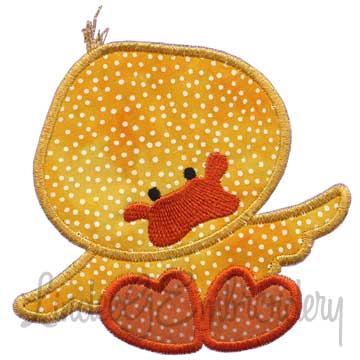 Because these blocks are smaller, I experimented with a narrow sashing strip. These are cut to 1″ wide on the front and 1 1/8″ wide on the back.
Instead of the double folded method I've used in the past (learned from Georgia Bonesteel's lap quilting book ages ago), I tried the "twin finishing strips" method as shown in Marti Michell's Craftsy class, Piece by Piece: Quilt-As-You-Go Techniques.
This method not only uses less fabric, it eliminates a lot of the bulk added when using the folded strips technique.
One of the things I particularly liked about this class is that Marti shows multiple ways of connecting the blocks and tips for borders.
Each quilt was completed within 4 days, and I'm not talking about burning any midnight oil.
I think you can see that even when the appliqués are the same designs and use the same fabrics, you can still get very different looks by varying other design elements in your project.
SOME QAYG TIPS
I like QAYG because it makes it easy to do much of the stitching and quilting in the hoop. I'm comfortable with pieceing but if I have to do the actual quilting, I'll have a UFO unless I send it out to be quilted.
I'm still perfecting my technique and here are a few things I've learned:
Projects much larger than baby quilts can quickly become unmanageable unless you have a machine with larger opening. Remember, you're piecing sections that already include the batting and backing, not just the top so even smaller projects can become quite heavy and bulky before you know it.
You'll need some way to support the quilt once you start assembling the rows and adding borders. If your sewing table isn't designed with extra extensions for quilting, a couple of adjustable height, collapsible 4′ tables are useful as well as versatile for a variety of projects.
Use strips of lightweight fusible interfacing to help "unite" the batting together to avoid "gaps" between the abutted sections. I did this on all the blocks on the second quilt and the individual units are hardly distinguishable. Yes, it's extra work but it's worth it. (Buy it by the yard off the bolt and just rotary cut strips as needed.)
As an extra step, after fusing the batting together, a multi-step zigzag can further support the units. I find this really helps when adding the batting for the outer borders. I didn't bother with this when attaching blocks are rows but it may be something to consider on other projects.
Different projects will require different techniques for attaching blocks. I've done other other QAYG projects that use no sashing. Marti's class covers this in detail
My preference is to avoid stitching the batting into a seam when possible.
Depending on how you assemble your project, your seam allowances can be quite different from "normal." For the 2″ sashing on the pastel quilt, I needed 1″ seam allowances while the second versions has 1/2″ sashing and therefore uses standard 1/4″ seam allowances.
Depending on how you attach your sashing, your fabric requirements can vary significantly. I used folded strips on the pastel quilt, which requires the cut width to be three times the finished width whereas the sashing on the second quilt is applied in a more "normal" method and only needs an extra 1/2″ additional width for the front strips and 5/8″ for the back strips.
QAYG requires more backing fabric than a normal quilt of equivalent size so plotting out your project requirements ahead of time is a smart thing to do.

ADDING STIPPLING TO DESIGNS
It's relatively easy to add stippling to a stitch file if you have suitable software. Unfortunately, my pro software doesn't have an auto stipple stitch and in the past, I've meticulously drawn my own stippling.
An "auto-stippling" stitch effect is much easier to apply and adjust for spacing and style. Fortunately, digitizing programs like Hatch and Embrilliance make adding quilting effects a cinch.
You can see just how easy it is to add stippling to any design using StitchArtist in this YouTube video:
When I originally planned to add the appliqué versions, I hadn't yet decided how I would ultimately use the designs./p>
Once I worked out how I'd make the quilts with the added stippling, I knew I'd have to include that version as well. I've gotten dinged in the past by making samples where I've added such features after the set was complete.
Rather than to leave the stippling separate as I've done in some other sets—one design with the appliqué and a second design with just the stippling to combine as desired—I made the stippled version with the appliqué.
And, since some people don't have software to delete the stipple stitching or a hoop large enough to sew the design with the additional stitching, I figured I'd include both for maximum flexibility.
ABOUT APPLIQUÉS
I love appliqués, especially when you can get such beautiful results with an embroidery machine. Appliqués can cover more area faster and with more interesting colors and patterns.
Appliqués can also cover a printed and textured backgrounds more solidly and evenly than stitching. Additionally, appliqués incur less fabric distortion than an equivalent area of stitching.
Now that many of us have larger hoops (and machines that will do the cutting for us!), appliqués make even more sense than ever.
I prefer precutting my fabrics instead of trying to trim a placed piece of fabric and I digitize appliqués with that method in mind.
This set includes actual size templates as PDFs for handcutting as well as SVG and FCM versions for machine cutting. Since I've written about appliqué in the past, I'll skip over that here.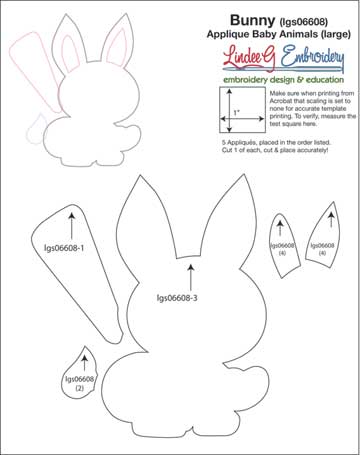 For these two quilts, I did hand cut all the pieces by printing on Sulky Totally Stable, and fusing the printed templates to the front of my fabrics. You need to cut very precisely and a fusible tearaway is much more secure than using a spray or glue stick.
Why hand cut when I have a machine? When I have a lot of pieces that are all different fabrics, it's just easier, especially for working on odd scraps of fabric or fussy cutting.
I have a bin of small bits reserved for appliqué and sometimes getting them into the machine so that my piece is fully cut is just more work than doing it by hand. Plus, I can cut while I watch TV.
If I were doing multiples of one appliqué or using the same fabric for multiple pieces, I'd be more likely to use a cutter.
ABOUT THE DESIGNS
The designs used in these quilts are available in sets or individually. Sets are always the most economical way to get designs. I've organized these into 3 sets:
Continuous Line Baby Animals Quilt Blocks (lgs065) includes 12 single color designs with no jumps or trims with each design in 4 sizes based on common hoop sizes for a total of 48 embroidery designs (may not be available in some formats due to size). The set also includes the 40 page QAYG Basics ebook.
Appliqué Baby Animals, Large (lgs066) includes 12 appliqués based on the original artwork. The basic appliqué is sized for 150mm square (~6″) sewing field. The added stipple stitching requires a 200mm (~8″) sewing field. The set includes 24 designs with appliqué templates for hand and/or machine cutting (FCM for Brother Scan N Cut and SVG for other cutters).
Appliqué Baby Animals, Medium (lgs067) includes smaller revised versions (~5″ and 6″ with stippling) of the previous set with corresponding appliqué templates. 24 embroidery designs (may not be available in some formats due to size).
Not all sets include instructions. Sets in the "project" (lgp) do but those in the "standard" (lgs) generally do not. If you want more details instructions for either appliqué or quilt-as-you-go, then the following resources are also available.
Appliqué Basics is a 10-page illustrated PDF ebook on how to prepare and embroider machine embroidered appliqué and is available separately if you're new to machine embroidered appliqué or haven't used the precut method.
QAYG Basics is a 40-page ebook that covers how to make a QAYG quilt.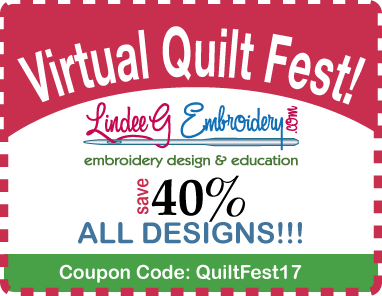 THE "FINE PRINT"
You'll need to have at least $10 worth of designs to qualify (which, if you know your math, will cost you $6).
The coupon code is only good on designs and is good through the end of November 15 2017.
You can use it as many times as you like and you're encouraged to let others know about this coupon!
The coupon code needs to typed exactly or it will not work!
So take your time, browse through the shop and take your pick of singles or collections.
This coupon code can't be combined with other coupons at the same time!
RELATED ARTICLES