Simulating the look of hand embroidered crazy quilting is fast and easy with an embroidery machine! All the blocks in this set are stitched similar to paper piecing in the hoop using a stitch and flip method.
After the block is pieced in the hoop, machine stitches designed to replicate those stitched traditionally (and tediously!) by hand are applied. Separating the decorative elements from the functional ones makes it much easier to modify the designs for maximum creativity.
The most time-consuming part of stitching up these beauties is picking your fabrics and thread colors!
The set includes 1 heart, 1 large rectangle, 4 squares, 8 small triangles, 4 larger triangles, and one design for the narrow stripey border used on the wallhanging.
The heart is finished as an appliqué while the other designs are intended for piecing into other projects. The variety of shapes and sizes allows you to combine pieces for a variety of projects or just use one as a feature design.
HOW ABOUT JOURNAL COVERS?
For a simple project, these book covers use just one design each. Book and journal covers make excellent gifts, require only small amounts of fabric, and are quick and easy to make.
I've further personalized my covers with a monogram in the center block, which comes blank in the set.
Feel free to add a monogram from embroidery fonts you have, add some other little design, or feature a fussy cut fabric in the space.
Instructions for making the covers are included with the set and can also be found in a related blog post linked at the end of this article.
If you have any embroidery software, you're likely to have some monogram fonts already, or check out the hundreds of fonts I have already digitized in the Alphabets section of my shop.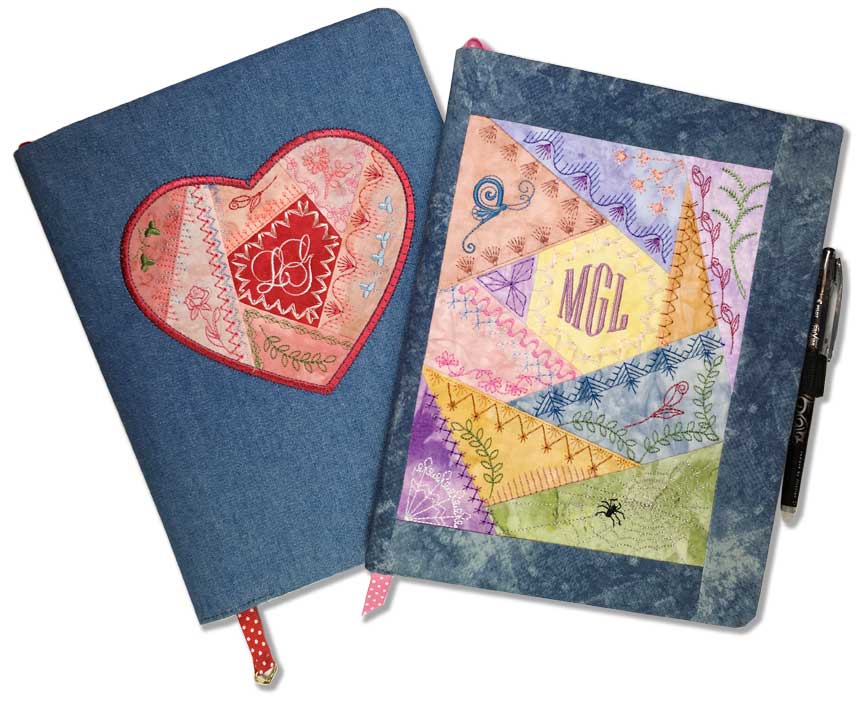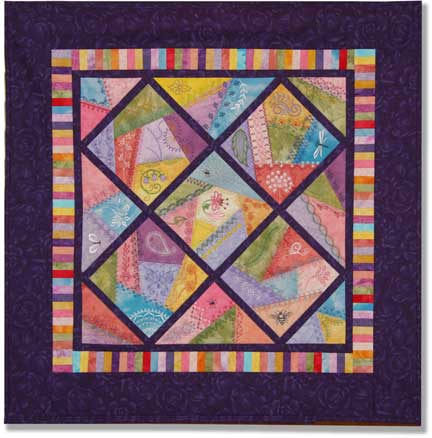 UP FOR SOMETHING MORE INVOLVED?
How about this colorful, eye-catching wall hanging?
This pieced wall hanging is 26″ square and only requires basic straight stitching to complete. All the complicated stitching—including that striped border—is done by the embroidery machine!
When I was designing this set, I originally planned the small triangles to work as extensions onto the squares but as I was playing with project layout concepts, I instead decided to place my squares on point and separate them with narrow sashing to accentuate each individual block.
That layout called for 4 more larger triangles. You can see the smaller triangles placed in the corners.
Then when I was assembling the wallhanging, I added the final design to make it easy to for perfectly even striped borders. Yep, that's a pieced border not a striped fabric!
Despite their name, crazy quilts aren't actually quilted.
However, I wanted a little volume and using the same method I've used for other quilt-as-you-go projects would have resulted in a very ugly back side.
So for stitching the blocks in this quilt, I hooped Sulky Soft 'n Sheer, sewed color 1, then floated a piece of Warm & Natural Batting on the stabilzier, backed up one color and restitched the placement line to secure the batting to the backing.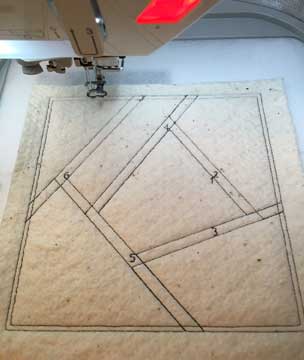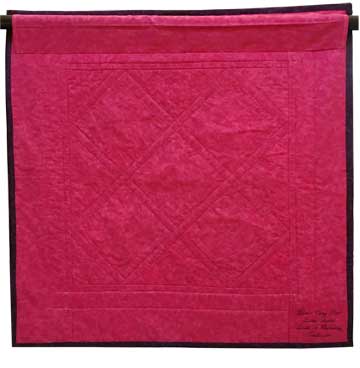 Of course, this left the back "naked," so to speak, so I simply added on the hotpink backing fabrics to each block when I assembled it using a twin sashing strips method.
The only stitching you see on the back is from the pieced on borders that are stitched through the batting and backing. The outer border is 3″ wide and I didn't quilt it.
I liked the dark purple sashing color I used on the the recently completed Appliqué Baby Animals Quilt (covered in a recent blog post, see related articles at the end) that I decided to use it for the sashing and borders on this quilt.
I like how the deep rich purple blue really allows the crazy patch blocks to pop. I think black might have been too harsh.
When I got to the outer borders, I decided it needed another splash of color and that's when I digitized a hoop full of 1/2″ (finished width) strips.
In a 200 x 300mm hoop, I was able to piece 22 8″ x 1″ strips from scraps left over from the this project along with a few more colors for a more scrappy look.
I stitched two hoops worth, and stitched them together end to end and rotary cut them into 4 strips 2 3/4″ wide and pieced them onto my project. All those skinny strips are all perfectly straight and even!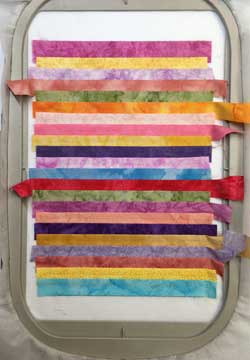 Another idea I had for this was to crazy piece a scrappy border. That's another option for getting a colorful border while not worrying about perfection (or if you don't have a large enough hoop for the machine version). I decided instead to match the width of my sashing strips.
While the book covers can easily be completed in well under one day, the quilt took me 5 days, one full day of which as picking and planning the fabrics for the blocks.
I planned my layout by printing and cutting out fullsize versions of each of the blocks and arranging them as desired. Once they were arranged, I taped them together to use a as "key."
I also planned out all my fabric colors ahead of time by cutting them out and arranging them on my design board.
I taped all the sequence numbers from the patterns onto the fabric pieces so it would be easy for me to keep track of everything as I stitched.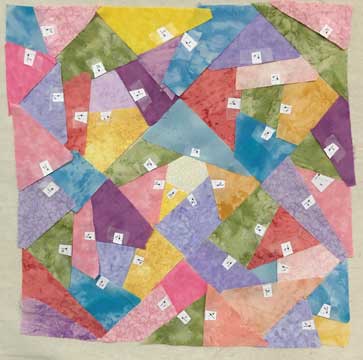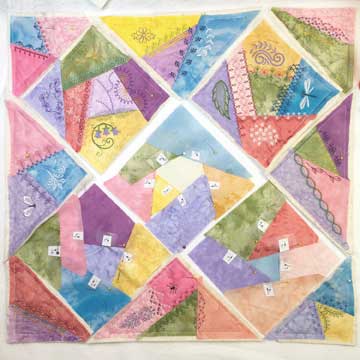 As I finished the pieces, I replaced them on the board.
I embroidered all the blocks on days 2 and 3 and also assembled all blocks together on day 3.
Day 4 saw the borders designed and added and day 5 was the binding.
Stitching on binding is tricky when the "inspector" is breathing down your throat plate!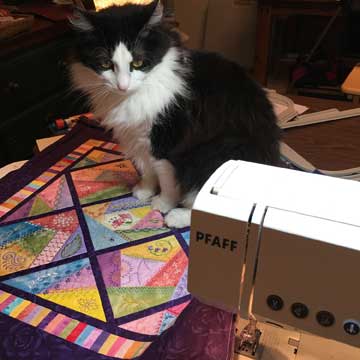 I could have cut off a day by machine finishing the sashing and binding on the back instead of hand stitching but there are times when I need that type of work to unwind and regenerate.
This was the third quilt I completed in October and I needed some recovery before facing the daunting challenge of reclaiming my house from all the scraps of fabric generated by all that.
DON'T FORGET THE LABEL!
Be sure to add a label to your quilt and that's a piece of cake with your embroidery machine.
I have a standard label template I use so that all I need to do is change the date and the quilt name.
I use Adine Script for my labels. It's a nice, elegant running stitch font that is readable and not too thick like most small satin stitch fonts.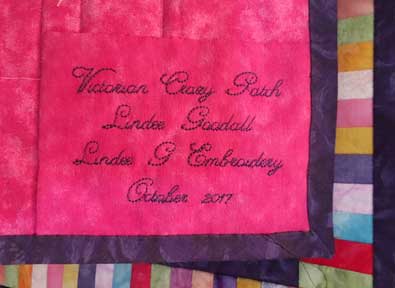 ABOUT THESE DESIGNS
This project started back in August when I was invited to contribute a project for a guest blog post on the Wilcom Hatch website. Hatch is a home version of Wilcom's premium embroidery software.
As a confirmed Mac user, it really takes something amazing for me to use software that doesn't run natively in Mac OS. And it really takes something super special for me to install Windows 10 on my desktop just to run one program! But that's what I did to use Hatch.
For this set of Victorian Crazy Patch designs, I learned how to create custom motif patterns in Hatch based on machine versions of traditional style hand stitches. I have quite a collection of books on crazy quilts and I've reproduced many of those stitches in other programs over the years. Of course, to get those stitches into Hatch meant redigitizing each one.
Choosing, designing, and applying the motifs was the most time consuming part of this collection. Oh sure, you can draw a line and apply a motif in just a few seconds. But which one should you use? How will it look with the other motifs you've already used? Will it fit into the space you have?
Motifs are a great way to add pattern and texture to a design and can also significantly reduce stitch counts compared to areas of solid fills. They're not particularly hard to make but there are some tricks to making and using them.
If you're interested in learning how to make motifs in Hatch, my blog post should go live this month (November 2017) and features video step-by-steps, a small library of crazy quilt designs, and the heart used in this set.
As soon as it's live, I'll add a link to this post.
STITCHING THESE DESIGNS
There are a lot of color changes in these designs and they're used for two reasons:
1 – To force the machine to stop so that you can place or flip a fabric piece
2 – For maximum design flexibility
If you color sort these designs chances are you'll totally mess up the precise order. If you want to resequence colors in the decorative area to reduce thread changes, do so in software that lets you manually reorder color blocks.
UNDERSTANDING THE COLOR SEQUENCES
All the designs except the border sew in generally the same order:
A placement line is sewn that indicates the seam line for the finished blocks. This line will only be seen from the back of the project.
Color 2 sews a numbered guideline for the placement of all the pieces. The seam lines will be sewn directly over these lines.
Color 3 is an "edge guide" to help you with placing the fabrics. This line is set at a 1/4″ offset from the seam lines. This is a handy reference particularly if you aren't very precise with cutting or placing your pieces as it can tell you right away if you're fabric isn't going to get caught in the next seam.
Color 4 will tack down the first piece of fabric in the design. This piece is always placed face up.
Before color 5, place piece 2 face down along the indicated line. (Refer to the included pattern guide.) Color 5 sews the seam line.
Before color 6, flip the fabric over and finger press the fabric smooth and flat. You can hold the fabric in place with a bit of glue stick. Color 7 will sew a tack down that will get covered by subsequent pieces or be enclosed within the seam allowance.

Repeat steps 5 & 6 until all the pieces are placed. Although I've set different colors in the design, I typically sew all of this first part in 1 color. The extra colors are to force the machine to stop.
It's totally possible to stop the design at this point; all the piecing is done and your block can be used as is (exception is the heart, which requires the next to last color to stitch the appliqué).
The remainder of the design is all the decorative stitching. I've used a variety of colors here for flexibility. Color stops not only make it easy for you to match threads to your fabrics, they also make it easy to skip or delete areas.
PIECING THE BORDER
The border is a simplified version of the above process. Because all the pieces are added starting at the top and just working down, color 2 is not needed and is therefore omitted. Use the stitched guides to align your cut fabrics.
Be sure the place subsequent pieces so that the raw edge is slightly above the stitched guide so that your seam allowances will be adequate after flipping and the stitched piece.
I used 21 different fabrics repeating the green for all 22 and sewed two identical sequences.
Another way to use this is to alternate 2 colors, cut the strips into 1″ widths, and piece them back to together side by side offsetting the odd strips by one block so that you make a checkerboard.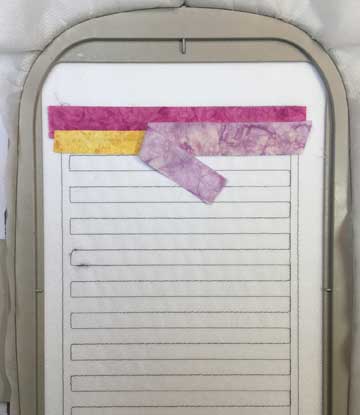 WATCH HOW TO DO CRAZY PATCH IN THE HOOP!
You can easily feel overwhelmed when you see the color sequence list! Don't be! Watch this YouTube video to see how to stitch embellished crazy patch in the hoop.
GO CRAZY WITH CREATIVITY
I've used batiks in my projects for a little fabric interest without excessively competing with the embroidery. Simply swapping in your fabric and thread color choices will give your blocks an entirely different look.
If you feel color impaired or have trouble picking fabrics that go well together, visit a quilt shop. My experience is that the folks who work in quilt shops are quite gifted in selecting colors that will make a wonderful project.
Or, grab a quilter friend and drag her along to the fabric store. Another option is those little bundles of preselected fabrics. I used 13 different fabrics in the blocks (some are very close in color) and 21 in the border, repeating the green to get 22.
If you're feeling more adventurous, you can modify the designs in software or even at your machine by omitting some color changes.
In addition to the seam embellishments, many sections have other elements such as insects, flowers, fans, and spider webs added. I've digitized these mini designs to stitch sequentially as a unit so it's quite easy to eliminate them if you'd rather feature the fabric.
Also, you can add other small designs in their place. Check out the Building Blocks designs for small floral elements and swirls that are low stitch counts and often only 1 or 2 colors to make your project unique. These sets include 20 or more designs for only $10 a set.
If you want to make a larger quilt without the appearance of repeating the same blocks over and over, swapping the larger elements is a great way to go. Rotating, mirroring, and using different fabrics can make your block look different too.
Other options for further embellishing include additional hand work, machine couching, beading, various trims, and inserting lace or ribbon during the piecing steps.

PRODUCTS MENTIONED IN THIS POST
VICTORIAN CRAZY PATCH
22 pieced-in-the-hoop designs in set (also available individually*)
Full size pattern pieces
Instructions for piecing in the hoop
40-page Quilt-as-You-Go Basics ebook
Instructions for making the journal cover
Specific step-by-step instructions for the wallhanging are not included; see included ebook for assembling a QAYG project

* Individual designs do not include project instructions, only associated template and basic piece in the hoop instructions.
BX ALPHABETS FOR EMBRILLIANCE AND EMBROIDERYWORKS
Hundreds of professionally digitized fonts set up as keyboard fonts for Embrilliance and easily installed via a drag and drop BX file
Adine Script was used for the label.

Embroidery design elements for embellishing and combining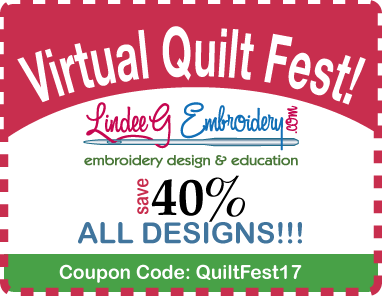 THE "FINE PRINT"
You'll need to have at least $10 worth of designs to qualify (which, if you know your math, will cost you $6).
The coupon code is only good on designs and is good through the end of November 15 2017.
You can use it as many times as you like and you're encouraged to let others know about this coupon!
The coupon code needs to typed exactly or it will not work!
So take your time, browse through the shop and take your pick of singles or collections.
This coupon code can't be combined with other coupons at the same time!
RELATED ARTICLES