How to Get Accurate Hoop Placement Quickly & Easily!
What's the first thing you notice about embroidery on an item? Placement!
What's the second thing you notice about embroidery on an item? That it's smooth, wrinkle and ripple-free, and that it has good registration (no gaps).
Both of these are a function of hooping.
For a professional-quality embroidery result, you must hoop in the right location with the right hoop and fabric tensions. Of course, appropriate stabilizers are required.
Note: There are other contributors to puckering beyond hooping: proper stabilizer choices, thread type, machine tensions, fabric attributes, and shrinkage after laundering.

HOOPING ACCURATELY IS DIFFICULT!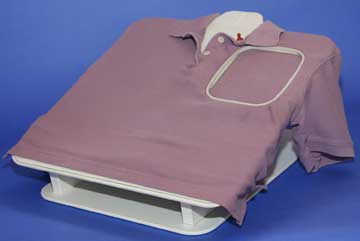 Getting the hoop properly placed can be tedious and frustrating without the proper hooping aids. Ever tried to hoop a tee shirt smoothly without one? Or how about a baby onesie?
You have to slide the outer hoop inside the tee with a layer of cutaway then try to get the inner hoop aligned properly without shifting the stabilizer and getting both parts of the hoop in the right place. The final result needs to have the fabric smooth, wrinkle-free, and unstretched with the stabilizer firmly and completely hooped underneath.
In my experience, most people will re-hoop no more than 3 times. If it's not correct by then, they declare it's good enough and just go for it. I don't know about you, but generally "good enough" seldom really is good enough.
If you don't take the time to hoop accurately before embroidering, there is no fixing it later! Your entire project loses quality!

WHAT'S THE SOLUTION?
The solution is to use a good hooping aid. What's that?
It's a gadget that will hold your hoop and stabilizer in place while you position your garment or other items, which itself is held in place while you insert the hoop.
When you use the right hooping aid, you can dramatically reduce hooping time and hooping errors.
WHAT TO LOOK FOR IN A HOOPING AID
It needs to be easily adjustable and work with flat items as well as tubular. Keep in mind shirts come in a range of sizes and you may need different options for say, youth and adult garments as well as sleeves and baby onesies.
I've been using hooping aids since 1995. I've used expensive ones and inexpensive ones. The first one I had was $700 and only worked with adult shirts and you had to buy a custom bracket to fit your hoops. Have two different machines? Then you need to buy two different brackets—and they weren't cheap!
My next one was a very inexpensive model. It too only worked with adult garments or flat items. It could work with more hoops but it was not as efficient or as accurate as the first one. Add, it broke easily.
Both of these models were based on a "pegboard" model. To change the hoop placement, you had to remove and re-screw the little holders. It was a clumsy procedure and I can't tell you how many times I dropped a part. With the cheaper one, I ended up buying multiples so I wouldn't have to move the pegs.
Why couldn't someone invent something simpler?
Nevertheless, it was the one I used most and because of a video I created for it, we received numerous requests.
You may have seen me use another model in my Craftsy class, 20 Things Every Machine Embroiderer Should Know. Unfortunately, that product appears to have been discontinued.
Because the Echidna Hooping Station was not available at the time of the class taping, I used that product instead.

THEY'RE BAAA-CCCK!
After years of researching and testing different materials, prototypes, and manufacturers, a newer model is finally available. YAAYYY!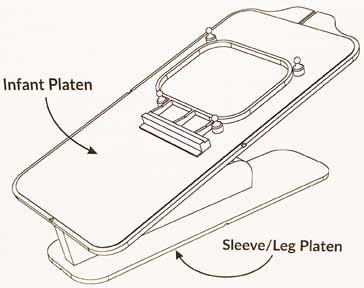 The new version is a refined model of the first one with better materials and a lower price. In fact, you can get the combo deal with BOTH hooping stations for the same price as the old one and with no extra shipping costs! (Shipping costs on the original were outrageous!
Two models are available and like their ancestor, both are dual-sided, easy to use, easy to clean, and work with virtually any hoops.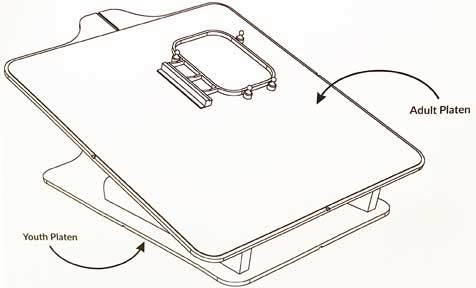 The smaller one is perfectly sized for baby garments, sleeves, and pant legs. And if you embroider a lot of E.B. Bears, you'll love this one! It's perfect for smaller sewing spaces and smaller budgets—and you can still hoop an adult size garment on it. (Hoop is not included.)

The larger one is sized for adult shirts on the larger side and youth sizes on the smaller side. (Hoop is not included.)
Because of the expanded surface area, the larger one is a much better choice for working with the really gigantic hoops many of us have these days.

THEY'RE HERE!
I'm happy to tell you that just yesterday we received our first shipment of Echidna Hooping Stations! Shipping begins on 7/20/2017.
There are 3 choices:
The small Echidna Hooping Station
The large Echidna Hooping Station
The Echidna Hooping Station Combo Deal – with both hooping stations and a substantial savings
Currently, free shipping is included for U.S. orders.
WHAT MAKES THE ECHIDNA HOOPING STATION DIFFERENT?
The Echidna Hooping Station uses strong magnets to hold the hoop. This means you are not restricted by the placement of the holes nor do you have to fumble around screwing small pieces into a pegboard type system.
You just move the magnets—which are deceptively strong. Even arthritic fingers handle them with ease.
The second innovation is that the product is double-sided. Each model features two sizes; just flip it over.
In actuality, it is more than double duty. Like similar aids, the working side is slanted. Unlike other models, a thin rubbery non-slip surface allows you to work on flat items. It's quite grippy and your hoop will stay in place even without the magnets while you set things up.
The pegboard models are all very slippery meaning I had to have a flat version for hooping items like quilt blocks.
Not so with the Echidna Hooping Station. You can hoop both tubular and flat items with ease!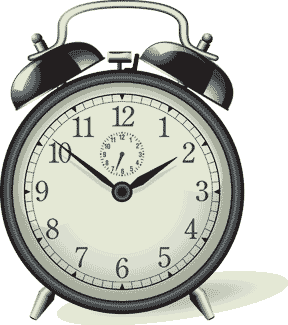 WHO NEEDS ONE?
If you are a home embroiderer, you might be wondering why you need one. Wouldn't you rather spend more time creating embroidery than hooping? Do you want smooth and accurate placement with less stress on your hands?
Time is valuable and none of us can get more of it. What we can do is make our tasks more efficient. Wouldn't you rather do more productive things?
MY NEW FAVORITE GADGET!
Well someone has!
My ever-inventive friend, Gary Walker of Echidna Sewing Products in Queensland, Australia has and it's called the Echidna Hooping Station.
I'd like to say I had a hand in this but I think the only part was that I wanted to use such an item in my class at his 2011 convention and he didn't like the current options.
The original model (07/2011) was actually built by local Australian woodworker and because of the labor involved and the weight, was just never economical enough to make available here in the U.S.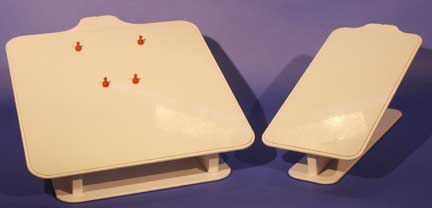 WANT TO SEE HOW IT WORKS?
Watch this video on the importance of hooping and see how the Echidna Hooping Station can improve your hooping accuracy and efficiency!
View all the Echdina Hooping Station videos in this playlist. More videos are planned so be sure to subscribe and get notified when they're available.
What to Look For in a Hooping Aid
ARE YOU A RETAILER?
If you'd like more information on selling these in your shop, please use the Contact form to send us a short email. Be sure to include your store details.
Certain minimums apply and shipping costs are not included for dealer sales. Dealer pricing is currently not available online.
WHERE TO GET YOUR OWN!
The Echidna Hooping Station is available in our shop in the Gadgets section. Use the drop-down selector to choose small, large, or the combo deal.
RELATED ARTICLES
ABOUT THE AUTHOR