If you've been following this blog for a while, you know I love my Mac and I love to digitize. And even though I run XP on my Mac to access several embroidery programs and using Windows has become infinitely more convenient than when I had to use another computer, I still drag my feet about "doing Windows."
I've been digitizing on Mac since 1994 but until a few years ago, the only way to convert, color, and view designs was to use a Windows program. Brian Bailie and his team over at Briton Leap, solved that problem with the introduction of Convert It, Mac. This program let us:
Open designs from virtually any format.
Save for your machine's format. (Conversion)
Find designs scattered around your computer, even in zips.
Colorize designs with real thread colors, or switch thread brands.
Print real-size templates for accurate placement.
But I still had to go to XP when I wanted to manipulate any purchased home format files because Punto can only work with DST and EXP stitch files. And those of you who work with DSTs know what colors look like!
After a taste of Convert It, Mac, we Mac users wanted more than just convert and color! We wanted to be able to be able to customize designs and do things like:
Resize designs with stitch recalculation
Combine (merge) different designs together to create a new design. And then wouldn't it be nice if the program would remove overlaps to prevent bullet proof embroidery?
Rotate, mirror, center and align
Add lettering. (multiple lines, monograms, and "circle text")
Save a working file so that changes can be made later.
Cut, copy, paste, undo, redo. (All the normal things you'd expect from a modern program.)
And of course, we don't want to pay and arm and a leg for these features!
MY AFFILIATE LINKS DISCLOSURE
Hi everyone. Just to let you know that some of the links on this site are affiliate links. What that means is that if you click one of them and buy something… I get a commission. It doesn't cost you anything extra and I only recommend things that I've tried and tested, so please, please, please… use my links.
Fine Print: Lindee G Embroidery is a participant in the Amazon Services LLC Associates Program, an affiliate advertising program designed to provide a means for sites to earn advertising fees by advertising and linking to amazon.com. Lindee G Embroidery is also an affiliate for Embroidery.com, Nancy's Notions, Embrilliance, and Craftsy. If you purchase something through one of those links I may receive a small commission, which helps to offset the cost of running this site. 🙂
INTRODUCING EMBRILLIANCE ESSENTIALS
So what is this new program that takes the features of Convert It Mac and adds the most commonly used functions by most embroiderers? It's called Embrilliance Essentials! And it's not just for Mac users. In addition to the Mac version, there are Windows 32 and Windows 64 bit versions.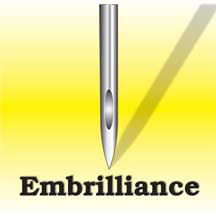 TRY IT OUT FOR FREE!
Right now (December 2010), Embrilliance Essentials is in beta. In other words, it's in the final stages before release and Briton Leap needs consumers like you and me to give it a work out to help flush out any hidden little bugs.
We tend to use the program in ways that the developers never think of. Plus, we have stuff on our computers that they don't have.
The beta will expire on Christmas Eve at which point they play to introduce the full release version at a very special price to those of us who played with the beta. So tell your last-minute shopper this is what you want!
GET A FREE DESIGN FOR EMBRILLIANCE ESSENTIALS
I've created a design using the Embrilliance Essentials software and you can download it in the forum.
It took only minutes using the built in fonts and the interactive designs. I enveloped the text to fit the design. You can Find in the the Essentials Design Share forum! Once you've downloaded the program and the design, you can save the design in any format your machine prefers.
UPDATE 2015: EMBRILLINACE ESSENTIALS + MORE MODULES UP THROUGH DIGITIZING
RELATED ARTICLES