Mac users rejoice! Briton Leap has expanded their line-up of Macintosh embroidery software to include 3 products:
Thumbnailer
Convert It, Mac
Embrilliance Essentials
MY AFFILIATE LINKS DISCLOSURE
Hi everyone. Just to let you know that some of the links on this site are affiliate links. What that means is that if you click one of them and buy something… I get a commission. It doesn't cost you anything extra and I only recommend things that I've tried and tested, so please, please, please… use my links.
Fine Print: Lindee G Embroidery is a participant in the Amazon Services LLC Associates Program, an affiliate advertising program designed to provide a means for sites to earn advertising fees by advertising and linking to amazon.com. Lindee G Embroidery is also an affiliate for Embroidery.com, Nancy's Notions, Embrilliance, and Craftsy. If you purchase something through one of those links I may receive a small commission, which helps to offset the cost of running this site. 🙂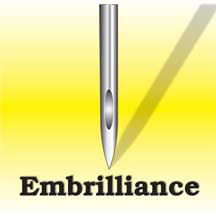 Thumbnailer and Embrilliance Essentials also have Windows versions. Thumbnailer lets you preview images of most machine formats in Finder or Windows.
Mac users know this as the Quick Look Plugin or Cover Flow. I love this feature. I have rediscovered so many designs I never even knew I had!
I first wrote about this feature in July, 2009, Cover Flow Your Mac Embroidery Designs. If you have Convert It, Mac, this technology is built in.
I've been using Convert It, Mac for several years now. What a convenience for Mac embroiderers! This program is useful for viewing folders full of designs, mass converting designs to different formats, and coloring designs.
You can read more about this program Convert It Mac: Embroidery Software for the Rest of Us.
Embrilliance Essentials is the new kid on the block. This program is more of a design tool. With Embrilliance Essentials, you can:
Resize designs with stitch recalculation
Combine (merge) different designs together to create a new design. And then wouldn't it be nice if the program would remove overlaps to prevent bullet proof embroidery?
Rotate, mirror, center and align
Add lettering. (multiple lines, monograms, and "circle text")
Save a working file so that changes can be made later.
Cut, copy, paste, undo, redo. (All the normal things you'd expect from a modern program.)
WHICH DO YOU NEED?
That depends on what you want to do!
Since Thumbnailer is built in to Convert It, you don't need both. I think Convert It is a definite must have basic utility for every Mac embroiderer.
Embrilliance Essentials is a very affordably priced, feature rich program for working with designs. Yes, you could use it to convert but you will be doing it one file at a time. Convert It does not give you any access to the design. EE does.
Having smaller programs optimized for particular functions is a great idea. It means you can build your software library as you go and get just the tools you need for the kind of embroidery you do.
LEARN MORE
RELATED ARTICLES