It was more work than I imagined. More time than I imagined. More frustrating than I imagined. More rewarding than I imagined but at long last, it's done!
What is "it?" It's the Learn to Digitize Course composed of 1464 pages, 3098 images, 60 videos for almost 12 hours of viewing time, plus 27 embedded videos!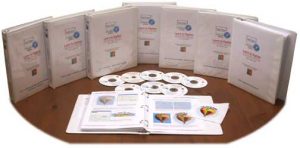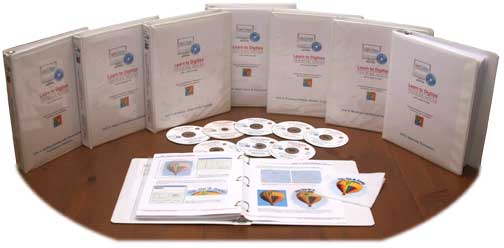 WAS I INSANE?!?!?!
I think if I'd known those numbers to start with, I never would have written the first page. I find it hard to believe myself.
In the process, I learned an entirely new program (Generations) in a foreign operating system (Windows). Generations is an auto-digitizing program—something I never thought I'd use as a veteran professional digitizer.
WHAT DID I FIND?
What I found was a program that makes it easy for anyone to create a design with absolutely no experience. That can be both a good thing and a bad thing.
The good thing is that it can give the beginner an immediate sense of accomplishment and hopefully a desire to progress. Unfortunately, it can also give a false sense of mastery. Just because the software can instantly turn an image into embroidery doesn't mean it's great embroidery.
Just like having Photoshop doesn't turn you into an artist, owning a digitizing program does not turn you into a digitizer. You need to understand something about how embroidery designs are constructed.
You can get the basics of that in Anatomy of a Design: How to Think Like Digitizer and Become a Better Embroiderer. Here you'll begin to learn about how stitch length, density, and type affects fabric.
The reason I say "begin" is that you also need to experiment with different designs on different fabrics with different backings (stabilizers). You need to experience this yourself to know how stitches affect fabric so that you know how to optimize settings in your software.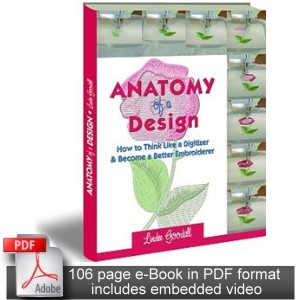 MAKING YOUR OWN DESIGNS
If you're ready to move beyond auto-digitizing and really take control of your designs, where do you start?
Your dealer? An educator who knows how to push some buttons to create a specific design but not why you should make certain selections? Someone who is just leading you through lessons supplied by the vendor? You might learn some program functions but you won't really learn to digitize.
What you need is a structured course that starts at the beginning and teaches you theory while learning the program. With Learn to Digitizeyou get a comprehensive course with exercises and projects to really learn to digitize and create the designs you want—not just designs you can find projects for!
When you complete this course, you'll know Generations and you'll also know how to digitize. Once you get to that point, you'll be able to apply those skills to any other digitizing program.
You'll know enough to make intelligent decisions on a new program if you so choose rather than being influenced by a razzle-dazzle demo that when done by a pro can make any program look amazing.
IS GENERATIONS THE BEST PROGRAM?
Every program has its pluses and minuses. Most every program has some quirky thing that doesn't work right. Programmers do their best but they aren't digitizers.
Once a program gets into the hands of the users, the real testing begins. I haven't seen a perfect digitizing program yet—one that does everything the way I want it and does it flawlessly (and on a Mac!). If you want to really learn to digitize and you're finding your software too confusing, give Generations a try.
While you can get the course here, if your dealer doesn't carry Generations, I recommend the following:
In Australia and surrounding areas: EchidnaClub.com
Elsewhere: Generations at embroidery.com
Update 01/2015: Generations is no longer sold or supported by these companies. For support questions, contact the manufacturer.
MORE BENEFITS
Rarely do you find designs available in your software's native format. In the process of learning Generations and writing the course, I also digitized in Generations and the result is around 300 designs that I've made available in Generations format.
That means you have full control over changing stitch types and attributes. Where else will you find that?
You'll find all the designs in the Building Blocks category to be MNG files (native Generations Building Block format). You also find regular collections that include standard GEN format and many of the freebies are also GEN files.
WANT TO LEARN MORE ABOUT GENERATIONS BEFORE YOU BUY?
Check out my free webinars hosted at embroidery.com. Watch recorded sessions or catch one live on the 2nd Thursday of the month.
While you do have to pre-register, the session is free and you don't need to have Generations to attend.
ALREADY HAVE GENERATIONS? MAKE THE MOST OF YOUR INVESTMENT!
You can learn to master Generations via my 8 module very thorough course on this program, taking you from simple auto-digitizing to full on artistic, manual digitizing. Not only will you learn how to use the tools in Generations, you'll learn professional digitzing techniques that aren't included in the Generations manual.
Each module is available individually or bundled into more economical sets. Tables of contents can be downloaded for free so you can see which modules you might want to choose if you already have some experience.
Anatomy of Design is an e-book designed for embroiderers who want to understand what's going with designs and therefore make better choices when selecting designs, fabric, stabilizers, and threads
RELATED ARTICLES
Learn to Digitize with Generations
Free Digitizing Projects for Generations Users