Today I want to show you a cool new embroidery utility from my friends over at Briton Leap. For years, Brian and his team of gurus have been producing amazing products for embroiderers.
Now they have a new concept called "Embrilliance," which is a new brand from BriTon Leap that will include simultaneous releases of new software for Mac OSX and Windows.
The mission for Embrilliance is rather bold: To produce easy-to-use, inexpensive, quality-proven embroidery software that releases simultaneously, yet with properly designed native versions, for both Mac OSX and Windows! No easy task, I can assure you!
THE EMBRILLIANCE THUMBNAILER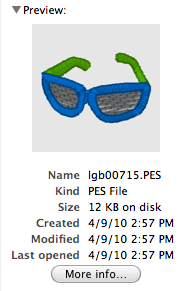 Their first release is the Embrilliance Thumbnailer, a cool little program that will let you see previews of your embroidery designs right in the Finder on Macintosh or Explorer on Windows. You don't even need to open a program!
If you're a Convert It Mac user, you've seen this with the built-in Cover Flow feature. Now this feature has been made into it's own program and is available for both Mac and Windows users.
A SERIES OF WORLD'S FIRSTS!
This program is truly a World's First in several ways:
It contains the World's First Mac and PC identical embroidery product, released at the same time!
It is the World's First embroidery product that has a 64-bit Windows version.
It is the World's First embroidery product that supports Mac OSX, Windows XP32, Windows Vista 32/64, and Windows 7 32/64
And guess what? If you run Windows on a Mac and have embroidery designs on both sides, you'll be happy to know the Embrilliance Thumbnailer ships with both versions on one CD. No more having to buy a Windows version and a Mac version.
That's right! With the Embrilliance Thumbnailer, you get a single CD, which will install on both a Mac and a PC.
In fact there are no less than FOUR installations on that disc, and yet it all works effortlessly and automatically for the user. Thanks to hybrid CD technology from Toast, the single disc is recognized by the Mac differently than it is by Windows. Plus, for windows, there are both 32-bit and 64-bit programs to make use of the tremendous speed increase available and the installer smartly installs only what you need!
If you have embroidery designs you need this product! Why not add to this list of "world's firsts" and be the first to get it?
MY AFFILIATE LINKS DISCLOSURE
Hi everyone. Just to let you know that some of the links on this site are affiliate links. What that means is that if you click one of them and buy something… I get a commission. It doesn't cost you anything extra and I only recommend things that I've tried and tested, so please, please, please… use my links.
Fine Print: Lindee G Embroidery is a participant in the Amazon Services LLC Associates Program, an affiliate advertising program designed to provide a means for sites to earn advertising fees by advertising and linking to amazon.com. Lindee G Embroidery is also an affiliate for Embroidery.com, Nancy's Notions, Embrilliance, and Craftsy. If you purchase something through one of those links I may receive a small commission, which helps to offset the cost of running this site. 🙂
ARE YOU MAC USER WHO WANTS EVEN MORE?
The Embrilliance Thumbnailer is great for browsing and viewing designs in Finder just like you can many image files. If you want to open, convert, or color those designs without doing Windows, you'll want to get Convert It Mac.
I've been using Convert It Mac for almost 2 years and I had no idea how convenient having such a program right on my Mac could be. Convert It Mac includes all the Mac features of the Embrilliance Thumbnailer plus it offers:
Easy viewing of embroidery designs in an iTunes-like interface (also displays BMP, JPG, TIF, GIF, and TXT)
Design conversion among a wide range of popular formats including converting from the following formats: PES, PHC, PHD, PHB, PEC, HUS, SHV, VIP, VP3, PCS, JEF, JEF+, SEW, DST, TAP, EXP, EXP+, ART, ART42, ART50, ART60, EMB, JAN, EMD, XXX, CSD, GNC, CND, PCM
Design coloring with a wide range of popular thread brands along with providing a match percentage to similar colors in other lines
Ability to create text files with design information that can be edited right from Convert it Mac (opens in TextEdit)
Ability to browse even inside ZIP files
I've written about Convert It Mac several times, and you can read previous posts listed in the Related Articles list at the end of this post.
WHERE TO GET EMBRILLIANCE THUMBNAILER AND CONVERT IT MAC
The Embrilliance Thumbnailer and Convert It Mac are available here:
For you Windows users, yes, this is a Mac embroidery site and while you can't use Convert It Mac, the Embrilliance Thumbnailer on this site is the same one I've just written about.
RELATED ARTICLES